Dutch designer, innovator, and pioneer of 3-D–printed fashion.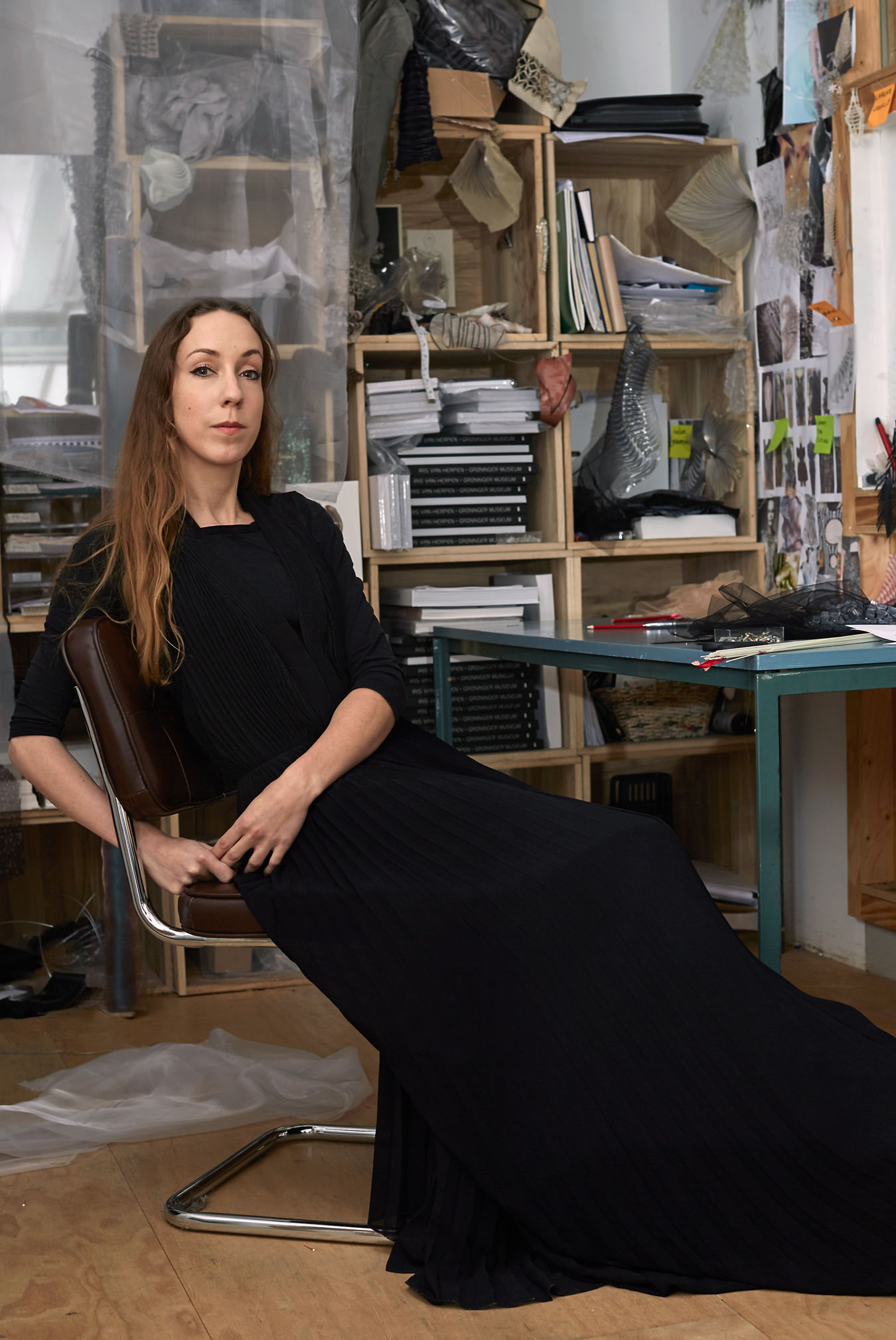 When it comes to pushing the limits of couture, Iris van Herpen has few rivals. Blurring the line between fashion and art, her work is characterized by a futuristic, almost otherworldly aesthetic. A pioneer of 3-D printing in fashion, Van Herpen stretches the imagination with her unconventional, investigative approach to materials and techniques. With the help of a few celebrity provocateurs—Beyoncé, Björk, and Lady Gaga—her designs have garnered international acclaim, appearing in galleries worldwide, including New York's Metropolitan Museum of Art, which recently added six of her pieces to its permanent collection.
The Amsterdam atelier of the 32-year-old designer is located on the second floor of an industrial heritage building facing the river IJ. One day in November, assistants were busy putting the finishing touches on pieces for Van Herpen's new couture collection. A train of garment bags, the contents of which are top secret, lines the wall. The studio's live-in tabby cat, Spin, hops from table to table, as if to survey the work.
"I grew up in a small village of just a few hundred people and without a TV," says the couturier. "There wasn't much to do, so I had to find ways of entertaining myself." Raised in Wamel, a rural town southeast of Amsterdam, Van Herpen inherited a taste for carefully crafted garments from her oma. A collector of vintage costumes, her grandmother would, from time to time, let the young Van Herpen play in her closet. Despite this early introduction to the world of fashion, her path wasn't obvious at first. Before going into couture, Van Herpen dreamt of being a dancer, but she shifted her focus during studies at the ArtEZ University of the Arts in Arnhem, where she graduated in 2006 with a degree in fashion design. While she admits that her time at the art academy wasn't the most enjoyable or creative period of her life, she's quick to point out the value of the practical training she received there. "Only when you know the rules are you able to break them," she says.
Van Herpen explains, "As a kid, I'd collect whatever materials I could get my hands on, even if I didn't necessarily know what I would do with them." Years later, she's still collecting. Besides being a fashion designer, Van Herpen is a researcher and innovator. "I'm constantly looking for new materials across different disciplines." She works in a manner that is more familiar in the realm of science finding co-conspirators at universities like the Massachusetts Institute of Technology (MIT)—ateliers of science, she calls them.
Her fascination with the material world has kept Van Herpen at the vanguard of the fashion industry for a decade. Ever since she started her eponymous label in 2007—after stints at Alexander McQueen and Claudy Jongstra—she has been fashion's leading exponent of what technology can do and what this will mean for us. "I wanted the freedom to do my own thing, and creating the business was a side effect of that," she says. "It was the only way forward for me." Van Herpen made her solo debut at Amsterdam Fashion Week and has since built a reputation for innovation by creating sculptural pieces that question the limitations of traditional clothing.
"Couture is definitely at the heart of the atelier," Van Herpen explains. "That's our main focus. It gives me the chance to really dive into the core of fashion and to collaborate with different disciplines."
"Couture is definitely at the heart of the atelier," Van Herpen explains. "That's our main focus. It gives me the chance to really dive into the core of fashion and to collaborate with different disciplines." Unlike fast fashion, which transforms with the seasons, couture moves slowly, with two runway collections a year, giving her the time and freedom she needs to delve into her material investigations. (A guest member of Paris's Chambre Syndicale de la Haute Couture, Van Herpen has won 15 awards, including the prestigious ANDAM Fashion Award, which she received in 2014.) "I try to create an alternative for the way fashion is made, to be more environmentally conscious with regards to material choices and techniques," she says. "I'm interested in how materials can be bettered and techniques made more efficient."
Van Herpen's defining moment came in 2010, in a collaboration with British architect Daniel Widrig that showcased her first 3-D creation as part of the Crystallization collection, a two-piece ensemble imagining the transformation of water into ice crystals. "Three-dimensionality has always been a big part of the structures that I developed, so it really seemed like a natural technology for me to explore," she says. Among her favourite 3-D–printed pieces are dresses called the Cathedral—a structured piece that wraps up the body to resemble intricately carved cathedral architecture—and the Skeleton, in which bones of polyamide, leather, and acrylic hover around the body like an X-ray. Van Herpen notes that she uses technology as a creative tool, not as the source of inspiration. "It's not one or the other, technology or handiwork. It's when you combine the two that you really go a step further. It's the merging of the two areas that will bring fashion forward."
As her research is ongoing, Van Herpen always has multiple projects on the go. "Defining a concept for a collection is always a matter of choosing between a few things that interest me," she explains. "Sometimes I start an experiment and it looks or behaves in an interesting way, but somehow it doesn't feel ready yet, so we save it for later. We have a stockroom full of experiments."
Van Herpen's latest couture collection, Between the Lines, was presented this past January in Paris. It focuses on patterns found in between the structures of her materials, and features new materials such as hand-cast 3-D polyurethane fabrics.
Again, Van Herpen's futuristic, darkly fantastical aesthetic challenges fashion and how it is made. For her, fashion is more than just a garment or a commercial product. It's an interconnected thing influenced by environment and surroundings. She states, "I don't like to limit myself. I let intuition guide me. When I start working the material is controlling me, but after a while, I start controlling it."
Runway photos provided by Iris van Herpen.
_________
Never miss a story. Sign up for NUVO's weekly newsletter.