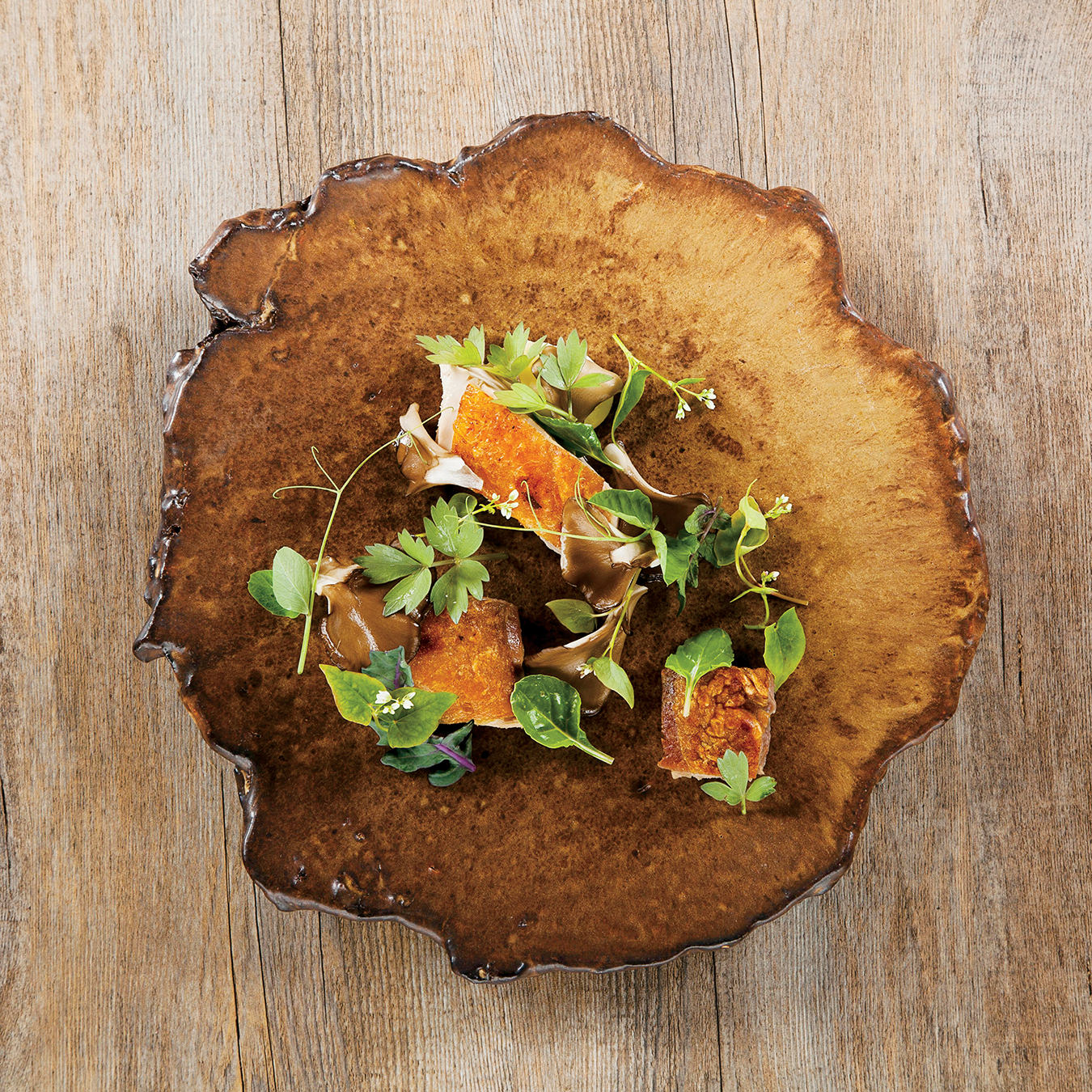 In the hierarchy of gourmet game, the wild and feathered garner much respect. Led by the aristocratic grouse, the list continues with the sort of famous game birds the royals feast on at Balmoral Castle such as pheasant, wood pigeon, and partridge. More specifically in Canada, you'll find wild ducks, woodcocks, partridges, and turkeys. Even Canada geese are up for grabs. The domesticated version of these birds can hardly compete—victims, no doubt, of their farm-raised pedigree. Wild bird flesh equals taste, resilient meat, and the opportunity for an increased boost of flavour through aging. Yes, a chicken can be the famous poulet de Bresse or the Canadian-bred Blue Foot, but otherwise it's plain ol' poultry.
Lost in this landscape of beaks, feathers, braised legs, and roasted supremes is yet another farm-raised bird, the guinea fowl (a.k.a. guinea hen, known in French as pintade). Africa's most ubiquitous game bird, the guinea fowl is black and white of plumage, small-headed, and pear-shaped like the partridge. Prized for its ornamental value, this rather peculiar bird has also gained favour for alerting the presence of predators, thanks to its light sleeping habit and loud cackle. Its flavour is not too gamey nor too lean, and when fed grasses and grains and allowed to roam free, the guinea fowl is delectable and firm of flesh. When properly roasted, the breast meat is as silky as that of pheasant, and when braised, the legs are more luscious than even the best duck confit.
"We feed our guineas a mix of grains as well as herbs," says organic guinea fowl farmer Joël Dupuis of Morgan Farm, located in the heart of Quebec's Laurentians. "Guinea fowls are very nervous and easily stressed animals. You have to enter the pintadière [guinea fowl barn] very quietly or they will panic, and you must give them a lot of attention regularly. They are very fast and agile."
Dupuis's flock lasts but a mere 16 to 18 weeks, raised from spring to summer, before being slaughtered once the birds are fully grown, weighing in at between 1.5 and two kilograms. "The meat-to-carcass proportion is very high," says Dupuis, "which is one of the reasons they are so popular in restaurants."
Upscale restaurants often feature guinea fowl in their lineups, though for a while it was a hard sell. In 2006, Montreal chefs complained that it rarely moved off the menu. But today, Dupuis is selling a lot, and chefs are revelling in its many possibilities. Recent favourites have included guinea fowl consommé, liver pâté, sausage, terrine, baluchon (a beggar's purse, usually made with phyllo pastry), and confit, as well as tagine, ravioli, roasted guinea fowl, guinea fowl au vin, and Spanish-style stuffed with chorizo and peppers. At Côté Est in Kamouraska, Quebec, there's even a guinea fowl burger and a guinea fowl Caesar salad. An haute cuisine version of Kentucky fried guinea fowl cannot be far away.
The fowl also picks up the ball in the higher-end restaurants where chicken is often considered too pedestrian. At the three-Michelin-starred, Relais & Châteaux–listed Restaurant at Meadowood in Napa Valley, California, chef Christopher Kostow features guinea fowl prominently on his menu. Besides roasting it in a rye bread crust, Kostow has also developed a similar method of roasting guinea fowl whole in a meringue crust made with salt and herbs. "I've eaten a lot of these birds during service," says the chef as he encloses a small fowl in a meringue of egg whites at a cooking demonstration during the Flavor! Napa Valley food and wine festival. The bird is then baked at high heat (500ºF) for 35 minutes, rested, and then cracked out of its shell before being cut into pieces and slowly seared to a crisp in shimmering olive oil. Served on a plate of samp (similar to grits), the guinea fowl is all delicate flesh and bronzed skin. "What I like about guinea fowl is the thickness of the skin and the way it picks up flavours," says Kostow. "It has this nice leanness about it too, and it's easy to cook."
Montreal chef Frédéric Morin of restaurant Joe Beef is another fan. "Guinea fowl is like an old-school chicken," says Morin. "When you cook with it, you bring the recipe to what its original intention was back when chicken wasn't this pumped-up bird. I especially like guinea fowl in bollito misto, where you eat the skin just boiled. It's a bit odd to tell people to try boiled guinea fowl skin, but boy, is it ever good."
As much as chefs enjoy transforming this bird in the kitchen, those averse to excess fuss will relish a method presented by Richard Olney in his book The French Menu Cookbook. "Press bacon strips, lengthwise, over the entire breast," writes Olney, who then roasts the guinea fowl and removes the bacon for the last 10 minutes to allow the skin to brown. The result? Tender breast and tender legs, an outcome that once again reinforces that age-old kitchen adage "When all else fails, reach for the bacon."
Photo: Chef Christopher Kostow's signature baked guinea fowl dish as served at the Restaurant at Meadowood in Napa Valley, California.