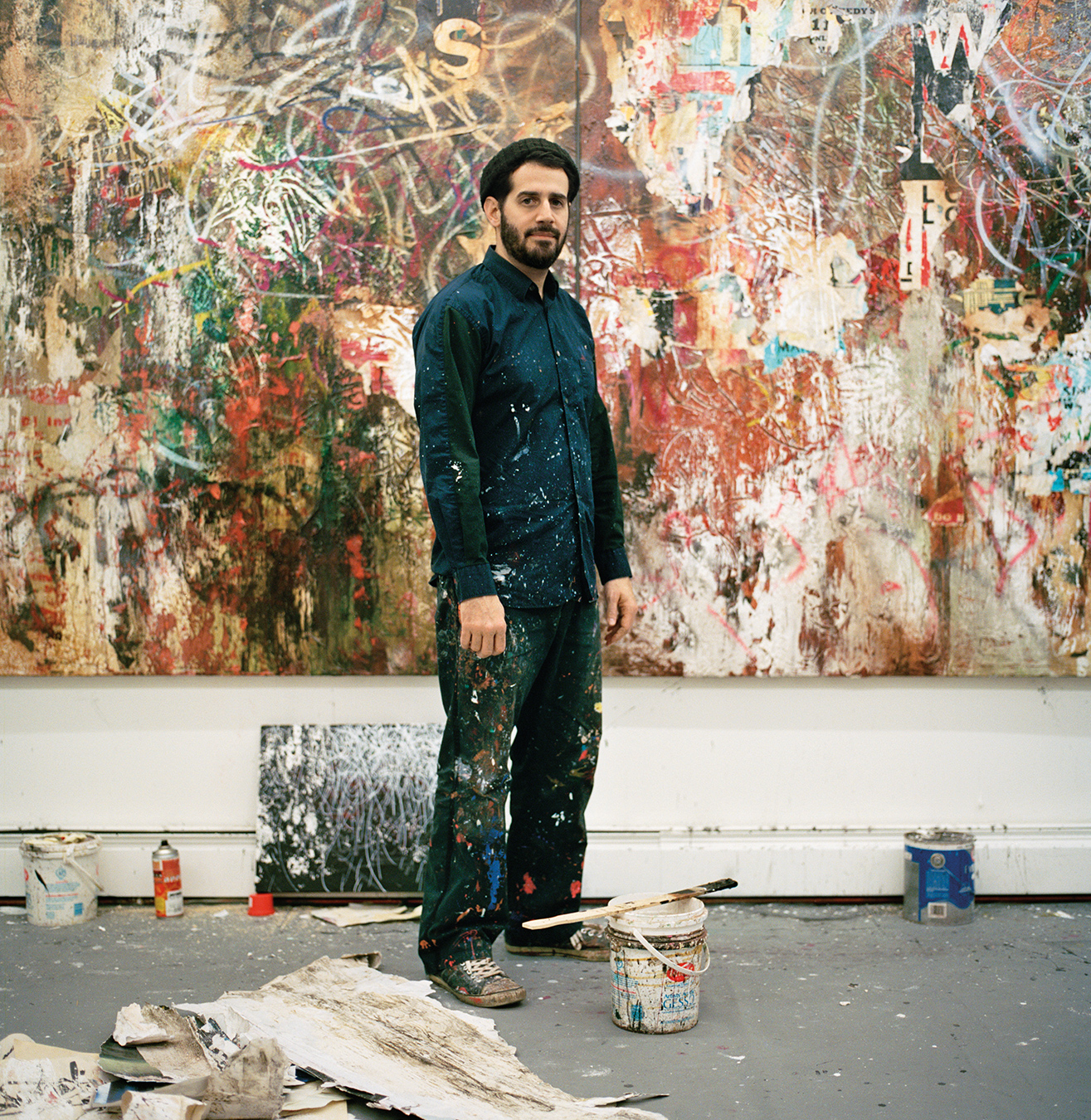 "I imagine the paintings are these blank walls in the city, in any city," says José Parlá with a huge grin. The 37-year-old's eyes are bright and dark, and he is a whirlwind of energy. "It could be anywhere from Bangkok to New York to Tokyo to L.A., it doesn't matter, and different people walking by could do anything to it: mark it, throw paint at it, tear a poster from it, write a political note, stain it, whatever. So I imagine that the process is a process of time. Every step you take, everywhere you look, it keeps coming at you—and the past is leaving, so the walls are like time capsules to me."
Parlá started in graffiti way back in the day, and when he was 12 or 13, the desire to make his work permanent became his first motivation to paint on canvas. "At the end of the day, what we were doing on walls was ephemeral—it was disappearing," he explains. "It faded, and the rain would wash it away, and people would paint over it. It would get destroyed. So I thought, 'What could I make that reminds you of the real wall without it having to be a photograph?' I wanted to paint these replications of walls, but in my own way—make compositions of paintings."
Parlá's centre of operations is a little two-storey carriage house on a block full of brownstones in Brooklyn's eclectic, multicultural Fort Greene neighbourhood. He lives upstairs and paints downstairs. His older brother Rey (a multimedia artist who works with photographs and film) lives just down the street with his wife and young son. The Parlá brethren are two years apart, share an office, and collaborate often. Their latest coup? The New Grand Tour, a 2010 group show and book of travelogue works inspired by a trip the brothers took to the Far East with some artist friends. (Travel is another passion; in fact, José has spent so much time in Japan that he feels at home there.)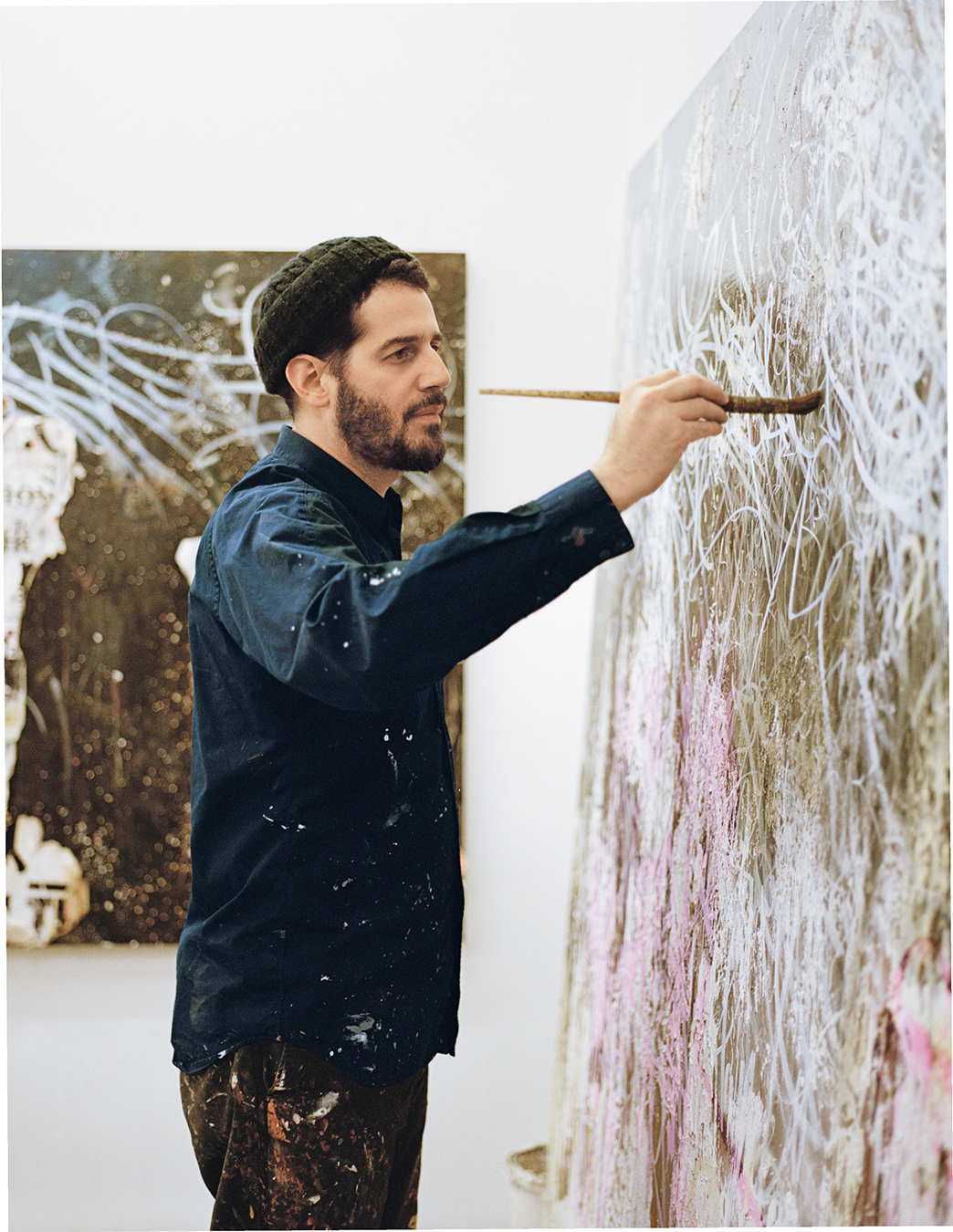 His studio is an exciting place, buzzing with inspiration. Bright white walls are lined with oversized canvases, and works in progress lean here and there amidst open cans of paint, brushes, and cloths. It smells like paint and chemicals and movement, like his private domain or an extension of his psyche: quick and kinetic, warm and wise, reflective and playful.
Parlá's paintings are equally dynamic, large-scale, contemporary, abstract, comprising shapes and stories that pull you into their flowing worlds of colour, layers of meaning and material, and chaotic composition. These are paintings in which you discover something new each time you look—a squiggle, a shape, movement, stencilling or a foreign word hijacked from some poster the artist found near a subway station across the ocean—that makes you see life a little differently. Perhaps the enduring power of Parlá's work lies in his ability to find strange beauty in what we're sometimes afraid to confront. "These are not pretty paintings," he says. "They look at the part of society that was always looked upon as the destructive side. It's about rust, neglect, deterioration. What they're talking about are derelict places: walls in subway tunnels, abandoned buildings. Whether the paintings are considered beautiful by the viewer or not, I'm not painting the walls on Madison Avenue—these are walls from the poor areas of cities around the world."
Parlá's paintings are equally dynamic, large-scale, contemporary, abstract, comprising shapes and stories that pull you into their flowing worlds of colour, layers of meaning and material, and chaotic composition.
Parlá's artwork—collected by the likes of Tom Ford, Takashi Murakami, and Eric Clapton—has been shown in Hong Kong, Tokyo, Sydney, Melbourne, London, Genova, Miami, Los Angeles, and New York. An impending show, Walls, Diaries, and Paintings, opens in March at Manhattan's Bryce Wolkowitz Gallery during the Armory Show. Concurrently, he will release a book of the same name published by Hatje Cantz. He also has a solo show coming up this April in Milan, at the Teatro Armani (presented by Andy Valmorbida, Vladimir Restoin-Roitfeld, and Giorgio Armani). This past January in Toronto, Parlá unveiled two massive murals he painted for the lobbies of new residential towers of the Concord CityPlace project. (Inspired in part by "cave paintings, language tablets and palimpsests," The Bridge tells the story of how New York has become Parlá's bridge to the world, while The Names That Live and Sometimes Fade as Time Flies is an homage to hundreds of artists he's come into contact with over the years.)
Parlá points to a textured piece called Your History that depicts a decaying wall, its shades of brown and shapes of time, and the detailed human beauty within it. Figuratively, layers of what people did to it are exposed. "This one definitely takes you right to the wall," he says. "It's the posters and those layers that are a bit more abrupt and simple." He moves toward a dizzying, captivating line painting in intricate, chaotic black and white that looks like it's actually moving, called Autobiographical Dance of Combined Stories. "This one is more psychological, 'cause although you have the textures and the history that might remind you of a wall, all the layered writing is inspired by things like ancient tablets from different hieroglyphic ages."
Has he seen the real deal for himself? "I've been to the Middle East. I've also visited temples throughout Japan, China, and Turkey, where the calligraphy is still engraved in the walls of these historical places that still exist as they did centuries ago. Since my work is camouflaged and illegible, it kind of functions as a translation of all my travels where all the languages are different."
Born in Miami to a Cuban family, Parlá spent 10 years in Puerto Rico as a kid, and credits his bohemian parents for his appreciation of art, travel, and philosophy. "I always remember my brother and I and some friends hanging out at my mom's kitchen table—'cause we were always there, it was a meeting place. My mom would cook for us and we'd hang out before sneaking out or whatever. There's a photograph somewhere where I'm drawing on books and my brother's got film strips and paints and needles, scratching on film."
Their late father was well travelled and studied filmmaking in Cuba, and encouraged his sons to explore meaning in all aspects of life. "We'd have conversations constantly," says Parlá. "I'd come home and say, 'Aw, I got into an argument with my teacher because I was drawing.' He'd say, 'Well, you have to look at history and find your place in history.' So we'd go through books and we compared cave paintings to what we were doing. It's a really simple human necessity to want to leave a mark in whatever way. The pyramids are graffiti if you look at it philosophically. If you look at the natural earth, even the pavement is a mark-making. The city itself is a human necessity—to leave something to create shelter. And that mark the cave painters made—probably the earliest evidence of that."
Parlá attended Savannah College of Art and Design on scholarship, and then studied at Miami's New World School of the Arts under Mel Alexenberg, a renowned biologist and contemporary artist who personifies the intersection of science and art. Of their first meeting, Parlá recalls, "I walked in with rolled canvases, and he said, 'Okay, show me what you have.' I remember he had a really nice straw hat on, a wicker hat, and a long white beard. He's a scientist, so you think he's not listening to you because you're talking to him and he's on a different level. Then all of a sudden he went into this long, beautiful diatribe, and he understood everything I was saying and put me in his advanced class."
"Since my work is camouflaged and illegible," says Parlá, "it kind of functions as a translation of all my travels where all the languages are different."
Of his wise professor's influence, Parlá says, "He's an incredible dude. He used to compare the paintings, layered in writing, to tefillin [Jewish prayer boxes], because he felt that what I was making was some kind of scripture, like a voice." Born Catholic, Parlá doesn't practise any religion. "But I respect everyone's view on their spirituality, whatever makes them feel good about being alive every day."
Now, Parlá's thinking even more about what it all means—and how it might fit together. "I'm looking at my whole life like I've never been able to understand it before. It's really heavy. We've now accumulated all these different experiences and they start to become an equation that starts to solve other things about your past that you didn't even understand. You start to connect to [what has] changed you physically, mentally, relationships—everything. The way you eat. What you've done, what you've not done, psychologically, behaved. The conversations you've had. You look at a video of yourself five years ago and think, 'I would never say those things today, who was I? What was I thinking?' It's all changing. And I'm sure this conversation in 10 years will have expanded and grown."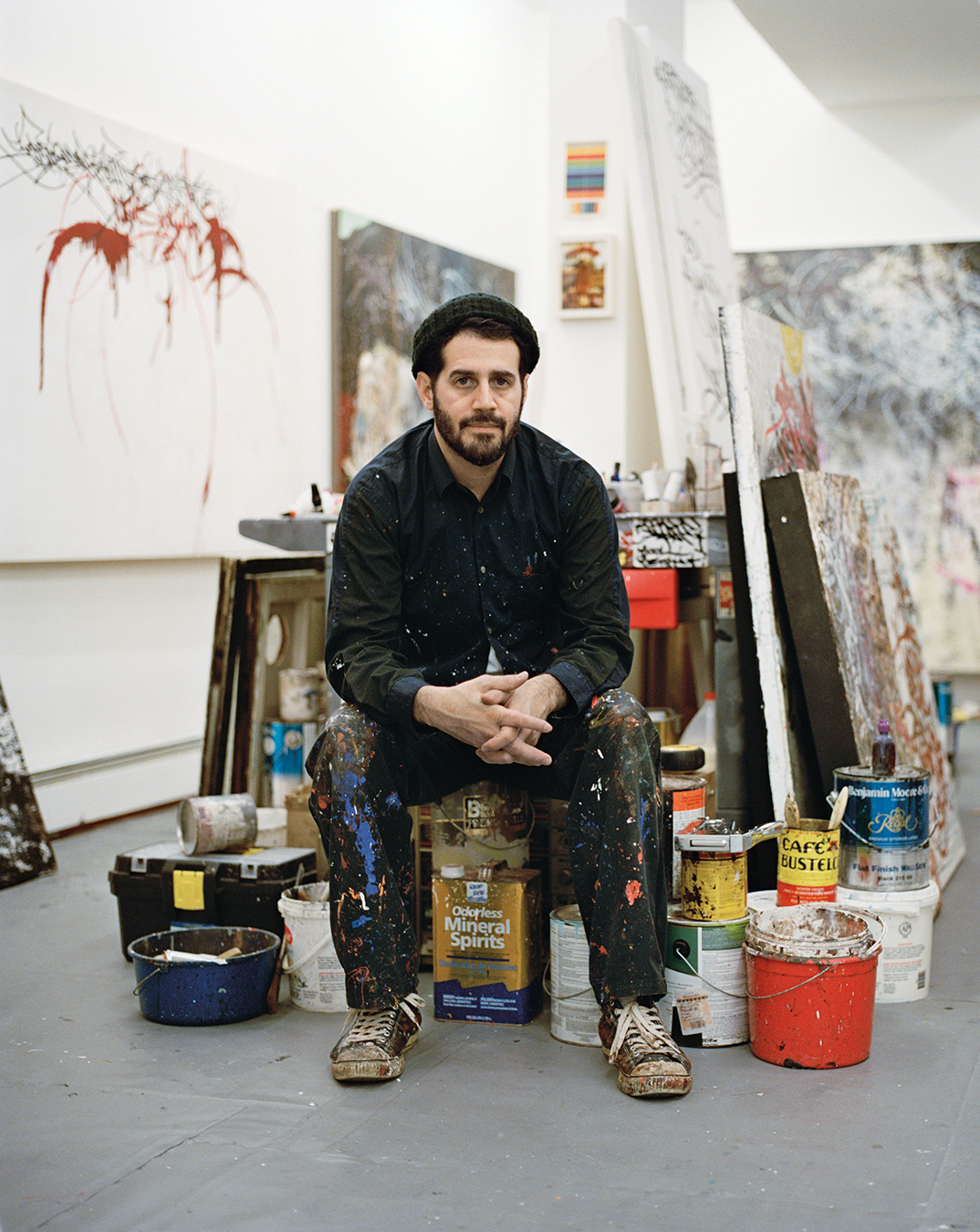 Of course, the present also informs the future. Soon, Parlá believes, his artistic evolution may lead him down paths unfamiliar to not only the public, but to himself. Which—as knows anyone who's followed their instinct to take a leap of faith—takes guts. Parlá went through a similar change 12 years ago when his father, also named José Parlá, passed away and young José began signing work with his given name instead of his moniker, Ease.
"It was really difficult because no one knew who José Parlá was at all," he recalls. "Not in the street, not in the gallery scene, nobody. Sometimes it takes a lot of boldness to leave what you're comfortable with. When is it gonna happen again? I feel it's close but I don't know when. It kind of just hits you."
And when it does, maybe he'll feel that, success notwithstanding, this is the beginning, and he's really just starting his real work now. "That's true. I was thinking to myself the other day, here I am, in this place with my work, and I feel like I'm really just starting out. I constantly feel like this is the beginning."
Of the temptation for outsiders to try and categorize his work according to trends or buzzwords that have nothing to do with what he's doing, Parlá just stays focused on his art, and on the beautiful freedom of self-expression. "I'm a painter, an artist. Simple. My work is about painting. I love everyone, and I am also a pirate who prefers to dream of utopia. Not a political state of being, just a free place in which I can change anytime I want, because that's my dream."
February 26, 2011
Updated: October 9, 2014