Chef Jean-Georges Vongerichten
High flavour, haute flare.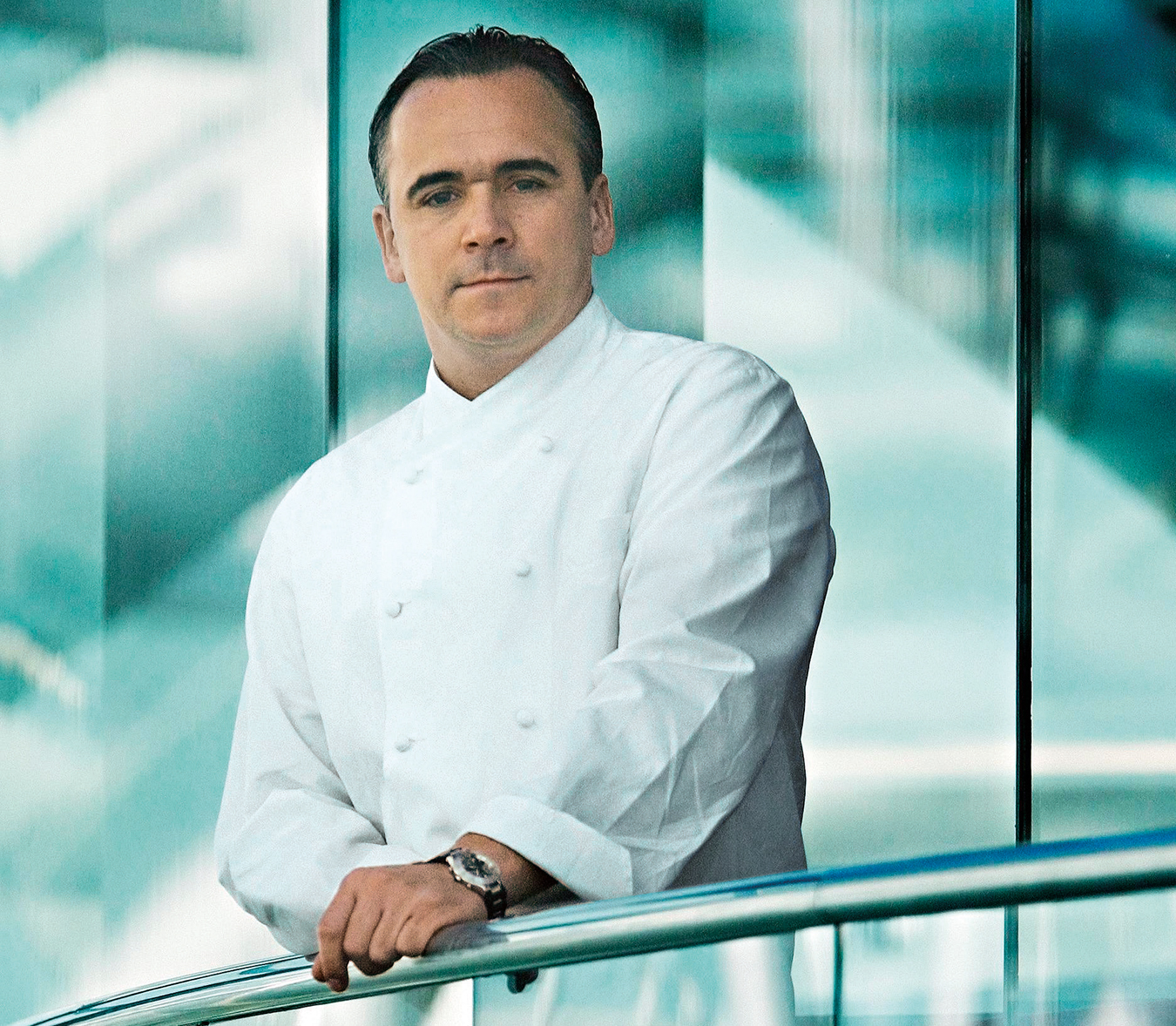 On a high shelf spanning the entire length of a wall in the meeting room at Jean-Georges Management, which overlooks the bustling, teeming Prince Street in New York's SoHo neighbourhood, are toasters. Two dozen, perhaps, dating from the 1920s to the 1950s. The chef looks at them and says, "There is nothing better than toast in the morning. A little butter, some marmalade—perfect." It is quite a statement, in some ways, from a great chef, known for innovation, who was the first to make Asian fusion a workable restaurant menu; who has his rightful Michelin three stars at the flagship, Jean Georges; who has seven other restaurants in New York, and many others around the globe; but whose sole focus is food, and how it is best prepared, served, consumed. Black toast, caviar, star anise, cayenne pepper, scallops still moving, pineapple from Costa Rica—all parts of a whole. This is the world of Jean-Georges Vongerichten.
He did not arrive in North America—Boston first, then New York—until 1986. He had spent 10 years opening a fairly rapid succession of restaurants for the Oriental Hotel group, not in his native region of Alsace but in Asia. Prior to that, he had trained in three-star restaurants in France.
His first job at the helm was at age 23. "I kept getting phone calls, saying, 'It is time, you are ready.' I would keep saying, 'No, it is impossible, not yet.' After all, I really was not ready—I had no idea of how to actually be an executive chef. I could cook, of course, and I knew all the stations, but to run the whole thing? No." Persistence eventually got Jean-Georges to take the plunge, and he never really looked back. He opened a restaurant in Boston, then another in New York. "When I arrived in New York, I absolutely loved it," he says. "The energy, the different neighbourhoods. So I told my partner I had to stay. We parted ways, and I looked for an opportunity to open my own restaurant, cook my own food." That opportunity presented itself shortly thereafter, and JoJo was born. It is a lovely simulation of a French country restaurant, and once you enter, you may as well be in Strasbourg. JoJo was authentic, reasonably priced, and an instant hit with New Yorkers, who were not yet used to the stylings of French haute cuisine but were abundantly ready to explore it, in the hands of such an imaginative chef. And, truth is, he did not try to emulate Bocuse or Troisgros, but instead brought his own sensibilities to it, born of his experience in Asia: no heavy sauces, no meat stocks, but a light, almost fanciful touch, riveted in vegetable and fruit and spice. Innovation.
The Asian influences were strong for Jean-Georges, and he had a notion to open a second restaurant that would offer a menu inspired by his experiences there. Vong was born, the name the suggestion of a writer for The New York Times. "I didn't realize for a few seconds that the name was actually derived from my own name. But it hit, and it stuck." The idea was to fuse his French techniques and execution with Asian flavours and ingredients. It was another instant hit. But what about JoJo? "I tried to control both restaurants as much as possible, but it was clear to me that any given place would only be 80 per cent of what I would do. Not better or worse, just different. If Daniel Boulud took my recipes and cooked to the exact specifications, it would still be 20 per cent different than if I cooked it. The same is true if I were to cook one of his recipes. Twenty per cent different. Once I understood that, accepted it, my life became a lot easier." He sits in Vong, looks around the room, tastes one of the fabulous coconut shrimp, and says, "Going from one restaurant to two was the hardest part of this process, by far. I finally understood the real challenge, which is to try and reduce that 20 per cent to 15, to 10, maybe even to five. That way, it is reliably close to what it would be if I were cooking in every kitchen."
Chef de cuisine at the three-star Jean Georges is Canadian Mark Lapico, and this busy evening he still takes time to show someone the best way to peel a mango, or to prepare a dozen plates ready to accept their burden of the signature egg in its shell with caviar. "I truly believe Jean-Georges will go down in history as one of the three or four greatest chefs of his generation," says Lapico. "When he opened Vong, it was the first Asian fusion restaurant, and it just shook up the whole restaurant scene. He always emphasizes the simplicity of the flavours. When people come here, on their Michelin three-star tour—as many do—we absolutely stop them in their tracks." He is obviously proud of this fact, which illustrates the bold approach Jean-Georges seems incapable of not taking.
To walk into MARKET by Jean-Georges at the Shangri-La Hotel, Vancouver, is to enter effortless elegance. Nothing overstated, but you feel that little bit special just being there.
Gregory Brainin is the director of creative development for Jean-Georges Management, and he concurs. "The chef knows what works—he has impeccable instincts. When we decided to open Spice Market, we went to Laos, Burma, Thailand, Singapore, and many other places, tried the street food in those regions, and brought back over 3,000 ideas. I cooked a lot of dishes, and Jean-Georges would come in and taste them, and either we discarded them, or made changes, and eventually arrived at the 44-item menu you see today." Spice Market is a marvel, featuring those dishes, but also with an interior design done by the chef himself. "I dreamed of this place even before Vong," says Brainin, "but it took a lot of time to find the right space, and then I went specifically to find the antiques you see here." It is a special place, and the many delights on the menu, including a sublime fried rice. ("Goose fat is the secret," according to Brainin.)
There are no chef-by-committee meetings. "That takes too much time," says Jean-Georges. "I work with each chef directly, and I know what works and what does not. Then we proceed." JoJo hums along, as does Vong. The Mercer Kitchen, Perry St., Spice Market, Nougatine (which sits right beside Jean Georges in the Trump International Hotel and Tower), and Matsugen, the newest, form the group. (He seems to know every person in each of them.) "I once thought one restaurant where I could cook my own food would be my life's dream," Jean-Georges says. "But when the opportunity came to open Vong, I could not resist. And after that, each one was relatively easy to do, in the sense that I had already let go of the 20 percent." He has a worldwide presence, including MARKET by Jean-Georges, at the Shangri-La Hotel in Vancouver. He is unremittingly focused on food, even in the midst of a day that began with signing several cookbooks and menus by request, and in which several hours are spent on his feet at the flagship, and in visits to each of the other restaurants. It is a telling moment when he says, "I love driving the streets of New York. I explore neighbourhoods, get a feel for them." Then: "Now, how about a slice of pie?" He pulls up in front of the hottest pizza joint in town, Pizza Co., at which superstar baker Jim Lahey makes the perfect crust, and puts very few, select ingredients on them. (Not surprisingly, Jean-Georges and his business partner, Phil Suarez, agreed to financially back the place.) It is a packed room, tiny, all communal tables, but the star chef just sits down, chats with his new neighbours, and savours the Popeye pizza: spinach, sea salt, a bit of olive oil. Sublime.
The new restaurant in Vancouver has a special attraction for Jean-Georges. "It is a fantastic city," he says, "and the Shangri-La people are great to work with. The ingredients there, the suppliers, the producers—it is going to be exciting to cook there." He pauses. "MARKET at Shangri-La will be a kind of 'Greatest Hits of Jean-Georges'. We will take items from the menus of all our New York restaurants, and adapt them slightly, and that will be the menu at MARKET. I think people will enjoy it." He smiles, nods, and you can hear his mind working, considering how his food will be received in a new place. "It is a great kitchen, there. The open window looking onto the street is nice. I think the team we have assembled there is excellent. I can hardly wait to get it going."
To walk into MARKET by Jean-Georges is to enter effortless elegance. Nothing overstated, but you feel that little bit special just being there. True to his stated intentions, Jean-Georges has made this menu redolent of dishes that shine in New York. There are certain subtle changes: the trout sashimi with roe has become arctic char; the uni and jalapeno on black toast seems a touch hotter. But the slow-poached egg with caviar, perfect at the three-star in New York, is virtually identical here, and a massive hit with everyone who tries it. In a gesture of collegiality, Jean-Georges served a chef's table dinner a few days after opening, with a who's who of Vancouver chefs in attendance. The response is enthusiastic; the purity of flavours and the relative simplicity of the many dishes score high marks. He murmurs, almost to himself, "We want to be part of a community here in Vancouver. I know how fantastic the food is in this region, and I am happy to be a part of this." There is, ideally, very little difference between the dishes in Vancouver and those in New York.
And in New York, Jean-Georges is restless, constantly on the move, whether between restaurants or from the dining room to the kitchen and back. In the flagship he is in great demand, but also observing; in conversation always, a steady torrent of discussion about food, dishes, service, timing, about how to improve.
Then it is on to the next restaurant. He tastes a bit of scallop, a frog leg, dips a finger in a sauce here, an emulsion there. He tries a piece of black-pepper shrimp, with sun-dried pineapple to tame the heat. "It is all about the 20 per cent. In this case, I think we have it down to five," he says, a smile on his lips, a sparkle in his eye.