Vintage styles and cultural obsessions.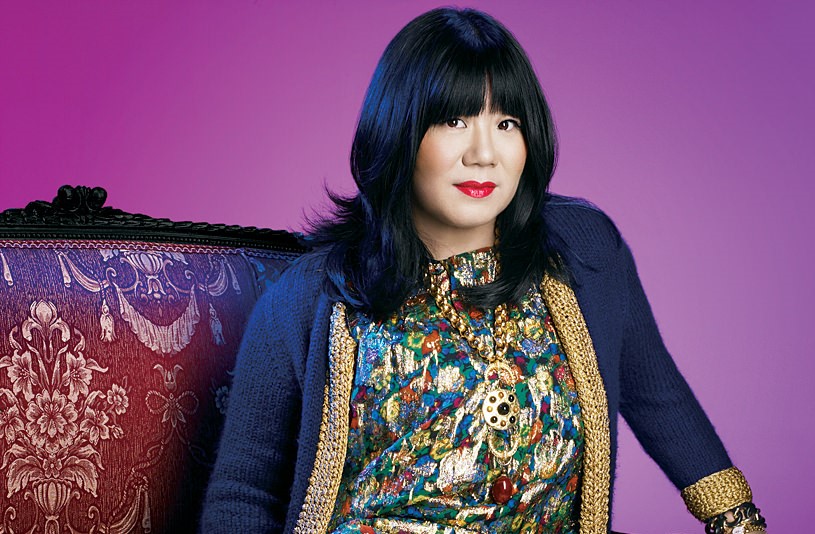 Picture New York's Times Square, nighttime, in the 70s. It's busy, bright. For kicks, four or five twentysomethings, with suitcases full of clothes and make-up, are playing dress-up and staging photo shoots at a row of photo booths. One of them is Steven Meisel, the now-famous fashion photographer who's launched a thousand faces. Another, with her straight black hair falling dramatically into her eyes, is designer Anna Sui. "It was our favourite thing," says Sui. "It was a ritual. We'd figure out which booths had the best lighting and take beauty pictures all night." They were poor Parsons fashion students at the time. And although Sui has been lured by styling jobs, mostly in the early years to make money while she built her fledgling brand, she was meant for designing. When she was in grade seven, she made herself a different outfit for every day of the entire school year. She made the shoes to match using glue and scraps of fabric left over from the clothes.
Under the bed in her suburban Detroit home, she had a box where she kept what she called her "Genius Files"—things such as a TV Guide with a picture of Cher on the cover, and a Seventeen magazine featuring kooky clothes from the movie What's New Pussycat? "Growing up in Detroit, which was so far away from London, where the Beatles were, and Italy, where Fellini was, made everything more special and fairy-tale-like," she says. "It made everything outside my immediate world so much more a fantasy and an obsession." Sui has retained that fantasy spirit from her childhood and infused it into her grown-up brand, which ranges from fashion to cosmetics to fragrance.
Her New York boutique crystallizes her brand image. It's done in gothic, shiny blacks and purples, with a red floor. People might liken it to an Addams Family haunted house, she says, but in reality, it's a girly place, filled with quintessential Sui touches. Her collection of antique tea and candy tins, as well as the carved roses and rococo shapes of her bedroom furniture, have been incorporated into the packaging of her cosmetics line, for which Canada is one of the largest markets. "So much of my wants is in everything I do. When we work on the packaging and presentation, I want it to be irresistible," says Sui. "I want it to be the thing that you have to have, and even when you finish with the product you don't want to throw away the container or the box. Because I'm kind of like that with things that I love."
Her clothes are still known for their rock 'n' roll edge, but now, because of her passion for vintage shopping, they're known for hints of nostalgia. If she wasn't a designer, she would be an archaeologist. "I love the research. What happened to these people, this civilization?" says Sui. "I think of that when I'm working on a collection, too. I love finding parallels in history."
Sui is always digging for hidden treasures—whether it's furniture from a flea market or an ancient tale from Turkey. It's this curiosity that saturates her brand.