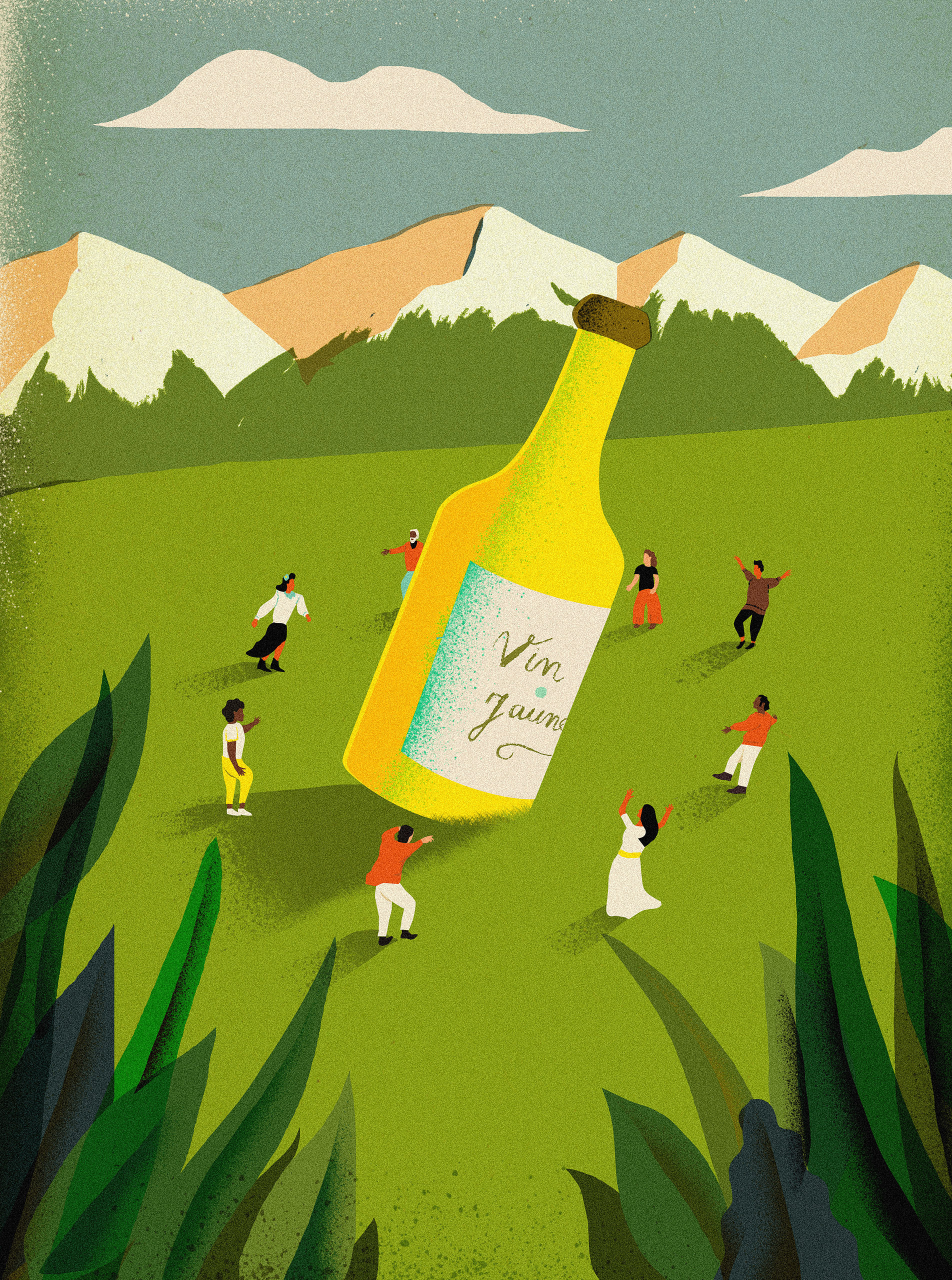 The Weird and Wonderful Wines of Jura
Vin jaune, the yellow wine from France, will be your next obsession.
Stretching just 80 kilometres from north to south in the foothills of the mountains bordering Switzerland and making wine from only five grapes—chardonnay, pinot noir, poulsard, savagnin, and trousseau—the Jura region and its wines are small but mighty. The vineyards here face stiff competition for space, including from the cows that produce milk for comté cheese, each one of which is legally mandated two and a half acres of natural pastureland to graze. But it was an outbreak of disease that originally limited Jura's vineyards to what they are today. At the end of the 19th century, there were over 20,000 hectares of vines planted throughout Jura, but after phylloxera ravaged the region in the 1870s, winemakers changed their focus from quantity to quality. Today there are roughly 2,000 hectares under vine.
With Jura's turn away from quantity in favour of quality, it racked up firsts and accolades in the greater wine world. In 1936, Jura's Arbois was among the first French appellations recognized by the Appellation d'origine contrôlée (AOC), a regulatory board that oversees France's wine regions of distinction. Since then, a further six Jura appellations have gained AOC status: Château-Chalon, Côtes du Jura, Crémant du Jura, l'étoile, macvin du Jura, and marc du Jura. While the Arbois, Côtes du Jura, and l'étoile appellations produce wines of all sorts—both traditional still and sparkling as well as ones unique to Jura—the other four are mono-typical AOCs, where only one type of wine can be produced.
According to Genuine Wines' Ellen Jakobsmeier, who handles the export accounts for one of Jura's largest independent wineries, Domaine Rolet, "Jura is hot" because of how many types of wine it makes from only five grapes picked from limited vines and, of course, the quality of those wines. However, she is quick to note that Jura's wines are an acquired taste and that certain markets are replete with fanatics while others have trouble accepting the wines' idiosyncratic qualities. "Our main export markets are Norway, Sweden, and Denmark. Scandinavia has a thirst and probably the best wine lists. But for the Chinese palate, our reds are very light," Jakobsmeier says.
Among the unique wines produced in Jura are marc du Jura, a brandy that is often aged in old casks and is similar to cognac; macvin du Jura, a pasteurized red, white, or rosé wine that is then fortified with marc du Jura and left to age in oak casks for at least 12 months; vin de paille ("straw wine"), made from grapes dried on straw mats, a sweeter take on Italy's famous amarone; and white wines made in the traditional Jura method, with the savagnin or chardonnay juice resting under a veil (voile) of its own yeast for a time, adding an unctuous nutty flavour to the otherwise "normal" wine.
However, Jura's most distinctive wine, and the one that truly can't be found anywhere else in the world, is vin jaune, named for its golden yellow colour and produced in the Arbois, l'étoile, Côtes du Jura, and Château-Chalon AOCs. Made from 100 per cent savagnin juice aged in barrel under its voile for six years and three months in cellars without temperature control, the resultant product is so revered in Jura that in Château-Chalon, a tiny appellation made up of a single vineyard beneath the eponymous village where only vin jaune is made, producers make wines only in years deemed fit—the denomination was relinquished completely in 1974, '80, '84, and 2001.
Vin jaune's beguiling flavour profile keeps followers coming back to the yellow well again and again. In many ways akin to sherry, vin jaune's extended aging under its voile imbues it with a distinctive nutty flavour while maintaining its puckering citric and saline acidity. Domaine Rolet's 2012 vin jaune from the Arbois appellation tastes like sherry aged in a barrel filled with curry-roasted peanuts and served with a spritz of lemon.
If that sounds like an odd flavour combination to you, well, that's because it is. Jura is an odd-ball region—unusual enough to allot a hectare to each cow—and the wines it makes are no different. But that quirkiness is what makes drinking them so much fun. In a world of wines that aim to wow in exactly the same way, Jura has forged its own path, dissenting palates be damned. From curry-nutted vin jaune to lusciously sweet vin de paille, when it comes to its wine, Jura knows "different" and "delicious" are synonymous.