Louis Vuitton Cruise 2020 Collection Staged at the TWA Hotel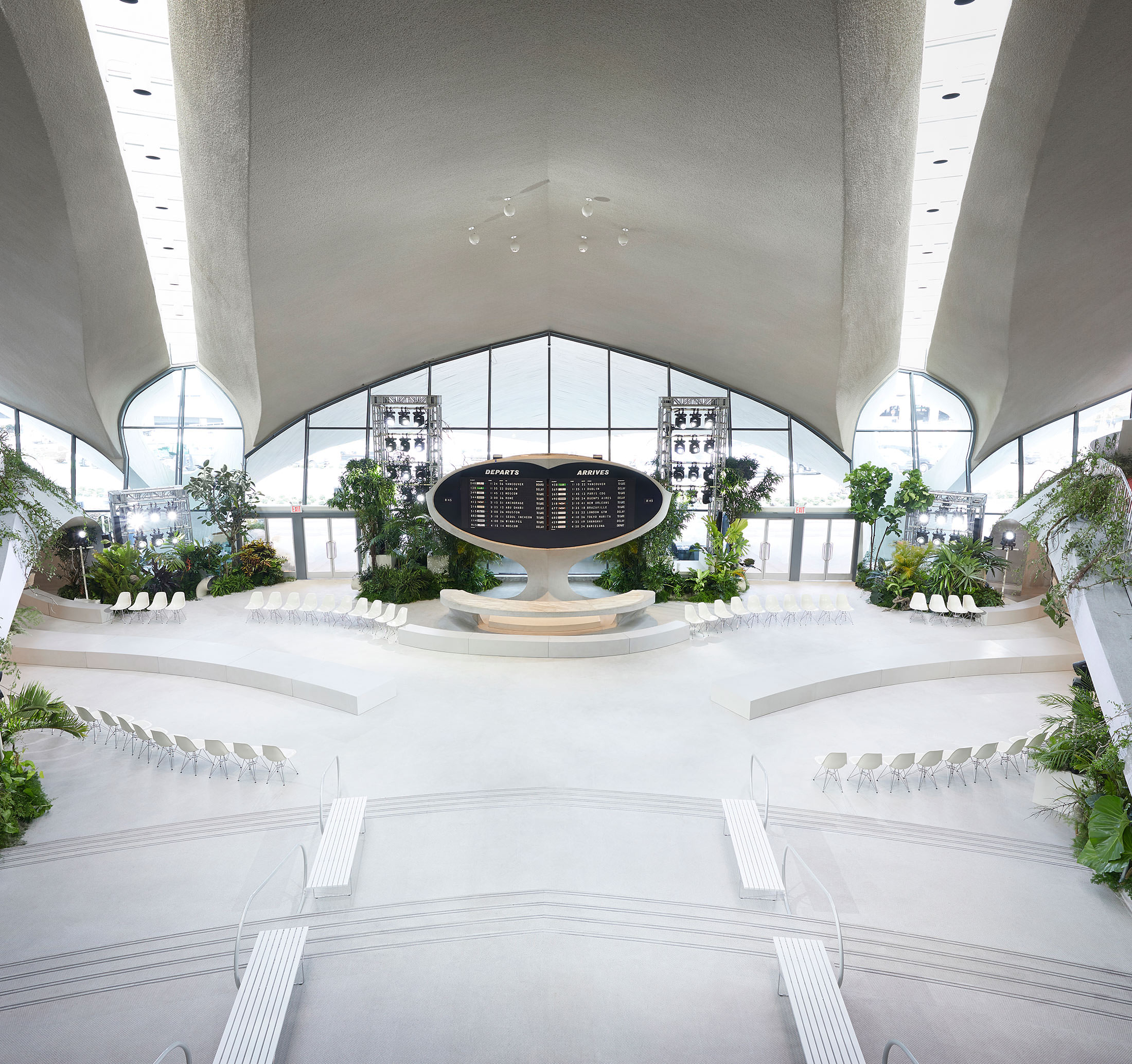 In May, days before the refurbished Eero Saarinen–designed Trans World Airlines terminal at New York's John F. Kennedy International Airport opened as the TWA Hotel, Nicolas Ghesquière, creative director for womenswear, staged the Louis Vuitton Cruise 2020 fashion show there. Location, location, location—this mantra that is the cardinal rule for real estate made for anticipation of epic proportions for this runway collection, whose location has been one of the most anticipated hotel openings of the year.
The iconic winged terminal-turned-hotel was transformed into a lush, plant-filled runway for the gathering of fashionable attendees, which included celebrity friends of the fashion house, Jennifer Connelly, Michelle Williams, and Cate Blanchett—all, needless to say, seated front row. The choice of venue was a tribute to jet-set glamour, rooted in notions of a more glamorous era of travel. And with his latest collection, Ghesquière strove to accomplish a similar goal: honouring the past while looking to the future.
The collection was composed of pinstripe suits, miniskirts, combat boots, bomber jackets featuring prints of the New York skyline, and even a handbag modelled on the Chrysler Building. With luxe fabrics, textured fibres, and sparkle, this collection is all about layering, from leather skirts and pants to velvet tops, and even a capelet richly trimmed with crystals. The legendary Louis Vuitton Speedy handbag was reimagined for the new age, with digital screens embedded on one side.
"I was lucky enough to have landed at the TWA Flight Center in the late '90s," Ghesquière said after the show. "It was something I could never forget. This place was forgotten for 20 years, and now has come back to life." Much-deserved credit to Ghesquière for choosing a locale that underscored the beginnings of Louis Vuitton as a travel accessories company. With its Cruise 2020 collection, the French maison demonstrated that even an airport terminal can be turned into the most elegant runway.
_________
Never miss a story. Sign up for NUVO's weekly newsletter, here.