Minotti's New Canadian Showroom
There is no doubt that Italians know good design. Alessandro Minotti, a scion of Italy's Minotti family—long-time leaders in the quality furniture game—is weaving his way through an array of sofas and chairs in the new 11,000-square-foot Minotti showroom in Toronto's King East Design District. He pauses to point out some details.
"You see there's no stitching here," he says, indicating the leather back of the rounded, russet-hued Leslie chair. "The chair has one continuous piece of fabric," he explains. "It is ergonomic and beautiful—from the back or the front." Every detail conveys the idea of craftsmanship that's behind each handmade Minotti product.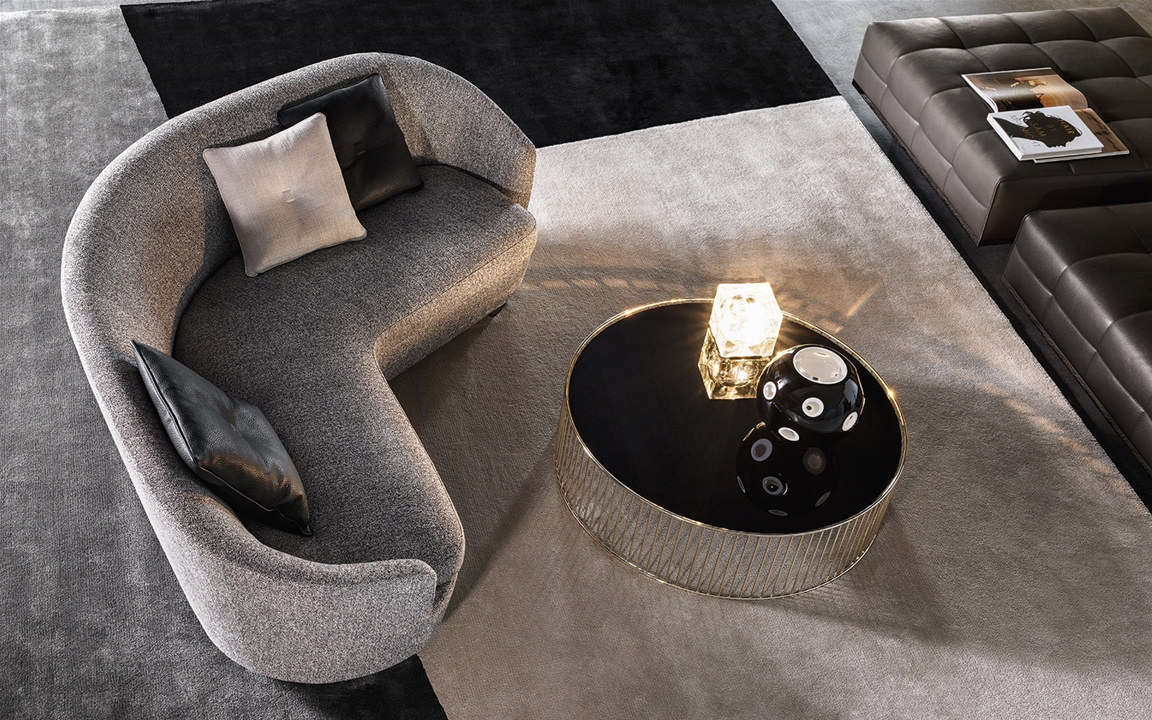 Such finesse, especially when it comes to stitching (hidden or otherwise), is characteristic of the family-owned business, which was founded in the 1950s by Alberto Minotti in the furniture-making region of Brianza, located halfway between Milan and Lake Como. (It was Alberto's sons, Roberto and Renato—Alessandro's father—who brought the brand to international recognition in the 1970s and '80s.) Other Minotti markers include sofas on aluminum frames that create the illusion they're floating, featured in the Powell collection, and adaptable seating systems exemplified in the Freeman collection, in which functional backrests allow the owner to reconfigure the pieces at will.
Today, Minotti boasts 35 stores worldwide. One to two new stores open on average each year, appealing to a wide range of luxury tastes. Minotti's newest pieces are unveiled at the annual Salone del Mobile in Milan. The 2017 sofa collection didn't disappoint. The elegant assortment included Jacques (sophisticated, curved, and retro), Lawrence "Clan" (low slung and informal), and Colette (a stunning, svelte chair available in indoor and outdoor versions, cradled on a metal base welded at more than 300 points).
"When you buy Minotti, you buy 100 per cent Italian. You buy quality."
"We don't change our design from country to country," says Alessandro. "Maybe in a warm place we won't present too much velvet or wool, but in terms of colours it's the same all over the world. Consumers know Minotti and want to have the look."
That look isn't confined to opulent homes like Calvin Klein's in Los Angeles. (The fashion giant bought it fully furnished with Minotti pieces from Alessandro himself, who had lived there for a year.) There's also a breathtaking Stockholm villa where the brand's furniture graced the set of the American version of The Girl With the Dragon Tattoo, which starred Daniel Craig. And ritzy yachts, such as the one flush with fine woods and Minotti furniture in northern Tuscany's Viareggio, commissioned for a businessman in 2015; the KKL Culture and Convention Centre Lucerne in Switzerland; the D-Hotel Maris, a swish resort ringed by greenery in Turkey; and the Chetuk Village Football Club in Krasnodar, Russia (now that's far reaching).
The family's enterprise may have prospered internationally, but its ties to Italy, says Alessandro, remain strong. "We do our manufacturing there, our suppliers are there. Everything is made in Italy. When you buy Minotti, you buy 100 per cent Italian. You buy quality."
As opposed to falling into the trend trap, the Minotti approach is subtler. "The power of our company is our ability to cross over," Alessandro says. "To be strong in Sweden by lightening the colour and changing the shape and material in the sofa, and then going for [a more lounge feel] in a contemporary house in Los Angeles. But we are still 'Classic today, classic tomorrow,' as our logo used to [say]."
The best way to find out what the fuss is about is to visit a Minotti showroom. "You can look at a lot of pieces at once and tell yourself, 'This can look like my house,' " he says. "You can dream." Though Alessandro won't be on hand for a personal guided tour at the Toronto location, the beautiful vignettes upon beautiful vignettes showcasing the best in furniture speak loud and clear.
The 2017 Collection is available at the new Minotti Showroom in Toronto, 102 Berkeley Street.
_________
Never miss a story. Sign up for NUVO's weekly newsletter, here.