Swedish mattress masters ensure the highest quality of sleep.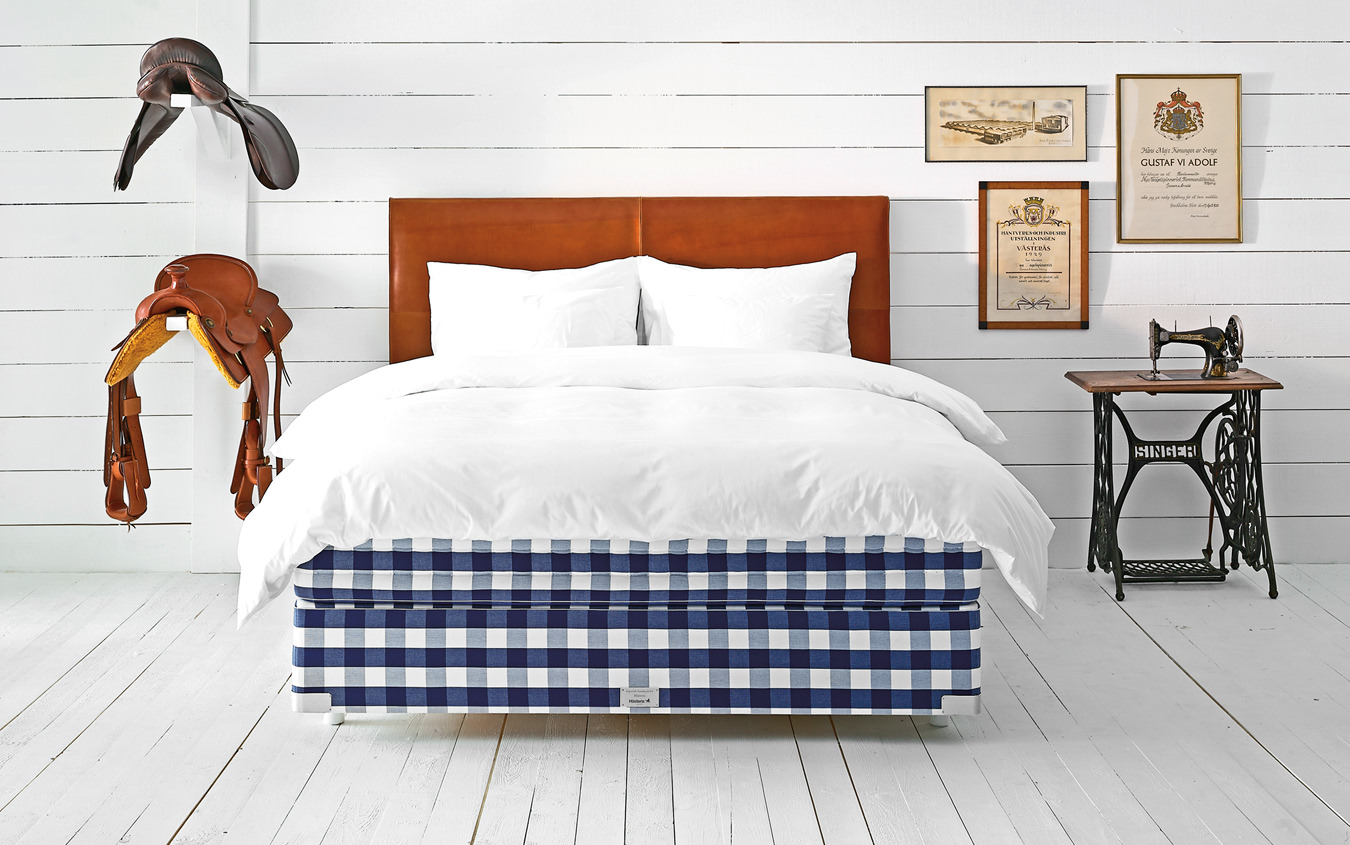 Hästens beds do not burn. This is the claim of a four-minute, seven-second YouTube video, a tale of two mattresses and something that resembles a welding torch. When the video begins, one corner of an ordinary mattress has already been set ablaze and a fireman is now pointing the torch at the Hästens bed, waiting for it, too, to catch. By 48 seconds, the wind is blowing a choking black burn-off from the first bed into his face, but the Hästens still isn't alight—white, steam-like drifts waft occasionally upward, but die down again rather indifferently. By 3:15 all that's left of the burning bed is blackened box springs. Beside them, the signature blue-and-white-checked upholstery of the Hästens looks incongruously cheerful.
Swedish brand Hästens has been "crafting sleep"—and artisanal beds—since 1852, a time when my ancestors were still sleeping on straw or in hammocks below-decks on a whaling ship. Now, five generations later, when natural products and handmaking are once again at a premium, that Old World understanding of the quality and longevity of the well-crafted is rippling outward from Europe. Hästens has been available in North America for a decade now, and while the Hästens clientele is upward of the middle class, there are people who save up for years to buy one.
A Hästens bed is made of natural, person- and planet-friendly materials that aren't off-gassing or waiting to become tinder if the electric blanket shorts. No chemicals, no glue, no latex, no foam rubber, and no automation: each bed is bespoke, built almost entirely by hand. These are some of the most meticulously tuned vehicles for sleep in the world, and they don't come off an assembly line. "People spend approximately one-third of their lives in bed and about half an hour a day in their cars," says Robert Cooper, Hästens' vice-president of global retail. "Cars often cost three times the price of a Hästens bed, with a fraction of the benefit." And with a great deal more damage.
"Our philosophy is to provide a bed for a lifetime," says Lars Bååth, the brand's chief operations officer. Hästens surveyed the Swedish market at one point and found that there are thousands of families that have owned their beds for over 50 years, and dozens for over 100. Somewhere between a summer cottage and a Patek Philippe watch, a Hästens bed is an heirloom object, trucked, if not handed, down the generations.
Ask yourself: Do I sleep well? And: What is it worth to me, to sleep well?
Each of the two sales associates at the Hästens SoHo showroom in New York owns a Hästens bed, which is more than you can probably say for the guys at the nearest Rolls-Royce dealership. And unlike most of the sales people in nearby boutiques—whose "attitude" can likely be attributed not to an innate sense of superiority over their clientele, but to a city dweller's perennial lack of REM sleep—they're also in a good mood. The showroom is bright and modern, with that now-familiar era-straddling, large-scale blue gingham check pattern, the brand's signature since 1978, which recalls a Sunday picnic, and a time when the world was either handmade, or homemade, or both. Customers can choose among three template beds and singles that can be adjusted for tension and position with the push of a button, but being so thoroughly handmade, they can be made to measure in terms of their size, tension, and shape: round (the most popular custom shape), piano shaped, an eight-by-eight-foot square. Though they make compact beds for those who live in limited square footage, a king-sized bed can weigh anywhere from 100 to 250 kilograms.
Vividus, as expensive as its Latin-inflected name, is the result, in 2006, of owner Jan Ryde challenging his craftspeople to develop a bed without compromises or concern for time (200 to 320 craftsperson hours) and money ($108,000). The labour estimate doesn't take into account the time spent to produce its components: these beds are deeply layered confections of high-thread-count textiles, tangled skeins of hypoallergenic horsehair, sheets of flax and cushy cotton, wool that allows the bed to breathe, and slow-growth pine. These variable strata offer a combination of surface softness and customized support from the individually pocketed and patented spring systems inside, which can give sleepers a weightless feeling, the product of having just enough and not too much support all over.
Somewhere between a summer cottage and a Patek Philippe watch, a Hästens bed is an heirloom object, trucked, if not handed, down the generations.
It's difficult to imagine people walking in off the street to lie down for five minutes before slapping down their credit card, and, indeed, that is not usually how it works. Customers come in with health problems like chronic back pain, allergies, or sleep disorders, but the most common client, according to Nicholas Vardon, sleep consultant and sales associate of the Hästens Toronto showroom, has done ample research before visiting. (Hästens also partners with local hotels to give clients a staycation bed test.)
"This is not a car or a watch, but something much more personal," Vardon points out. "It is important to take the time to actively listen and understand the clients' needs." People who sleep on their sides need a different sort of bed and pillow than those who sleep on their back or stomach, for instance, so sales associates "custom pair" people with beds based on visual observations and a battery of questions. The recommended firmness and spring tension depends partly on body type, which will determine alignment and pressure points. A heavier person will have better spinal alignment on a firmer bed, since they will sink more deeply into the materials; for a lighter person, firmness may generate more perceptible pressure points and surface tension, which means more restless and less restorative sleep.
The investment in a Hästens is not an ostentatious luxury bought to elevate or broadcast one's status; instead this is a "true" luxury, the antithesis of conspicuous consumption and an intimacy enjoyed, like the proverbial Christian good deed, in secret. While there are a few companies that still craft bespoke investment-priced beds, Hästens is one of the oldest by half a century. "No doubt some people buy luxury items to be noticed and show status," says Henrik Holm, wholesale director of the Americas. "Others simply want the best bed."
The argument that we spend so much time sleeping makes the investment in a bespoke bed sound practical. Most adults need between seven and nine hours of sleep each night, and though patterns may shift with age, the amount of sleep we need usually does not. During the roughly 90-minute sleep cycle (a loop of shallower and deeper sleep), we refuel our brain, repair cells, release crucial hormones, and heal blood vessels.
"It's hard to put a price on something like sleep, health, and quality of life, but we have all been tricked into believing that you can get a good bed for very little money, when in fact this is one of the few products you should really spend extra money on," says Holm. "Not only do you spend about a third of your life sleeping, but this one-third determines how the other two-thirds will work out."