On a sunny day in St. Barths this March, in perfect end-of-season Caribbean sailing weather, a spectacular fleet of 36 yachts is racing just offshore. It's a stirring sight as they draw together approaching each mark: the 50-metre-plus giants of the regatta followed by their smaller cousins of 27 metres.
Six of the yachts are from Perini Navi, instantly recognizable by their elegant lines, wide, clutter-free decks, and white superstructures offset by the mirror finish of their hulls—most in classical navy blue. There are exceptions: Rosehearty is all white, while Seahawk is black with striking red rigging.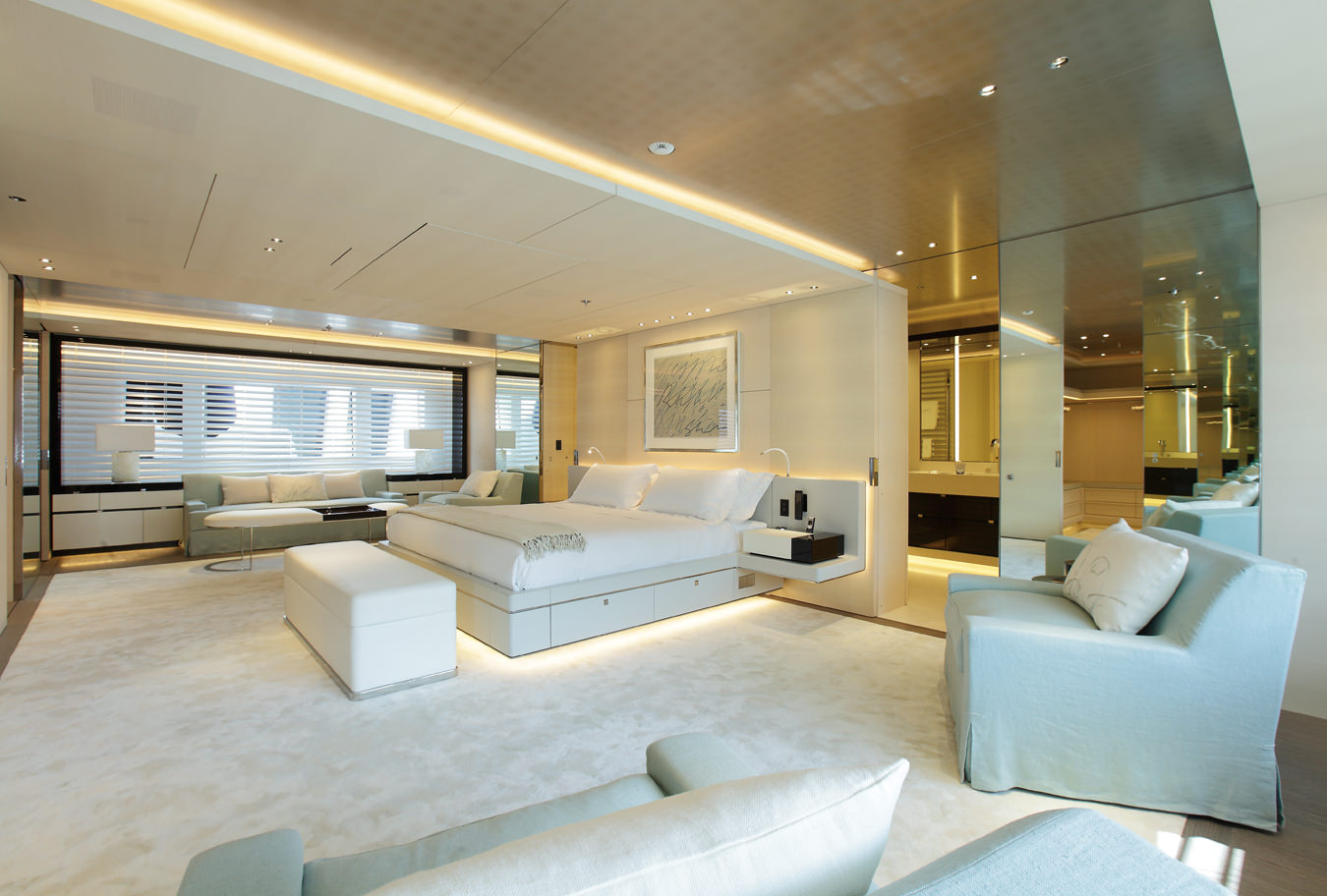 Wherever there's a sailing-superyacht regatta, there will be Perini Navis, usually several of them. Partly, it's the kind of friendly racing that Perini Navi owners like, and partly, it's a simple matter of numbers. Over half of the world's yachts measuring above 45 metres in length have been built by Perini Navi; 22 of the 50 largest sailing yachts carry the Perini Navi name, according to Boat International.
Not long ago, large sailing yachts were becoming a mere footnote to history, a relic of the golden years between the two world wars, but today, a 52-metre yacht just scrapes in at the bottom of that "50 largest" list.
It's hard to overstate the role Perini Navi has played in this. While sailing yachts would probably have grown bigger over the past two decades, following the trend in motor yachts, their size and numbers certainly wouldn't be what they are today without Fabio Perini, the founder of Perini Navi, his radical ideas, and his inventor's ability to make those ideas work.
It all started with a winch. Perhaps more precisely, it started with a winding machine that rolled toilet paper, a machine that Perini invented in 1960, at the age of 20. It became the foundation of an industrial empire that made him wealthy enough to indulge his love of sailing on a grand scale.
Powerful, innovative, and inimitably elegant, a Perini Navi yacht is unmistakable.
By the 1980s Perini wanted a large and comfortable sailing yacht but, like many would-be owners, didn't want the big crew that would be needed to sail it. Unable to find such a boat, he set about developing his own. And the key to everything was his tissue-spooling technology, which he translated into electronically operated captive reel winches.
The first yacht to incorporate his ideas was the 40-metre Felicità. Perini Navi was formed in Italy in 1983; having bought a shipyard in Viareggio, which is still the company's headquarters today, Perini continued tweaking his inventions, and in 1987 they were given full expression on the 25-metre Marina. There were no ropes cluttering the deck; they all ran invisibly beneath it. There were no crew members running back and forth, hauling on sails; the entire system was controlled electronically from a console at the helm. And the helmsman didn't have to rely on only gut feeling to know if the loadings on the rig were optimal, as electronic sensors fed back precise data to a screen on the console. Marina sailed quietly, smoothly, with great elegance.
Traditionalist sailors were highly skeptical. This push-button stuff wasn't real sailing, they muttered. It was crazy, they scoffed; it would never catch on. But by 1990, there were 10 Perini Navi yachts in the water. Meanwhile, other designers and builders began to develop their own versions of Perini's inventions; the market had shifted as clients realized that their main objection to very large sailing yachts—the complexity of handling them and the need for large crews to do so—had been blown away. Perini's crazy became the new norm.
Aside from satisfying his desire for crew-free privacy, Perini's technical innovations were a solution to how he wanted to use his yacht: for day-sailing, where he and his guests could relax, rather than working at operating the boat, and for extended cruising, where they could live aboard in great comfort. With their more aerodynamic superstructures, the lines of Perini's yachts became smoother, more streamlined, establishing the Perini Navi look. But by 1990, there were 10 Perini Navi yachts in the water.
Obsessed with detail and determined to make no compromise on Perini's vision or the company's ability to integrate new inventions, Perini Navi enlisted an in-house team to take care of technical design, interior design, engineering, fabrication of the sail control system hardware, design and construction of hulls and superstructure, building the masts, developing the rig-load analysis sensors, and writing the performance-monitoring software. The only exception was allowing clients to bring in their own interior designers, if they wished. But even with designers of the calibre of Christian Liaigre, John Pawson, Foster + Partners, and Rémi Tessier, Perini Navi oversaw the technical drawings and did all of the carpentry and finishing in its own workshops. It still does.
Launching more than a dozen big boats during the 1990s, Perini Navi cemented its reputation for producing comfortable yachts of peerless quality. The yachts turned heads everywhere. People were saying "It's a Perini" in the same way that they might say "It's a Rolls-Royce" or "It's a Patek". The one thing Perini Navi yachts didn't do was sail very fast.
That changed in the early 2000s as Perini Navi, by then able to build big hulls in aluminum (lighter and therefore faster than steel hulls), looked outside its own team for the first time. Ed Dubois, a naval architect with a race-winning track record, was commissioned to do a one-off project, the 52-metre Squall. At around the same time, they asked Ron Holland, a designer with an even more distinguished racing pedigree, to do the optimization of the naval architecture and sail plan for their new 56-metre project.
The first 56-metre boat was sold soon after construction began, and by the time she was launched in 2003, as Burrasca, the next two had been sold. By 2011, 10 of these yachts had been built to order, making it by far the most successful large-yacht series ever. As Franco Romani, the head of Perini Navi's design department says, "There are two things we must never say to Fabio Perini: 'It's not possible' and 'But we've never done that before…' "
Meanwhile, Perini Navi had begun playing with the idea of freestanding rigs, with the intention of building even bigger yachts. A client caught on to the idea: Tom Perkins, the Silicon Valley venture capitalist. The boat they built together, launched in 2006, was The Maltese Falcon. An extraordinary 21st-century version of the clipper, the 88-metre yacht has three freestanding masts and is operated entirely by Perini Navi's automated sail control system. Now nine years old, Falcon still astonishes and is probably the most recognizable yacht afloat.
"We had always focused on establishing ourselves with sailing yachts but, by the early 2000s, we had an itch to do a motor yacht."
While Perini Navi has forged its own path, clients have occasionally provided the impetus for a new direction. The owner of Perseus, a 50-metre Perini Navi launched in 2001 (today, renamed Silencio), wanted a faster yacht that would be more fun to race. And so, in 2008, Perini Navi built the 38-metre P2 from Sealium, an innovative aluminum alloy, making it the company's first seriously competitive yacht, one which still wins a podium position every time she races.
This project with the designer Philippe Briand sowed the seeds for yet another collaboration and another new direction for Perini Navi. In the early 1990s, Perini had bought the historic Picchiotti shipyard; while the purpose was to increase the capacity for sailing yacht construction, the Picchiotti name came with powerful motor-yacht associations.
"We had always focused on establishing ourselves with sailing yachts but, by the early 2000s, we had an itch to do a motor yacht," says Cristina Bernardini, of Perini Navi's marketing and communication department. "Picchiotti's heritage made it even more logical. But the world already had excellent motor yacht builders and designers, so there would be no point in simply doing more of what they did. That was our challenge."
Coincidentally, Briand and his partner, Veerle Battiau, had developed a motor yacht project for a client through their company, Vitruvius Yachts. A long-range expeditionary motor yacht, it was, in certain important respects, based on sailing yacht principles. While Perini had originally wanted the space, comfort, and ease-of-handling of a motor yacht, but in sailing yacht form, Briand and Battiau's project turned the reasoning on its head: it would offer the efficiency, economy, graceful lines, and good ride of a sailing yacht, but in motor yacht form. This was the missing link that Perini had sought, and it provided the catalyst for reviving the Picchiotti brand.
The first product of this collaboration was the 50-metre Exuma, launched in 2010. Her distinctive and original lines, dominated by the tall and slender hull, and her almost-vertical bow and low superstructure are the direct expression of Briand's technical solutions that would combine exceptional seaworthiness and a very long range with unprecedented efficiency in the water and, thus, drastically reduced fuel consumption.
"I think the Perini style has a lot to do with how the company was started and where the people came from."
Launched a year after Exuma, the 55-metre Galileo G incorporates all of the same core Vitruvius principles, with one key difference: she is certified Ice Class B, enabling her owners to explore the Northwest Passage. Last year the third motor yacht, Grace E, was delivered. Again based on Briand's Optimized Stretched Hull, the 73-metre vessel is crammed with innovations, including a dynamic positioning system that "holds" the yacht in place without the need for anchors that could damage fragile marine environments, an advanced waste-recycling system, and an emissions system fitted with catalytic converters. Most notable is her diesel-electric power plant, which reduces noise and vibration to the point where, as Bernardini puts it, "unless you look outside you don't even realize the boat is moving. It's a strange feeling until you get used to it."
Even though some of its ideas have taken time to be accepted, Perini Navi hasn't put a foot wrong in 30 years work. It raises the question: Why?
"There are other excellent yacht builders," says one Perini Navi owner, who requested anonymity. "But these boats have something special. Part of it is due to the Perini Navi people's obsession with quality and detail. But there's another thing that I can't define. I call it Perini-ness."
Style comes into it: that identifiable Perini Navi look was established with the very first yacht. Bold but never flamboyant, it is Italian flair with a sober streak. Contemporary and innovative, it is never too radical. Evolving considerably over the years, the lines have remained consistent. Having a brand look is unique in the world of big boats, which are normally one-offs, from keel to mast tip.
"I don't think anybody could recognize a [Royal] Huisman or an Alloy just by looking," says Ron Holland of competing manufacturers. "But you know a Perini immediately. They have always maintained control over the exterior lines, and I think that was smart. The consistency did a lot to help them get established in the early days."
During the St. Barths Bucket Regatta, a rented villa becomes Casa Perini, complete with a chef from Italy.
Even The Maltese Falcon is recognizably Perini Navi, which underlines the point that the look leaves lots of room for individuality, in everything from rig and sails to deck plans and interior spaces. While the graceful lines and harmonious proportions are a good foil for the technical innovations, they are also an expression of Perini's taste and personal style. He is softly spoken and discreet to the point that he seems almost self-effacing. The Perini Navi style is as much an attitude as an aesthetic. You feel it when you visit Perini Navi headquarters in Viareggio: everyone is received in the same way, whether client or commoner. There's a matter-of-factness about it, never any fuss, nothing overdone.
"I think the Perini style has a lot to do with how the company was started and where the people came from," says Battiau. "It was always about a shared passion. The human connection was there before the professional connection. It's still like that."
Although the kind of achievers who can afford a multi-million-dollar yacht tend to be individualists, Perini Navi owners love to get together—and that's something that the company has always supported. During the St. Barths Bucket Regatta, a rented villa becomes Casa Perini, complete with a chef from Italy. Since 2004, Perini Navi has also run its own fleet regatta, the biennial Perini Navi Cup. It's about bonding first, winning races second—well, mostly: the kind of people able to buy a Perini Navi are hard-wired to be competitive, and some of them add ex–America's Cup sailors to their crews for the occasion. But once off the water, it's all about family and friends.
"The key to Perini, is that Fabio Perini has never seen it as a cash cow," says Battiau. "Fundamentally, Perini Navi allows him to be a creator and a developer. That's what makes him tick." And that, perhaps, is the essence of Perini-ness.
Originally published July 2015.