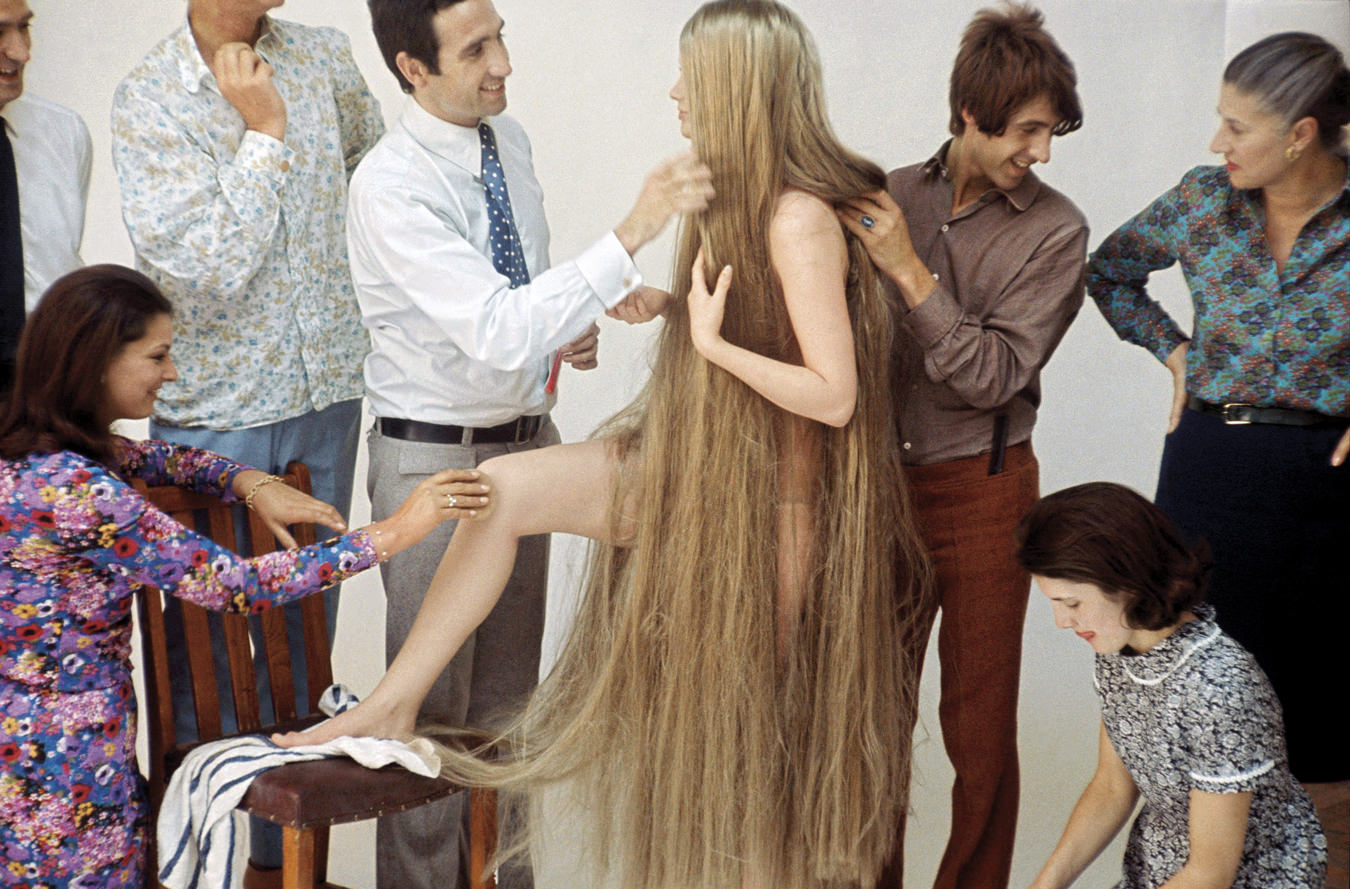 Shampoo is designed for one simple purpose: to clean hair. But could the rinse-lather-repeat ritual do more harm than good? That's the theory of certain hairstylists and purists who believe massaging your head in a rich cloud of suds can drain the moisture, shine, and colour from your strands. "Shampoos with foaming detergents have a tendency to overdo their job," says New York–based legendary hairstylist Bob Recine. "They're meant to take away build-up, grease, and residue—but sometimes to the detriment of your hair by stripping away oils and nutrients it needs to stay lustrous." This realization has led many in the hair trenches to rally around a new alternative: a detergent-free cleanser that glides on like lotion, dissolving impurities without scarifying your mane's integrity.
Leading this anti-shampoo revolution of the moment is hairstylist Michael Gordon, founder of Bumble and Bumble. After selling his line to Estée Lauder in 2006, Gordon became fixated on shampoo, or more specifically the evils of shampoo, which he calls your hair's "worst enemy." He wondered, "Why does shampoo always dry out hair? Even when I made it at Bumble, I was always asking to find a milder version, but it was never gentle enough." Enter Purely Perfect Cleansing Creme, Gordon's answer to how a modern shampoo should behave. Formulated without sulphates or surfactants, the non-foaming emollient comprises five essential oils, including pH-balancing aloe vera, sebum-absorbing peppermint, and a medley of evening primrose, jojoba, and sunflower to replenish strands. "It's mainly the lack of detergent that makes it work so well," Gordon says. "I noticed that women don't use soap on their faces anymore because it's so harsh, so why would you use it on hair?"
Removing such aggressors from the equation helps restore the hair's natural equilibrium, says Gordon. "It stops producing as much oil, and returns to a childlike condition." Gordon also found the cream prolongs the life of highlights, which has inspired the colourists at the Whittemore House Salon in New York's West Village to wash out their client's hair with Purely Perfect in lieu of shampoo after dye sessions. As miraculous as it sounds, Gordon notes that it takes about a month to see the full benefits of healthier, shinier, more resilient strands. "It's like going on a juice cleanse. You need to give your body time to acclimate, and for your scalp to get in the habit of not overproducing oil." Gordon recommends rinsing with this non-foaming fix as often as you like—whether that's three times a week or three times a day. "There's no bad way to use it," he insists.
Of course, Purely Perfect isn't the very first detergent-free shampoo. In 1996, Hollywood hairstylist Chaz Dean developed his Cleansing Conditioner, a restorative blend of plants and herbs that rids residue and has become a QVC selling phenomenon. Meanwhile, Parisians have been loyal to colourist Christophe Robin's Cleansing Mask with Lemon since 1999, as a means to whisk away debris and remove surface deposits left on the scalp after colouring, sans detergent. Each option has a slightly different mix of ingredients (Dean's contains silicone, the others do not) and application method (Robin's Cleansing Mask requires slowly adding water to work it in, whereas Gordon's Purely Perfect rinses right out).
But not everyone is convinced that no-foam cleansers are the next big thing. "It doesn't matter if a shampoo lathers or not, it has to cleanse the scalp or you will get buildup," reasons New York hairstylist Garren. When formulating his new R+Co line (co-founded with Howard McLaren and Thom Priano), Garren opted to do away with parabens, sulphates, mineral oil, and petroleum, but not foaming agents intended to cleanse the scalp. "Still, you have to pick the right shampoo for your hair type to get the most out of it," he notes. Recine cautions that detergent-free creams—especially those with rich oils—might not be for everyone. "I like them for coarse, curly hair. But people with fine, straight hair might not appreciate them," he says. To avoid the dreaded limpness and lack of body that could result, he advises using such cleansers sparingly—say, once a week when superthick hair is not the objective—or adding a drop of a nourishing hair oil, like his own Rodin by Recine, to a dose of regular shampoo for a customized solution that won't flatten strands.
Another tactic might be to stick with your usual shampoo—but just use it less often. Living Proof has made a strong case for doing so with their Perfect Hair Day (PhD) Shampoo, a silicone-free blend that's designed to repel dirt and residue, thereby allowing you to skip a rinse and not feel greasy. Or consider the new wave of high-performance dry shampoos. R+Co Death Valley, for instance, relies on provitamin B5 and vitamin E to breathe new life into second (or third) day hair, while Davines Hair Refresher is spiked with rice powder to optimize moisture levels, along with a derivative of citronella that neutralizes odours. Serge Normant Meta Revive Dry Conditioner is the new antidote to frizz, dispensing a fine mist of argan oil to keep thick, wavy hair under control in between blowouts.
Still, old habits die hard, and some remain firmly addicted to the squeaky-clean lather of a traditional shampoo. "It is a luxurious experience," contends Garren. In that case, it's what you do before the act that matters. Kérastase's latest Immersion Nutritive pre-shampoo, for example, forms a protective barrier against potential dryness prior to cleansing with a mix of fortifying iris and botanical fatty acids. Or stock up on René Furterer Complexe 5 or Phyto Phytonectar, two beloved classics infused with essential oils and proteins to clarify the scalp and reinforce its lipid structure. Simply massage into the scalp then wash out. With lather, optional.
Photo by Eve Arnold, Magnum photos.