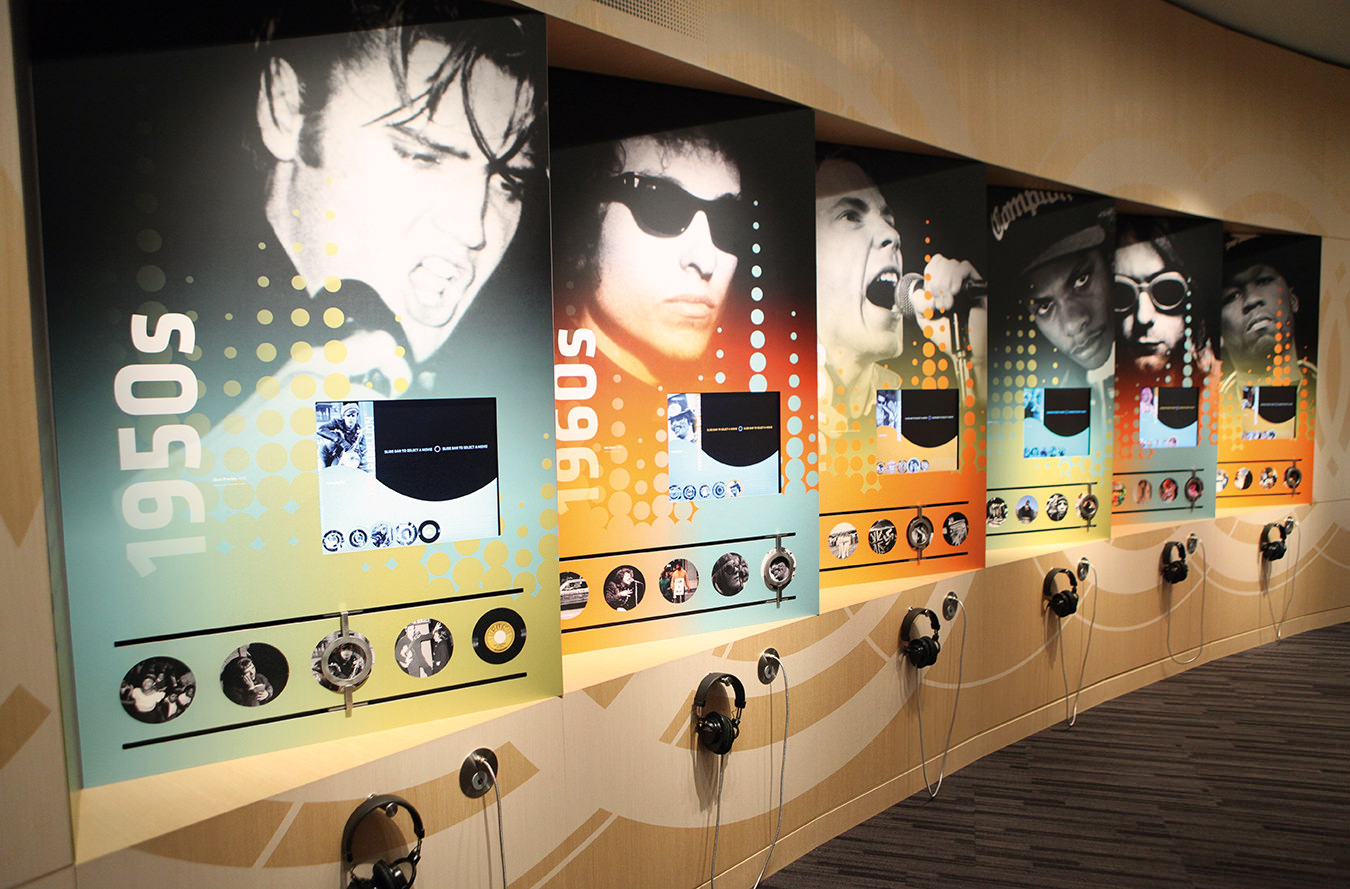 The Grammy Museum lies tucked away in an unassuming corner of the otherwise glitzy L.A. Live entertainment complex in downtown Los Angeles. The 30,000-square-foot museum highlights dozens of musical genres from flamenco to surf, and hundreds of artists from the Ramones to Shostakovich.
"With the Grammy Museum, you have every music form that needs to be represented someway," says executive director Robert Santelli, who has helped open six museums, including Cleveland's Rock and Roll Hall of Fame and Museum, and Seattle's EMP Museum. "It was a daunting task, and the way we overcame it was with technology."
The museum is aggressively interactive, with rooms devoted to hands-on instrument playing, and isolated sound booths where visitors can create their own beats and mixes guided by the world's top producers via pre-recorded videos. In an exhibit on Roy Orbison, fans can remix his classic "Oh, Pretty Woman", including punching up his trademark growl. Legendary songwriters like Lamont Dozier or Hal David "collaborate" with patrons on a new song in a high-tech permanent display.
Sophisticated enough for fans who want to explore music's role in the civil rights movement, but lighthearted enough to display Jennifer Lopez's cut-down-to-there 2000 Grammy Awards gown, the Grammy Museum's three floors take about two hours to amble through. A James Brown exhibit begins in September, replacing a John Lennon display, while fellow Beatle George Harrison will get his own exhibit starting in October, taking the place of a Bob Marley presentation.
With no acquisitions budget, the Grammy Museum borrows items from collectors, estates, larger museums, and, often, from the artists themselves. Such was the case with its most popular exhibit. In early 2009, Michael Jackson noticed the newly opened facility on his way to the nearby Staples Center to rehearse for his comeback tour. "I found myself at a Michael Jackson warehouse going through reams and rows" of Jackson memorabilia, Santelli recalls.
The resulting exhibit was coincidentally slated to end the day Jackson died on June 25, 2009; the museum extended it and, later that year, opened a new permanent Jackson exhibition. "No one else [at that time] had a Michael Jackson exhibit, and we figured the media and fans would want to see it," Santelli says of keeping the display up immediately following Jackson's death. "The museum got incredible worldwide attention at a very hefty price."
Some of the biggest musical names, including Ringo Starr, Dave Matthews, Seal, Jerry Lee Lewis, and David Foster, have come to the 200-seat theatre for Q&A sessions and performances as part of the museum's artist series, which is open to the public.
"When we had John Mellencamp, a fan flew in from Auckland. For My Chemical Romance, five girls flew in from Rio de Janeiro," Santelli says. "I like [the museum] being here because of the access to the artists."