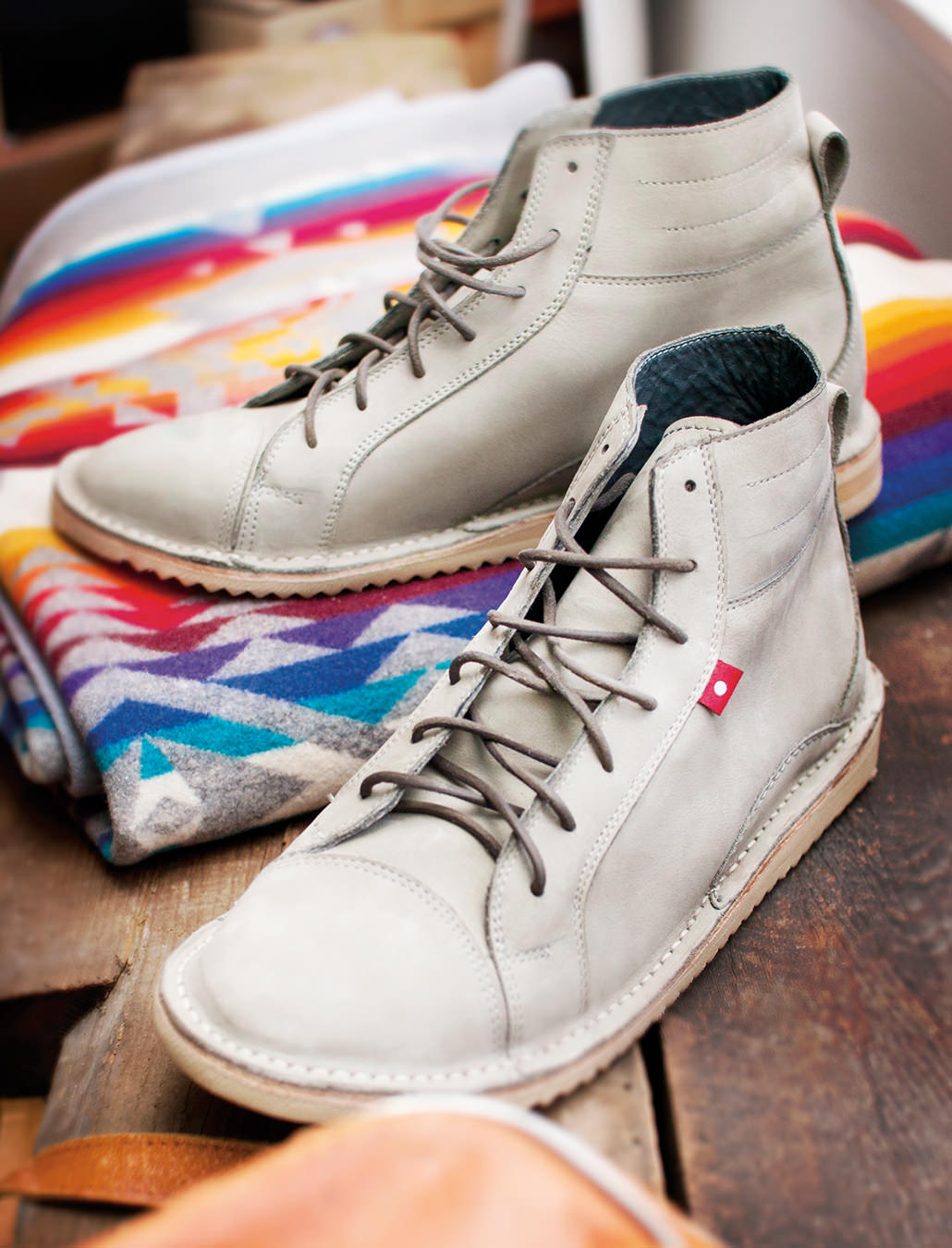 Until a couple of years ago, Tal Dehtiar had no experience in the footwear industry. Israel-born and Toronto-raised Dehtiar, 31, has sold sandwiches on the beach in Chile, produced a radio show in Singapore, and built tree nurseries in Belize. He also obtained his MBA from Hamilton's McMaster University. And the experience of building Oliberté has fulfilled his aspirations of creating an internationally successful, quality product made exclusively in Africa.
Oliberté is the first premium footwear brand made solely in Africa, with headquarters in Oakville, Ontario. Everything—from the leathers, sourced in Ethiopia, to the rubber outsoles, from Liberia, to the cutting, stitching, and assembling—is done in Africa.
Dehtiar initially designed Euro-sleek sneakers, but they've evolved into a versatile shoe that can go from office to club to cottage; they're for "the urban guy who wants a little edge," he says. "A lot of people were looking at our sneakers and saying it doesn't feel like Africa. We decided early on, after we screwed up with sneakers, we needed to be a rugged brand."
He knew from the charitable organization he co-founded, MBAs Without Borders, that Africa had the skills and equipment to make footwear, and he wanted to get into an industry that was competitive. "We do have a long-term vision—30 years out—to be the reason one million people are employed in Africa. We wanted to be the voice in the industry that has legs."
Fortunately, he was undeterred by his inauspicious first foray into obtaining financing. Dehtiar appeared on CBC's hit show Dragons' Den in 2010. And he got burned. "About 10 days before the show, they said to bring a few pairs of shoes," he explains. "I was in Ethiopia, so I brought back a couple of plain, vanilla white bowling shoe–style sneakers [prototypes]." When guest expert and fashion powerhouse Jeanne Beker dissed the designs, calling them "ugly", the Dragons, trusting her taste, chose not to invest.
Returning to Africa without a Dragons' backing, Dehtiar continued to dip into his personal savings and focus on developing his product, attracting orders from boutiques across North America. He was then invited to go back to the Dragons earlier this year, for a "second chances" segment. (Dragon Robert Herjavec told Dehtiar on his first visit, "Come back in a year when you have some sales.") Dehtiar, this time, was seeking marketing dollars, yet for the second time, didn't get financing, in large part because he wasn't willing to manufacture in China, where it would be cheaper. Dehtiar was undaunted. In his first year, he sold 200 pairs. Two years later, the company has grown, and this year's projected sales are 12,000 to 15,000 pairs.
Dehtiar's time on Dragons' Den was great for marketing. "The show has 2.2 million viewers," he says. "We got flooded with orders on our website and the independent boutiques who carry it sold out." Oliberté can be found at various retailers in Canada, the U.S., and Hong Kong, and even boutiques in Finland and Oman. They'll be available in Europe and Australia in 2012.
"We're still small. I don't pretend we're not," says Dehtiar. But his business is helping to support and increase a middle class in Africa. The O in Oliberté comes from "O Canada". The liberté stands for liberty, and also Liberia. Oliberté employs over 100 people at their factory in Ethiopia, and at the end of the year, Dehtiar is building a small workshop about 40 minutes away to make samples and for testing.
Originally, "we did a naive thing," he says. "We said for every month you make our shoes and don't have a high rejection rate, we offered a 10 per cent raise for that month. People started quitting their jobs at other places to work there." Now, he pays above minimum wage and the factory provides benefits like subsidized lunches and transportation.
Moving forward, the men's styles for fall include loafers, and combat and desert boots, in leather, nubuck, and suede, and in a variety of colours that only look better with wear. The women's selection has been overhauled for spring 2012; moccasins and boots will follow for fall 2012. Dehtiar has also added a line of leather messenger bags for men that will be available starting with this year's holiday collection.