Christian Louboutin for Marlon Gobel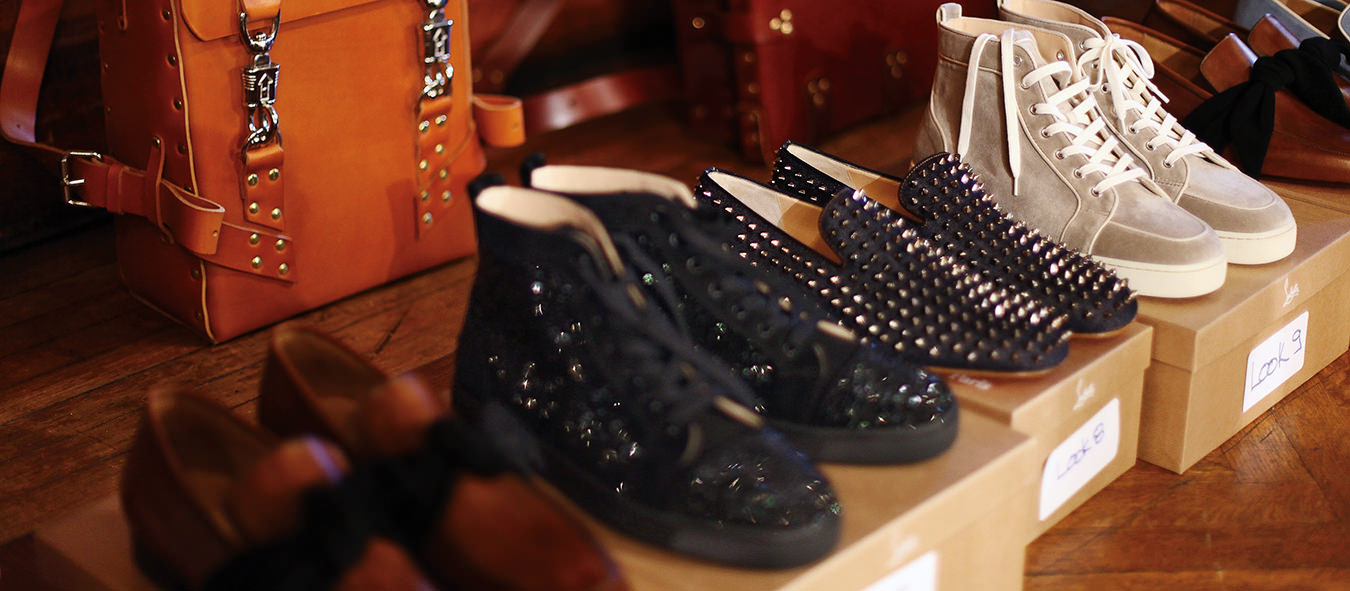 "Men deserve a bit of glamour in their lives," declares Marlon Gobel, cradling a gold, scarlet-soled, spiked loafer in his hands. It is one of 33 styles created by the world's most lionized shoemaker, Christian Louboutin, for Gobel's whimsical fall/winter 2011 collection. They range from Moroccan slippers with tassels to blue suede shoes adorned with bells to iridescent purple velveteen sneakers—all with Louboutin's signature crimson-hued undersides. "Christian had never done a men's runway show before, and we just kind of leaped off a cliff with bravery and just went with it," says Gobel, 34, dressed casually in his own plaid shirt, cotton tie, and khakis in his monochrome showroom overlooking Manhattan's East Side.
A protégé of American designers Thom Browne and Michael Bastian (the latter of whom received the CFDA Menswear Designer of the Year award earlier this year), Gobel has a stellar pedigree. His playful, beautifully tailored designs reflect this. Yet working with Louboutin was still a coup for Gobel's third runway show (his debut was fall 2010). Does he have friends in high places? "That's what everyone thinks, but no," says Gobel with a laugh, explaining that he used a pair of Louboutin's women's heels the season before (Gobel designs menswear, but always sends one female look down the runway) and the Parisian shoe maestro liked what he saw.
When the pair met, Gobel mooted his fall/winter 2011 collection exploration of fraternal orders and secret societies. "It was about a fantasy and ceremonial things for men," says Gobel, standing up to show the detail of his hand-painted "valley" and "storm" blazers up close. "Men don't usually get that opportunity to have something special and beautiful, so it was really fun to do," he says. "Christian saw those things and got inspired." The collaboration happened very organically. "It was like, 'How do you feel about bells?' and he was like 'I love bells.' [Louboutin] was very excited."
For Gobel, who studied at Central Saint Martins College of Art and Design in London, it was all about giving gents the chance to get high on the Louboutin experience. "I had gone to his stores and sat there and watched women try on his shoes, and watched the kind of intoxication that happens to them," says Gobel. "What was exciting to me was that he was making something that people were craving."
The Secret Order runway show was staged in a grandiose wood-panelled hall of New York's Park Avenue Armory, which dates back to the 1880s. Models rocked plaid blazers, corduroy trousers, shawl-neck sweaters, and belts with side tassels ("signifying their ranking in the secret society," says Gobel) with a rich palette of moss green, burgundy, and ochre. One of Gobel's highlights was the shoes with bells jingling on the runway. "It was a surprise, and totally unexpected to the audience," says Gobel. "It's one of those moments I look for in fashion. The glitter captured the sparkle of the lights, and then the bells captured the ears."
Although the shoes are bedecked with sparkles, spikes, and bells, he aspires to take the stigma away from men's clothes that are considered dandy. "Men are craving something beautiful and exciting," says Gobel, whose designs are sold exclusively at Bergdorf Goodman in New York. "Especially now, when there isn't a lot of money to spend, you want to buy better, not more." Indeed, when you look closely at the shoes, you can see that they are works of art. Every stud and piece of glitter has been hand-glued with startling precision at Louboutin's atelier in Paris.
The shoe that hits the spot for the young designer is the pair of noir, spiked loafers; "[they] are kind of very subversively magical," he says, tilting them to the light. "They're just like sea anemones, vibrant but beautiful." And one of his favourite runway looks is an all-white ensemble with a cashmere sweater and canvas cotton trousers, punctuated with shimmering silver loafers. "It isn't about being over the top or silly," says Gobel, who is inspired by Diane von Furstenberg and Karl Lagerfeld. "It's about glamour."
Looking ahead, can we expect more flashes of red-lacquered soles for Gobel next season? "I can't say anything is set in stone," says Gobel of joining forces with Louboutin again. "But there is potential for it to happen." As for what we can look forward to, Gobel says, "It is spring, so there will be difference." He adds dreamily, "Sparkles on a boat shoe could be beautiful."
Photo by Neilson Barnard.