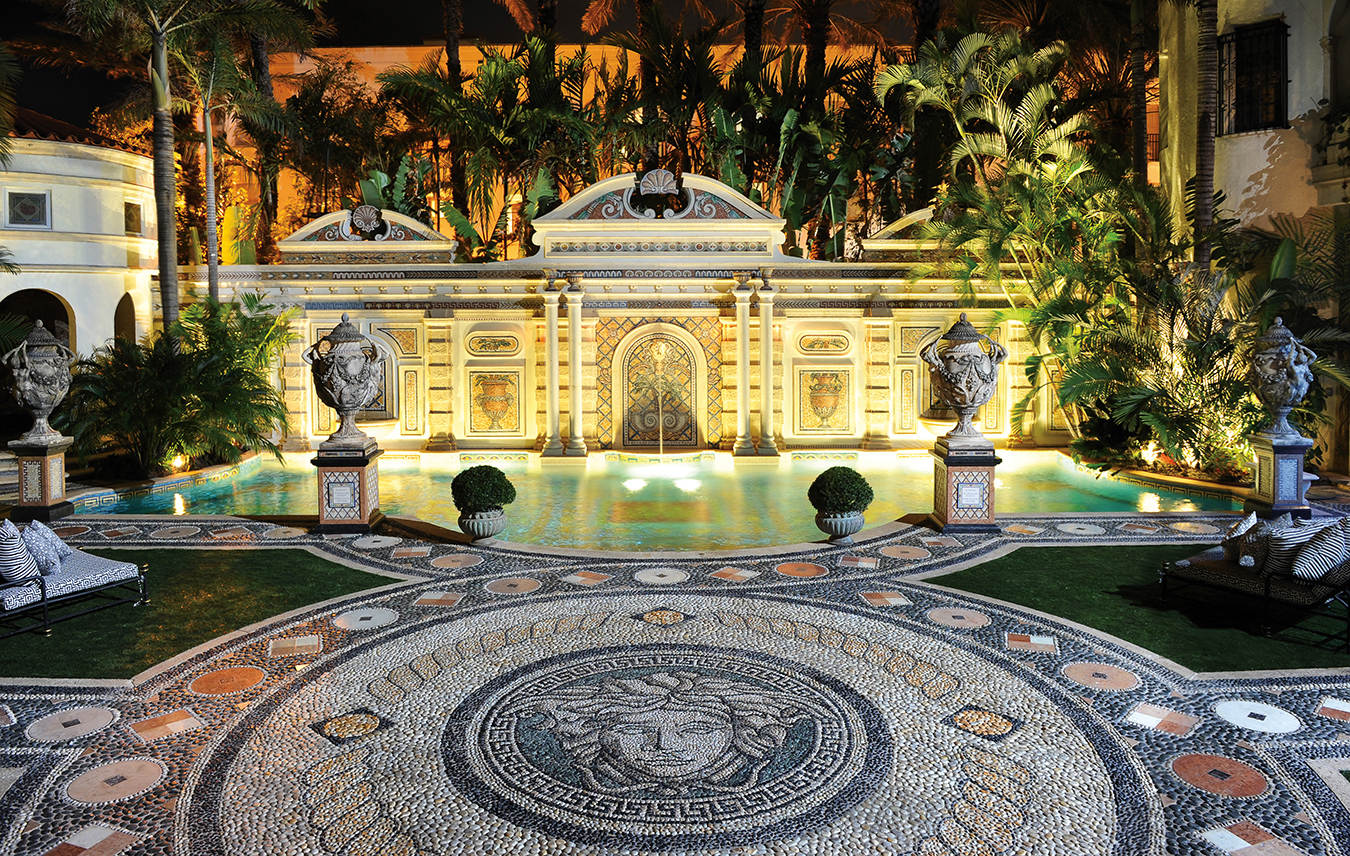 Stretching out under powder-blue skies and tall palm trees by the dazzling mosaic pool at the newly opened Villa by Barton G. in Miami, Florida, I'm in vacation heaven. What makes this getaway unique is that this is the legendary former beachfront home of late fashion designer Gianni Versace. Here, Versace let his creativity run wild with an opulent kaleidoscope of colour and print, just like his own lauded and instantly recognizable fashion creations.
I am greeted by security when I arrive at the famed wrought-iron gates, and once cleared, I am ushered into the designer palazzo. In the central courtyard, the heritage is evident at every turn—from the Spanish-style architecture chosen by Standard Oil heir Alden Freeman, who built the property in 1930, to the Medusa head logo of Gianni Versace, who owned the house for five years until his death in 1997. It was originally purchased for $2.95-million (U.S.), and Versace spent a further $32-million on renovations. After being sold by his sister Donatella, it was a private members' club until events impresario and restaurateur Barton G. Weiss took over the property in December 2009 and transformed it into a 10-suite hotel, the Villa by Barton G., which opened this past March.
"It was [work] 24 hours a day, seven days a week for four months," says the smartly dressed Weiss, reclining in a leather armchair in the property's G. Lounge. "I got the property on December 15, locked the gates, and it was basically re-enhancing what already existed and adding my own personal touch." Weiss spent months bringing the hand-painted frescoes, Italian marble floors, and 24-karat gold–lined Thousand Mosaic pool back to their former Versace glory. "It's sort of a museum and sort of a crown jewel," he says. At the same time, Weiss felt it was important to rebrand the mansion. "I tried to keep the integrity, and I'm definitely paying homage to Gianni Versace."
Intrinsic to Weiss's vision is offering an exceptional level of service. To that end, every suite comes with a private butler with a high calibre of credentials. (My fabulous butler is John Macbeth, who has previously worked for the British Royal Family.) The rooms also have mod-cons such as Kindle e-book readers and Sonos music systems, plus comforts including cashmere throws and Frette bed linen.
Guest suites differ in style, and range from the Mosaic Suite (which was so favoured by Madonna in the Versace days—Casa Casuarina at the time—that a bathtub was installed at her request, the only one in the whole property) to the Venus Suite, which exudes regal tranquility and has an oversized bed the width of two king-sized beds, along with two private balconies that overlook the front gates and the pool. Every inch of the suite is hand-finished, from vines painted on the walls of the reception room to original Versace drapes in the bedroom. As I wander around the property, including the Dining Room and the Onyx Bar, I see evidence of Gianni Versace's no-expense-spared attention to detail throughout.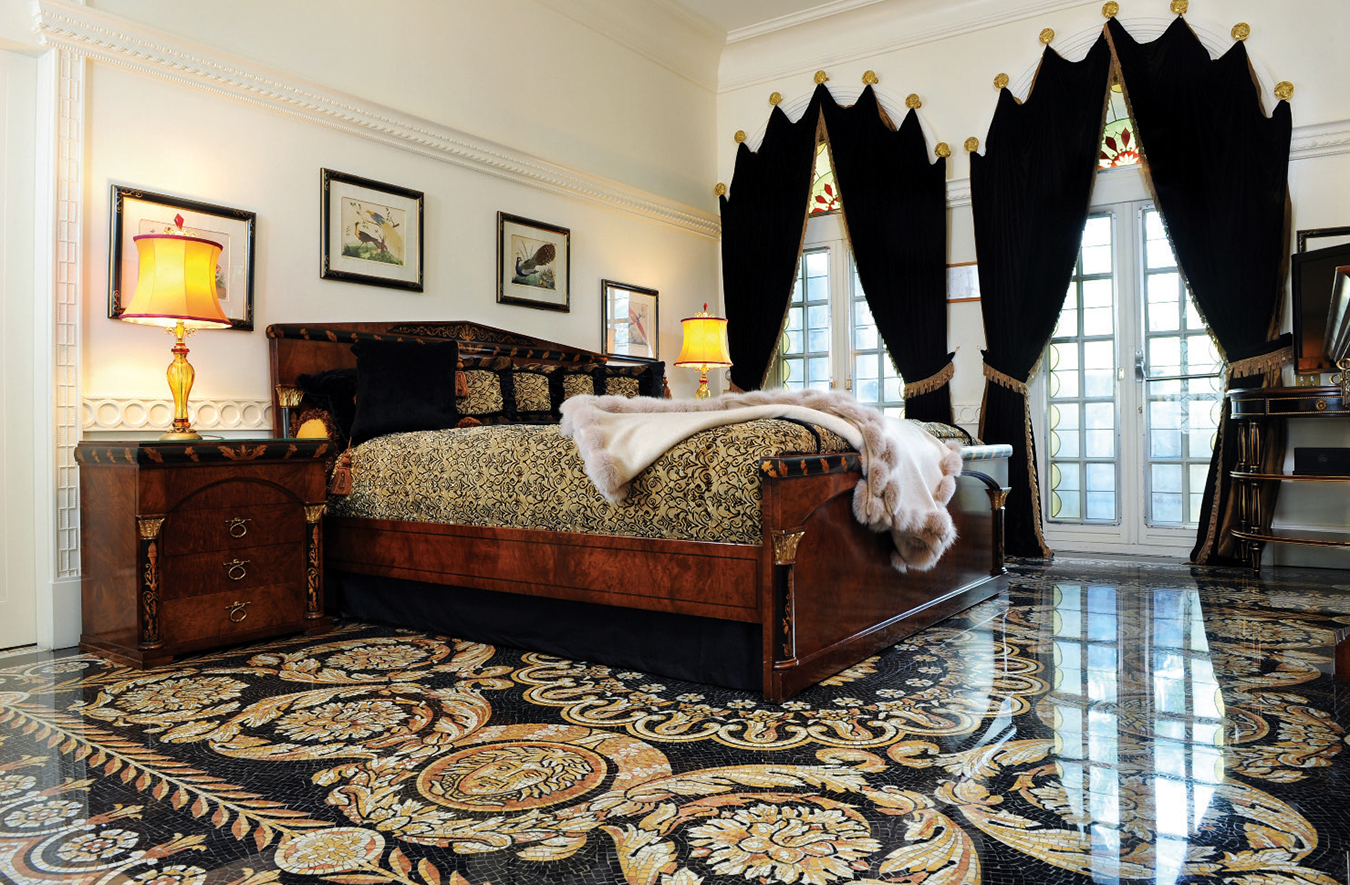 One of the most iconic (and photographed) residences in America, the Villa by Barton G. offers a special combination of history, luxury, and tranquility. Weiss has breathed new life into Gianni Versace's masterpiece while fashioning a new hotel with his own signature style. "I'm not losing the history by any stretch of the imagination," Weiss says, flashing a smile. "But it has a new vibe, it's a new era."