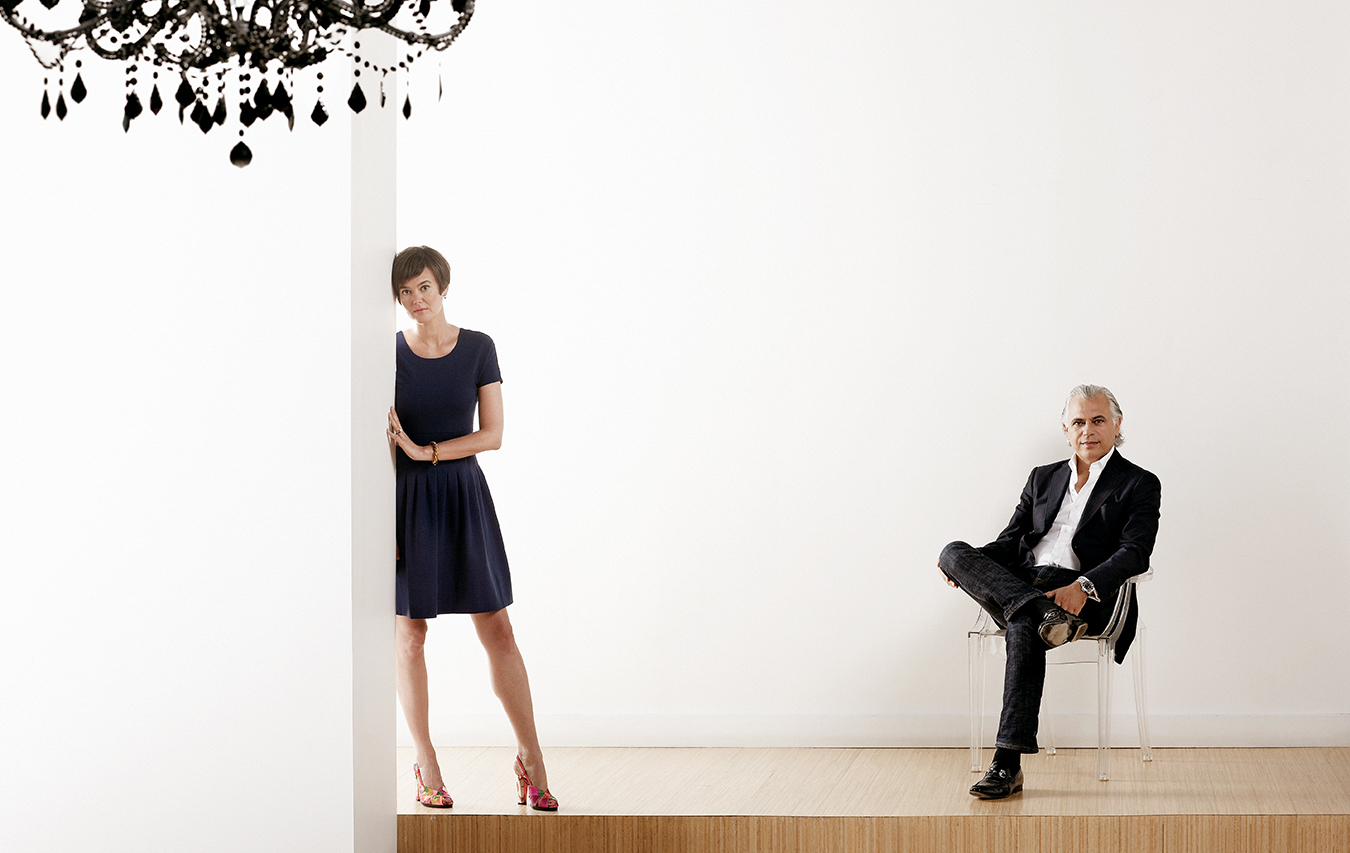 Joseph Mimran sits on one side of a large white meeting table dressed in a chic navy blue suit and a crisp white shirt. Kimberley Newport-Mimran sits perched on a chair on the other side, wearing a silver-grey Pink Tartan sweater and a short silver mini coordinated with three-inch round-toed Louboutins, which she insists are "so comfortable". Not a hair is out of place, nor a nail broken. But they are more than just a pretty picture. Joseph Mimran is the Joe behind Joe Fresh Style, Loblaws' private-label apparel brand, while his wife is the president and designer of the elegant sportswear line Pink Tartan. And together they have carved out a significant place in Canada's fickle fashion landscape.
The two met at work about 10 years ago. Before Mimran was Mr. Joe Fresh, he was Mr. Club Monaco. Back in 1983, Mimran started thinking about vertical retailing (turning a retail store into a brand), and came up with the concept for Club Monaco. In 1984, he opened his first store on Queen Street West in Toronto and expanded at a rate of one store per month for four years. In 1991, Newport joined Club Monaco and worked in a variety of product-development roles, including accessories, denim and men's wovens. She and Mimran met after his divorce, when she became a senior director working on Caban, Club Monaco's lifestyle home line. They married in 2000.
Club Monaco became enormously successful, expanding into Japan in 1991 and the U.S. and South Korea in 1994 and 1995, respectively. And Mimran cashed in, selling the business to Polo Ralph Lauren in 1999 for $52-million (U.S.) plus $35-million in debt. But a year and a half later, with flagging sales Mimran was relieved of his post as chairman, president and CEO of the company. When asked if he is angry about being turfed from the company he built, he replies, "Oh, God, no. … The minute you decide to sell your business, there is an emotional disconnect. … I think there's always the sense that you started it, but for me, I had done it for 15 years and I was happy to move on."
Almost immediately afterwards, Mimran started doing consulting work, forming Joseph Mimran & Associates, a brand and design consulting business, in 2001. Newport-Mimran also had reinvention plans. She and her husband had talked about starting an accessible luxury brand, and when she was on maternity leave, she began thinking about what the line was going to be. In 2002, she launched Pink Tartan. Though they both own the business, Newport-Mimran is the designer and runs the day-to-day. But she asks her husband for advice. "Joe has a tremendous amount of experience, so he's a great sounding board on all levels of the business," she says.
Pink Tartan is very much Newport-Mimran's personal style: pretty, flirty and elegant. Sumptuous fabrics and attention to details, such as buttons and collars, also define the brand. "It's got this preppy freshness to it, this elegant sophistication," says Barbara Atkin, vice-president of fashion direction at Holt Renfrew. Newport-Mimran will switch up the theme of a collection: Fall/Winter 2008 is inspired by the Sex Pistols and the street-wear movement of the 1970s, and she showed a little schoolboy jacket slightly deconstructed, and a sexy flocked T-shirt with little razor-blade cuts, and sent models down the runway in Doc Martens. But at their core, the clothes remain consistent with the personality of the brand.
Walk into the Pink Tartan studio on Bathurst Street in Toronto and the brand's personality is very much in evidence. A woman's hot pink leisure bicycle adds a whimsical touch to the small reception area. Inside the showroom, a large black chandelier acts as a dramatic centrepiece. The upcoming season's line is displayed on racks for buyers to peruse, and Newport-Mimran almost always wears the line to work. The clothes are beautiful. Next to the showroom is a small area for media to pull the current season's garments for photo shoots. Young, well-dressed employees go about their daily duties quietly. Newport-Mimran, who is tall and thin with legs that seem to go on forever, completes the image.
The reality of the fashion business is very different from what one might imagine. "I think it's glamorized quite a bit," Newport-Mimran says.
Over the course of six years, she has built the brand into a successful business. The line is now in more than 170 stores across North America. In addition to numerous independent stores, Holt Renfrew, Saks Fifth Avenue, Bloomingdale's, Nordstrom and Neiman Marcus carry the line. Mimran's older brother, Saul, says, "She is a talented designer who has great faith."
But it's more than faith. Expanding into the U.S. was a wise move, according to Kaileen Millard-Ruff, director of fashion for retail market-research company NPD Group, because Canada doesn't have enough prominent retail locations to showcase high-end merchandise. Pink Tartan has also garnered a substantial celebrity following. Kate Hudson, Maggie Gyllenhaal, Nelly Furtado, Anna Paquin, Kim Cattrall and others have worn the brand. Newport-Mimran says it happened organically. Celebrities or their stylists must have seen Pink Tartan in stores or on the runway. (She has shown at L'Oréal Fashion Week in Toronto and Mercedes-Benz Fashion Week in New York.)
But even so, Newport-Mimran's label is as big as her husband's new venture, Joe Fresh Style, the Loblaws private-label brand that's available in 1,100 stores across the country. When asked if she ever feels overshadowed by her iconic husband, she denies it. "I'm so proud of Joe's accomplishments. I never feel intimidated by them. I'm the biggest fan of what he does."
What he does is deliver stylish clothes at value prices. In 2004, Loblaw, which is owned by the Weston family, approached Mimran to create an apparel line for the company to be sold in Loblaw superstores. He had already created a line of housewares for the grocery chain PC Home and designed a private-label line for Holt Renfrew, also owned by the Westons.
"Who else could possibly do it? He is by far the leading fashion and style icon, having had tremendous success in mass retail previously with Club Monaco," says Elizabeth Margles, vice-president of communications at Loblaw. "He knows all the intricacies of what's involved in mass-retail apparel, from what women want to how to get it on the shelves." Additionally, Margles says Mimran is exceptionally good-natured. She's never seen him lose his temper, even under pressure. "So who else but Joe?" she repeats.
The challenge—and it was a formidable one—was that he had to make stylish clothes at extremely low price points: $8, $10 and $12. Somehow he figured out how to do it. He explains that it's a reflection of his development process, his talented staff and his editing process: "We're really fanatical about how we edit the product … I want it better. I don't want it more expensive, I just want it better. I also say that if you're really good at the manufacturing level, then you know what goes into a garment, so if somebody tries to take it out, you know what they're trying to take out." Additionally, the 1,100 Loblaw stores afford considerable negotiating power with suppliers and vendors. The result? "We give our clothes the hand feel, the look and the panache that you expect at a specialty-store environment at double to triple the pricing," Mimran says.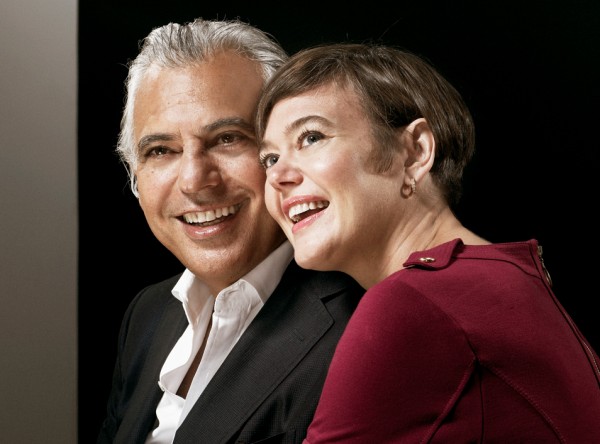 It's 6 p.m. on a Tuesday at a Joe Fresh Style store in the Loblaws supercentre at Bathurst and St. Clair in Toronto, and young women are milling about, examining the latest summer frocks hanging on racks. Two twentysomethings at one end of the store reach for the hot pink sundress for $16. The mannequins in the window dressed in these sundresses, along with matching knee-high socks and stilettos, no doubt drew their attention. Toward the middle of the store another woman holding a briefcase is stroking the pink-and-orange-swirl shift dress for $39. Still another woman with a gardening magazine under her arm peruses the T-shirts while her husband stands nearby with a bored expression on his face. The employees, identifiable by their blue-striped vintage-style scooped tees, are refolding breezy summer tops and placing them in neat piles on the tables.
The clothes are definitely cute, and the quality of many items surpasses expectations. Millard-Ruff cites Joe Fresh Style blazers as an example. "They do a great job of putting the blazers together. The seams are finished nicely, and they've put a lot of effort into the cut," she says. But sometimes compromises have to be made to reach the desired price point. The ornate patent flip-flops and neon city pumps, for example, are polyurethane rather than leather. (Some of the shoes now have leather insoles.) And the fabric weight of the Joe Fresh workout wear is noticeably lighter than a more expensive Lululemon equivalent. "You're buying pieces [to wear] a few times, not a lifetime," Millard-Ruff says. However, that hasn't slowed down the customers. There's a lineup at the cash, where women are picking up a bargain before heading off to the grocery store to grab a baguette.
If the store visit and sales projections are any indication, the strategy is working. Despite intense competition in the sector from chains offering other cheap-and-chic fashion, such as Wal-Mart's George, H&M and even the somewhat higher-priced Zara, Joe Fresh Style has carved out a niche in the marketplace, and is on track to ring up more than $400-million in sales in 2008. Indeed, Joe Fresh Style ranks ninth in terms of unit sales for womenswear in Canada, according to NPD Group.
The only hiccup has been that Loblaw has had supply-chain issues in past months, which has resulted in problems keeping inventory on the shelves. These problems have affected Joe Fresh Style, too. Margles says the company is on its way to "righting that ship".
Mimran's skills and achievements are rooted in a lifelong interest in fashion. He was born in Casablanca, Morocco, and moved to Toronto as a young boy. His mother worked as a dressmaker/couturier. She was always making beautiful gowns, and even made suits for her sons. "So I grew up with the sewing machine going in the background all the time," he says. Since the family was of modest means, Mimran had part-time jobs growing up, including one with a knitting company, which exposed him to the back end of the garment business. After earning a Bachelor of Arts from York University and a Bachelor of Commerce from the University of Windsor, he took an accounting job at Coopers & Lybrand.
He left after two years to join his mother and brother Saul, who had started a small clothing company called Ms. Originals in 1977. Initially his mother was designing, his brother did the marketing and Mimran handled the books, the factory, the manufacturing and the fabric buying. They hired a designer who decided to leave after six months. "We said, 'No, no, don't leave, we're going to make you famous.'" But she did. Then they brought in Alfred Sung. In 1983, Sung was hailed the "King of Fashion" on the cover of Maclean's. Saul says that even back then, his brother was a great motivator of people, a tireless worker and a shrewd businessman who could assess the financial viability of a project. The company, Ms. Originals, exists today, but it's now called Mimran Group, and Saul is the president.
Pink Tartan is very much Newport-Mimran's personal style: pretty, flirty and elegant. Sumptuous fabrics and attention to details, such as buttons and collars, also define the brand.
Newport-Mimran, who grew up in Niagara Falls, Ontario, also loved fashion from a young age, and enrolled in the fashion-merchandising program at George Brown College in Toronto to gain entry into the field. The day after graduating from George Brown in 1988, she got a job as a buyer at the Hudson's Bay Company. She worked there for three years before moving to Club Monaco.
But Newport-Mimran is quick to point out that the reality of the fashion business is very different from what one might imagine. "I think it's glamorized quite a bit," she says. "From afar, all that sweat turns into glitter." The everyday reality, however, involves a lot of toil. In fact, Mimran characterizes the business as "brutal". It's difficult to deal with all the moving parts, trends shift, and the business changes every three months. "It's like coming up with ketchup a thousand times," he explains. Furthermore, you're competing against international corporate behemoths as well as people with one sewing machine. But if you achieve success, hit a trend and ride the wave, it can be thrilling, Mimran says.
Due to the demanding business, the couple doesn't get a lot of time off, but when they do, they make the most of it. Mimran says his wife is an amazing cook who can discern every flavour of a dish. "You look at her and you think, oh, she's probably not even interested in food. Oh, no, the opposite," he says. Mimran recalls eating a veal ragout fettuccine that he adored at a restaurant in New York. "The following day, she had it perfectly duplicated."
The couple also collects contemporary art from emerging and mid-career artists, and enjoys gallery-hopping in Toronto and New York. When they are with their seven-year-old daughter, Jacqui, they do what she loves, which at the moment includes swimming and going to movies. And Mimran steals an hour each morning to read a fast-paced novel or historical book while he's working out on the treadmill. But all too soon, duty calls. There's always another season and new goals to accomplish.
Newport-Mimran plans to expand Pink Tartan's distribution and take the brand global. She'd also love to have a flagship store. It's unlikely Joe Fresh Style will expand into the U.S. as it's been developed for Loblaw exclusively. As the line already has many products—swimwear and sunglasses were introduced this season—Mimran wants to focus on making sure operations run smoothly. Millard-Ruff says the company has an opportunity to broaden its customer base by addressing the special-sizes market. "I know a lot of moms who are 35 and trim and hip and love Joe, but 50 per cent of women in Canada wear a medium, large or extra large. The last time I was in Joe Fresh, I saw one XL on the rack."
Even though the Mimrans have a hectic life, they also have an unhurried feel about them. When Newport-Mimran needs to return to her office, she takes a moment to give her husband a quick kiss on the cheek and inquire about dinner plans. They make things look easy. So whatever they decide to do in the future, even if it takes some of that sweat and toil, you can bet that before long they'll have it all sewn up, and you won't be able to see the seams.
Direction: Sandra Zarkovic. Grooming: Michelle Rosen for judyinc.com.
August 1, 2008
Updated: March 19, 2014