The Country Music Hall of Fame and Museum
Take me home, country roads.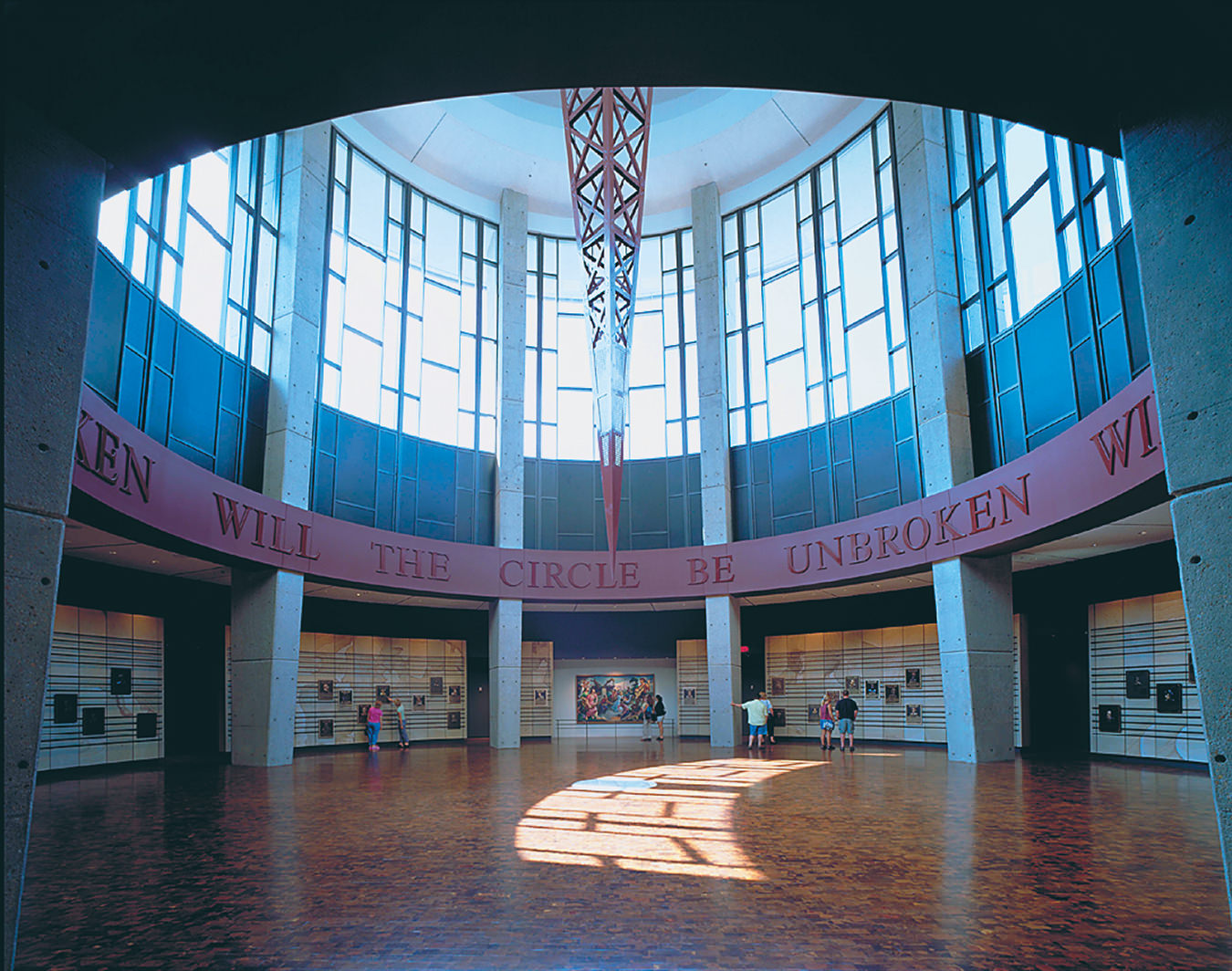 Supposing you aren't already a country music fan when you walk through the doors of the new Country Music Hall of Fame and Museum in Nashville, Tennessee, chances are you will be by the time you emerge some three hours later. Inside and out, it tells its story simply yet eloquently, just as a great country song does.
The main facade is shaped like a piano keyboard, with long vertical windows spaced to represent black and white keys. To one side, the imposing rotunda that encloses the Hall of Fame is reminiscent of a drum kit, and pierced with a replica of a radio transmitter tower which symbolizes the power that medium had—and still has—in disseminating this art form. ("WSM, the Voice of The Grand Ole Opry, 50,000 watts clear channel at 650 on the AM dial.") Mounted around the circumference, huge chunks of Tennessee Crab Orchard sandstone turn out, on closer inspection, to be carved in the shape of musical notes: the opening bars of the chorus to the old Carter Family favourite Will the Circle Be Unbroken, celebrating the living roots of this music in traditions of historical continuity, abiding faith and human fellowship, that remain its beating heart and soul.
Inside, the story continues. Three soaring, open levels of galleries and public spaces surround a dramatic, multi-storey, glass-walled central core which houses the museum's library and archive, including some one million recordings and 60,000 photographs. For the first time, they're visible for all to see, as are the conservators who care for them, hard at work on digital remastering of an old broadcast transcription disc, or restoration and preservation of a valuable, historically significant musical instrument or stage costume donated by a renowned performer.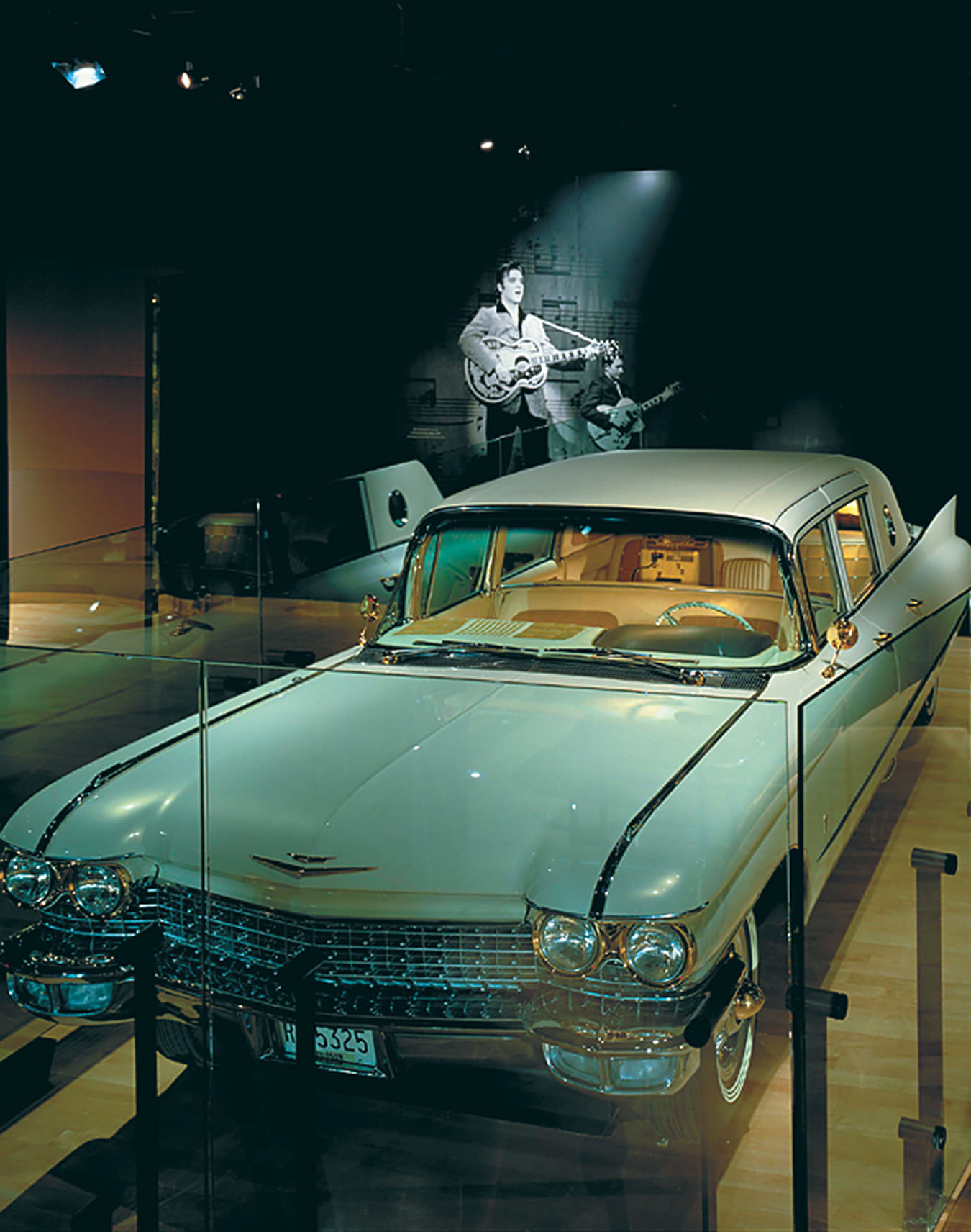 The exhibition areas are equally impressive. They include a collection of Hatch Show posters advertising memorable performances, and every one of more than 900 gold and platinum country music records released in the twentieth century. Display cases hold memorabilia that range from the moving to the outrageous. Among my favourites are the shamelessly garish rhinestone denim suits made by the famous Russian emigré tailor known simply as "Nudie." One of them bears a jewelled jailhouse, in tribute to the oft-covered Jimmie Rodgers classic In the Jailhouse Now. In one of numerous innovative or high-tech touches, each of the cases is attached to its own set of pulleys and winches, so they can be removed and replaced to change and update exhibits quickly and easily.
The museum has been designed very much with people in mind, as befits the traditional close connection between country music performers and their audiences. There's also a conscious effort to celebrate the music's present and future, as well as its past. So there are four theatre spaces, and live music performances every day, as well as film and video screenings. In the Songwriter's Theatre, visitors can learn first-hand about the creative side of the business from the men and women who practice it, and even try their own hand at penning a hit—just one of many opportunities the museum offers for personalized, hands-on experiences. Another is a dance floor imprinted with the steps of popular dances. Soundproof audio-video booths invite you to pause for up-close encounters with some of the watershed moments in country music, while more than two dozen interactive learning stations let you access the museum's holdings to find out more about a subject of special interest to you. In what may turn out to be the most popular feature of all, as you tour the building you can swipe the bar code on your admission ticket to select up to fifteen songs for your own custom-made compact disc, then pick it up and pay for it at the museum shop on your way out.
But first, it's time for the last and most impressive stop on the tour: inside the cylindrical, vaulted, 70-foot high Hall of Fame itself. The atmosphere is hushed, almost chapel-like; the sound of running water echoes off the stone walls, while shafts of light fall through a circle of high clerestory windows. The eye is drawn at once to a striking mural: Thomas Hart Benton's The Sources of Country Music. It's the last work painted by the Kansas City historical artist; he died in his studio in1975, just as he was about to sign it. Around it are bronze plaques dedicated to each of the seventy-four individuals and groups who have been honoured with membership in the Hall of Fame. It's a roll call of the industry's legends: Hank Williams, Roy Acuff, Tex Ritter, Ernest Tubb, Eddy Arnold, Bill Monroe, Chet Atkins, Hank Snow, Patsy Cline, Minnie Pearl, Johnny Cash, Marty Robbins, the Carter Family, the Sons of the Pioneers, Lester Flatt and Earl Scruggs, Gene Autry, Roy Rogers, Tennessee Ernie Ford, Loretta Lynn, Tammy Wynette, Willie Nelson, Roger Miller, Conway Twitty, Charley Pride . . .the list goes on and on, and even includes Elvis Presley. Ten more arrivals will be added in a mass induction later this year. Selection is done by an anonymous panel of two hundred electors; the criteria emphasize an individual's overall body of work. In 1999, Dolly Parton became the youngest person ever to be inducted, at a point when her career already spanned thirty years.
The previous home of the Country Music Hall of Fame opened on Nashville's Music Row in 1967. It had atmosphere, but not a lot of amenities, and there was room to display only about twenty percent of the collection at one time. The new building has five times as much space (almost 140,000 square feet), and is expected to attract an even higher multiple of visitors (a target of three-quarters of a million in the first year). Built at a cost of nearly $40 million US, and officially opened on May 17, this spectacular new country music Mecca is part of the current renaissance of downtown Nashville, along with another recently opened facility, the Frist Centre for the Visual Arts. (Local philanthropist Dr. Thomas F. Frist, Jr. and his Frist Foundation are also major benefactors of the Country Music Hall of Fame and Museum.)
Anyone planning a trip through this part of the United States should definitely include a visit here. And, if you come on a Friday or a Saturday, you can also take in a show at The Grand Ole Opry, an experience not to be missed.
For more information, visit www.countrymusichalloffame.com