Saltbox Passive House by L'Abri
Sustainability and simplicity in the Eastern Townships.
Completed last year, this elegant home sits in an almost celestial simplicity against the wooded countryside of Quebec's Eastern Townships, its white façade blending into the bright horizon. The home is imbued with an aesthetic of matter-of-factness from the design to its name. At first it hides nothing, except perhaps the rigour of its construction as a much-desired but hard-to-achieve passive house, but on approach, visitors realize the home burrows into the ground as well.
Part of the ground floor is at garden level, while the other part is above ground, giving a gentle differentiation throughout that mirrors the slopes of Mont Gale, where the home is sited.
The saltbox style is one of the oldest architectural forms characteristic of north eastern North America. It evokes simplicity, function, and protection from the elements with high roofs. Here, an L shape take on the classic design of one primary two-storey building with a gabled roof abutted by a wing with a single pitched roof. The roofing is made of grey steel, while the main cladding is wood, with burnt cedar on the entrance to give the exterior diversity and reference.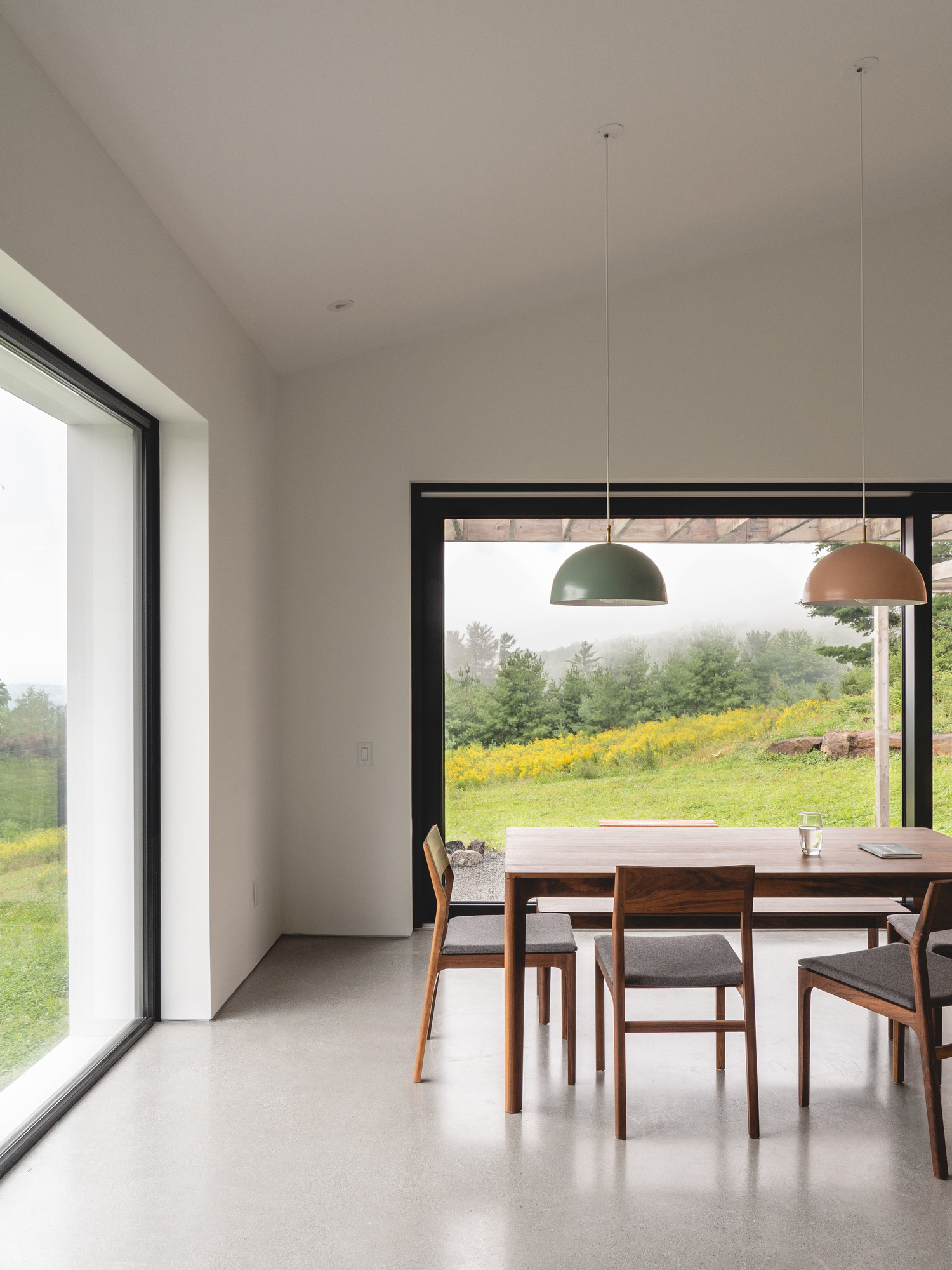 Designed by L'Abri and built by Rocket Construction, the 3,100-square-foot structure features a relatively classic layout with the public rooms, office, and kitchen on the L-shaped ground floor and the bedrooms on the second floor—really more of a half-floor.
The pitch of the ground-floor roof slanting down from the taller section allows for a high ceiling in the kitchen. An openness is created by this double-height central area that leads up to a mezzanine office and the bedroom corridor. In the crux of the L, a covered patio opens up to the view.
The interior is bright and simple with white walls and polished stone flooring. Wood and tile accents in the kitchen give depth to this central location. Scandinavian-inspired furniture also gives depth to the space, which at its corners seems especially bare, like a canvas for life. Also evoking frames and painting are the window frames, well placed but spare, with thick casing, an aspect of passive homes which contributes to the high degree of insulation and energy saving.
Photography by Raphaël Thibodeau.
Part of our Home of the Week series. Read more HERE.