Makani' Eka by Walker Warner Architects
Hawaii is a popular vacation spot among Canadians, but its architectural scene is often overlooked. However, the latest project by Walker Warner Architects, a compound of sorts that incorporates modern and Indigenous design, is hard to miss and even harder to disregard.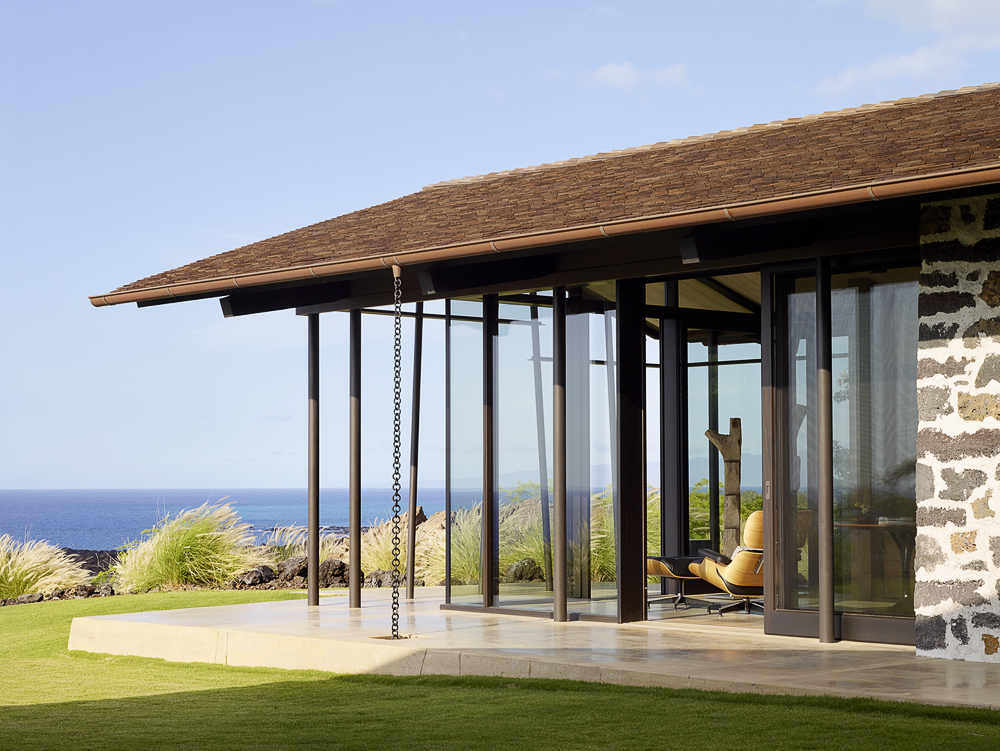 Greg Warner, one of the practice's founders, grew up in Hawaii and was influenced as a boy by the chapel designed by Vladimir Ossipoff at the Hawai'i Preparatory Academy. The fusion of international modernist principles with idiomatic design was key in the execution of Makani Eka, which sits on top of a hardened lava flow on Hawaii's Big Island.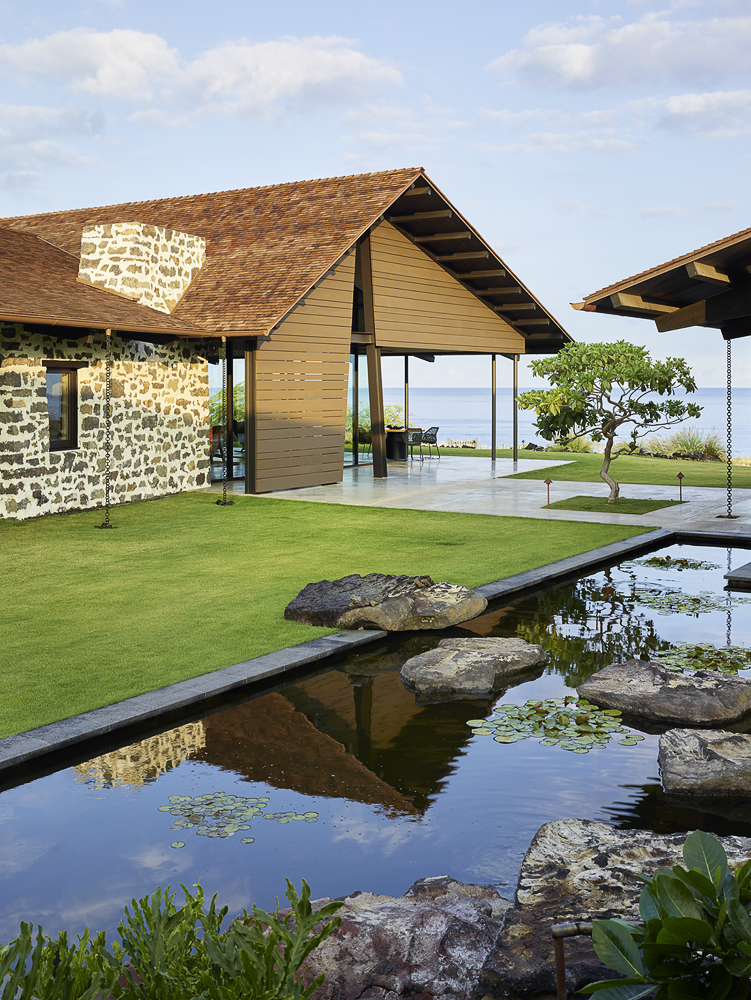 The "compound" at Makani' Eka is a 1.5-acre cluster resembling a traditional Hawaiian village, with a main living pod and two separate guest suites containing three bedrooms in total. David Y. Tamura Associates created the landscape design that makes the area between the buildings feel communal yet tranquil, with free-standing trees and reflection pools covered in water lilies. Each building has a partially or fully enclosed patio space, and the property has a shaded outdoor bathtub. Two primary spaces anchor the communal area: an outdoor firepit with lounge chairs as well as an outdoor dining spot ideal for beautiful brunches on Hawaiian mornings.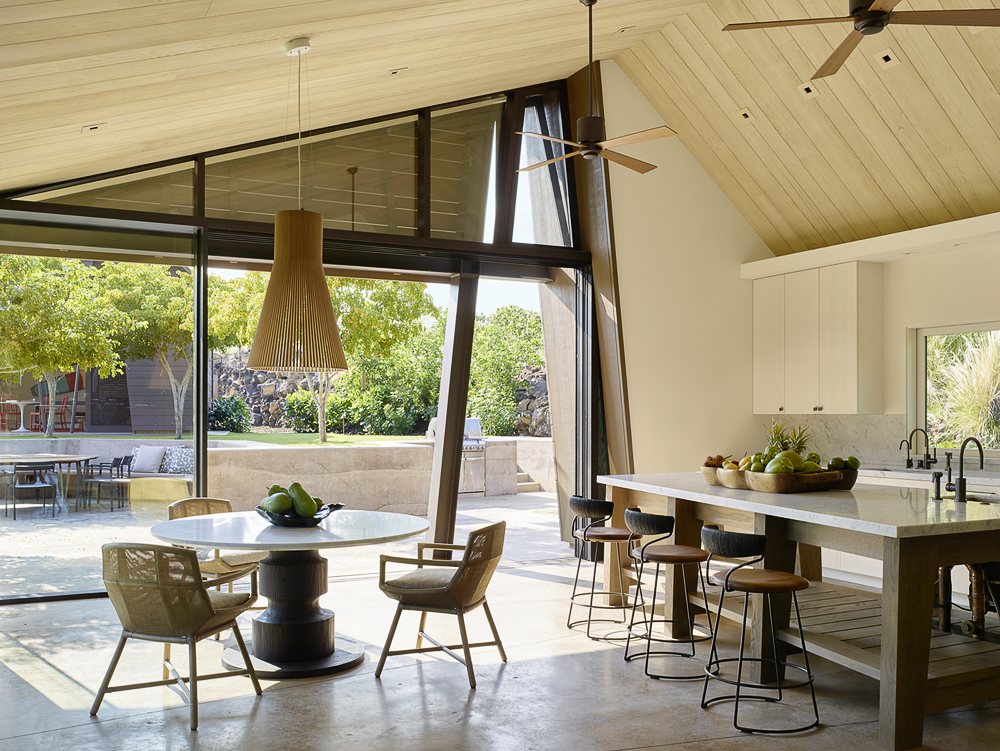 The exteriors feature heavily mortared lava rock paired with western red cedar for cladding and shingles, and sapele mahogany was used for the window frames. Large operable windows accentuate the air flow through the structure, allowing occupants to spend breezy afternoons lounging on the couch while still connected to the outdoors.
Speaking of the indoors, the floors are polished concrete, and the mixture of steel, wood, and stone materials is tempered by white-painted walls in spaces such as the bedrooms and office. Throughout, the countertops are Carrara marble or Basaltina, and the millwork is painted poplar or stained western red cedar.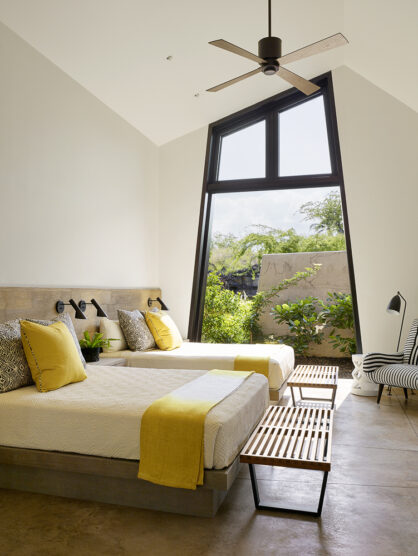 The interior design by Philpotts Interiors has a relaxed midcentury feel that doesn't overwhelm. Custom surfboards hang in the rec room as well as the master bedroom, and the living room features armchairs, a sofa, and table lamp by Christian Liaigre.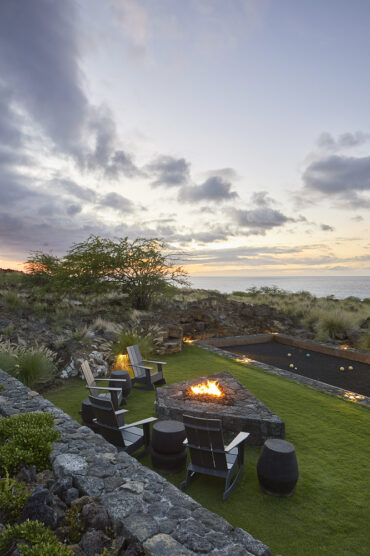 Part of our Home of the Week series. Read more HERE.