La Charbonnière by Alain Carle Architecte
Timeless country retreat.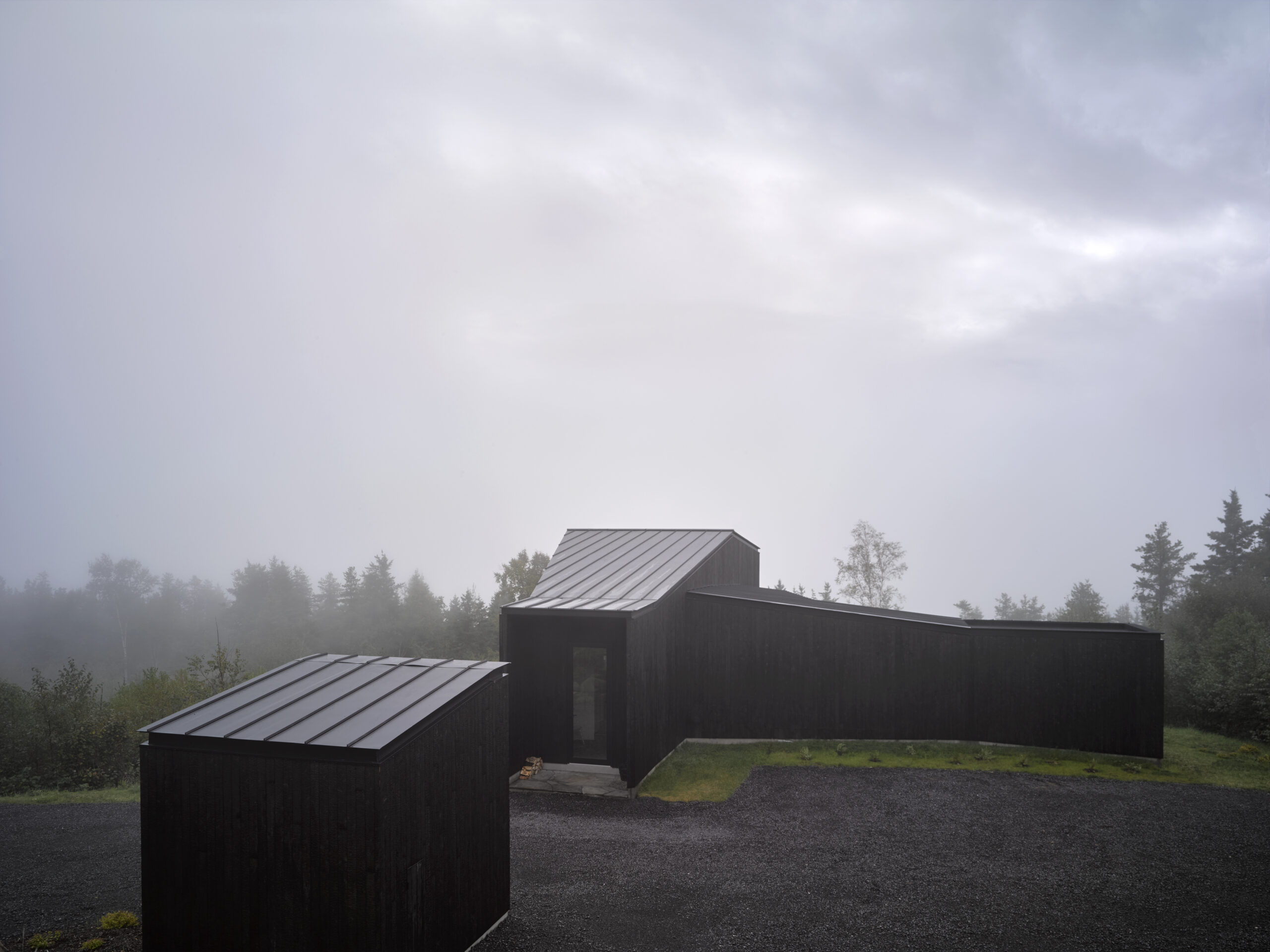 Balancing rustic charms with modern largesse, Alain Carle Architecte's La Charbonnière is tucked on a mountainside overlooking the Saint Lawrence River in Quebec. The site was previously completely cleared by the developer, posing a challenge for the Montreal-based firm to transform the overexposed lot. Their solution is unexpected but surprisingly well suited to the area—it is black and brutalist, yet still right at home in the lush Cap à L'Aigle landscape.
The streetside view of La Charbonnière is unassuming, almost shadowy, with a notable lack of windows to maximize privacy. The exterior is clad in cedar charred in the shou sugi ban technique. Originating in 18th century Japan, the method weatherproofs wood, and makes for a sleek, naturalist finish.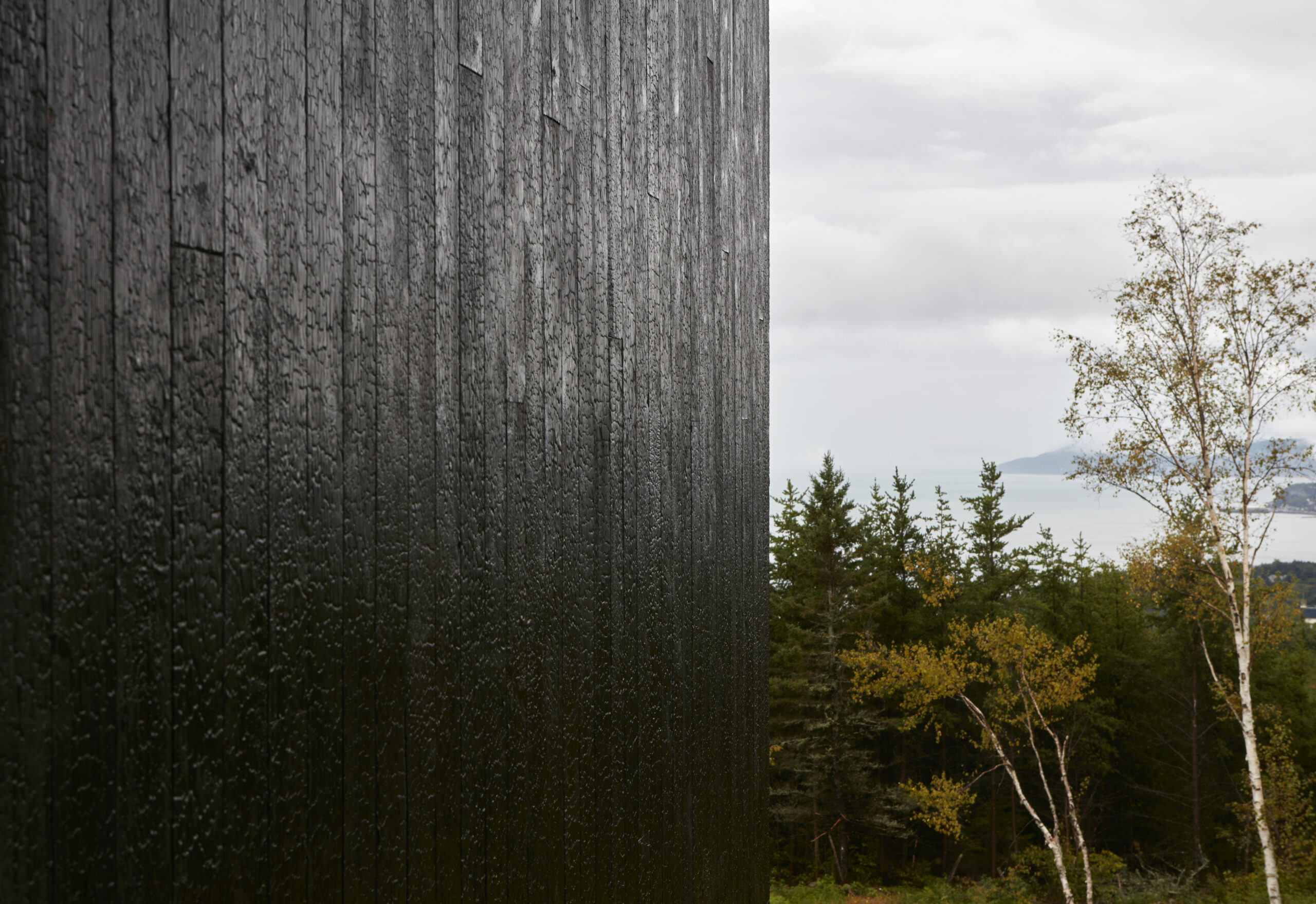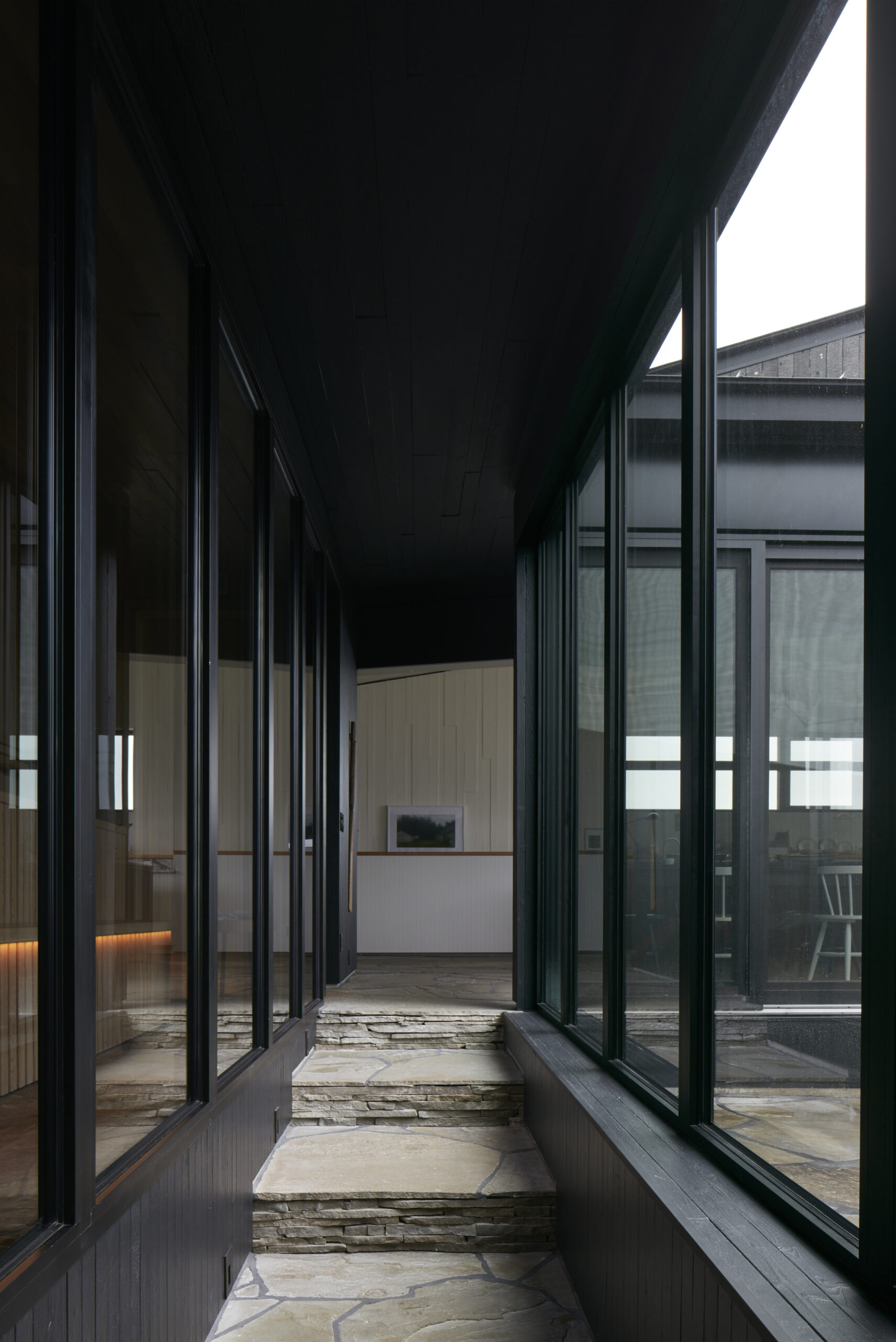 Inside, the dark exterior gives way to shockingly bright and spacious living quarters. Though the front may avert wandering eyes, the back of the house is primarily glass, with sweeping floor-to-ceiling windows for taking in the views of the river below. The surrounding landscape is visible from nearly every room, through a combination of panelled and gridded windows, all edged in black. At 225 square metres, the living, dining, and kitchen areas are kept compact and open, while the bedrooms are shotgun style with built-in wooden benches and doors leading into the backyard. The under counter storage keeps the kitchen light and connected to the rest of the main living space. In the upstairs sitting area, a round wood stove sets the scene of a picturesque nature retreat.  An expansive sauna, with yet another glass wall, rounds out the house's spaces.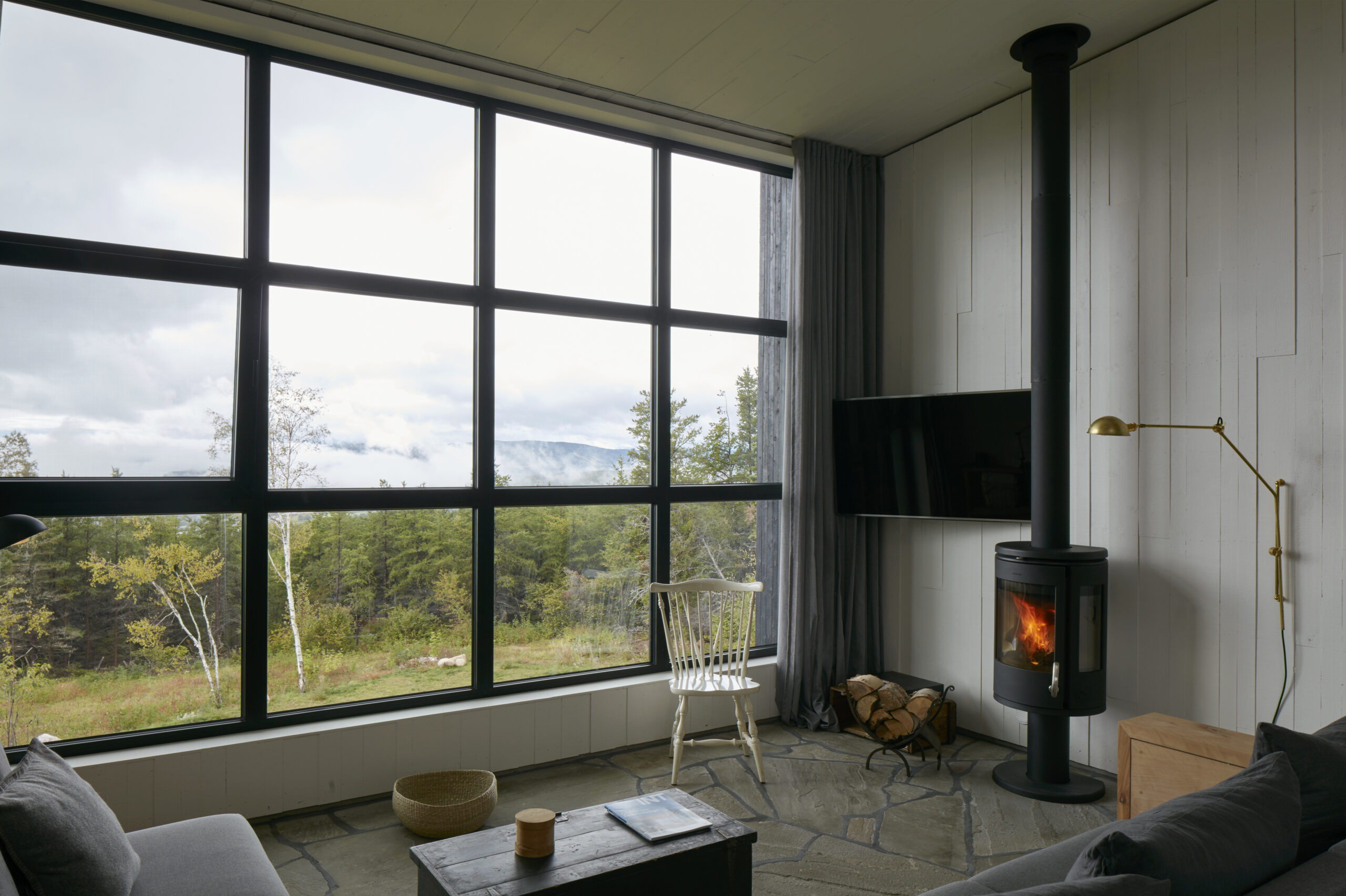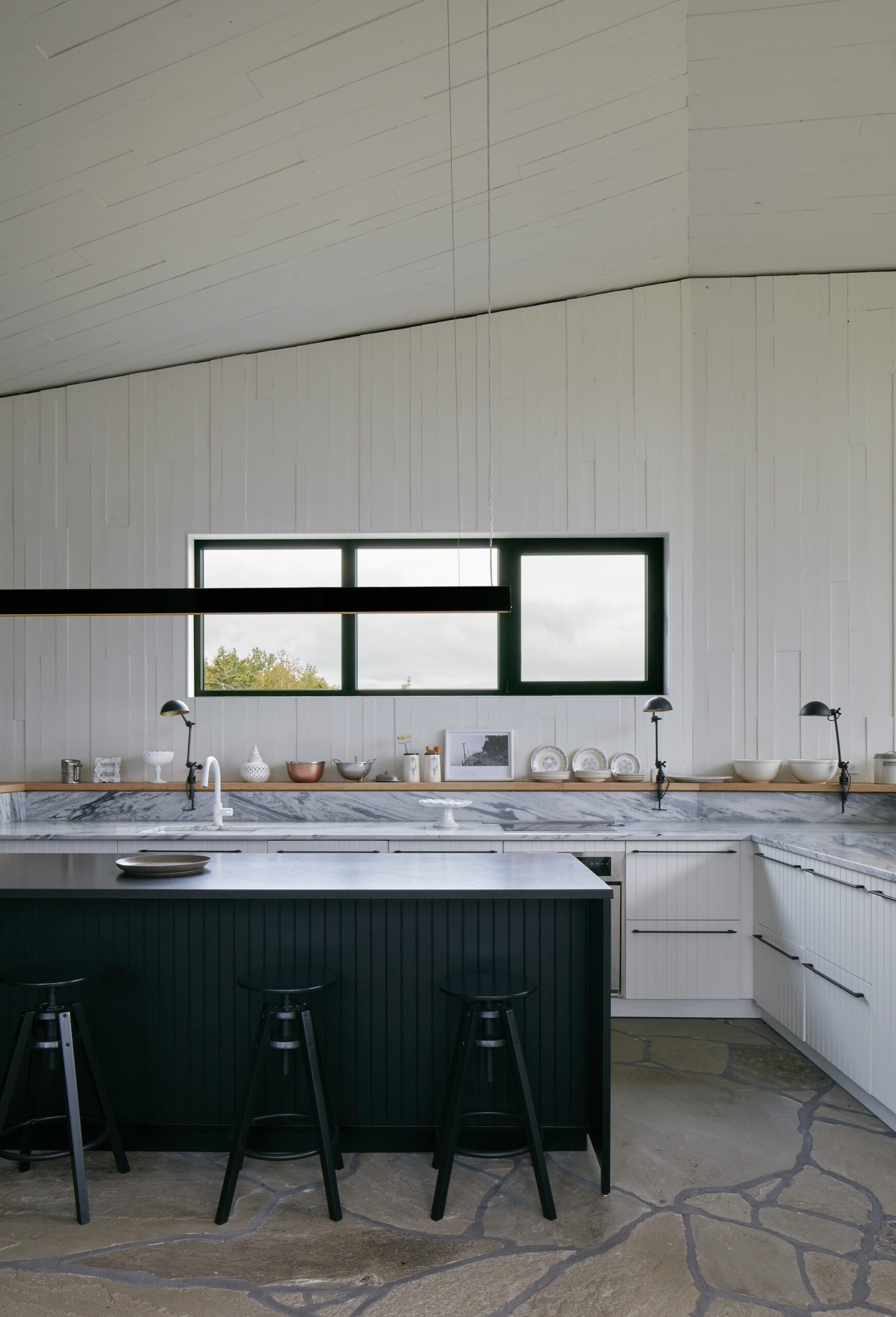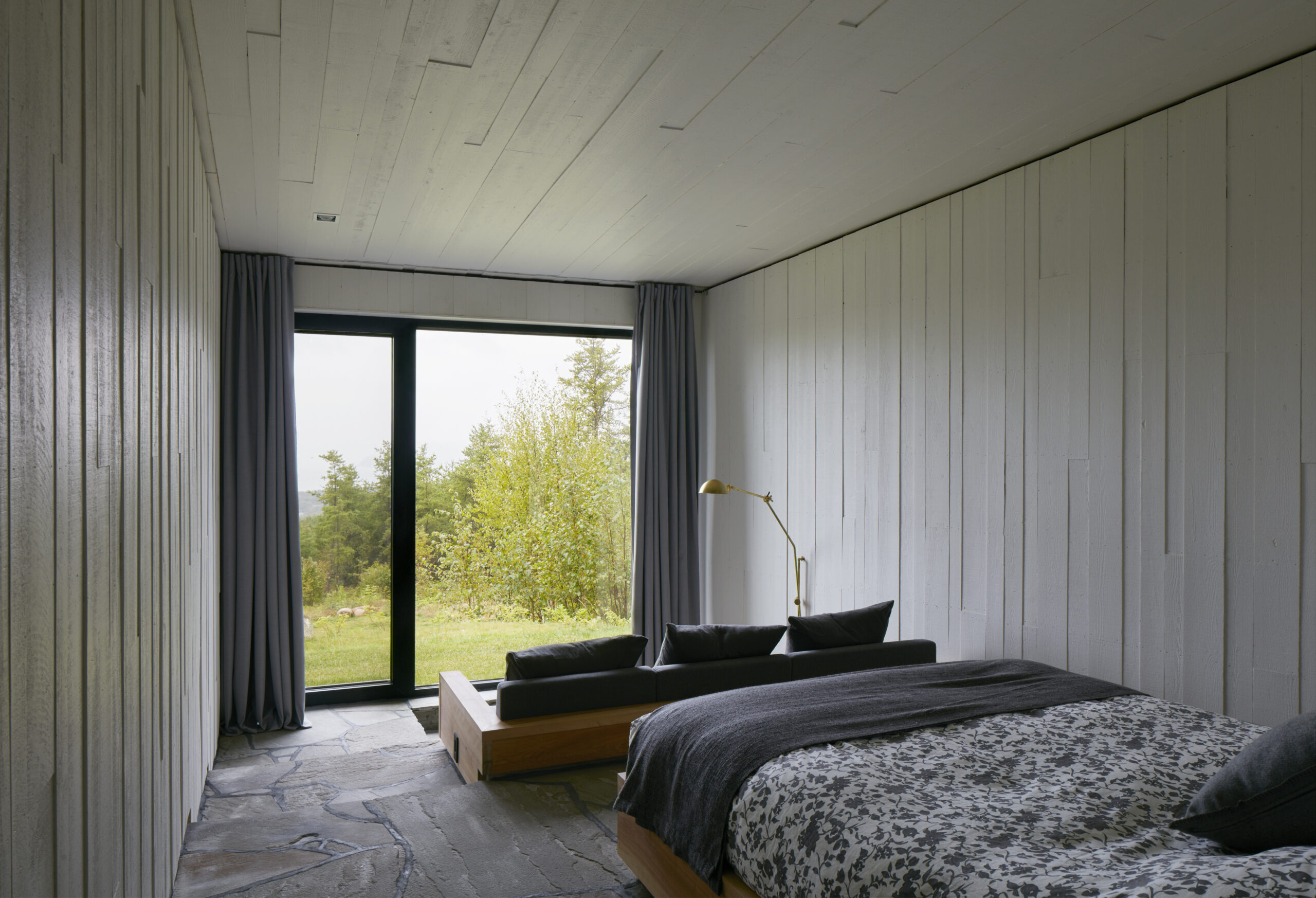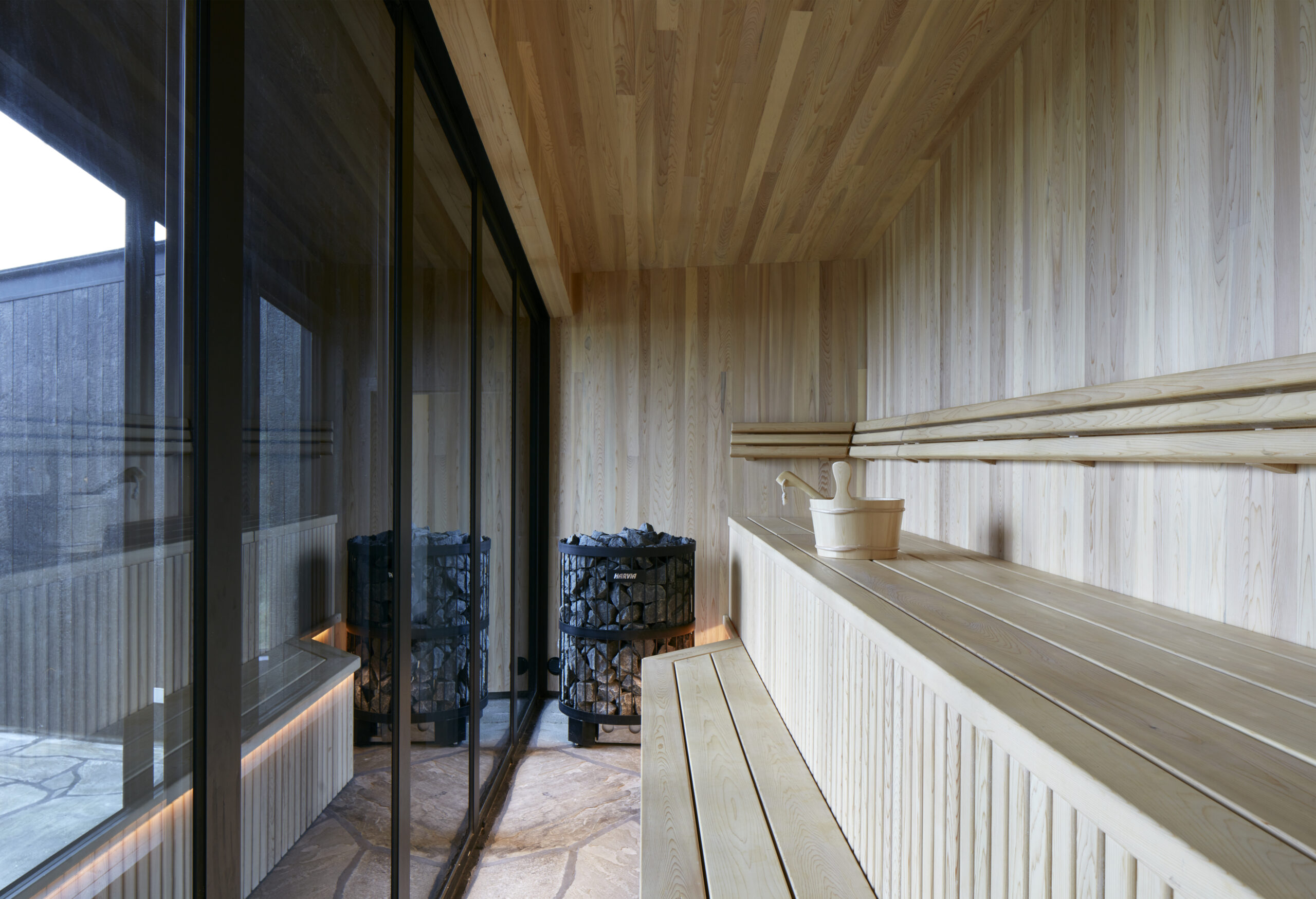 Stone floors and painted wood walls and ceilings further emphasize the cozy cabin feel, incorporating organic elements indoors. The matte black of the exterior is accented throughout the interiors of the house as well. But between the high ceilings, natural light, and white walls, La Charbonnière is anything but dark and dreary. Instead, it leans into a light colour palate, expanding the volume of the house, and adding depth to the well-balanced abode.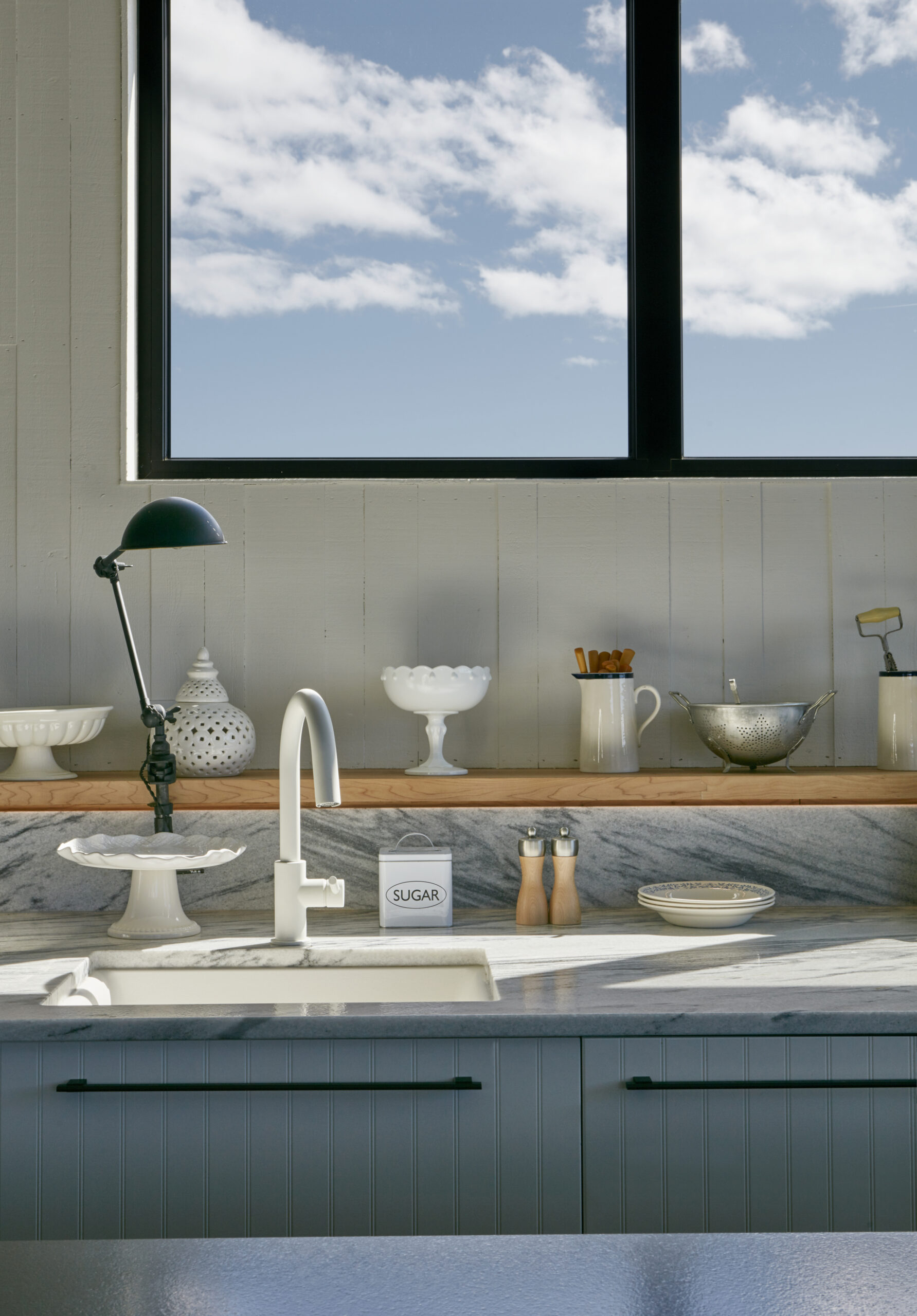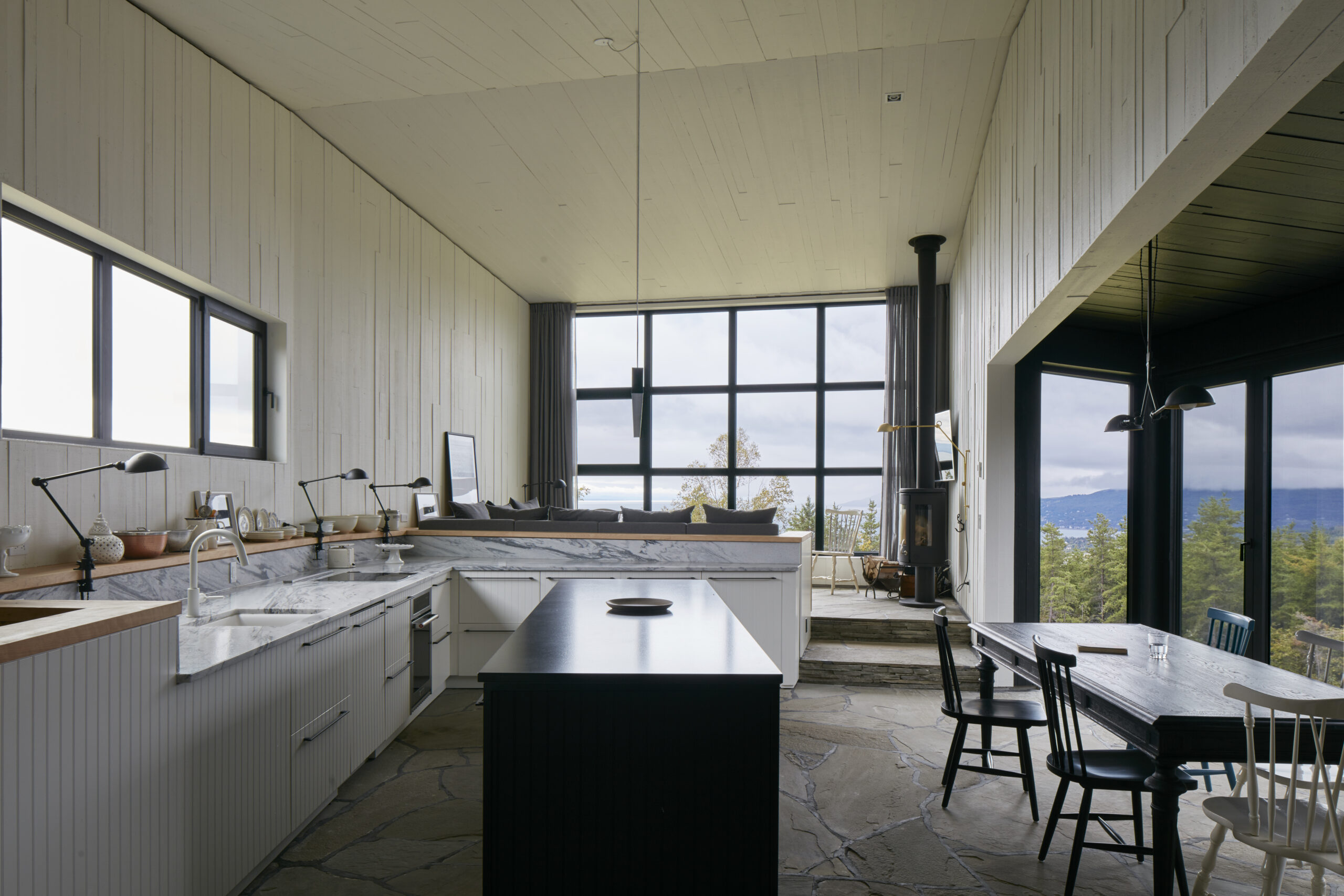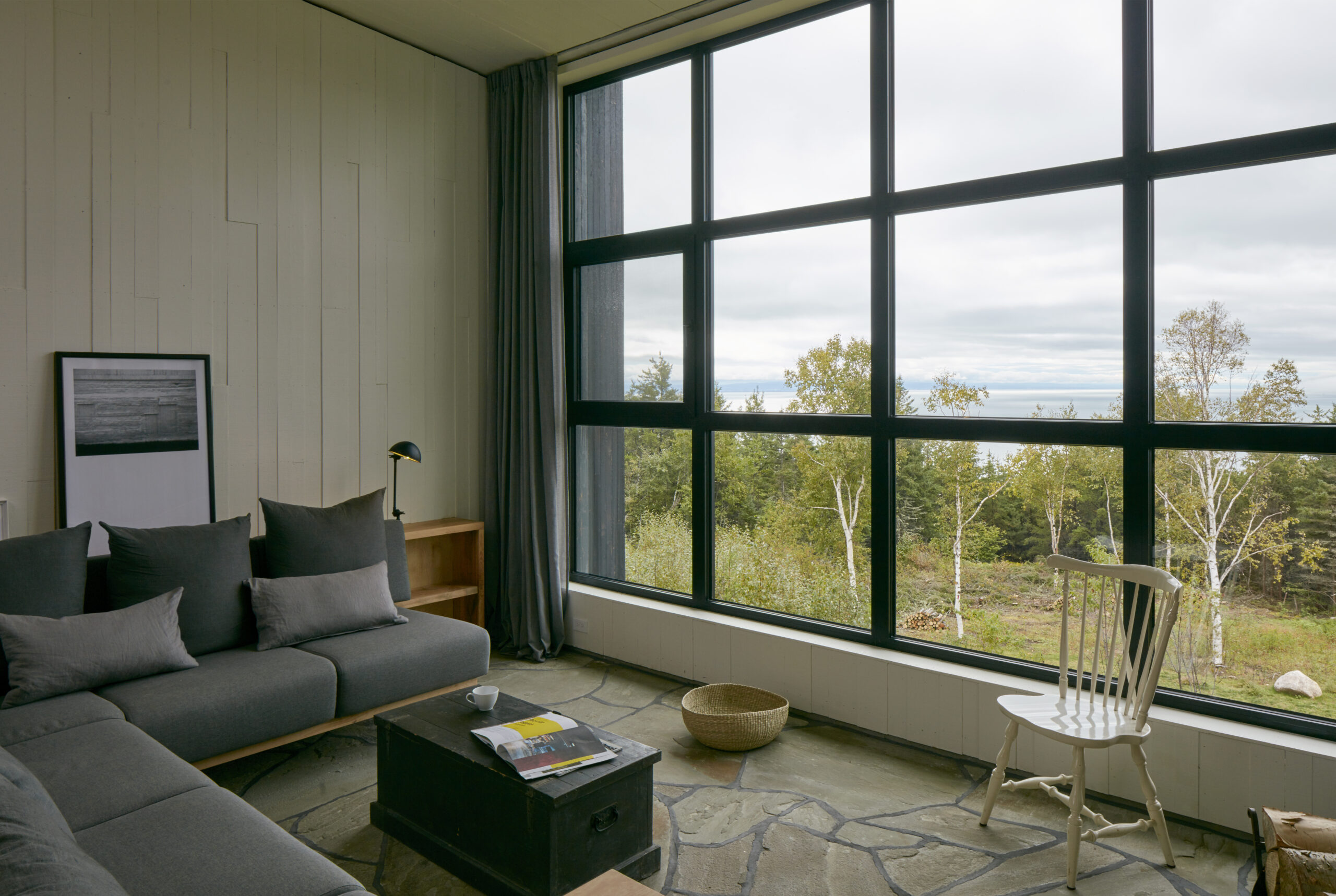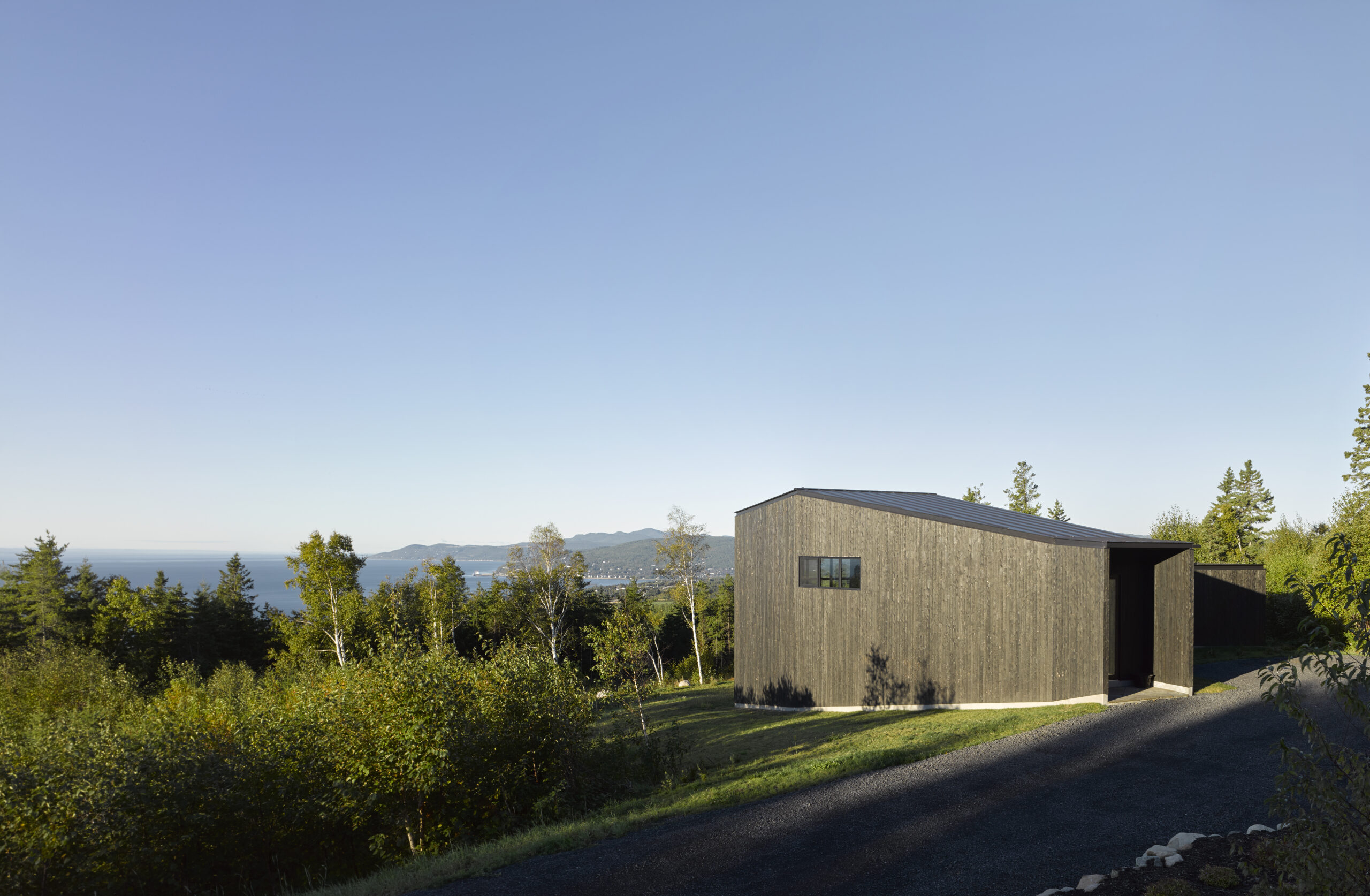 There's a timelessness to the house, an evergreen feel that is the fingerprint of design mastery. La Charbonnière is a timeless country retreat for quiet reflection and realigning with nature—away from the prying eyes of the world.
Photography by James Brittain Photography.
—
Part of our Home of the Week series. Read more HERE.