Chef Alessa Valdez' Spring Risotto Celebrates Wine Country's Return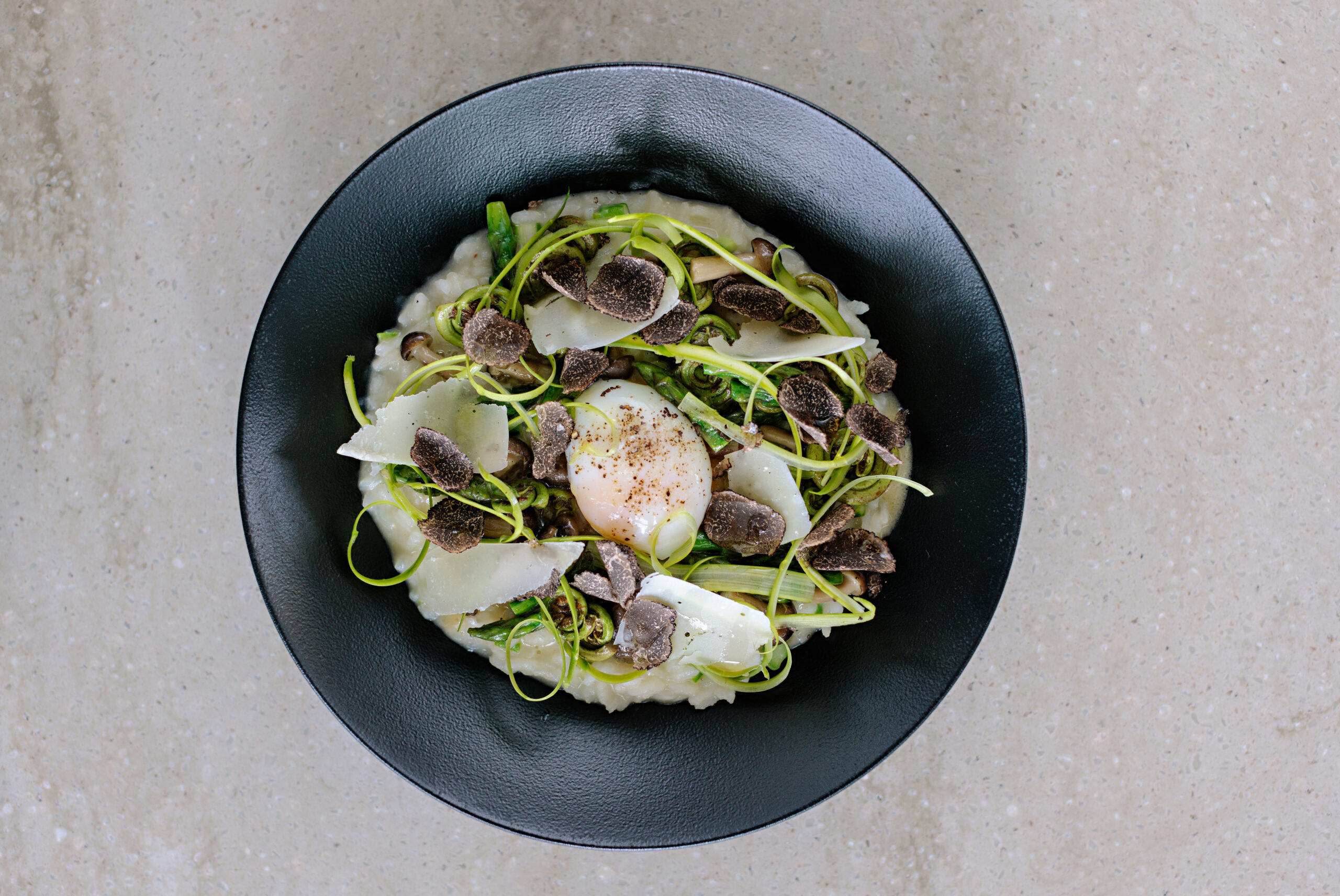 Alessa Valdez, chef at the Restaurant at Phantom Creek Estates, has invigorated the Okanagan food scene with her fine-dining-meets-wine-country-casual approach to cooking. This spring risotto, a home-cookery take on the standout dish from her recently debuted spring menu, is the perfect way to celebrate the Okanagan Valley's postwinter awakening. This dish will pair well with Phantom Creek Estates Chardonnay or its small lot Similkameen Valley Chardonnay. But to truly celebrate, perhaps you should open a few bottles.
Ingredients
15 grams fiddleheads
30 grams green asparagus
10 millilitres white vinegar
1 whole egg
150 millilitres vegetable stock
75 grams unsalted butter
5 grams shallots
5 grams garlic
80 grams Acquerello rice
100 millilitres white wine
75 grams grana Padano
5 millilitres extra virgin olive oil
30 grams oyster mushrooms
Black truffle to taste
Salt to taste
White pepper to taste
Black pepper to finish
Maldon salt to finish
Method
Cook fiddleheads in a generous amount of boiling water for 15 minutes or steam them for 10 to 12 minutes until tender. Place a large bowl of ice water next to the stove. Discard the water used for boiling or steaming the fiddleheads. Using a slotted spoon, transfer the fiddleheads to the ice water.
Bring a pot of water to a boil. Place a large bowl of ice water next to the stove. Remove asparagus tops from stems and set stems aside. Add asparagus tops to the boiling water and cook until bright green and crisp-tender, about 3 minutes. Using a slotted spoon, transfer the asparagus tops to the ice water.
Fill saucepan with about 8 centimetres of water and 10 millilitres of white vinegar. Heat until water simmers gently. Break cold egg into small dish or saucer. Holding dish just above simmering water, gently slip egg into water. Cook in barely simmering water until white is set and yolk is cooked as desired, 3 to 5 minutes. Remove egg with slotted spoon and drain well.
In a small pot, bring vegetable stock to a gentle simmer
Meanwhile, in a large straight-sided skillet over medium-high heat, melt 10 grams of butter. Add shallots and cook, stirring occasionally, until softened, about 5 minutes. Add garlic and cook, stirring, until fragrant, about 1 minute.
Stir rice into onion mixture and season with salt. Cook, stirring constantly, until rice is lightly toasted, about 4 minutes.
Pour wine into rice mixture and bring to a boil. Cook, until almost evaporated, about 30 seconds.
Reduce heat to medium and pour a few ladles of warm stock into skillet and cook, stirring gently until broth is absorbed. Continue to cook, adding a few ladles of broth and stirring until broth is absorbed before adding more, until rice is al dente, about 15 minutes.
Remove skillet from heat and stir in 55 grams of butter and 75 grams of grana Padano. Season with salt and white pepper.
Heat olive oil and remaining butter in a large saucepan over medium heat. Cook and stir mushrooms, salt, and white pepper in saucepan until mushrooms are lightly browned, about 5 minutes. Reduce heat to low and simmer until mushrooms are tender, 5 to 8 more minutes. Add blanched fiddleheads and asparagus tops.
Using a peeler, shave asparagus bottoms, black truffle, and grana Padano for garnish.
Top with sautéed mushrooms, fiddleheads, asparagus tops, shaved grana Padano, shaved black truffle, and shaved asparagus bottoms.
Place the poached egg on top of the risotto and season with black pepper, Maldon salt, and extra virgin olive oil.