Putting the vin in Thanksgiving.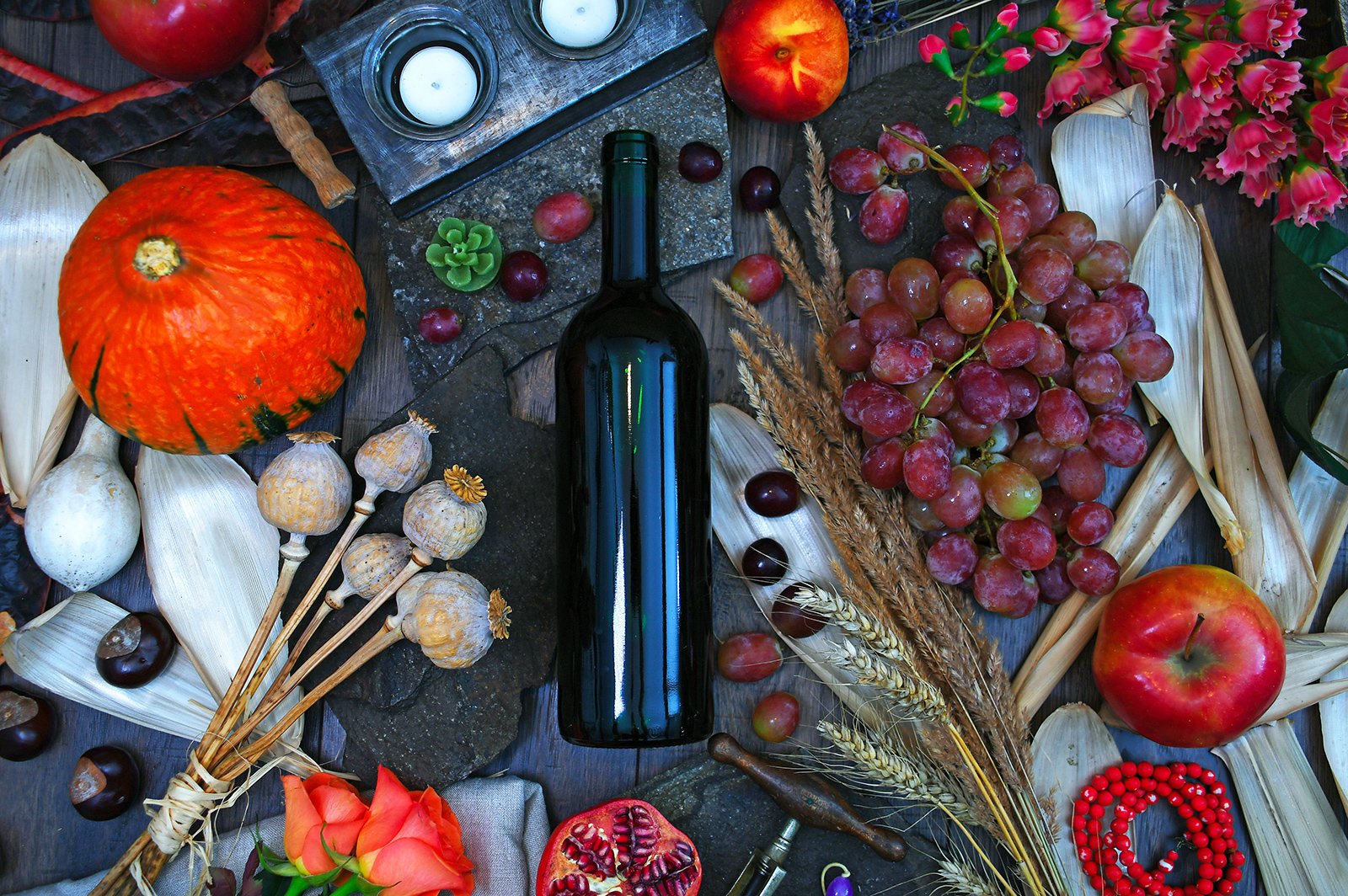 Wine is integral to Thanksgiving for three reasons. The first is a bit of stretch – the French word for wine is part of Thanksgiving – but the other two are solid. Thanksgiving is a celebration of the harvest – including the grape harvest – in the Northern Hemisphere. And North American Thanksgiving traces back to the wine-loving Puritans in the early 1600s. They loaded hundreds of barrels of wine on the ships that took them from England to America, and although Puritans might not have been keen on gambling and dancing, they appreciated wine as 'a godly thing.'
So as you prepare a meal from this year's harvest – whether of meat, fish, vegetables, grains, or fruit – complement it with an earlier year's grape harvests.  It used to be common to assume that everyone would sit down to roast turkey and vegetables, and although that seems still to be most often be case – judging from what's on offer in grocery stores in the week before Thanksgiving – many people do not.  Other poultry (such as ducks and geese) are popular, while increasing numbers opt for fish or for vegetarian and vegan meals.
To this extent, giving wine advice for Thanksgiving seems pointless because there is no one food type to bear in mind. But for many people Thanksgiving is a day of hearty eating and drinking with family and friends, so wines that are lighter in body and lower in alcohol are good choices, no matter what's on the plate beside your glass.
Sparkling
Starting with bubbles is always a good idea because sparkling wines tend to be low in alcohol—and they animate your palate.  Three to consider: Perrier-Jouët Grand Brut Champagne, Steller's Jay Brut Sparkling Wine (Okanagan Valley), and Château des Charmes Blanc de Blancs Sparkling Wine (Niagara Peninsula). All deliver in flavour, freshness, and fine bubbles.
Whites
If a course calls for white wine there are many choices. Canada produces fine wines from varieties such as pinot gris, chardonnay, and riesling. Some excellent examples from Niagara Peninsula are Château des Charmes 'Paul Bosc Estate Vineyard' Chardonnay and Henry of Pelham Estate Riesling, while Prince Edward County offers Closson Chase 'South  Clos' Chardonnay. Flavourful and fine Okanagan Valley whites include Haywire Pinot Gris and Monte Creek Reserve Chardonnay.
Reds
For a roast turkey, and for the ducks and geese that have replaced them on many tables, reds and rosés that are flavourful but lighter in body and alcohol are excellent. Grape varieties such as pinot noir, gamay, dolcetto, barbera are consistently good choices, as are many lighter wines made from sangiovese and cabernet franc. Wines like these can be chilled slightly, which has the pleasant effect of heightening the acidity.
Canada produces many excellent pinot noirs, gamays, and cabernet francs. A few to look for are Tawse Gamay Noir, Fielding Estate Cabernet Franc, and Henry of Pelham 'Speck Family Reserve' Pinot Noir (all from Niagara), Mission Hill 'Vista's Edge' Cabernet Franc, Quails' Gate 'Stewart Family Reserve' Pinot Noir, and the pinot noirs from Martin's Lane (from Okanagan Valley), and Carone Pinot Noir (from Québec).
Reds from farther afield include the cabernet francs from Loire Valley (France). Appellations such as Chinon, Saumur-Champigny, Bourgeuil, and St Nicolas de Bourgeuil tend to be full of flavour, light-medium in weight, and juicy-textured.
For a meal or palates that call for more robust red wines, there is no shortage of candidates. Catena 'High Mountain Vines' Cabernet Sauvignon (Mendoza, Argentina) is concentrated and fresh, Yangarra 'High Sands' Grenache (McLaren Vale, Australia) is rich and delicious, and Destino 'Fifth Empire' Red is a well-defined blend of indigenous varieties from Portugal's Douro Valley.
The word 'Thanksgiving' says it all, and as we give thanks for the food we are lucky enough to enjoy, let's not forget the growers and winemakers who produce the wines that give us so much pleasure.
Lead photo by Adonyi Gábor.
_________
Never miss a story. Sign up for NUVO's weekly newsletter here.