Tiffany & Co. Debuts Vision & Virtuosity Exhibition in Shanghai
A diamond dreamscape, an artistic installation, a rhapsody in blue.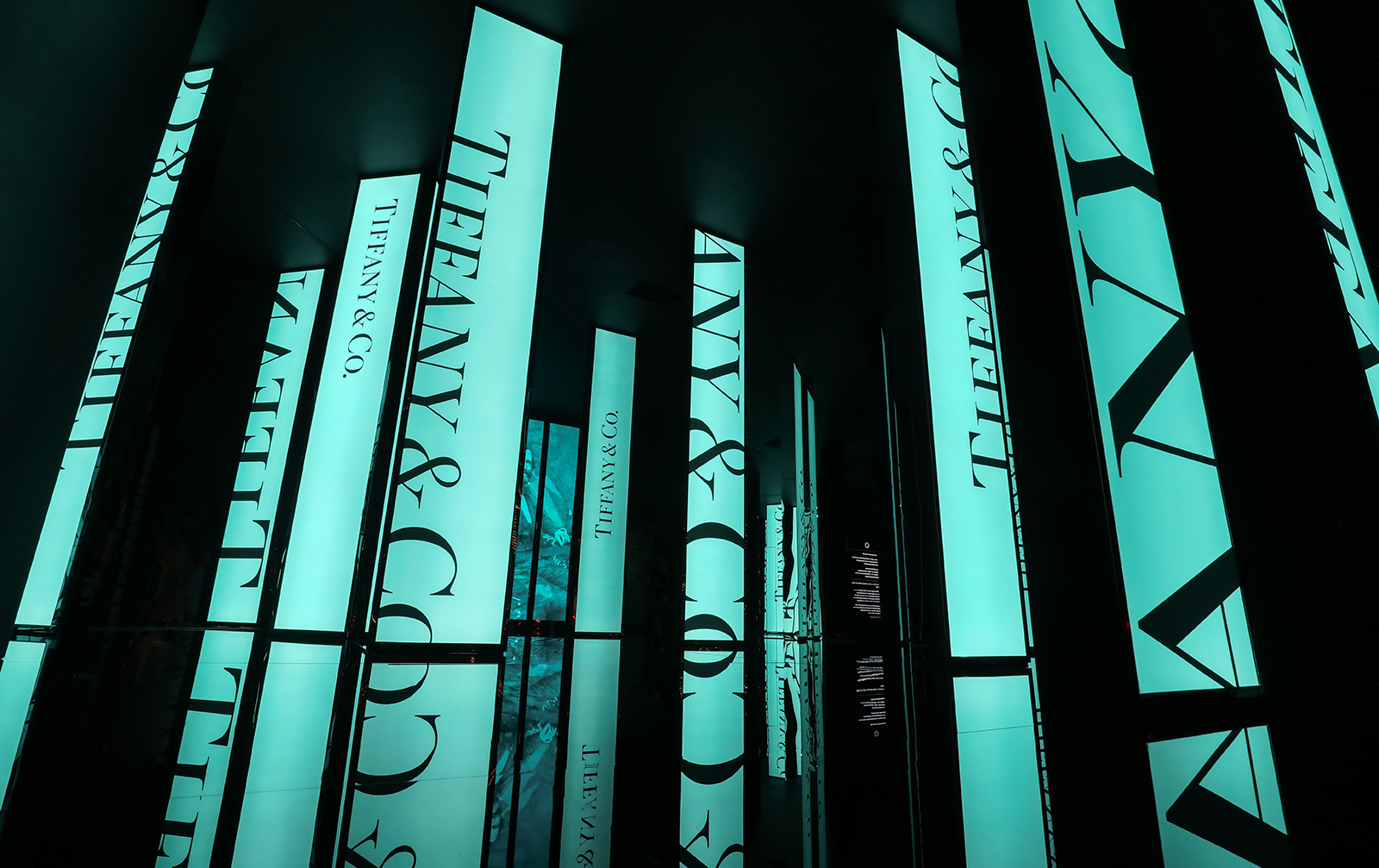 A very distinct hue was added to the bright lights of Shanghai's skyline this past week: 1837 Blue, the colour synonymous with Tiffany & Co. The Fosun Foundation, located on Shanghai's waterfront, was awash in Tiffany & Co.'s trademark shade in celebration of the opening of Vision & Virtuosity, an exhibition documenting the American jeweller's 182-year history. Tiffany & Co. opened its vaults, reacquiring and bringing never-before-seen treasures and blinding amounts of diamonds to Shanghai, including the show-stopping eponymous Tiffany Diamond, a spectacular 128.54-carat fancy yellow diamond. (This was the necklace Lady Gaga wore to the Oscars in February—Gaga being only the third person ever to wear the gem. The first was Mary Whitehouse, who wore it to the 1957 Tiffany Ball in Newport, Rhode Island; second was the jeweller's most celebrated ambassador, Audrey Hepburn.)
Why Shanghai?
Vision & Virtuosity is "the company's largest-ever exhibition, and we knew from the beginning that it belonged to Shanghai," said Alessandro Bogliolo, Tiffany & Co. CEO, during a preview of the anticipated launch: "Shanghai is a global capital with a rich cultural heritage and worldwide influence." Chinese consumers are one of the most valuable segments in the luxury business, and the decision for the exhibition to be showcased in Mainland China seems to have been a strategic one. There continues to be a booming taste for luxury in the country, and the jewellery industry overall has felt the impact of a shift in financial independence among Chinese women. Besides the fact that diamonds are, naturally, a girl's best friend, purchasing luxury jewellery has become a symbol of personal achievement for women.
Diamond Studded Millennials
Tiffany & Co. is relatively new to China, having opened its first boutique in Beijing in 2001; it will grow to 35 boutiques in the country by the end of this year. The success of the Blue Box Cafe in New York (still one of the hardest reservations to get in the city) has prompted the opening of two more, at the Tiffany & Co. boutiques in Shanghai and Hong Kong. The opportunity for brand expansion is significant, especially in order to target an entirely new generation of Chinese consumers (read: millennials). The 2017 De Beers Diamond Insight Report discovered that demand for jewellery among the millennial generation is considerably higher than that of older women. In 2015, millennials spent nearly $26 billion (U.S.) on diamond jewellery in the United States, China, Japan, and India combined—with Chinese spending accounting for 68 per cent of this amount.
The Installation
The Fosun Foundation, designed by Foster + Partners and Heatherwick Studio, is an architectural landmark, its curtain-like façade of bronze tubes resembling giant pieces of bamboo hanging in layers. The mixed-use arts and cultural development centre is a work of art itself, and Vision & Virtuosity is staged here in six "chapters", with interactive and experiential elements showcased in a non-linear approach. "What I hope you find in this exhibition is all the different accomplishments and moments that have led up to this point," remarked Reed Krakoff, chief artistic officer for Tiffany & Co. "We have used the past to tell our story into the future." Casually attired and sporting Nike trainers, Krakoff lives his "luxury doesn't have to equal formality" ethos. The anticipation in the year-long lead-up to Vision & Virtuosity was, said Krakoff, reminiscent of how he felt visiting the Tiffany & Co. Fifth Avenue boutique as a boy.
Blue Is the Colour of Dreams
A maze of Tiffany & Co. light boxes mark the entrance to the exhibition, which leads to a portrait of Charles Lewis Tiffany, the company's founder. In this first chapter, a series of 20 windows house sapphires, aquamarines, moonstones, blue diamonds, and tanzanites (a Tiffany discovery that was introduced to the world in 1968) in fantastical re-creations of Tiffany & Co.'s much-loved shop windows in its New York flagship. These scenes include Vanderbilt Gate Window showcasing a dragonfly brooch from the late 1800s with a cabochon sapphire abdomen, a calibre-cut sapphire and diamond tail, and diamond wings; Winter Picnic, from the brand's holiday windows of 2016; and in tribute to Gene Moore (Tiffany & Co.'s former creative director, who is said to have dressed over 5,000 Tiffany windows), Tug of War, in which a necklace from 1941, with an emerald cut 219-carat aquamarine beryl pendant and  studded with diamonds and sapphires, is "tugged" by two mobile mannequins.
The room's blue lighting adds an element of drama, and although dark, one that is favourable for digital-savvy individuals to take photos and post to Instagram—and, this being China, WeChat and Weibo. There are many moments during the exhibition that are set up for sharing, including the human-sized Tiffany & Co. ring box at the conclusion of the exhibition, along with a monumental Tiffany & Co. bone china paper cup from the brand's home and accessories line.
There continues to be a booming taste for luxury in China, and the jewellery industry overall has felt the impact of a shift in financial independence among Chinese women.
The World of Tiffany
Highlights in this display case include an original 1837 cash ledger, a silver cocktail shaker embellished with cabochons that was made for the 1939 New York World's Fair, and Jacqueline Kennedy's Two Fruit Clip pin, designed by Jean Schlumberger and gifted to her by President John F. Kennedy after the birth of JFK Jr. in 1960. All serving to build awareness of the historical legacy of Tiffany & Co. for Chinese audiences.
Tiffany & Co.'s Blue Book collection is showcased on the second floor, where original Blue Book catalogues are paired with signature jewellery pieces. The original Tiffany & Co. Blue Book, on display here, is considered the first mail-order catalogue in the U.S. In the 19th century, Tiffany refashioned royal and imperial European gemstones into Tiffany & Co. creations. Jewels from this period are on view in this chapter, along with Elsa Peretti's first jewellery piece for the brand, a silk cord necklace with a solitaire diamond set in platinum.
Tiffany Love
Charles Lewis Tiffany was the first jeweller to establish the diamond ring as a symbol of love, and the Tiffany Love chapter is where the solitaire diamond ring is celebrated and you can write your own love messages on the interactive screens that line the walls.
A Tiffany & Co. experience is not complete without a tribute to the Oscar-winning movie Breakfast at Tiffany's. Never-before-seen images of Hepburn filming scenes at the Fifth Avenue flagship are on display, as well as Hepburn's copy of the script, complete with marginalia. A virtual script experience is on video loop with pages flipping, describing each moment with the movie scene popping up. A Manhattan street setting with a yellow taxi has been created, and there is also a revolving door where you can have your very own Holly Golightly moment. Here, "You are in Breakfast at Tiffany's," expressed Bogliolo.
Diamonds: Miracles of Nature
Acquisition of the Tiffany Diamond by Charles Lewis Tiffany in 1878 secured his reputation as the King of Diamonds, so it is fitting that the final chapter of Vision & Virtuosity is dedicated to "miracles of nature". Dazzling displays of necklaces, rings, and tiaras—the Savoy headpiece worn by Carey Mulligan in Baz Luhrmann's 2013 adaptation of The Great Gatsby—are presented in undulating showcases meant to emulate flowing water. Krakoff references one of his designs, a platinum necklace for the Tiffany & Co. Blue Book 2018 collection, composed of 237 diamonds (total carat weight of 91) individually cut to achieve the illusion of cracked ice, as an example of the variety of work that can be done with diamonds. "I sketched this idea of fracture, and we took expensive diamonds and cut them up, super shallow stones, so not sparkly at all—they don't look like diamonds but are."
The Tiffany Diamond is both the finale and the encore.
With Vision & Virtuosity, Tiffany & Co. has staged its jewels and treasures as an art and culture exhibition. "We are a New York company," asserted Bogliolo, "but are the next-generation global luxury jewellery." From New York to Shanghai with love.
_________
Never miss a story. Sign up for NUVO's weekly newsletter, here.