Roman Holiday: Hotel de Russie
A tranquil enclave within the Eternal City.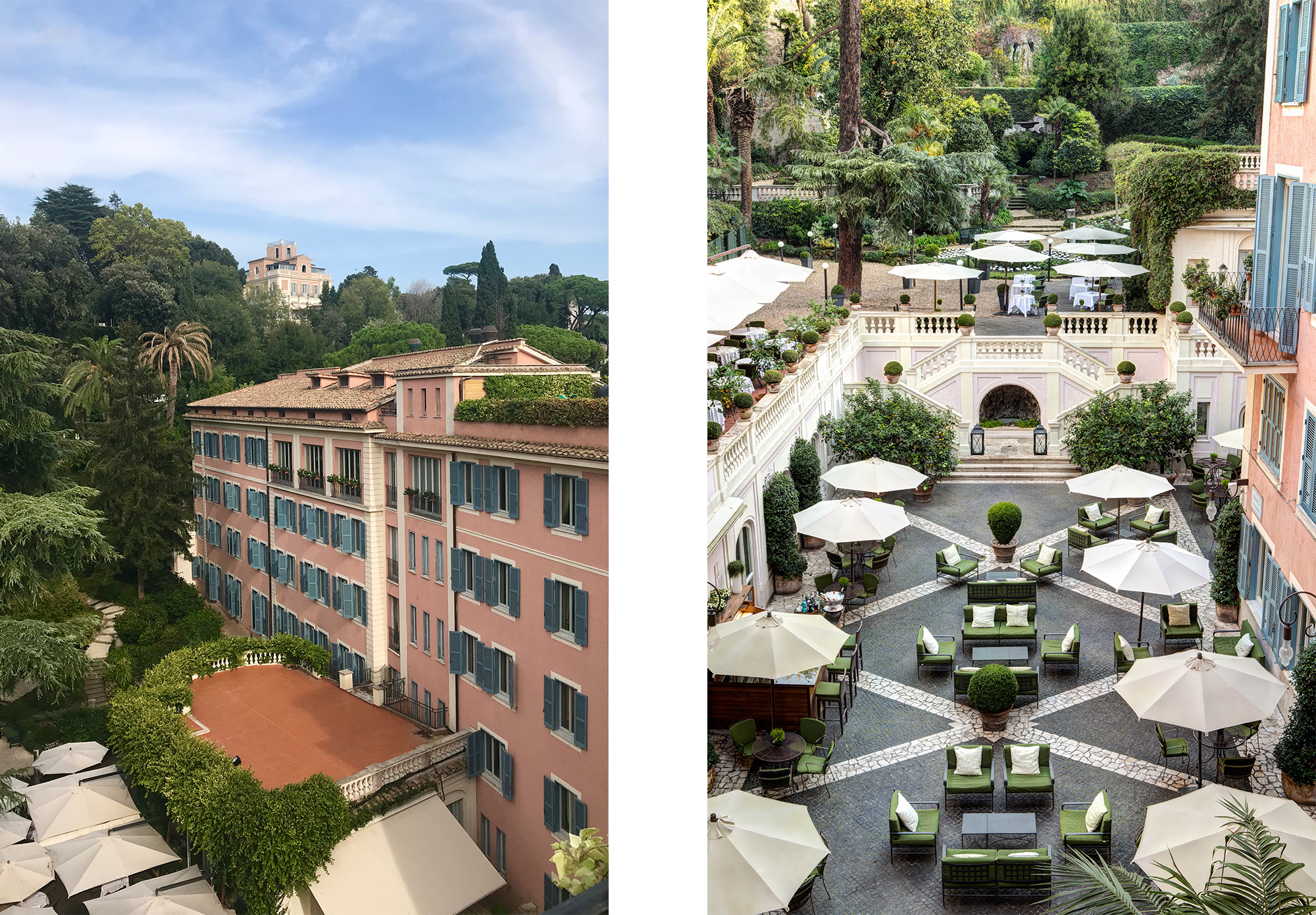 Steps away from the Tiber River and adjacent to Piazza del Popolo is a hotel once beloved by 20th century luminaries Pablo Picasso and Jean Cocteau. The friends stayed there for three months in 1917—they were in town to collaborate on the first-ever Cubist ballet, Parade, for which Picasso designed the costumes and sets—and would pick oranges from trees outside their adjacent windows.
It's a sweet vision, and one that could ostensibly be re-created by guests today at this 120-key, five-star Rocco Forte property in the heart of Rome. Most of the orange trees lie at the back of the lush Mediterranean-style tiered garden these days (along with rose bushes and pine trees aplenty) so you'd be well-advised to leave the oranges unplucked, opting instead for a fresh-squeezed juice at the al fresco Piazzetta Valadier where patrons flock to see and be seen. An extension of the Stravinskij Bar, it's named after famed Roman architect Giuseppe Valadier who designed the Piazza del Popolo—and the hotel's garden, too.
With guests such as Picasso and Cocteau, it goes without saying that the Hotel de Russie has a most storied past. For a brief period following the Second World War, it was even the headquarters of Radiotelevisione Italiana, but in its most recent iteration it is a timeless combination of contemporary and classic. It all begins with a fairy-tale feel in the entrance lobby and a sensory whiff of Locherber Milano candles. Beyond, a riot of fresh florals in vases, a carved marble bust, and a vintage table made entirely of seashells set the stage for what lies within.
Interior designer Olga Polizzi deserves credit for that lobby, as well as the guest rooms and suites decorated with photographs of the city, bold wallpaper, and intricately hand-tiled mosaics in the bathrooms. Placed sinkside are Irene Forte Skincare products, the eponymous line by the youngest daughter of "Sir Rocco" (as the famed hotelier is known by his staff), crafted from Sicilian botanicals. There are five signature suites including the standout Picasso Suite, decked out with a Calacatta Oro marble dining room table and an amethyst-and-gold colour palette, and the bright and airy Valadier Suite, which opened last year. The latter has sweeping views of the Villa Medici atop Pincian Hill, which you may run to, if you wish, alongside the hotel's personal trainer (and world triathlon champion) Danilo Palmucci.
After a full day spent roaming through ruins and up the nearby Spanish Steps, there is nothing better than retiring to the Piazzetta Valadier patio and taking a seat upon a plush olive green–cushioned chaise. Order the Stravinskij Spritz—mixed with Prosecco, wild berries, saffron flowers, citrus oils, passion fruit, and spices—served alongside plump, bright green Cerignola olives and assorted cicchetti. If more sustenance is required, the spaghetti cacio e pepe with prawns and Oscietra Royal caviar should restore your energy for a few hours of people-watching: here, a bartender in a crisp white shirt with bright red hair masterfully pours a cocktail from great heights, as if conducting an orchestra. There, a Ray-Ban–wearing silver fox signs a document as he sips a Negroni—a movie contract? Perhaps. Hotel de Russie is popular with film stars and directors, and the grounds teem with A-listers each October during the Rome Film Festival. (Recent guests include Rami Malek and Bono; tennis champ Rafael Nadal, too.)
All things considered, it's little wonder that Jean Cocteau called the property "Paradise on Earth"—we concur.
_________
Never miss a story. Sign up for NUVO's weekly newsletter, here.