Chotto Matte is Introducing Nikkei Cuisine to Toronto in a Big Way
Japanese-Peruvian flavours in an artful space.
Nikkei food isn't something the average Torontonian is familiar with. Japanese restaurants sprout in all corners of the city, dishing out sushi, ramen, and skewered izakaya fare. However, Nikkei cuisine—the marriage of Japanese and Peruvian—is more unusual territory. Chotto Matte (which means "wait a minute" in Japanese) is a sprawling new restaurant that's just opened in the heart of downtown, and it's here to enlighten.
The first wave of Japanese immigrants came to Peru, and elsewhere in South America, at the end of the 19th century. Upon arrival, they worked strenuous plantation jobs, some having been misled by glossy propaganda from the Japanese government. Nikkei cuisine was born from necessity, with the new arrivals approaching the available Peruvian ingredients from a Japanese culinary vantage point. ("Nikkei" is also the term used for the global Japanese diaspora.) Think delicately handled fish jazzed up with yuzu, aji chilies, and some yucca for good measure.
Restaurateur Kurt Zdesar built his reputation as European director of Nobu restaurants, where celebrity chef Nobu Matsuhisa spins out many dishes that can be described as Nikkei. Zdesar opted to zoom in on the cuisine, opening the first Chotto Matte in London's dynamic foodscape back in 2013. While Nikkei cuisine has since trickled across Europe, it's only now become a thing in North America. Manhattan has Sen Sakana, Las Vegas has Once, and Miami has, yes, the second Chotto Matte. With two great successes to his name, Zdesar pinpointed multicultural Toronto as the third worthy destination. Executive chef Jordan Sclare has worked alongside Gordon Ramsay at his flagship London restaurant (with a cool three Michelin stars) and also oversees the London and Miami menus. It's a power team, to say the least.
Toronto's 10,000-square-foot outpost of the global mini-chain is situated in Brookfield Place in the Financial District. Past the large rock of a reception desk, a lounge area opens up beneath the start of a custom mural by Lefty Out There. A defining feature of the space—the work of Andy Martin Architecture—the street-style art stretches around to the dining room proper, which is overlooked by a sushi bar and robata grill counter. Fans of al fresco dining can plant themselves on the heated terrace, which adds 150 seats to the already robust 220-seat interior.
For those without a previous understanding, Nikkei cuisine can be hard to pinpoint. Failsafe building blocks are ceviche and tiradito. Tiradito is sashimi-like raw fish with a sauce that packs some heat. Prior to the more delicate handling of fish by Japanese cooks, ceviche would be marinated for hours rather than right before serving. Here, the ceviche is sea bass sashimi with sweet potato and Peruvian corn, laced with citrus sauce and chive oil. Nikkei sashimi/tiradito is yellowtail gussied up in jalapeno, cilantro, and yuzu truffle soy. Maki is flagged with shrimp tempura, and aburi nigiri (aka torched sushi) consists of tuna (or veg-friendly eggplant) topped with yuzu butter.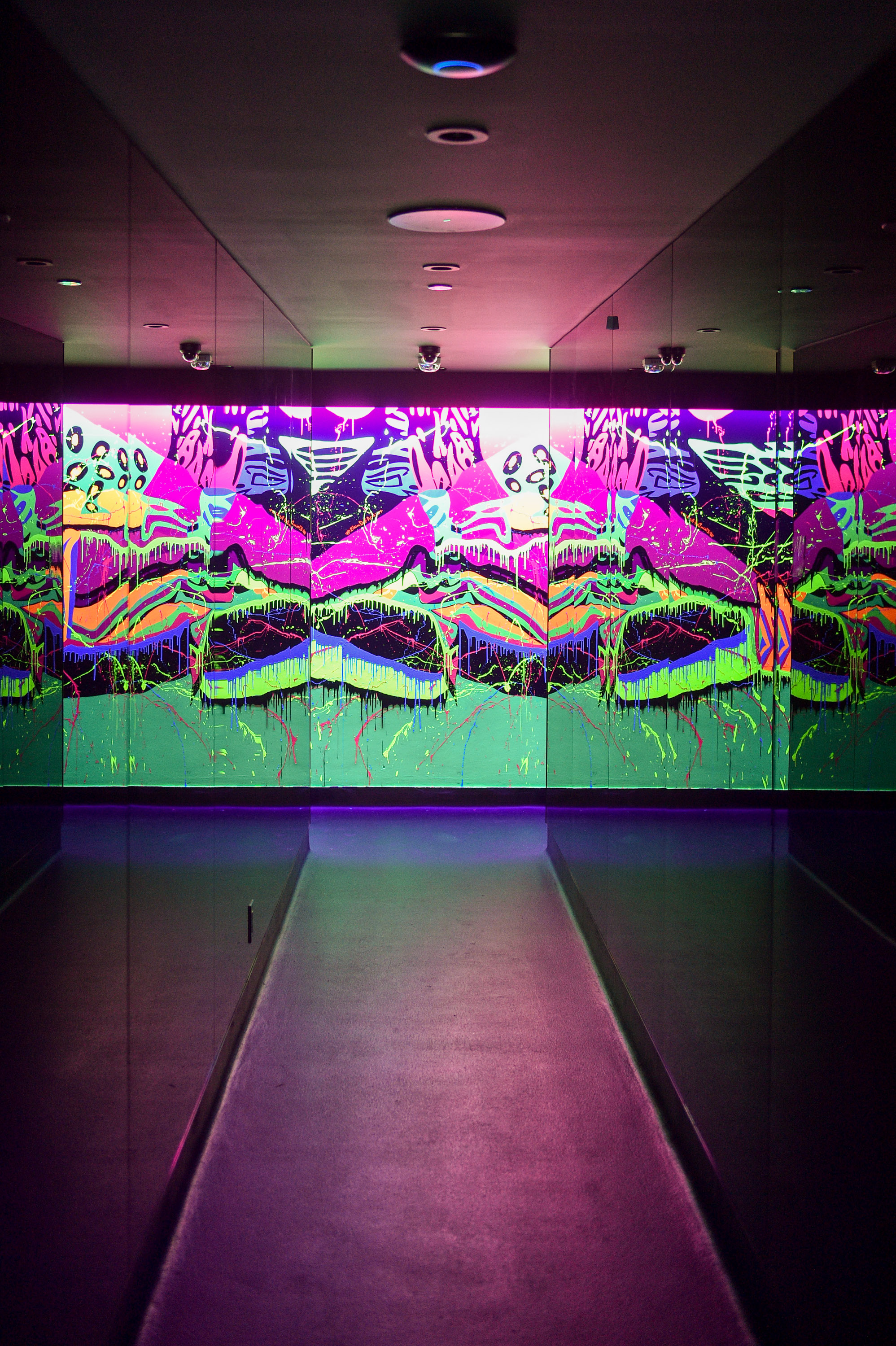 Meanwhile, the robata grill spits out dishes like pollo den miso. Chicken is marinated overnight in sake and mirin spiked with garlic, sugar, and miso and then grilled. Pickled carrot and daikon and Peruvian yellow chili yogurt round off the plate. Another menu standout is the chuleta de cordero ahumada. This involved dish begins by cold-smoking lamb chops with apple wood. They're then marinated in Peruvian red chili miso for a cool 96 hours, barbecued, and served with canchas (corn puffs) and grilled lime. Diners seeking to try the whole shebang can order one of the tasting menus, available at lunch and dinner.
Drinkwise, cocktails look to Nikkei flavours for inspiration; the timeless vodka martini gets dressed up in yuzu, lemon, and basil, with sansho pepper for some heat. Pisco—Peru's white brandy—and a selection of Japanese whiskies are also available.
Chotto Matte aims to educate Toronto's ever-curious diners on Nikkei cuisine in a lively setting. Just don't call it "fusion".
_________
Never miss a story. Sign up for NUVO's weekly newsletter, here.