Please Bottling Co. Is Revolutionizing the Premixed-Beverage World
Ask nicely and you shall receive the future of ready-to-drink cocktails.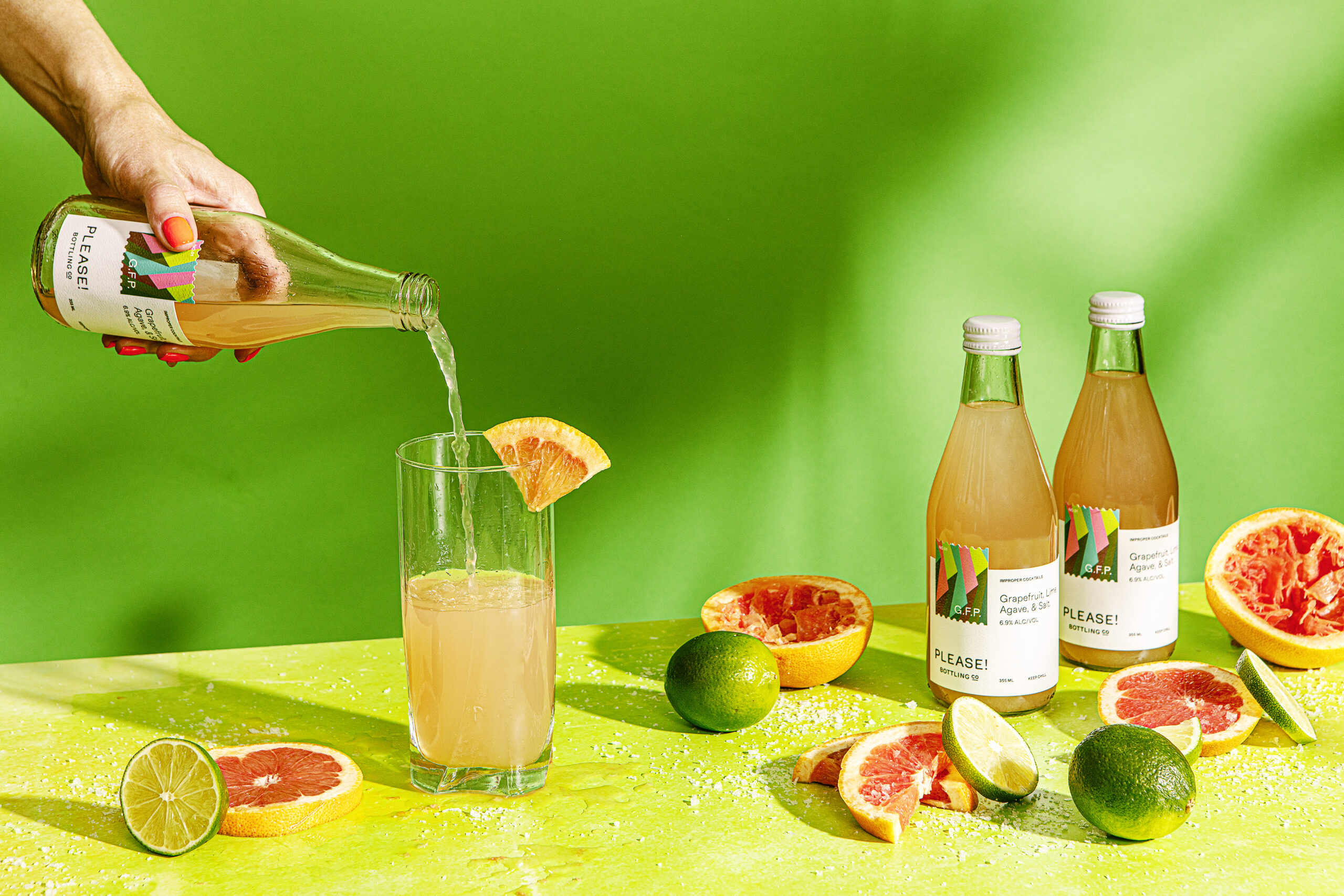 The Ready to Drink (RTD) space has become one of the most oversaturated in the drinks industry. What emerged out of a genuine need for low-alcohol, low-calorie, and easily transportable premixed drinks is now a catch-all sector for innumerable vodka sodas delivered in white cans bearing names that omit a foundational vowel. The standard RTD beverage in a word? Boring. But for those of us wanting a break from beer and wine but without the requisite skill to craft a delicious cocktail at home, there is hope.
Enter Vancouver's Please Bottling Co., the brand looking to shake up the RTD world with an eye toward local, seasonal flavours and a welcoming bricks-and-mortar experience. Debuting four flavours this past summer, Please was immediately and obviously different from competitors: spurning cans in favour of bottles, bearing original art from emerging global talents, and not emphasizing how many (or few) calories per serving. Not to mention, no vowels were omitted from the name.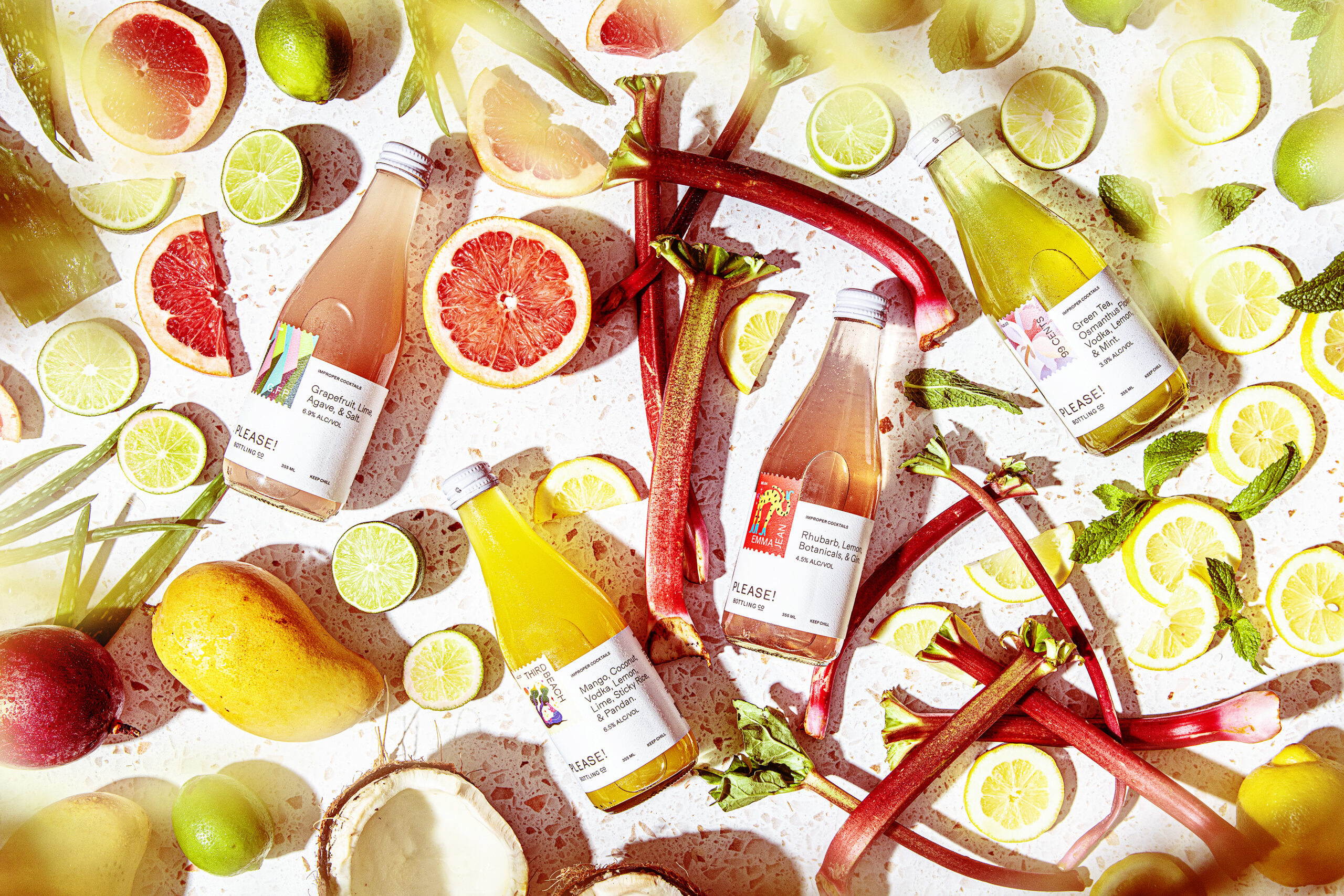 But what's in the bottle is most important, and Please's cocktails are showstoppers. While the lineup will change depending on season and product availability (Please likes to shop local), the original four flavours—Emma-Jean, G.F.P., 99 Cents, and Third Beach—show great promise for the brand's future thanks to their unique, palate-pleasing flavour combinations. Third Beach is sure to stump certain buyers by prominently featuring sticky rice and pandan, with a smoothness that is more refreshing than saccharine. While 99 Cents, a green tea and lemon forward cocktail clocking in at only 3.9 per cent alcohol, is a lightly sparkling, lightly flavoured drink that bridges the gap between its herbal and citric qualities thanks to peachy osmanthus flower.
"Within this product category, you're kind of more like a chef or a cook, where you have this tapestry of ingredients that are at your disposal," says Stephen Tufts, the company's director of beverage development. "And the best food for me is anything that is rooted in narrative, rooted in connecting with memory, trying to tell a story. There is such an overwrought amount of thinking that's gone into all four of those cocktails, and I have a narrative behind it all."
And as devoted as Please is to ephemeral storytelling through cocktails, it is also positioned to change the tactility of the RTD space. The brand is set to open its Tasting House in early 2023, allowing customers to engage with the product much as they would a good craft beer. And in a move that more closely resembles the wine industry, Please is launching an exclusive club program.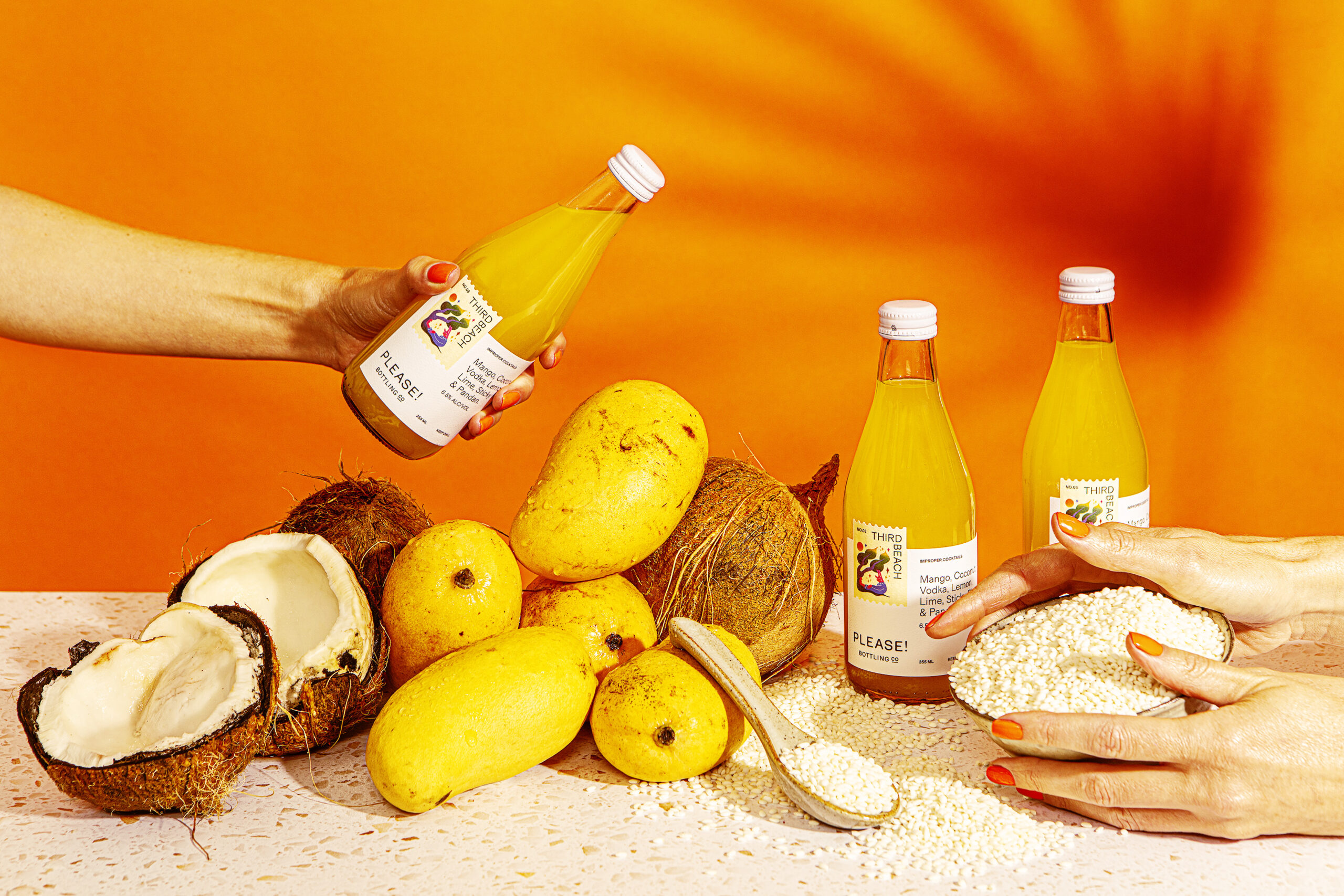 Please's chief experience officer Noel Steen expects the physical space to provide room for the brand to engage its creative side. "I would expect to see us operating very similarly to how you see a small craft brewery operating—frequent releases and lots of experimentation. I would love to get into collaborating with people," he says. "And because of what the medium affords, infinite play and infinite options, we really can take a lot of big swings and try things out, especially because we're going to have access to really small tanks with taps that people can come and try. Maybe not everything will make it to the bottle, and it'll probably be more fun if it doesn't. Like, how fun will it be to come in?"
There are still a few more months before we find out just how fun the Tasting House will be. But judging by how fun the product that's out already is, odds are it will be very fun—as long as everyone minds their manners.