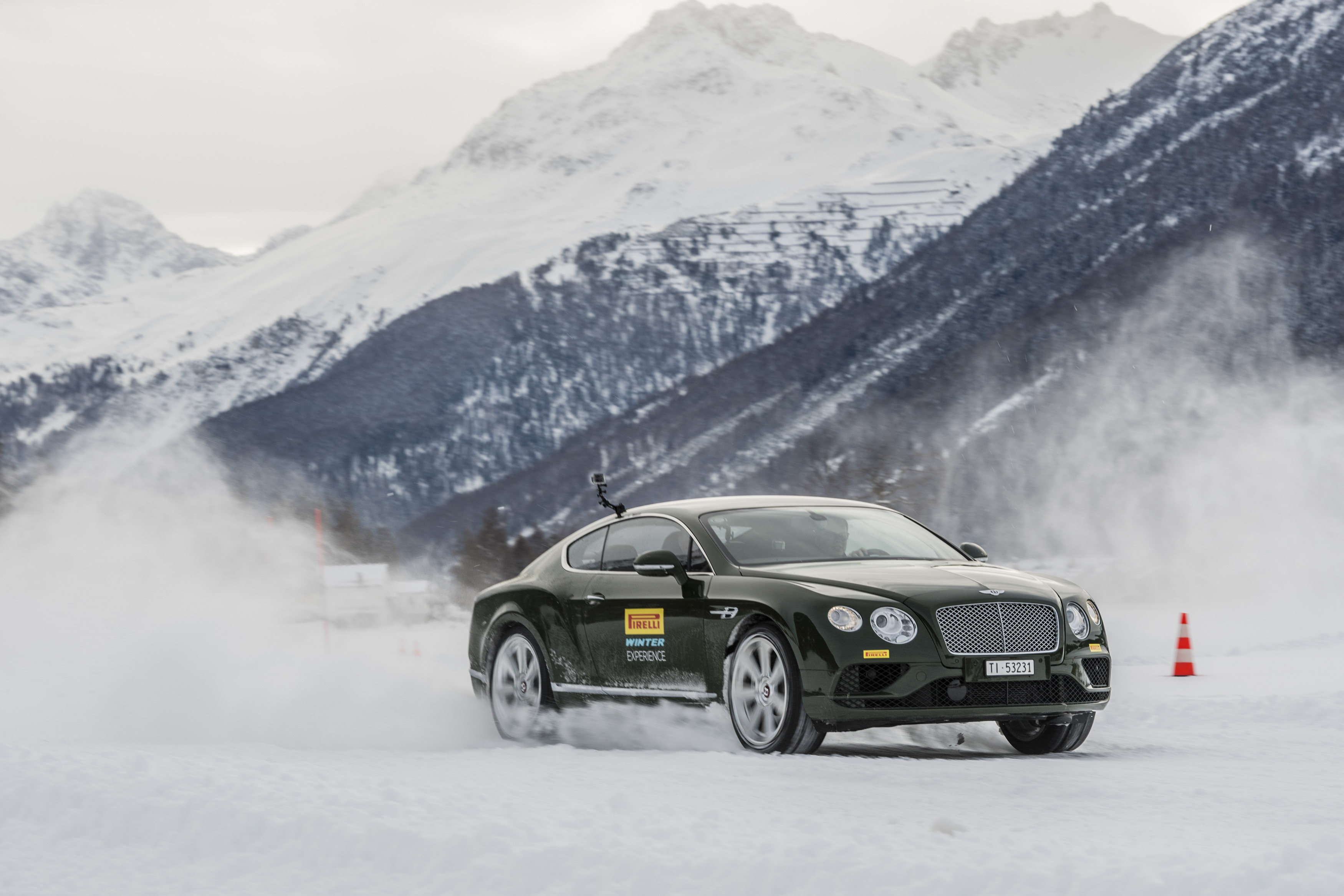 When it comes to winter weather, most people would rather not drive. But a few see it as an opportunity to test the limits of their skill behind the wheel. Nearly every luxury marque runs a winter driving program in some frosty corner of the globe. From Porsche in Mécaglisse, Quebec, to Audi in Are, Sweden, and Maserati in Aspen, Colorado, there are plenty of below-zero automotive adventures waiting to be had.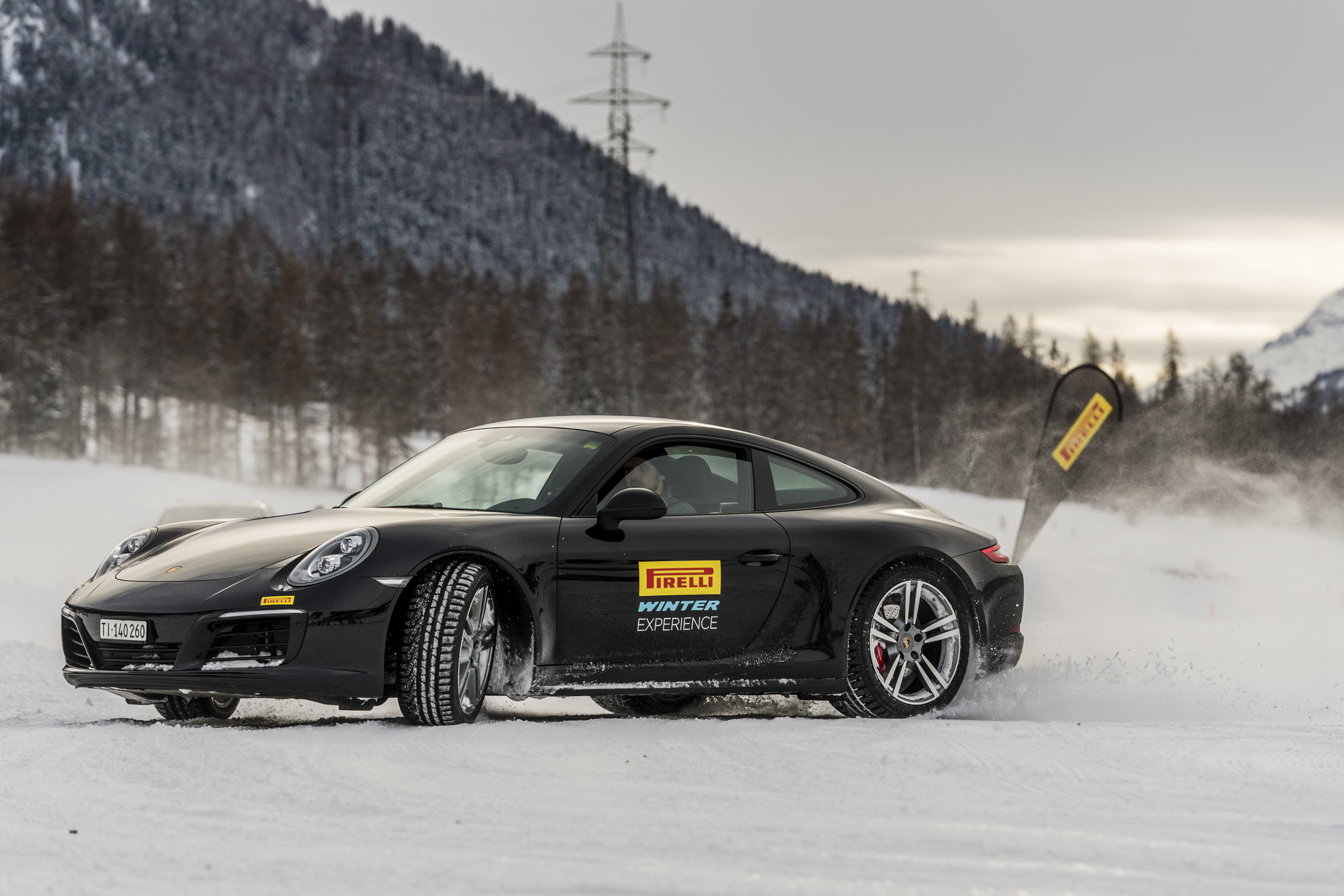 Every pro driver will tell you a car is only as good as its tires. You can go out of your way to get a car with the best handling and the most intelligent AWD system on the market, but if you can't put the power down or get traction, all those dollars are worth nil. Which is why winter weather is the ultimate test of a tire. And so, in the alpine resort town of St. Moritz, in Switzerland's Engadin valley, we took to behind the wheel to find and exceed the limits of grip.
A Bentley Bentayga, a Porsche Cayenne, a Maserati Levante, a Bentley Continental, a Porsche 911, a Maserati Ghibli—six cars with one common denominator: Pirelli tires. Pirelli has long been known as a leader in the winter tire segment and its leadership in the premium and luxury car market is the result of a strategy centred around the perfect fit. Packing anywhere between 400 and 600 horsepower, you'd think these precious machines would get stuck making erratic snow angels. But on a purpose-built snow track on a golf course—and clad with Pirelli Scorpion or Sottozzero tires—the cars acquit themselves effectively.
As with any winter tire, the tread design is very important. The Scorpion (for SUVs and crossover vehicles to specifically handle the added weight and torque) features a directional design with a central rib formed by a specific V-shaped pattern of blocks to guarantee snow-on-snow grip. While the Sottozero (for cars with medium to large engines) is equipped with a double arrow directional tread pattern. The 3D sipe technology (thin slits cut into the rubber) used for both the Scorpion and Sottozero grabs snow and increases friction. The sipes, paired with wider grooves and the rounded shoulder of the tires for water displacement, kept us firmly planted, even in tight turns. Another important (though less visible) design feature is the tire's composition. The compound polymer—a mix of silica and carbon black resin—is particularly suited to low temperatures, keeping the tires soft, as opposed to the rubber in road tires that become stiff when cold.
Every pro driver will tell you a car is only as good as its tires.
High-end vehicles are increasingly fitted with Pirelli rubber from day one, something that falls under the purview of Giuliano Menassi, senior vice-president of manufacturing for Pirelli. Menassi and his team work directly with the world's top automakers to develop tires alongside cars, a process called homologation. Pirelli has a specific engineering team embedded within each automaker and at the upper end of the market tire selection isn't as much about price as it is about performance.
"We offer the largest product range in the winter market," says Matteo Battaini, head of marketing for Pirelli, and in St. Moritz to celebrate the rather handsome investment the company has made to underwrite a five-year sponsorship of the FIS Alpine World Ski Championships and IIHF Hockey World Championships. "We reach more than 12 per cent of the upper part of the segment," says Battaini, stressing the company's upscale push. But the challenge for Pirelli (and its competitors) is to get vehicle owners to buy their tires once they've worn out the rubber fitted at the factory. Battaini is hopeful this five-year engagement of linking Pirelli in the winter world will help.
In occasion of Pirelli's first appointment of the World Alpine Ski Championships held in St. Moritz, Pirelli Design has launched the first-ever Sport Carve Ski in partnership with Blossom. Crafted in the Blossom workshops in Valchiavenna, Italy, in collaboration with Pirelli engineers, the Sport Carve Ski is a limited-edition product (produced in seven colours, inspired by the colour coding system used by Pirelli for its racing tires) with an anti-vibration Pirelli rubber insert. Featuring a wooden core with a graphite sole, a double layer of Titanal for stability, and triaxial fiberglass for ideal torsion, the Pirelli rubber compound is capable of dampening up to 60 per cent of the vibrations from piste to ski. The accentuated sidecut adapts to varying snow conditions.
Pirelli continues on in its quest for winter domination. In driving and in skiing, the more control you have, the more you can exceed the limit.
_________
Never miss a story. Sign up for NUVO's weekly newsletter.