Panama's Isla Palenque Island Resort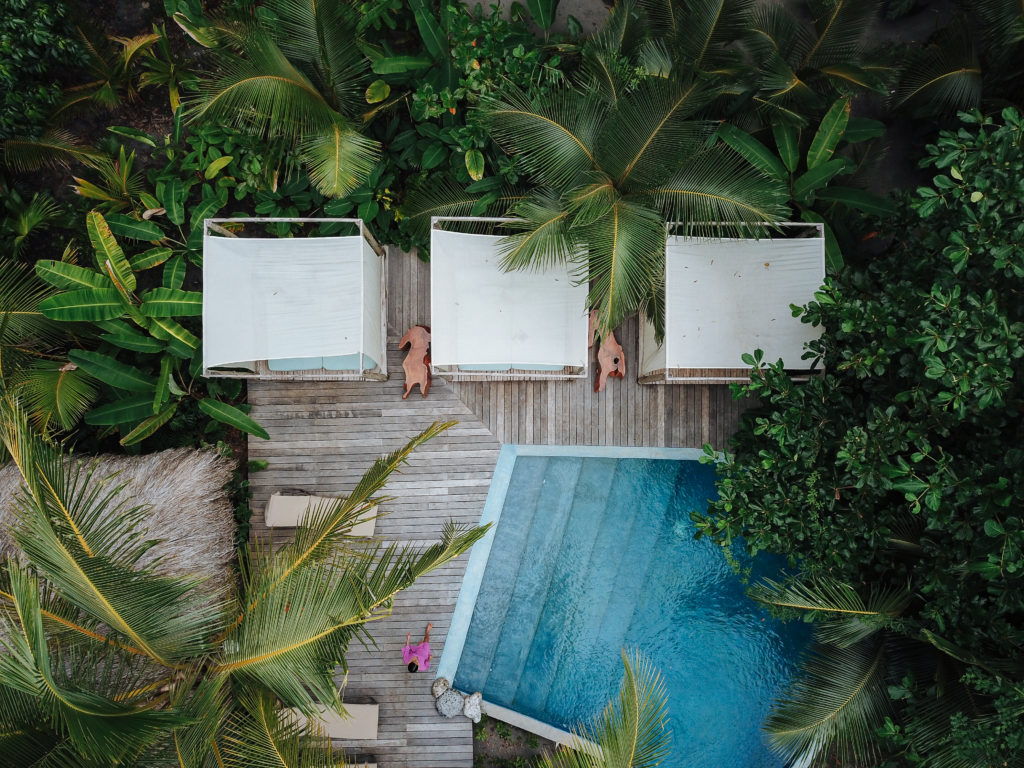 When you reach Isla Palenque Island Resort, it feels like you've arrived at a secluded spot at the end of the world. To indigenous Ngäbe-Buglé tribes, the word palenque refers to "sanctuary", which is what the resort offers to its guests. This remote island off Panama's central Pacific coast is home to one of the newest additions to National Geographic's Unique Lodges of the World. Selected for its commitment to sustainable practices, Isla Palenque Resort has created a luxurious, eco-conscious experience for travellers—the first of its kind in Panama.
Set on a 400-acre private island in the Gulf of Chiriquí, Isla Palenque Island Resort is a sustainable and intimate escape from the distractions of modern life. The resort, which opened in 2018, has just eight beachfront casitas and a six-room villa estate for guests, encircled by seven private beaches. Not only can the resort guarantee that there are more monkeys than humans on the island at any given time, it also protects the natural environment by limiting the number of guests visiting at one time.
The Cayuga Collection develops sustainable luxury lodges and hotels, such as Isla Palenque Resort, throughout Latin America. Each property focuses on providing guests with a sense of place through incorporating aspects of the local culture and customs, as well as giving back to destinations through work with the local community. The design of each property is intended to work harmoniously with the natural environment, and each has a limited occupancy to reduce its environmental impact.
Sustainable practices at the resort extend to guests' all-inclusive on-site dining. Isla Palenque Resort is part of the Dock to Dish program, based on the range of local, artisanal, and low-impact wild seafood it serves. The resort works with local fishermen to receive daily deliveries and makes efforts to compensate its suppliers fairly. The menu is always changing, and is reflective of sustainable fishing methods—catching only types in abundance, and leaving those in low supply—to help maintain the local ecosystem. The resort's goal to "leave no trace" wherever possible extends to its reduction of single-use plastics, replacing them with reusable or compostable items. The resort has eliminated its use of plastic straws by replacing them with papaya-leaf stems.
The resort itself was constructed using materials sourced directly from Isla Palenque. From the thatched roofs of the casitas to furniture built from reclaimed plant materials, the ingenuity of the design of Isla Palenque Resort is apparent in bespoke decor items made from trees that had fallen or were damaged during storms. Guest accommodations blend the comfort of sleeping indoors and the tranquility of having private outdoor areas in which to relax. Each casita is designed with an outdoor shower and tub, allowing you to bathe amid the sounds of nature.
The resort is surrounded by rainforest and gold sand beaches. During your stay, local guides will lead you on excursions to spot wildlife ranging from howler monkeys to green iguanas. Learn about the cultural heritage of the island as you walk past untouched ancient artifacts from pre-Columbian civilizations or join environmental preservation efforts through tree-planting. Other excursions take you by boat to visit nearby islands or to Coiba National Park to dive with sharks at one of the biggest coral reefs in the eastern Pacific. Guests who visit through a National Geographic expedition are offered a private lunch on a secluded beach during their stay.
For those willing to make the journey, Isla Palenque Island Resort is a hidden treasure in the Gulf of Chiriquí. It has redefined what sustainable luxury tourism should look like in protecting and preserving the beauty of the natural environment through small-scale resorts for future generations to enjoy.
Room to Request
Each beachfront casita is named after the author of a classic island-related novel, and guests are given a copy to read during their stay. The Defoe casita, named after the author of Robinson Crusoe, is a great choice: you'll be transported to the world of this well-known castaway as you unwind on your very own private island.
Images courtesy of Isla Palenque Resort.
_________
Never miss a story. Sign up for NUVO's weekly newsletter.