November Menswear Guide in Collaboration With Wallace Mercantile Shop
This month, we've collaborated with the Vancouver-based Wallace Mercantile Shop to deliver menswear recommendations that combine local penchants with designs from around the globe. Those who've visited the shop in person will have experienced the passion for high craftsmanship and service that defines its selections. Now, for those unable to explore the wares first-hand, NUVO and Wallace have partnered to offer a look at 10 spectacular menswear items hand-picked for you.
Soulland Kieran Vest
Released as a flagship item in Soulland's FW21 collection, the Kieran Vest features an intricate jacquard knit from a recycled wool blend with contrasting black trims. Made in Italy, the vest is warm enough to keep you comfortable through the winter, while the brand's exploration of floral themes will remind you of the sunnier days on the horizon.
"The sweater vest is really on trend right now," says Wallace owner Matt Hamilton. "It's what everyone is looking for, and then the floral print is so beautiful. He notes that from a fashion perspective, florals are popular this season, adding that this vest is a piece that will always stand out. "Obviously, the Kieran is a little more adventurous than other models from Soulland," Hamilton says, "but I think it's perfect for anybody wanting to make a statement with a really well designed, memorable piece."
Andersen-Andersen Short Beanie
For years, this Danish label has crafted some of the highest-quality knitwear available. Made in Italy from merino wool, the hat is knitted for a compact, heavy fit to ensure it holds its shape over time.
"From a style perspective, any time you can add a simple, quality accessory like a beanie, it accentuates the rest of the outfit," Hamilton says. "In a functional sense, for the season, they're so comfortable to wear. You can dress them up, dress them down, they work in every setting."
Nanamica Down Muffler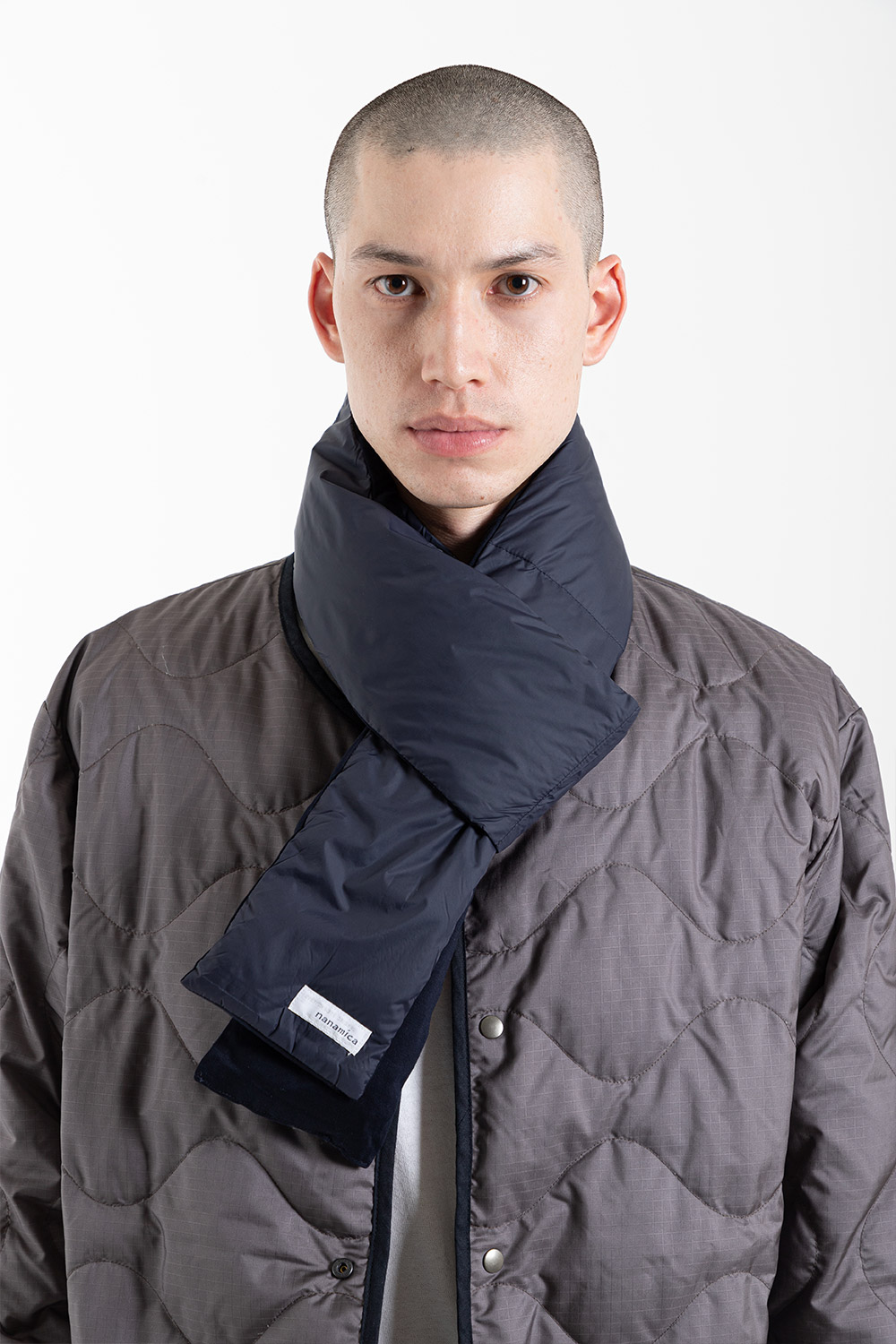 This hybrid scarf has been stuffed with KODENSHI down, includes a handy storage compartment, and features soft cotton on one side and nylon on the other. Layer it, tie it, or wear it hanging down.
"I've never seen a scarf like it," Hamilton says. "Nanamica is probably one of the most popular brands we have, and I think items like this show why. They take their quality so seriously. They don't mess around when it comes to making an outstanding product that offers something different, and I think the muffler speaks to that."
Jackman Waffle Midneck
With intricately knit cotton stitched together with flatlock seams, soft ribbed cuffs, and the defining midneck collar, Jackman's Waffle Midneck offers the perfect cold-weather companion in an athletic, vintage aesthetic.
"I would wear this every day," Hamilton says. "It's something that you can easily wear lounging at home, on a night out, or to the office and look like the most well-dressed man there. It's not a regular sweatshirt by any means. It's one of those perfect pieces where you'll never look too dressed-up in it, but you can still elevate it. We've had that sweater three years in a row, and we keep bringing it back for a reason. People love it."
Rostersox Thanks Buddy Socks
There are some sock brands so spectacularly designed that they refuse to go unnoticed. Made in Japan with particular attention to comfort, quality, and unfettered fun, the Rostersox Thanks Buddy Socks are the perfect drop of vibrancy to inject into your winter wardrobe.
Hamilton says he doesn't think the word "bad" is in the Japanese vocabulary in terms of design. "You can always rest assured knowing you're going to get good-quality fabric," he observes. "And then, otherwise, it's just such a unique sock. You have these beautiful tie-dye designs that make them ultimately stand alone. I love a sock that I can wear five times, and that fifth time that I put it on, it still feels like the first time. That's what you're getting with Rostersox."
Goldwin Micro Fleece Half Zip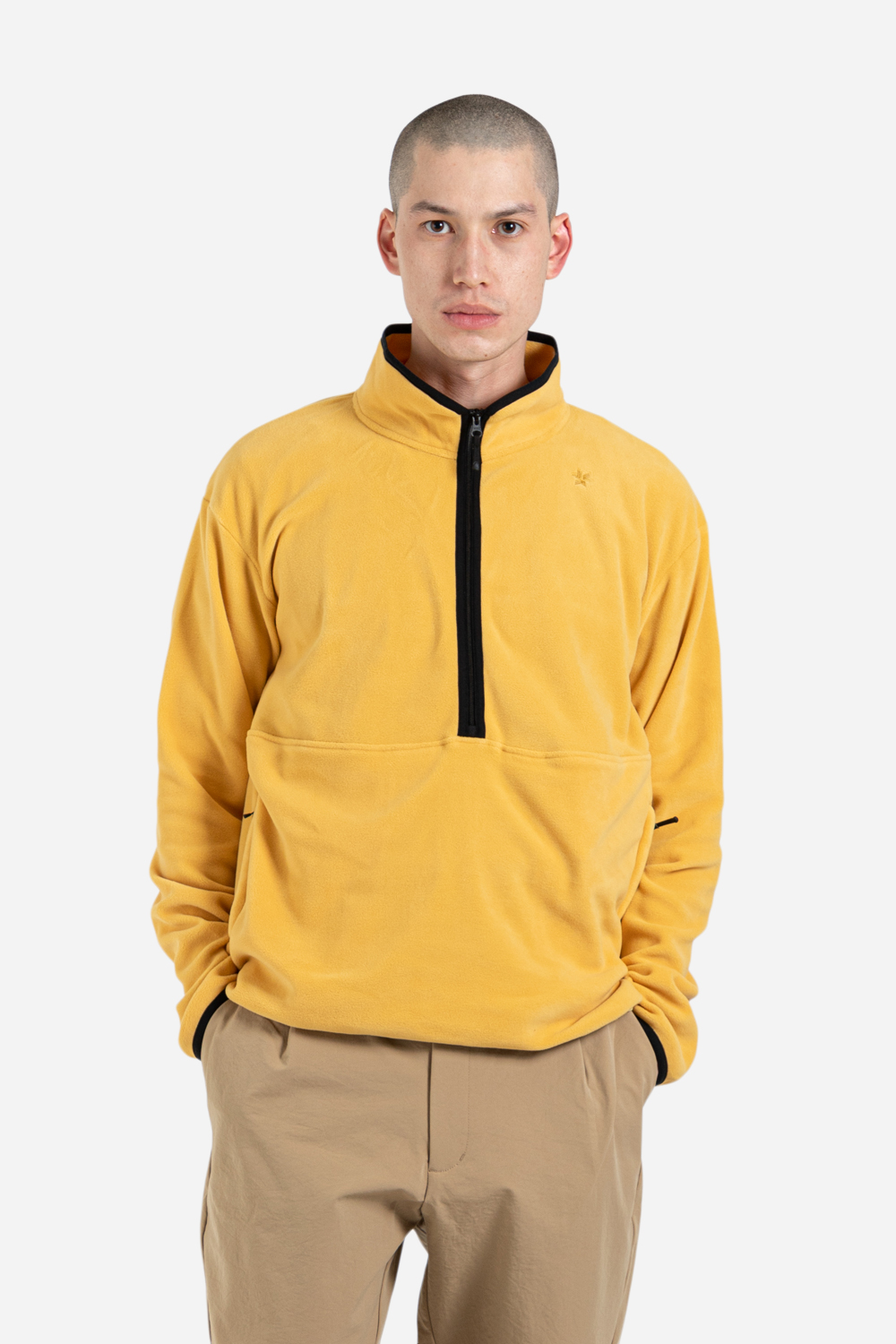 While the fleece half-zip might be a staple of winter menswear, Goldwin's Micro Fleece Half Zip offers a modern take with dynamic fabrics. The Polartec microfleece delivers more breathability than traditional fleece without sacrificing warmth, making it comfortable to layer even in more-moderate conditions. With black contrast piping, elasticized cuffs, and a relaxed cut, this half-zip sweater turns a conventional design into a refreshingly reimagined piece.
"This is an item I've actually been wearing myself this season, and I absolutely love it," Hamilton says. "It's such an easy piece to wear, and the microfleece is so soft. It's really comfortable and not too warm, which is always the danger with high-quality fleece. But I can wear it inside or in the cold and feel comfortable. It just feels good to wear, and it's the kind of piece you can dress up, depending on how you choose to style it."
Solovair Urban Hiker Boot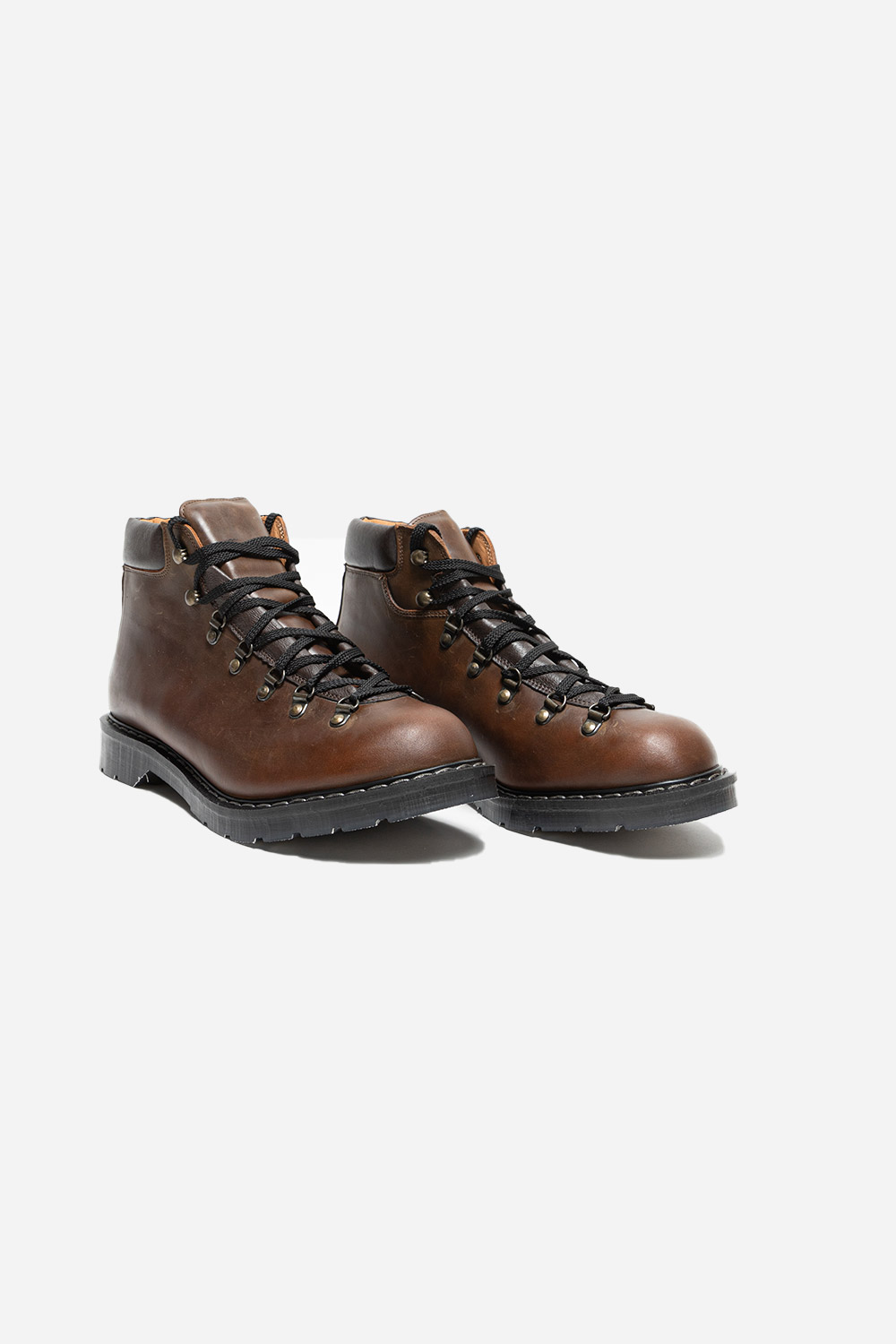 This Urban Hiker Boot epitomizes all of those traits and more, featuring a waxy leather upper, robust lining, and a soft-suspension classic sole that will keep you supported for years to come.
"Of course, Solovair is not a cheap shoe, but it is a remarkably well-built, made-in-England shoe that, for the quality, is exceptionally affordable," Hamilton says. "This is a boot that's going to last you a long time if you treat it well. It's Goodyear welted, so you can replace the outsole, too. It's the kind of boot that I would trust to carry me through a rainy or snowy day in Vancouver. From a style perspective, it offers so much. You can wear it so many different ways. Anyone could buy this boot and style it completely differently than you or I would. That's a sign of tasteful design."
Tilak Odin Jacket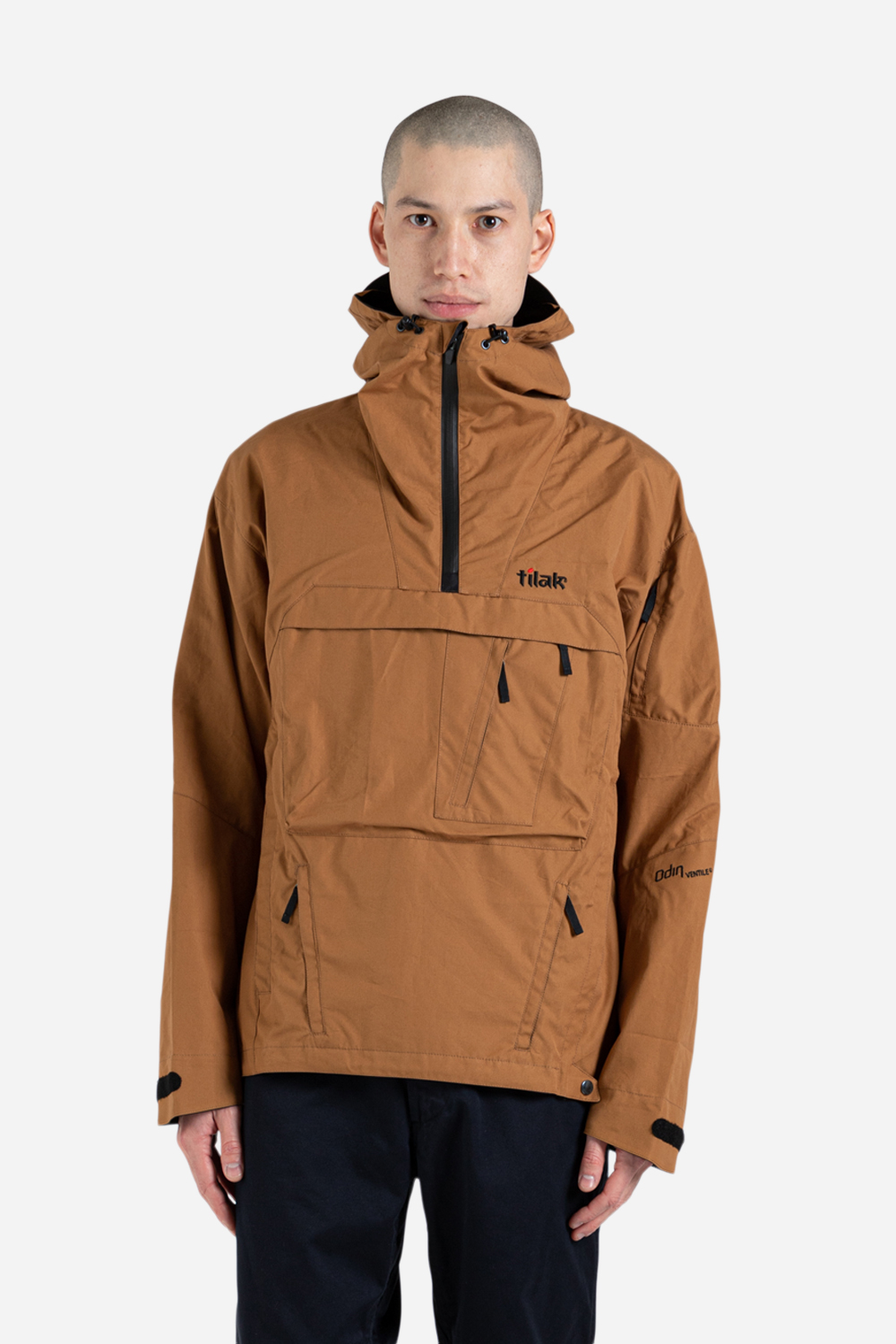 Tilak's Odin Jacket offers a traditional military-style aesthetic with a sleek, contemporary twist. Surprisingly lightweight and dynamic, the jacket has adjustable cuffs, hem, and hood, and features an array of pockets throughout. But despite its stylish silhouette, the Odin's greatest asset is its Ventile fabric. Durable, remarkably water-resistant, and breathable, the jacket's Ventile construction makes it one of the most versatile outerwear pieces available this season.
"The first thing that stands out to me about the Odin is the fabric," Hamilton says. "Edmund Hillary, when he became the first to summit Everest, was wearing Ventile. There was no GORE-TEX back then, and this was the first really revolutionary water-resistant fabric," he notes. "What's special about it is the weave; when it gets wet, it absorbs the moisture, and the fibres expand to offer that waterproofing and breathability. That combination makes it the perfect hiking jacket."
FrizmWORKS Wool Stadium Jacket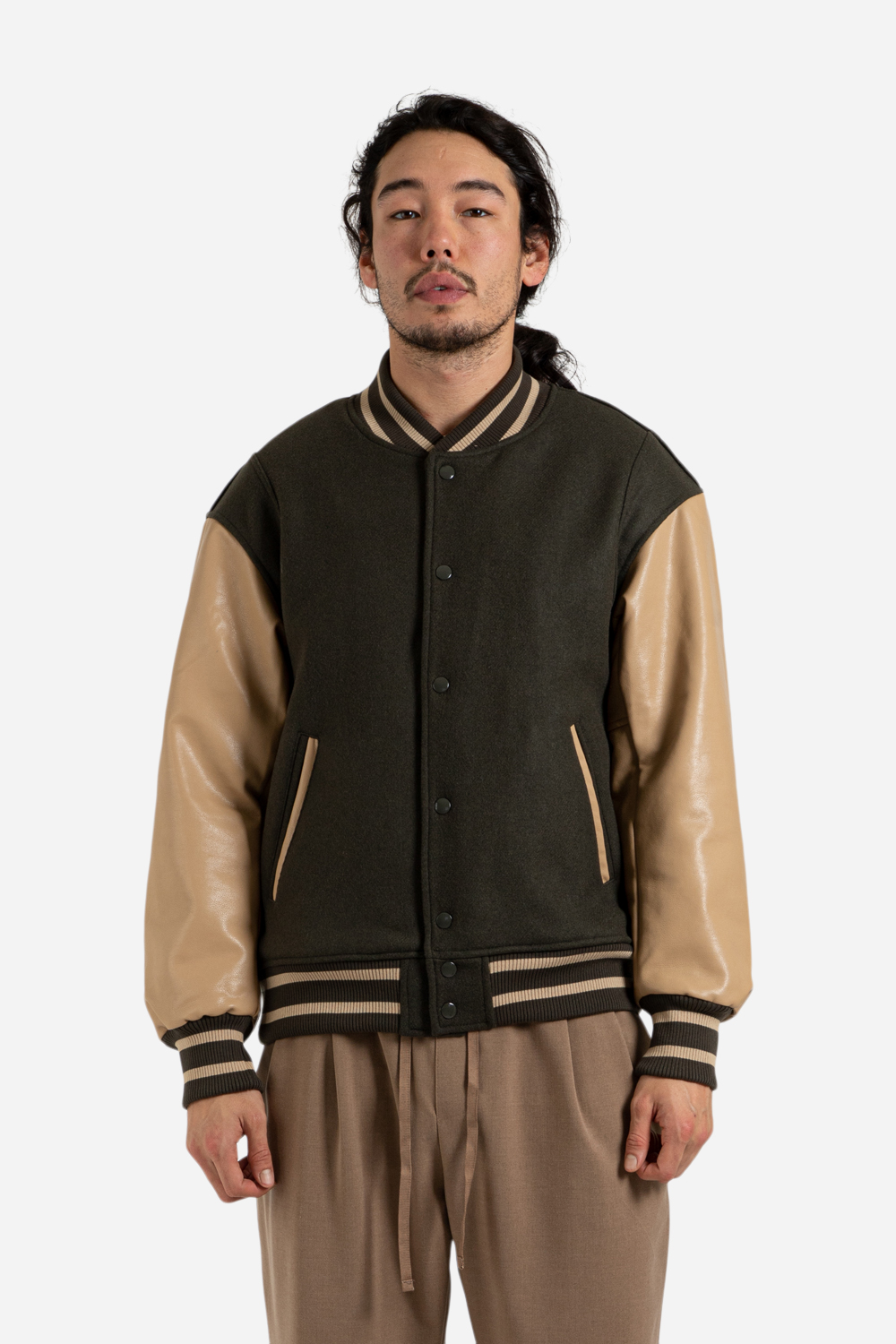 A new brand at Wallace, FrizmWORKS is an adventurous South Korean label that's just beginning to gain popularity in North America. FrizmWORKS' Wool Stadium Jacket is the perfect combination of the brand's signature intricate details and functionality, offering a relaxed style that pays homage to the varsity jackets introduced in the 1930s.
Hamilton, a kid of the 1990s, says a lot of FrizmWORKS' stuff is reminiscent of vintage styles he has always loved. "I'm so interested in clothing like this that comes back in style time and again. It's such a beloved look that's been modernized in a smart way."
S.K. Manor Hill Saunter Pant
Cut from soft cotton fleece and featuring a drawstring waist and a relaxed fit, the Saunter Pant stands out even among Wallace's array of wears. To further elevate the trousers, the label has added a decorative jacquard trim on the side seam of the most tasteful sweatpant of the year.
"Of course, it's incredibly comfortable to wear, but what I really love about this pant is that it's so much more," Hamilton says. "This is a piece that you can style in so many different ways. The details along the side feel like they're begging to be elevated in an outfit. I would wear this out on a Saturday night and feel entirely in place." He adds that designers who take the time to create such a special piece are what make Wallace Mercantile Shop what it is.