Marcel Dzama: The Phantom of the Art Fair
Bewitching new paintings by Marcel Dzama debut at Art Toronto.
A paranormal encounter is expected at this year's Art Toronto, which always takes place just before Halloween and is one of the most highly anticipated art events of the year. From October 26 to 29, art appreciators, collectors, patrons, and other industry professionals will gather for the country's preeminent art fair at the Metro Toronto Convention Centre and get an exclusive first look at mesmerizing paintings from Ghosts of Canoe Lake: New Work by Marcel Dzama.
Presented by the McMichael Canadian Art Collection in Kleinburg, Ontario—the gallery is also the fair's lead institution and the beneficiary of its opening-night celebration—this showing of Dzama's work marks a homecoming for the Winnipeg-born artist, who hasn't had an exhibition in Canada in more than a decade. After the Art Toronto preview, the full show, which is organized in collaboration with Contemporary Calgary, will be on view from December 9 to June 9, 2024.
Born in 1974, Marcel Dzama first rose to prominence as part of the Royal Art Lodge, an artists group founded in 1996 at the University of Manitoba. The Dada-inspired collective's original members also included Neil Farber, Michael Dumontier, Drue Langlois, Jon Pylypchuk, and Adrian Williams. They would meet weekly to collaborate on darkly humorous drawings that combined image and text, achieving critical acclaim both at home and overseas before disbanding in 2008 to pursue their own careers.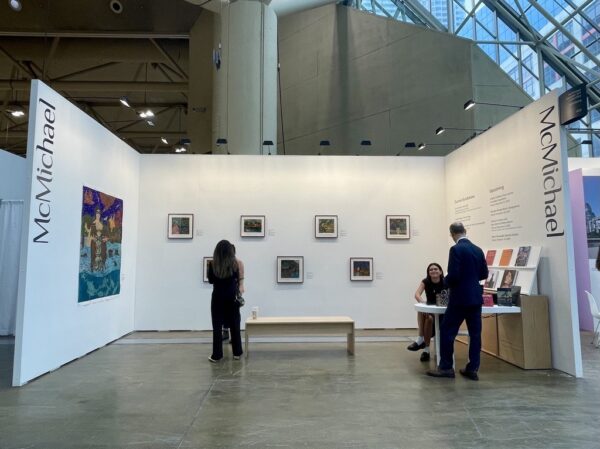 Marcel Dzama moved to Brooklyn, New York, where he has been represented by powerhouse art gallery David Zwirner since 1998. He expanded his repertoire from drawing in watercolour and root beer on hotel stationery to include performance, sculpture, painting, dioramas, music, puppets, stage design, and film, and his list of collaborators grew to include filmmaker Spike Jonze, actor Amy Sedaris, musicians Beck, Bob Dylan, Kim Gordon, and LCD Soundsystem, artists Maurice Sendak and Raymond Pettibon, and institutions such as the New York City Ballet.
Despite Dzama's international success, the Canadian landscape, from its stark bleakness to its lush wilderness, has remained a wellspring of inspiration. With Ghosts of Canoe Lake, the artist enters into dialogue with famed painter Tom Thomson, a contemporary of the Group of Seven who perished mysteriously in Algonquin Provincial Park in 1917, leaving just an overturned canoe and a gallon of maple syrup behind—as well as an enduring reputation as one of the country's most beloved landscape painters. The Canadian obsession with Thomson has only intensified since his untimely death, and a bold new take on the late artist's work will be presented concurrently with Dzama's show at the McMichael.
Shimmering with pearlescent acrylic paint, Dzama's new paintings layer concerns about climate change and industrial colonialism with his family history and memories of his own childhood spent on the Prairies. The subconscious reigns in compositions populated by a smoking squirrel, costumed performers peering out from behind patterned partitions and an abundance of hypnotizing eyes, all set against a background of fall foliage and glowing embers. His tendency toward a palette that brings to mind vibrant peacock feathers, moody indigo and a wash of other shades in between has led Dzama to joke that, like Picasso, he is now in his "blue period."
Surreal and spectacular, Dzama's work is sure to enchant attendees at this year's Art Toronto, summon a spellbound audience to the McMichael exhibition later this year and, like Thomson's legacy, have a haunting and powerful influence on generations of artists to come.