On a busy corner of Commercial Drive, under a black-and-white striped awning, Livia Bakery stands like a slice of Europe amidst a Vancouver landscape. The newly-opened bakery, namesake of co-owner Claire Livia Lassam and her nonna, offers European-inspired delicacies ranging from plum frangipane tart to fresh-baked sourdough loaves. Yet calling Livia a bakery seems a misnomer—the little café offers an additional kitchen menu far beyond most bakeries. Swayed by an Italian inclination—Lassam's family is from Rome—Livia's breakfast and lunch menus are peppered with Italian flavours: mushroom polenta, braised-lamb rigatoni, and meatballs in homemade tomato sauce. A cocktail menu bridges the transition into happy hour. Choose from Vinho Verde, mimosas, or classic Italian Aperol Spritzes and Campari.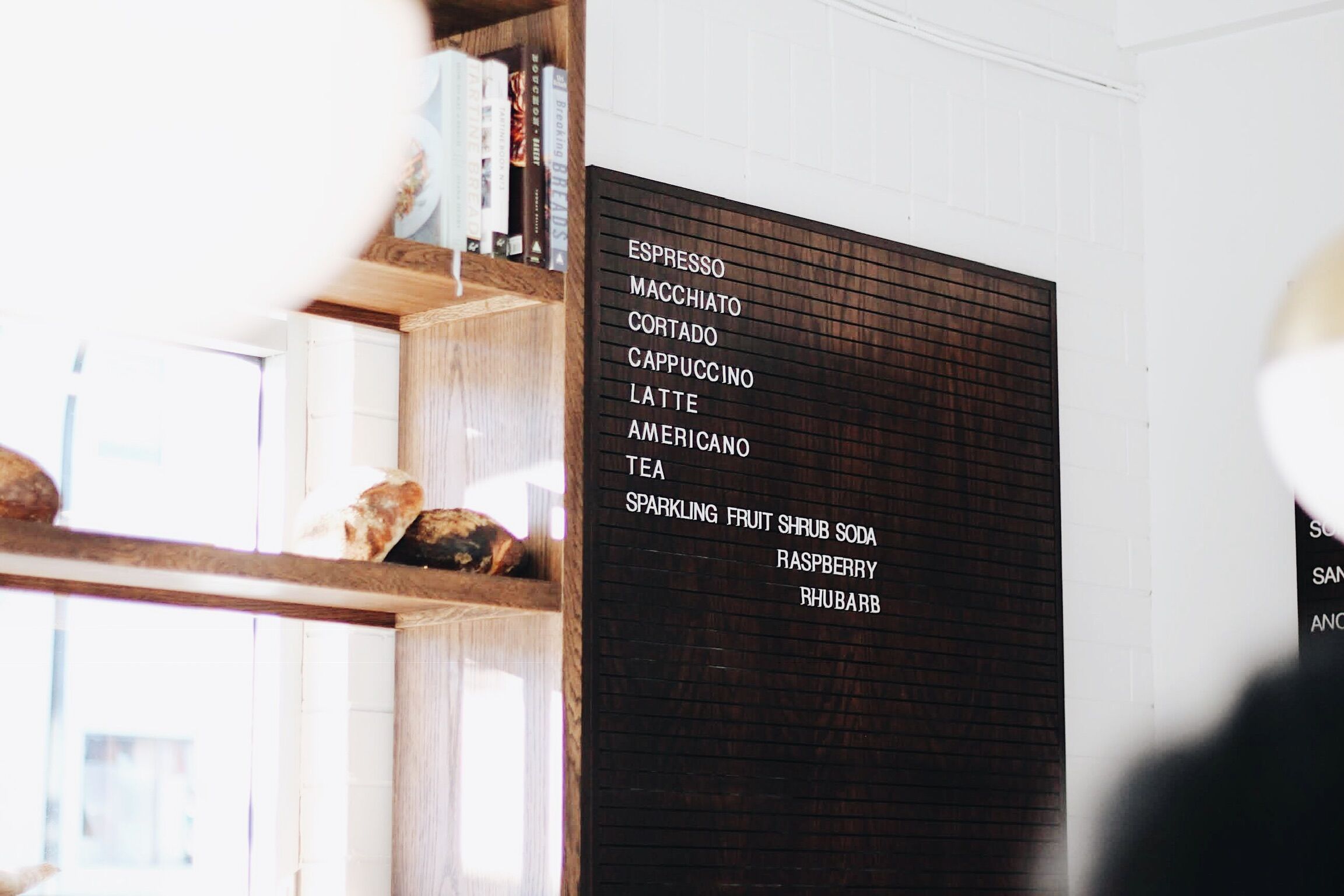 Through Livia, Lassam has created a place that transforms with the day. Mornings are espresso and pastries; afternoons are Italian aperitifs and savouries. Dinners in the evening will be an option too come summertime, confides Lassam, who got her start selling bread and jams in farmers markets across British Columbia through her brand Livia Sweets. Starting a bakery of her own was a dream of Lassam's since she was eight years old. Now, after almost two years of planning and developing, dreams are reality—though she still sells at farmers markets during summers.
"There are two ways to open a place in Vancouver," Lassam explains above the din of her busy shop. "You either buy a newly built, expensive place, or buy a cheaper, older place and renovate." In Livia's case, she opted for the latter, choosing a space on Commercial Drive that had passed through the hands of many previous exploits, including shawarma shop All Shaba. The room, initially filled with wires and featuring an obtrusive rainbow-coloured wall, served as the impetus for Lassam's creativity and eye for design.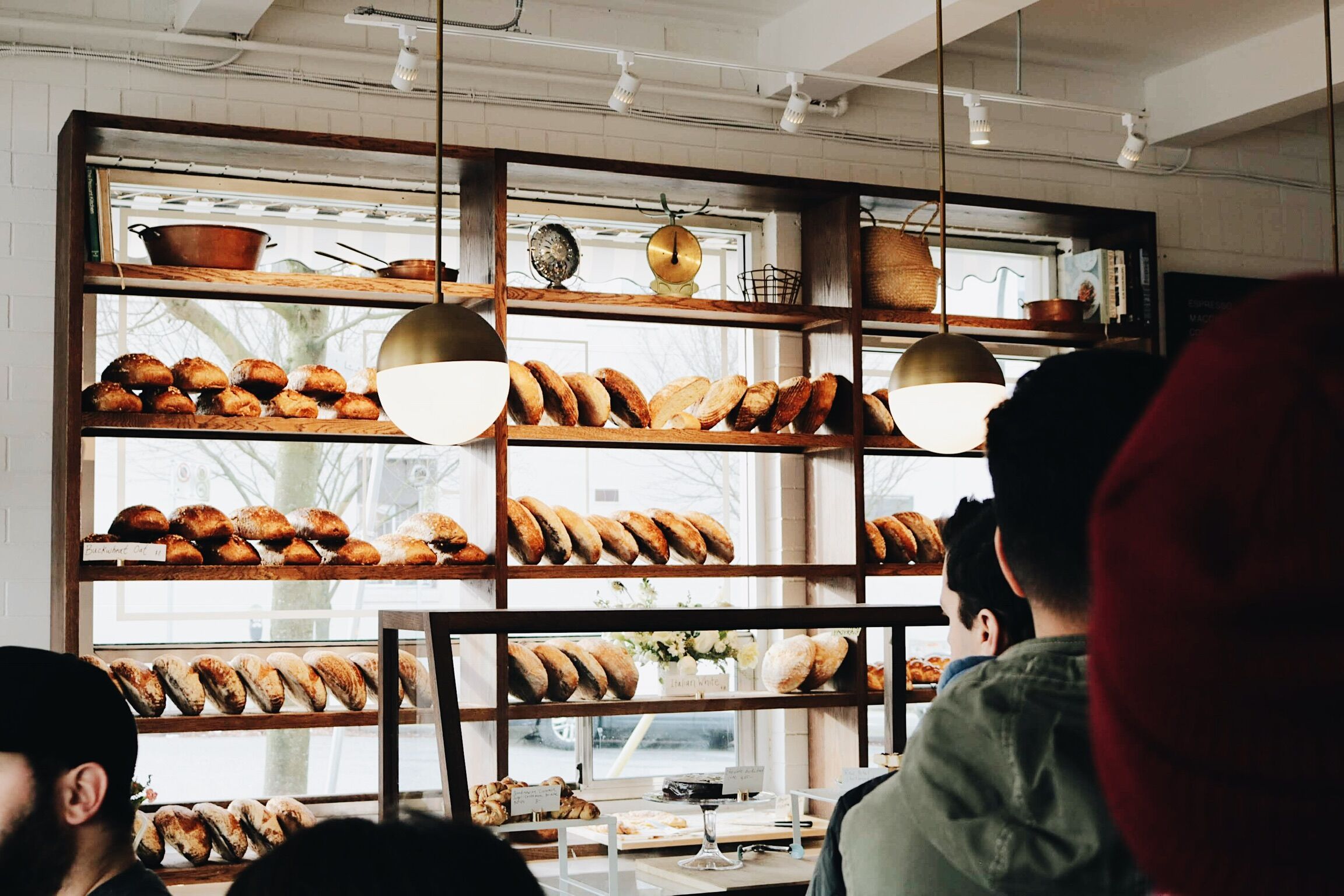 Compared to some Vancouver restaurants and cafés that subscribe to stringent minimalism veering on coldness, Lassam wanted a "warm, cozy environment" rooted in the philosophy of languid leisure, like in the European cafés she had frequented. She doesn't follow the idea of 'grab-and-go'; in Livia, she wanted to provide a refuge, a home-like space where one can savour without rushing.
With help from her husband and business partner, Jordan Pires, Lassam transformed the barren space into a cozy haven through hand-picked details: wooden, hand-bent Thonet chairs dating back to 1910 (a Craigslist find); Parisian-style carved iron table stands; window-lined wooden shelves for a bread display; handle-less mugs from g ceramic and co.; and Lassam's personal favourite, an intricate black-and-white tile mosaic floor, hand-assembled by Lassam and her friends. A navy-and-white palette keeps the space bright, and hanging florals add in a delicate natural element.
Most days, the room is crowded and buzzing, yet the space remains open and airy. On a rainy spring afternoon at Livia, I watch lone coffee drinkers, hunched over a notebook or laptop; a group of chatting friends, one cradling her newborn child; and an elderly couple laughing over shared treats, all to the soundtrack of soft indie music playing from speakers overhead. There is no rush, only indulgence—soft yet deliberate.
_______
Never miss a story. Sign up for NUVO's weekly newsletter, here.