Inside Toronto's Chic Coffee, Champagne, and Oyster Bar
Coffee Oysters Champagne in Toronto has its own hidden secret.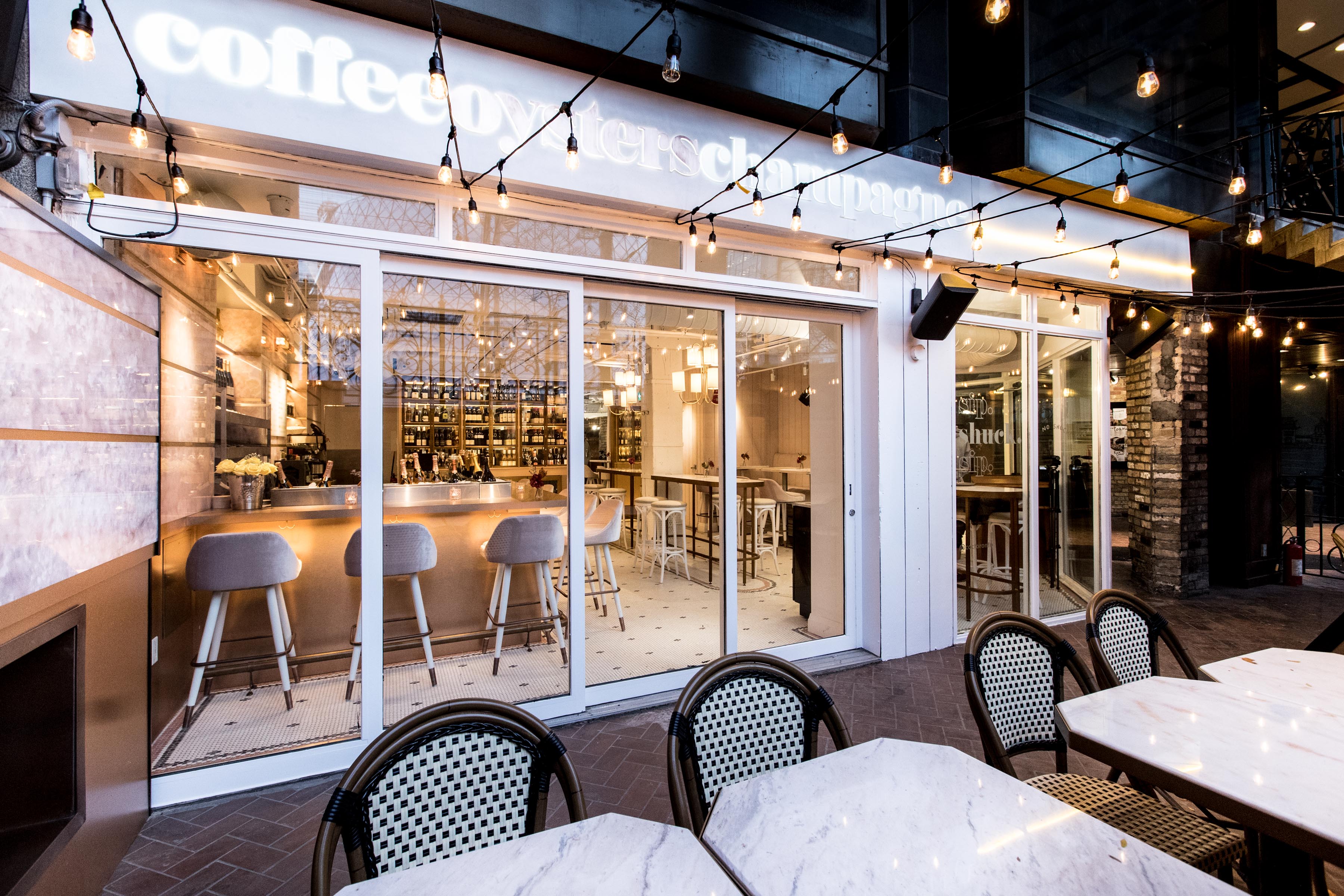 When it comes to life's great treasures, few things top the promise of fair trade coffee, freshly shucked oysters, and a great bottle of champagne. Merging the three delicious offerings into a charming pink-hued and gold-accented space, however, might incite questions if there could be too much of a good thing.
For friends, Sanjay Singhal, a tech entrepreneur, and Steven Daicos, an investor and restaurant developer, the odd combination wasn't an obstacle but an opportunity to open Coffee Oysters Champagne.
The chic subterranean room on King Street West near Toronto's Financial District caters to guests throughout the day, offering single-farm sustainable specialty coffee to start before transitioning to an oyster bar that boasts of the city's largest champagne list—many available by the glass, and many more stocking the glass-enclosed cases and shelves surrounding the room. Perched on a high-top seat at the gold-tinted bar or from one of the marble tables, enjoy a dozen thoughtfully dressed bivalves. Plump and creamy Royal Miyagi oysters may arrive garnished with delicate edible flowers, cress and salmon roe; there's even a Rocafella option involving silvered rose petals, generous dollops of black masago, chives and a splash of champagne on cucumber-fresh Fanny Bays.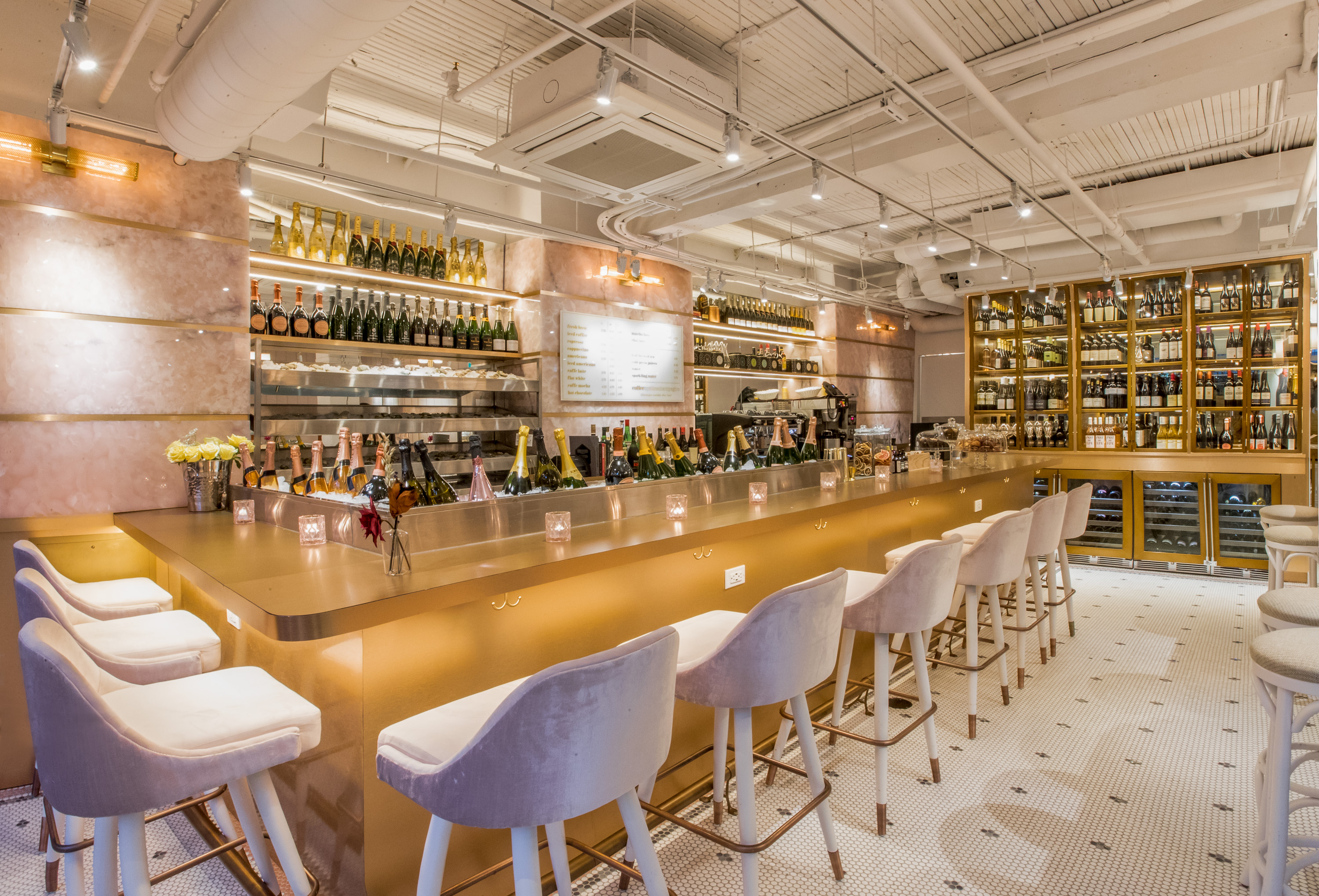 Everything pairs well with a glass of Barons de Rothschild's gorgeous and juicy rosé brut or Ridgeview's fresh and golden Bloomsbury Brut. Feeling extra fancy? There's sure to be a bottle (or jeroboam) of vintage Cristal to suit your fancy from wine director Haley Mercedes' French-focused list.
While the pretty storefront is an ideal spot for a meeting or evening out, it's the elegant champagne room that hides the space's true treasure.
Tucked behind one of the champagne walls is à toi, a swanky restaurant with its own concierge desk. Designed with award-winning Navigate Designs, the 1920's Parisian hotel lobby bar–inspired decor juxtaposes the street-facing café through its darker colour scheme and plush velvet banquette booths. It's here that guests can dine on executive chef Kevin Paquette's elevated French-inspired menu.
Warm mushroom salad arrives with a shower of cured egg yolk and puffed rice, while octopus—first it was sous vide, then delightfully charcoal-grilled—sits upon celeriac remoulade with splashes of salsa verde and fresh chervil sprigs. Addictive popcorn sweetbreads proudly sport an amaranth coat and are served with a pickled mustard aioli. Then there's Paquette's duck, served two ways, as seared breast and confit leg, atop a bed of sweet cipollini onions, Tokyo turnips, and diced spiced fruit.
General manager Jake Dolgy and bar manager Dylan Turner draw from their creative backgrounds to serve the serious selection of classic and modern cocktails using cognac, Armagnac, and champagne as their base. Bolstered by a healthy selection of Belgium and vintage beers, and flights of rare spirits that's subject to availability, the beverage menu has seductive numbers such as a showy Smoked Snazzerac that's made with Rémy Martin VSOP cognac and served under a cloche with French oak smoke.
Anything can happen between bites of savarin soaked in brandy crème patisserie while tippling on Punch Provençal, a clarified milk punch that can be livened up with more champagne. In addition to a mix of classic, unconventional and new age music curated by resident music director Mark Oliver's floating overhead, there might be live music performances, activations happening throughout the space, and a new discovery or two as the night progresses.
The only expectation is for the unexpected.
_________
Never miss a story. Sign up for NUVO's weekly newsletter, here.