How to Buy a Car From Home With Limited Contact and Contactless Purchasing Options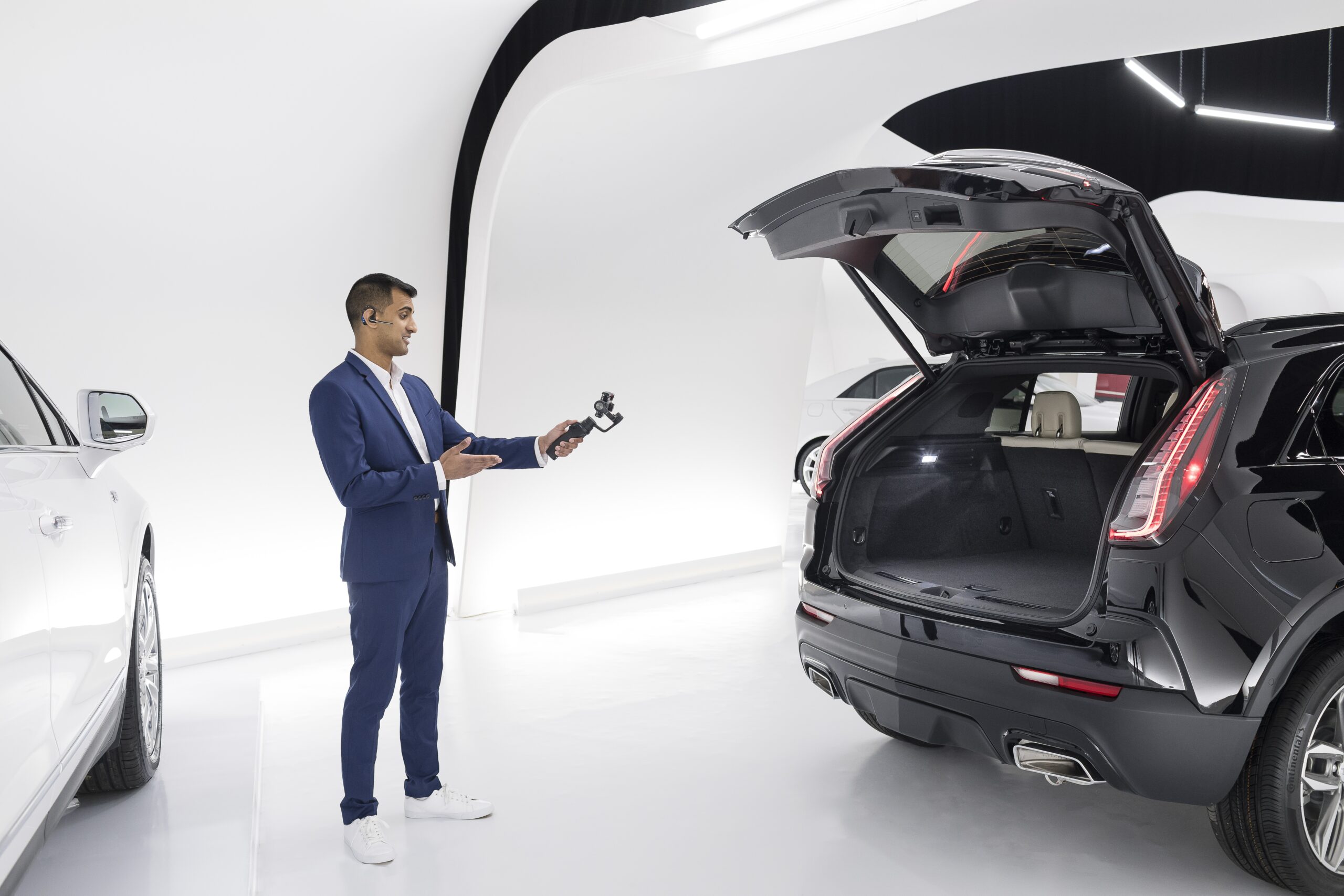 One of the most stressful aspects of purchasing a new car is going to a dealership, and that stress is now doubled as we're encouraged to physically distance ourselves from one another to prevent the spread of COVID-19.
Fortunately, some automakers have heard the call and are offering new ways of buying your car, including online sales and service. Here's a quick roundup of some of the services available to luxury car shoppers.
Cadillac Live
One of the more comprehensive services is Cadillac Live, which links you with a live product specialist in a studio dedicated to this experience. Though the specialist has a video stream, you just have an audio stream and a chatbox to communicate with them. From there you can ask them to show you around the vehicle or vehicles you're interested in. You can get a demonstration of the features available or even see the size. This is great to check whether the XT6 will be a better fit for your family than an Escalade or if the XT4 is smaller and better for city driving than the CT4. Furthermore, the specialist isn't a salesperson so it all feels less pressured than the typical car-buying experience. If you want some hands-on time with the vehicle, select Cadillac dealerships will even send a car to you for a 24-hour test drive to help you with your decision.
Genesis at Home
This relatively new name in luxury has been conducting remote sales for a few years and already has a leg up on the competition still trying to manage the process. Genesis at Home allows you to shop for a vehicle, get a final quote, complete financing or lease paperwork, and place a deposit to order a vehicle from the automaker's centralized inventory. If you want to test drive a vehicle, Genesis can arrange that through the Genesis at Home concierge. There are remote services for maintenance and service, too. Genesis will pick up the vehicle from you, leaving behind a courtesy car. They'll return your vehicle after the service is completed, so pretty much all of the Genesis ownership experience is free from the grip of the dealership. Maybe the coolest thing is the trailer that Genesis uses to deliver your car; it mimics the packaging for a model car.
Audi Online Showroom and Driveway
Audi has gone through the process of revamping its sales process to make things safer and less stressful. For starters, there's an online showroom where you can browse the automaker's new and used inventory. You can have an online video chat with an adviser to pick a vehicle that suits your needs. Audi also offers an at-home test-drive service with select dealerships through an online booking tool. If you're ready to purchase, you can make an online deposit and even complete your transaction remotely or in a sanitized in-dealership experience. Finally, the automaker can deliver the vehicle to your home or another location.
Tesla
Everyone's favourite electric automaker has been offering online sales forever. Just go to the Tesla website to build your car and provide a deposit. The automaker has recently announced contactless test drives as well as home delivery, though it's unclear when that will be available to Canadian customers.
Third-Party Services
There are also a few third-party services you can use to find and coordinate a new or used vehicle purchase online.
Dilawri is allowing customers to browse its huge stock of brands and services through its premier Dilawri Anywhere service all across Canada. The viewing, test driving, and purchasing can all be done with limited to no contact with employees (though they are available for questions every step of the way).
Clutch is available in Halifax and Toronto, letting customers see their inventory online, schedule a test drive (of up to seven days), and complete the transaction all online, with contactless delivery of the vehicle.
Another option is the Buy From Home service through CarPages, which is available in far more locations than Clutch. This is a partnership with select dealers who can facilitate these remote purchases, including the ability to digitally sign the documents required to complete the transaction. While this service is available in more locations than the competition, CarPages has yet to establish a local test drive feature, which limits its appeal.
While more options are emerging for customers to purchase a car remotely and online, not all automakers are on board. However, if these automakers don't want to be left behind, they'll probably want to jump on this trend sooner rather than later.
_________
Never miss a story. Sign up for NUVO's weekly newsletter here.