First Look: Italy's Toscana Resort Castelfalfi
A gem under the Italian sun.
Between Pisa and Florence, recently renovated Toscana Resort Castelfalfi is welcoming travellers to its historic 2,700-acre property.
On the agricultural estate with 100 acres of organic olive groves and 61 acres of vineyards, guests can sample the terroir or play the fairways of the Golf Club Castelfalfi, with an 18-hole mountain course and nine-hole lake course designed by EIGCA members Rainer Preissmann and Wilfried Moroder.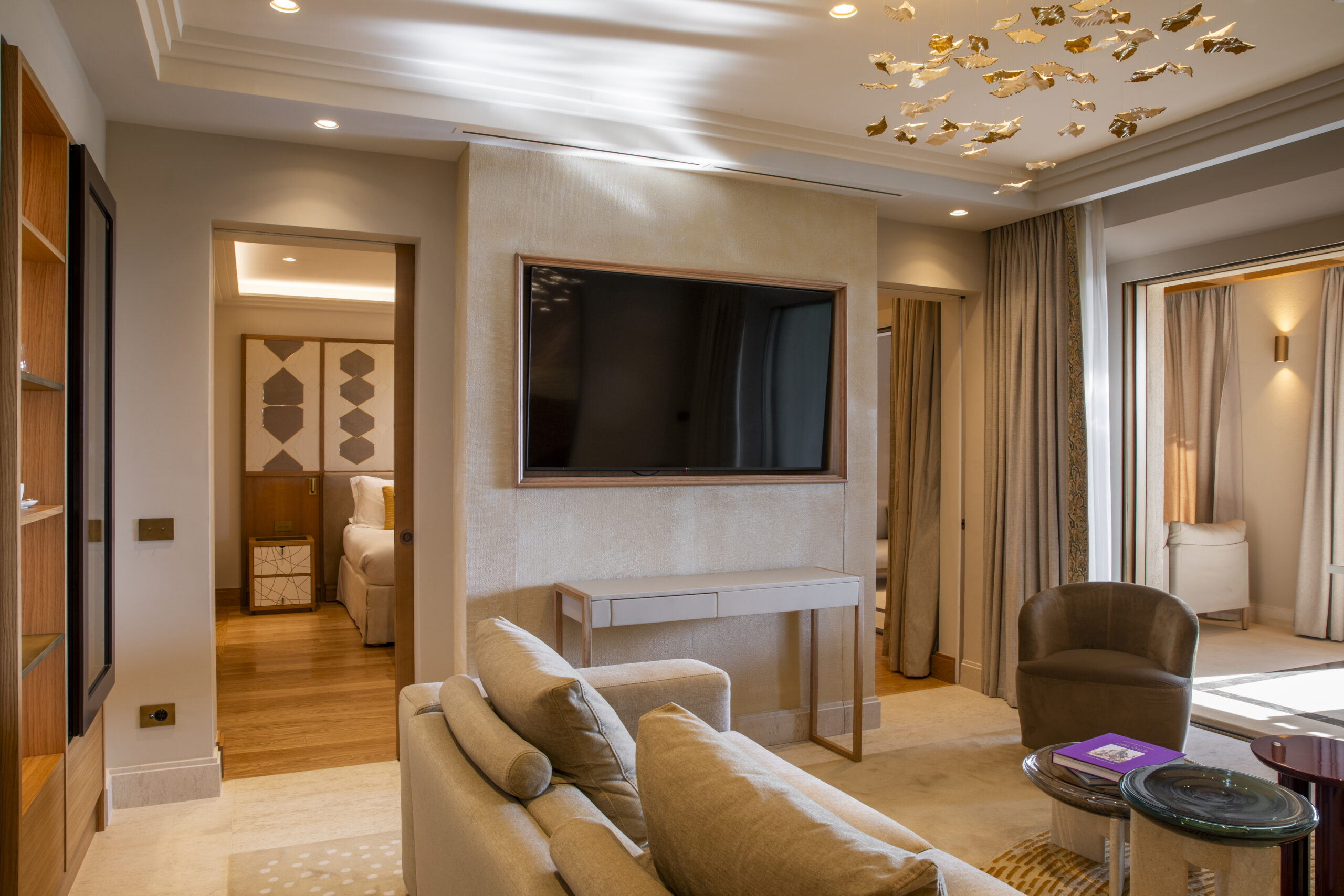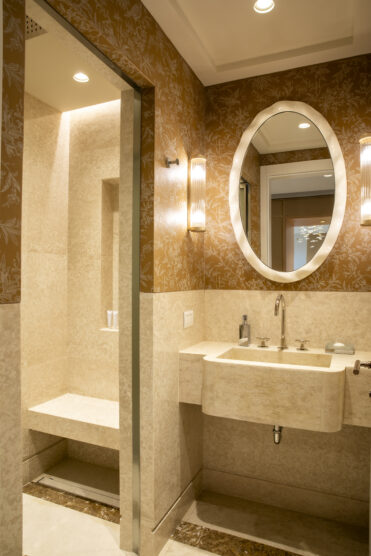 There are 146 rooms at this pet-friendly resort: guests can reserve one of several villas (or an apartment within) or a room or suite in the former tobacco warehouse or the main hotel. All include access to activities such as bike excursions, yoga classes, supercar touring, and this autumn, the reopening of La Spa with a newly added indoor/outdoor infinity pool.
There are six dining options, including Il Rosmarino steakhouse and pizzeria with a light-filled dining room and outdoor terrace; Ecrù, with its cozy bar of low-slung seating and outdoor lounge with panoramic views of the resort; spacious Country Clubhouse at the golf course; Giglio Blu for light bites by the pool; and La Rocca, for private dining and special events in the estate's medieval castle.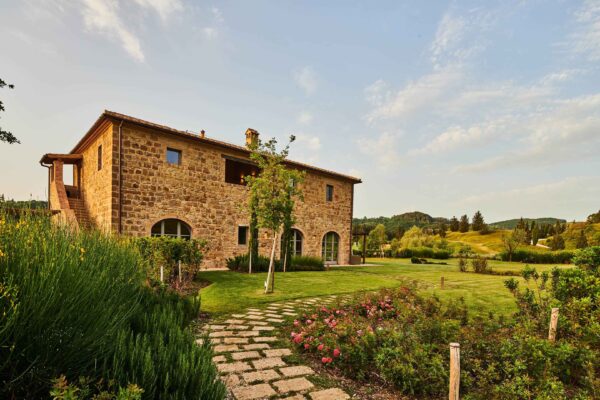 Opened in the summer is Olivina, named for the green stone the Etruscans called the "gem of the sun" and overseen by chef Davide de Simone. Designed by Henry Chebaan of Blue Sky Hospitality, the design palette was influenced by colours and textures of the surrounding landscape. Shades of olive green, copper, oak, bronze, and terra cotta are used throughout this modern bistro, which includes a coffee bar, bakery, wine room, salumeria, and show kitchen.
The final phase of the resort's renovation produced four signature suites designed by Paris-based Affine Design, with several decor items custom-designed by Italian artisans. Ranging from 675 to 1,100 square feet, the suites can be reserved as an entire floor or individually, and include opulent amenities such as round-trip transfer to Pisa or Florence airports, a minibar stocked with Castelfalfi bottled cocktails, and access to a private bartender to create the perfect aperitivo.
Each suite includes a king bed, bathroom with separate bathtub and shower, living room with sofa bed, outdoor patio, private garden, and oversized windows with views of the Tuscan hills. Guests travelling with staff such as security, caregivers, or wellness therapists have separate rooms for their use, as well as the ability to control access to the suites.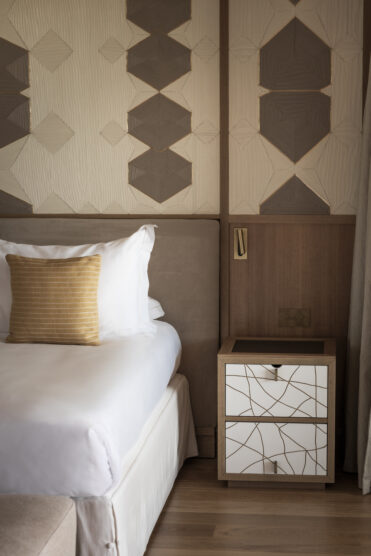 In the Castelfalfi suite, a handmade tapestry from France is displayed behind the bed, with several custom items, like the matching night tables, dressing table, sitting room furniture, and stunning straw-marquetry sliding doors.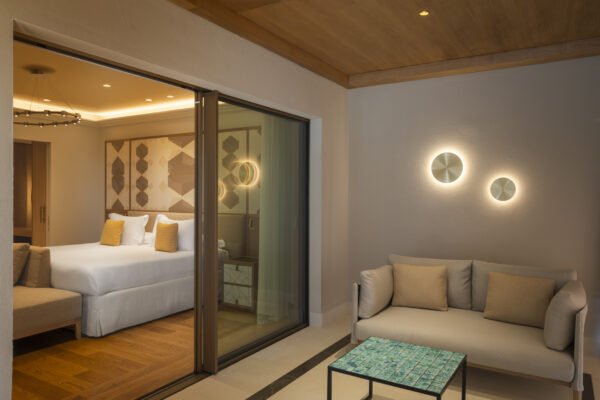 The Junior Suite features a decor palette reflecting the surroundings with shades of green and caramel brown. The leather headboard and couch are both custom designed, as are the tables and pendant light. The patterned hand-tufted rug complements the oak flooring.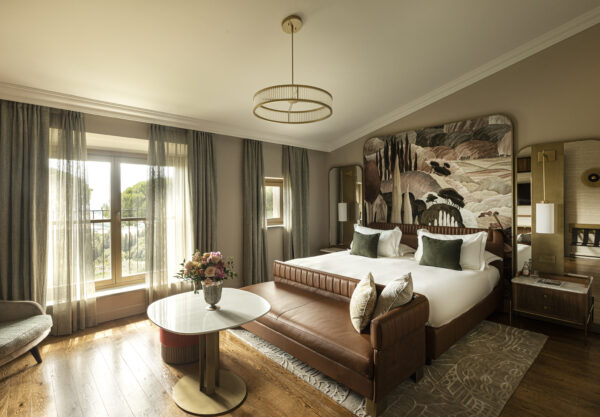 And if you can be lured from your room, Toscana Resort Castelfalfi offers a wine tasting with an astronomer under the night sky.