Design Space: Lady Bird Bar by Mason Studio
A bright rooftop lounge in D.C.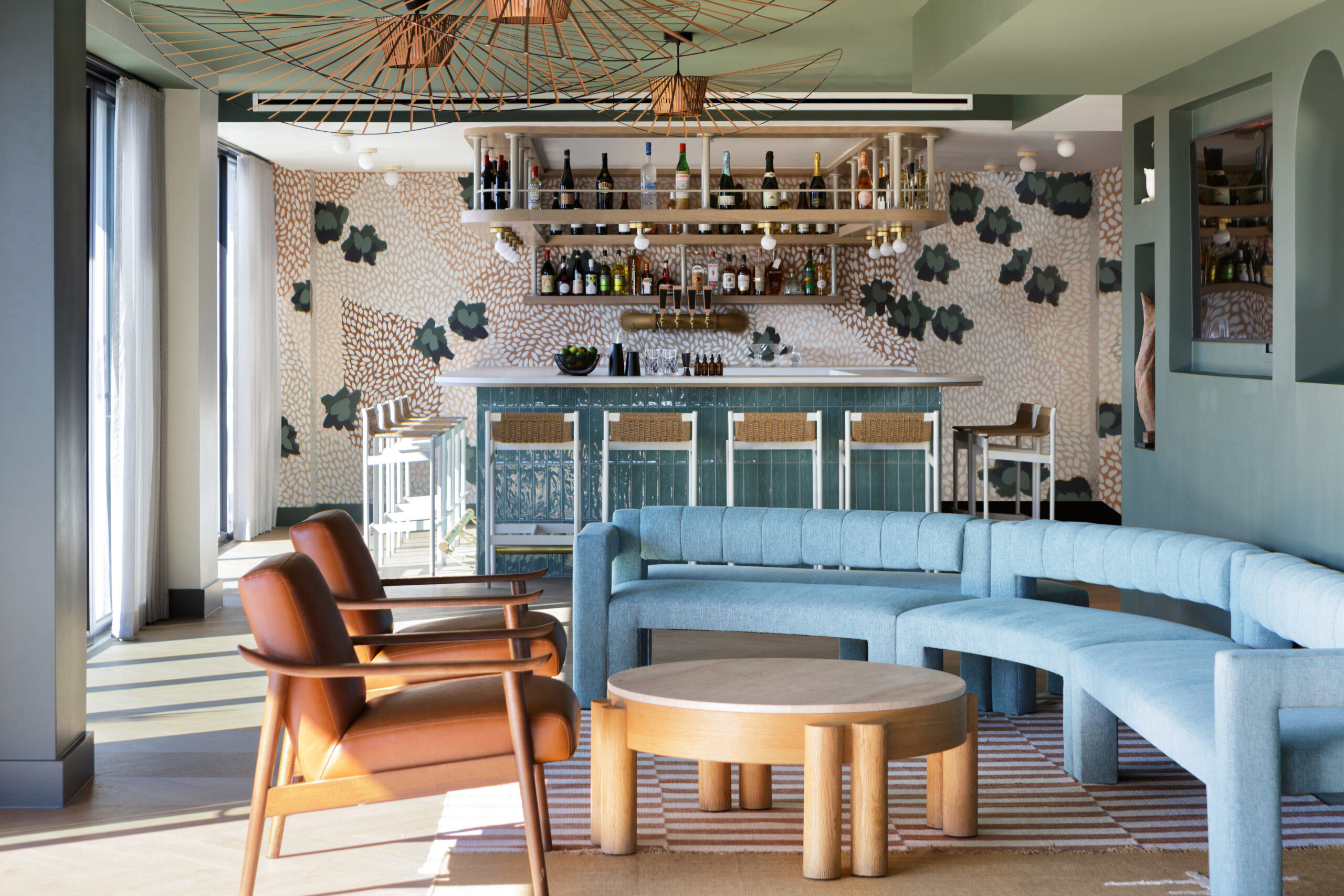 Atop Washington, D.C.'s, new Kimpton Banneker Hotel, Lady Bird Bar is a colourful and homey rooftop locale by Toronto's Mason Studio. The bar is named for former first lady Claudia Alta Johnson, who earned the nickname Lady Bird as a child when her nursemaid commented that she was "pretty as a ladybird." Lyndon B. Johnson's wife was known for her love of arts and culture, which was the inspiration for the space.
Birds are a subtle theme throughout the hotel, including at Lady Bird Bar, paying particular homage to D.C.'s official bird, the wood thrush—the speckled brown-and-white mural behind the bar by local artist Meg Biram mimics the bird's chest pattern. Aqua subway tiles are laid vertically along the base of the bar, punctuated by a sleek brass foot rail, and tall bar stools with woven seats tuck neatly into the bar. The lounge area, which opens onto the patio during the warm months, has emerald walls, leather chairs, and contemporary aqua velvet benches, which add an eclectic and relaxed feel to an area meant for relaxing.
The space's assorted new and antique items were collected from across the city and were meant to look as if they'd been accumulated over time, much like a bird's collection of shiny objects. From its perch at the top of the hotel, Lady Bird sits like a nest overlooking the city. From the patio, guests can see the Washington Monument, the White House, the National Cathedral, and the Jefferson Memorial. This collaboration marks Mason Studio's second with Kimpton, with the Kimpton St. George opening in Toronto in 2018.
Photography by Chris Molina.