Inside Wolfgang Tillmans's AGO Show: A Walk-Through With the Artist
To Look Without Fear is on until October.
Toronto's iconic Scotiabank Contact Photography Festival is back, and headlining it is legendary German photographer Wolfgang Tillman's Canadian debut exhibition at the Art Gallery of Ontario. The retrospective, titled To Look Without Fear and organized by the Museum of Modern Art in New York, showcases over 300 works that range from the 1980s to the present. From his explosive beginnings capturing images of nightlife, Tillmans has explored countless photographic genres, even venturing into music and video, both presented at the exhibition. The show is expansive, seeping into nearly every corner of the fifth-floor gallery space, creeping up walls, and hiding in skylights. To celebrate its opening, Tillmans walked NUVO through the exhibition.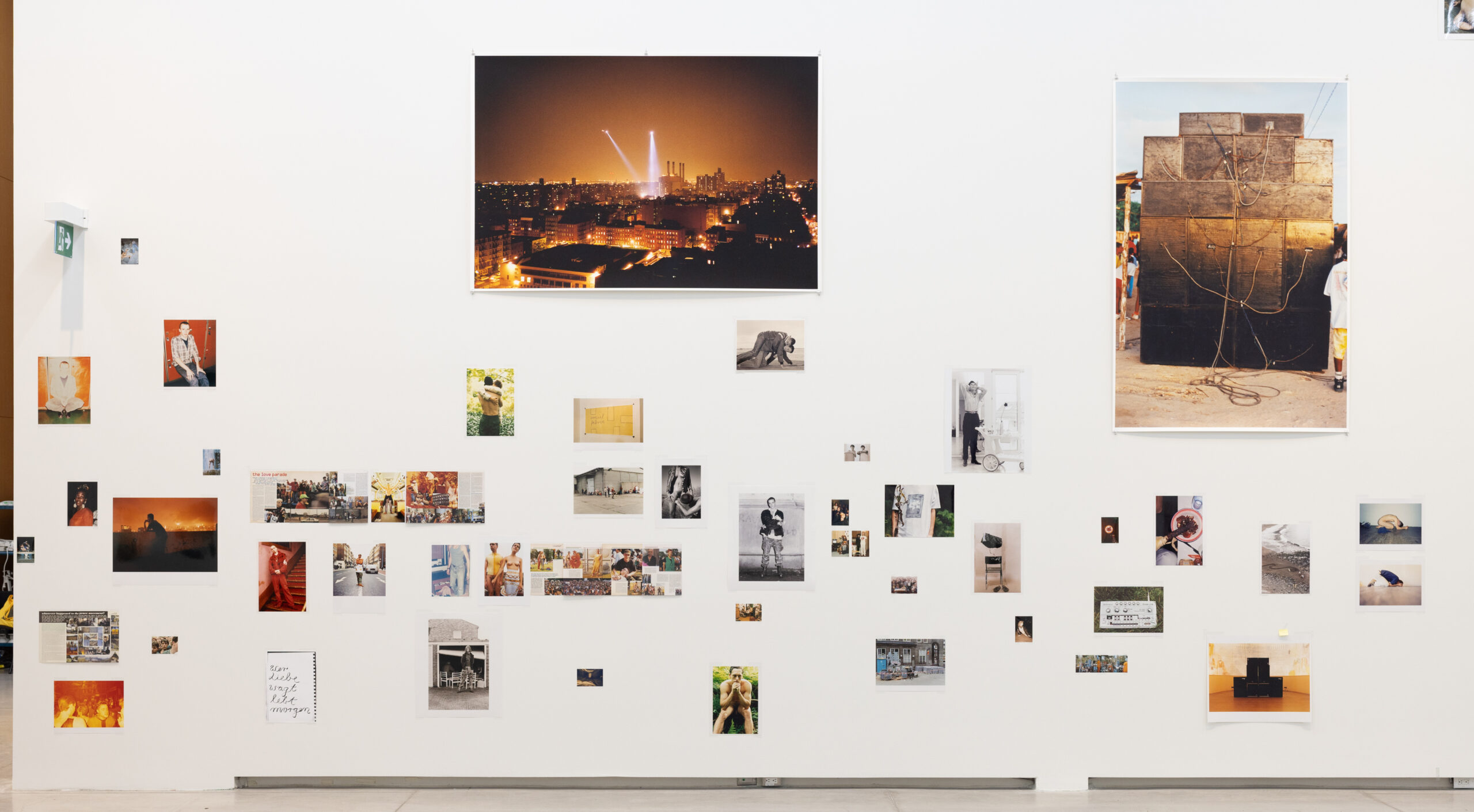 "Paper is maybe the key word in my life, because as a young person I tried literally every medium of expression from painting to making clothes and drawing and making music, but coming from an avid amateur photographer's family, photography was the last thing I wanted to do," Tillmans says. "It was only through the discovery of a first digital photocopier in 1986 that I started to photocopy photographs I took on trips and turn them into what I felt were beautiful precious black-and-white prints, almost drawing like what you see on that first wall as you come in."
Just past the entrance, and a collage of Tillmans's earliest works, the artist stands by a wall erected to divide the first large room. "This is a hinging moment in the show. This wall is the only architectural addition that we did," Tillmans says. "Normally exhibitions come with a love of build and break down and large CO2 output, but this wall creates sort of endocrinology, which starts at the beginning and runs through the entire 10 spaces and on the outer wall here."
Gesturing to a small picture on the assembled wall he says, "Here we see another picture called Genome. It is socks that I threw out on the floor to dry, because in Europe, we don't really have tumble dryers. Early on, I discovered the sculptural qualities of clothes hanging over the banister. Here, one day, I recognized that they look like chromosomes and called it Genome. And it is a kind of drawing, just like this work on the left of Muscle." He points to an image of illuminated pink sinew. "That is entirely made with light and in the dry dark room and processed in a regular normal process, just like this, which is called Blushes." He refers to an abstract rose-coloured work before moving on to a large blue-and-white image with bleeding green lines from 2000 titled I Don't Want To Get Over You. "Interventions drawn with the hands meet negatives at the moment of exposure in the dark. It's important to mention that I don't manipulate anything digitally. Everything you see, including the digital photographs from after 2009, I don't move any pixels around."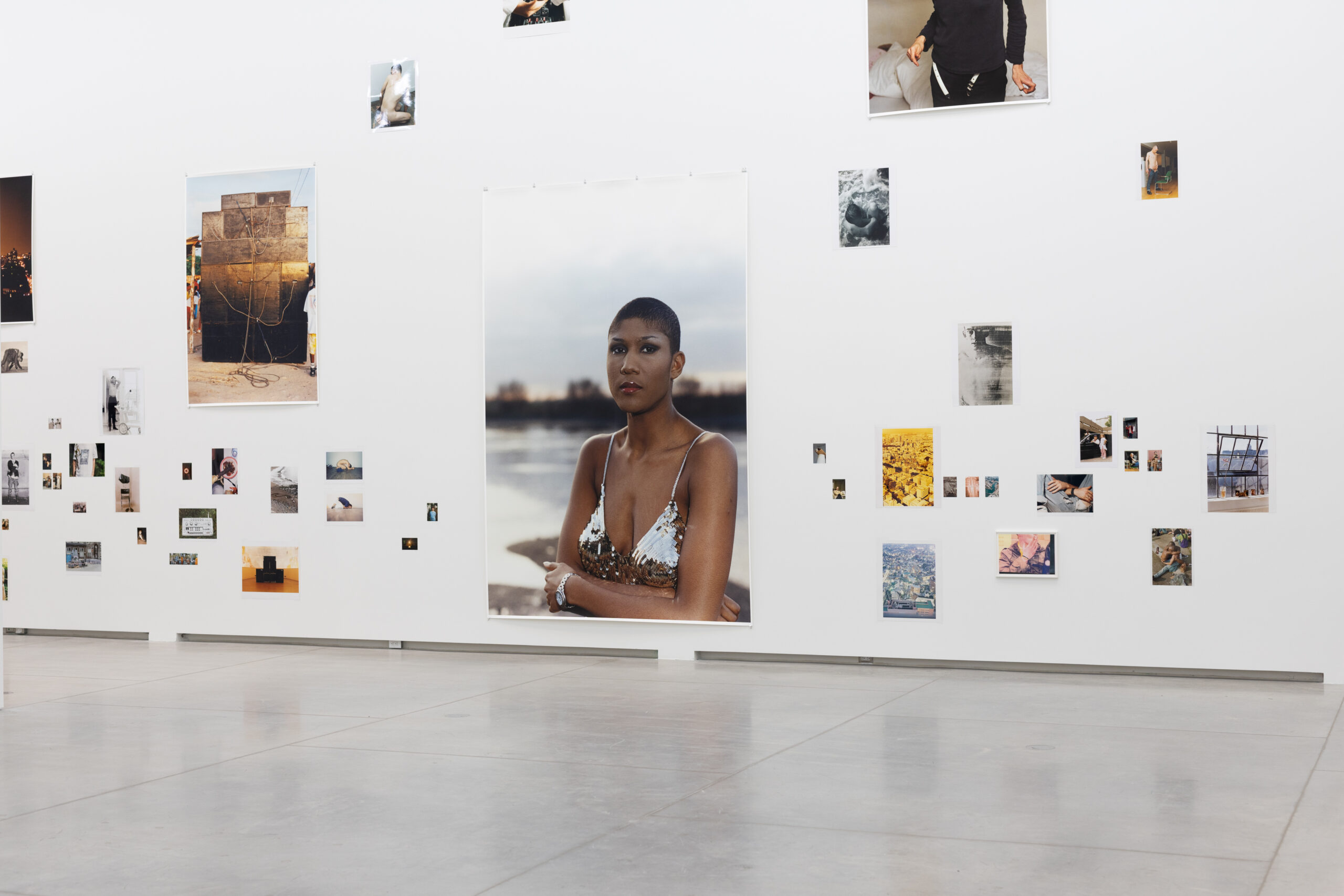 The arrangement of Tillmans's work is striking and atypical—instead of creating an orderly row hanging at eye level, the artist uses the whole space. Most works are frameless, fixed to the wall with tape or tacks to create a more relaxed viewing experience that bucks expectations in a gallery setting. "I consider the entire wall as a picture, as a wall of drawing. These are compositions where the whitespace is active space, which is always a conversation at the beginning at the planning of the exhibition with the lighting team," he says. "The logic in normal exhibition practices is that there is a rough work light, and at the end of the install, the lighting team comes and lights the works. And it is always a bit of a moment to convince everybody that, no, the entire hall is the work, and it has to be lit evenly before I arrived. And the team here did a great job because it is really not easy to light seven metres floor to ceiling." Sometimes, that extends beyond the ceiling. He points out Macau Bridge, which is tucked into a recess in the ceiling and illuminated by a skylight.
Frank Ocean fans will be quick to spot the artwork featured on musician's 2016 Blonde album cover in the exhibition, which Tillmans originally shot for a magazine. The shoot finally happened after multiple setbacks, but Ocean suddenly "vetoed the pictures three weeks later and forbade the magazine to use them. It wasn't really clear why, and it was really tragic for [the magazine]. We had a very good dialogue, but it was mysterious." A year later, Tillmans got a text from Ocean asking if he could use the image. One of Tillman's songs, Device Control, is also sampled on Ocean's visual album, Endless.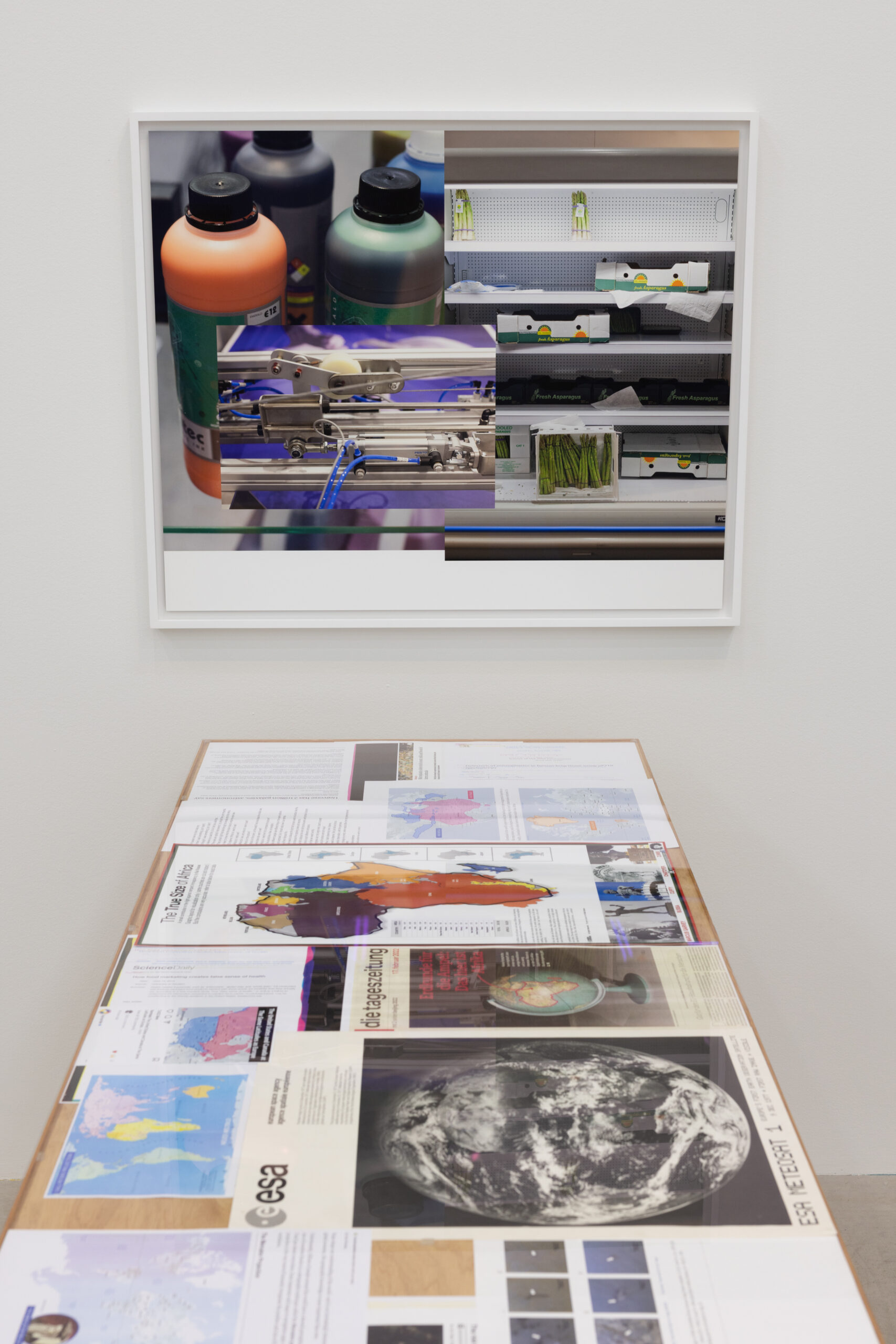 Much of his most recent work in the largest room, which is filled with rudimentary wood tables topped with newspaper clippings, news articles, and written descriptions of pop culture moments. The work is inspired by a period in the early 2000s when Tillmans was exploring work from other photographers' images and found himself feeling angry and depressed after spending hours each day reading the news. "I connected the dots that it was often to do with men claiming absolute truths. Be that Islam is fundamentalists or Christian fundamentalists denying evolution or, in South Africa, the health minister denying HIV is also AIDS. And of course, the biggest problem of that year, 2003, was the denial of the evidence that there were not weapons of mass destruction in Iraq," Tillmans says. "I felt I wanted to speak about this but not let these men stop me from making the explorations that I wanted to do with my work. I found that that there were texts that were editors speaking about the current situation, and I started making collages of that combined text that I wanted to amplify together with contradictory statements are examples of these claims." The work continued to evolve as current events developed.
One picture stands out in the larger room, a huge black-and-white image of TV static called Sendeschluss / End of Broadcast. The image was captured in 2014 during a trip to St. Petersburg, just weeks after Russia annexed Crimea. There was an old first-generation flat screen TV in Tillmans's hotel room, and when he turned it on and saw static, he was instantly spooked. "I felt compelled to try and photograph it but knew that was impossible, because if you try to photograph the ray cathode on an old television, you always get these diagonal lines. Somehow, I thought, well, I should try anyway," he says. "Because I had this new digital camera press screen showing the old cathode-style image, I was able to actually photograph it fast enough so that even a picture of static, a frozen picture, became possible, because it's old technology with new technology making a new picture possible." He adds that he didn't know at the time that once the size was blown up, if a viewer stood six inches away, they would discover the seemingly black-and-white picture is actually in colour.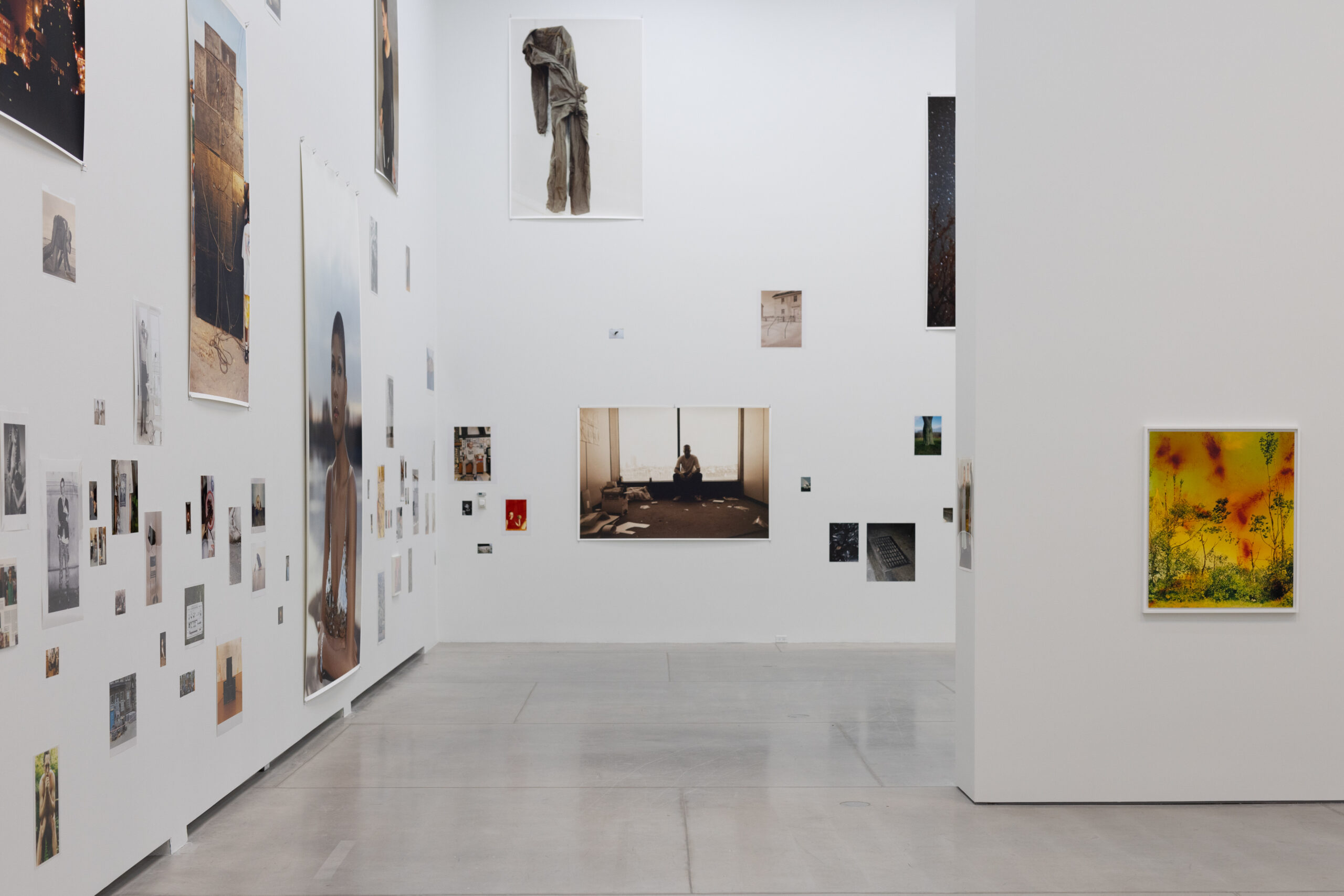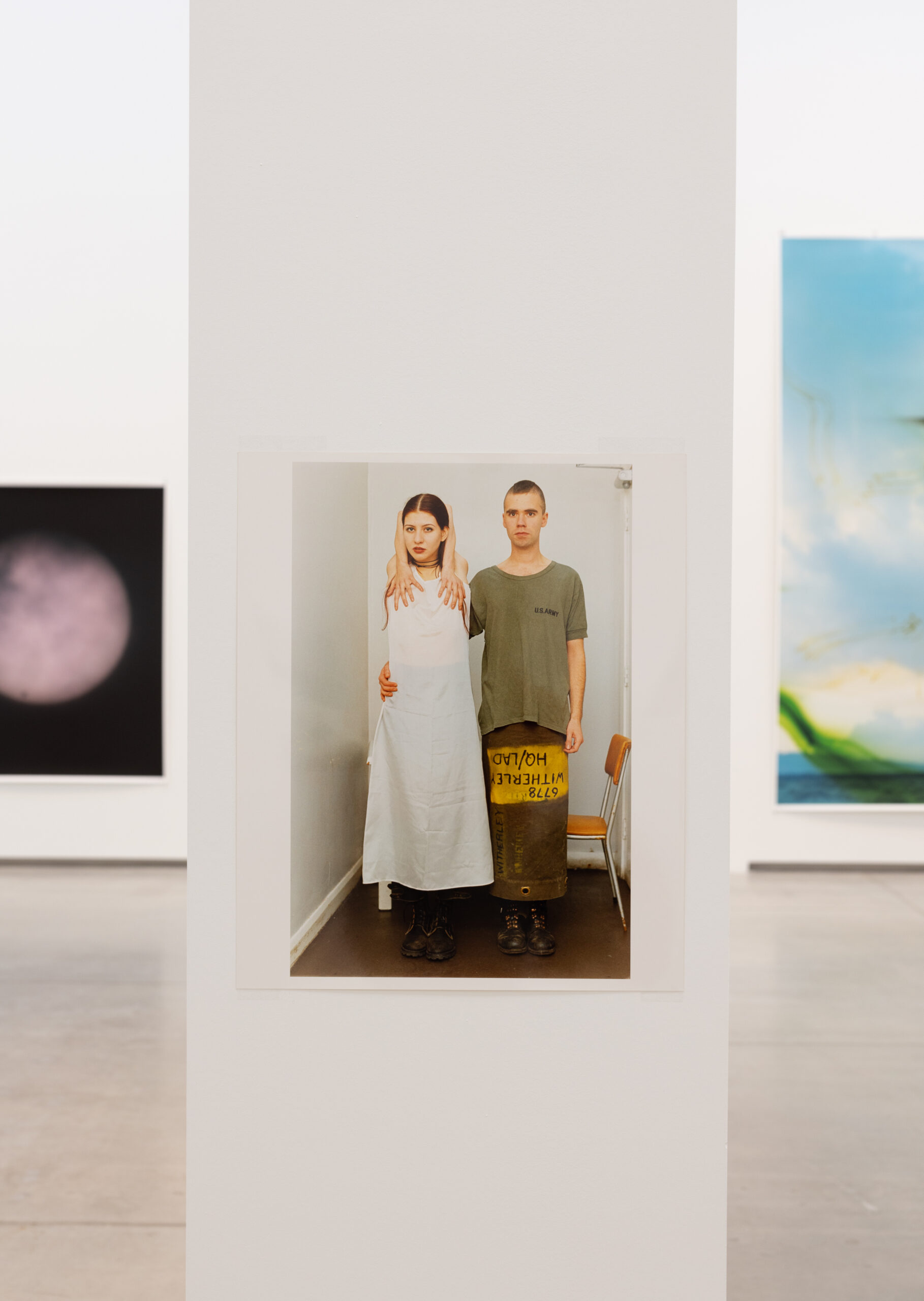 The title of the show To Look Without Fear, which debuted in New York last year, is something of a mantra for Tillmans. "It comes from the sentence that I sometimes see that I want to use my eyes to look without fear, to be playful with the eyes. For example, to use paradox to look with one eye, and then look with the other eye, that perspective shifts things," Tillmans explains. "Asked if somehow these words became the title, I felt they are an encouragement, and a hope and a demand—encouraging myself and the viewer to not be afraid of what they see and look openly. But also the hope that I will be able to always be in that position economically or politically and be aware that this is not a given. And hence the demand that that people should be free to see and say what they want and to look without fear."
To delve further into the world of Wolfgang Tillmans, visit AGO's To Look Without Fear, on view until October 1, 2023.