Design Space: Daphne by Studio Paolo Ferrari
An upscale Toronto eatery nods to New England nostalgia.
Harnessing form, texture, and distilled historical references, star of interior architecture Paolo Ferrari has been shaking up the luxury hospitality and residential sectors for almost two decades. While his Alchemy store project reveals his ability to combine materiality and texture in singular yet layered statement pieces, the Tibur furniture collection highlights his ability to blend iconographic touchpoints, references to various regional styles, and cinema. The design of the recently opened Daphne restaurant in his hometown of Toronto is yet another demonstration of Ferrari's approach, earning the Best Fine Dining Restaurant of 2023 Award at the Gold Key Awards in New York.
The grand yet intimate venue is a masterful play on the classic neighbourhood bistro. Its restraint yet tectonically bold aesthetic borrows from the charm of New England prep schools expressed through varsity-inspired checkerboard-tiled floors and Cape Cod-style, Americana-esque oak dining tables. Nuanced nods to nautical exploration balance stacked wine-bottle features that hint at the warmth of a well-worn university library.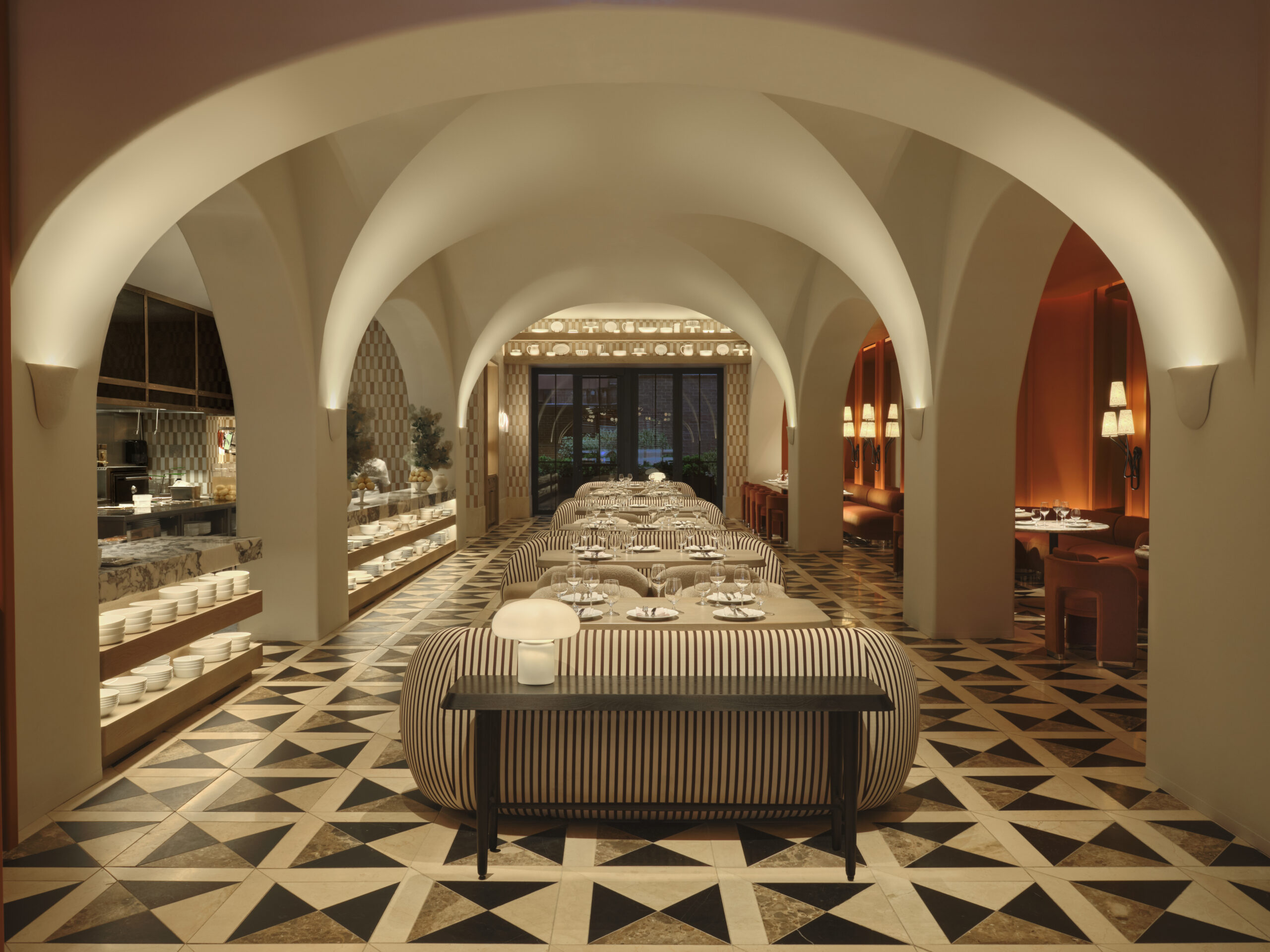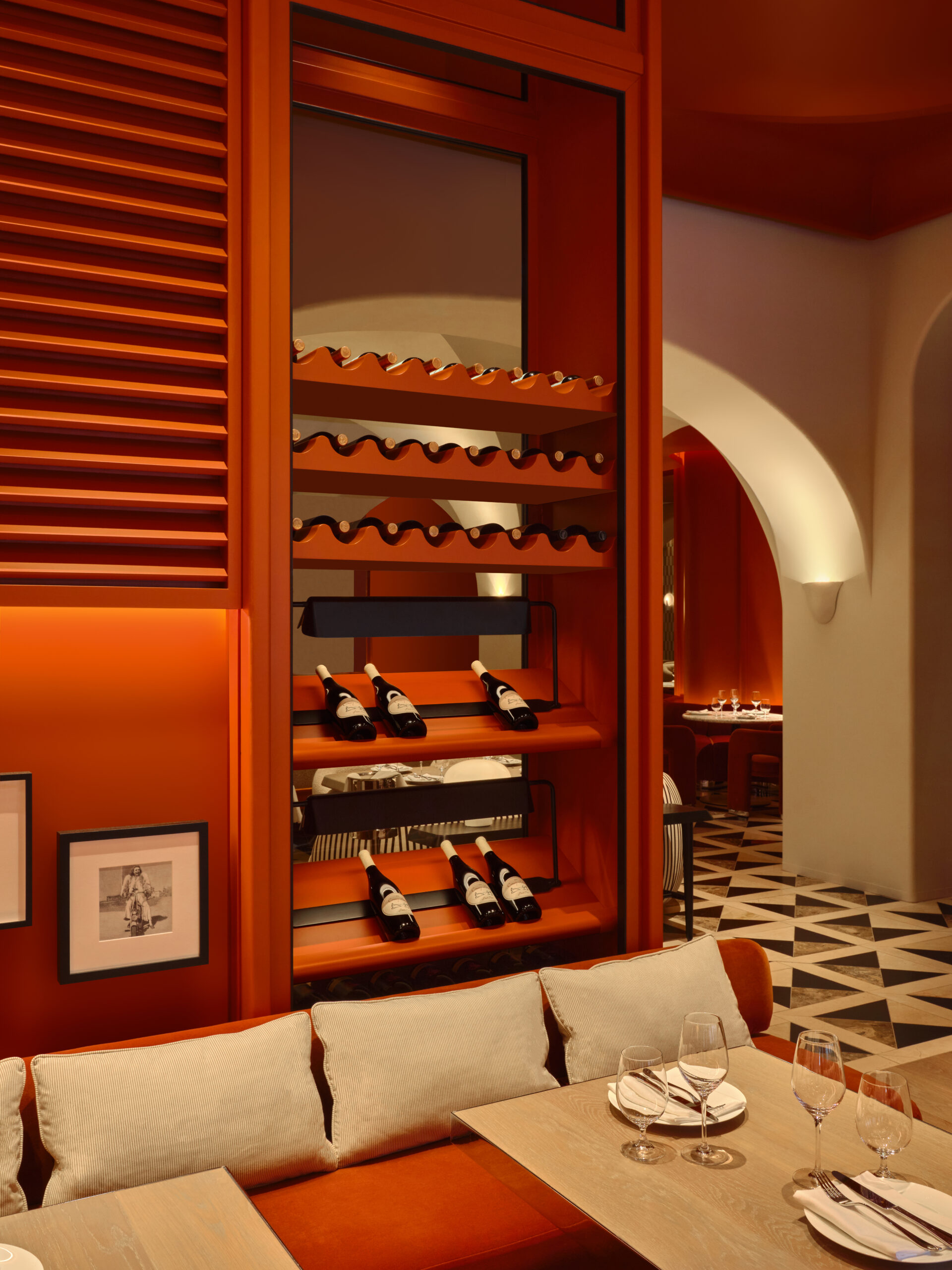 These points of inspiration are expressed in a far less heavy-handed or overly ornate fashion than might be expected. Rather, the expansive eatery is imbued with an almost theatrical moodiness that renders curvilinear, wavy, or curtain-like forms with striking colour and bespoke murals depicting botanical landscapes. Recessed lighting and a drop ceiling plus contouring bevelled walls and arched cutaways add even more drama.
"We wanted to tap into the spirit of the American bistro yet create something entirely reimagined," Ferrari explains. "In designing Daphne, we moved away from the typical wood panelling and a heavy, dark atmosphere and instead intentionally designed the space to evoke softness and levity."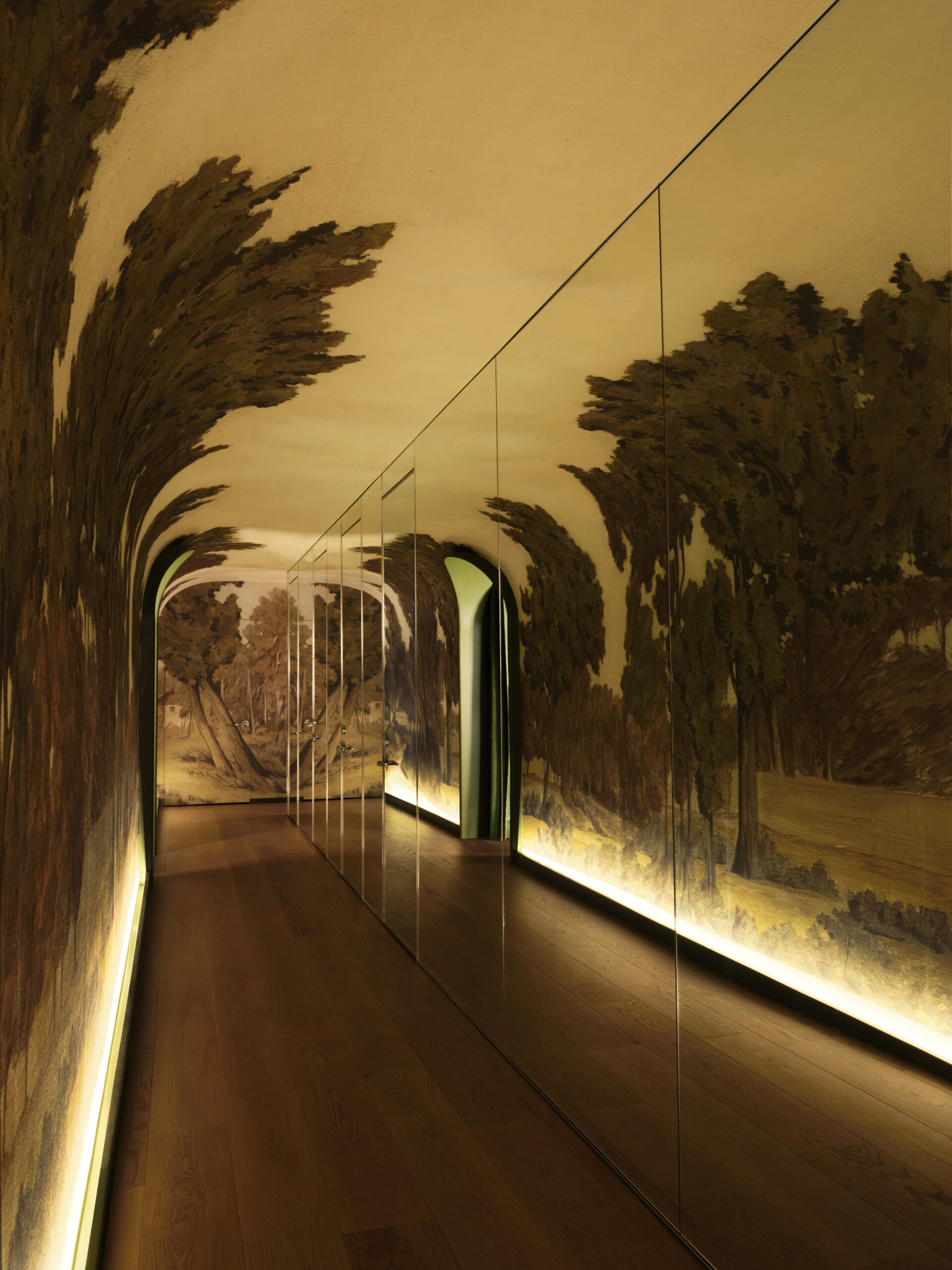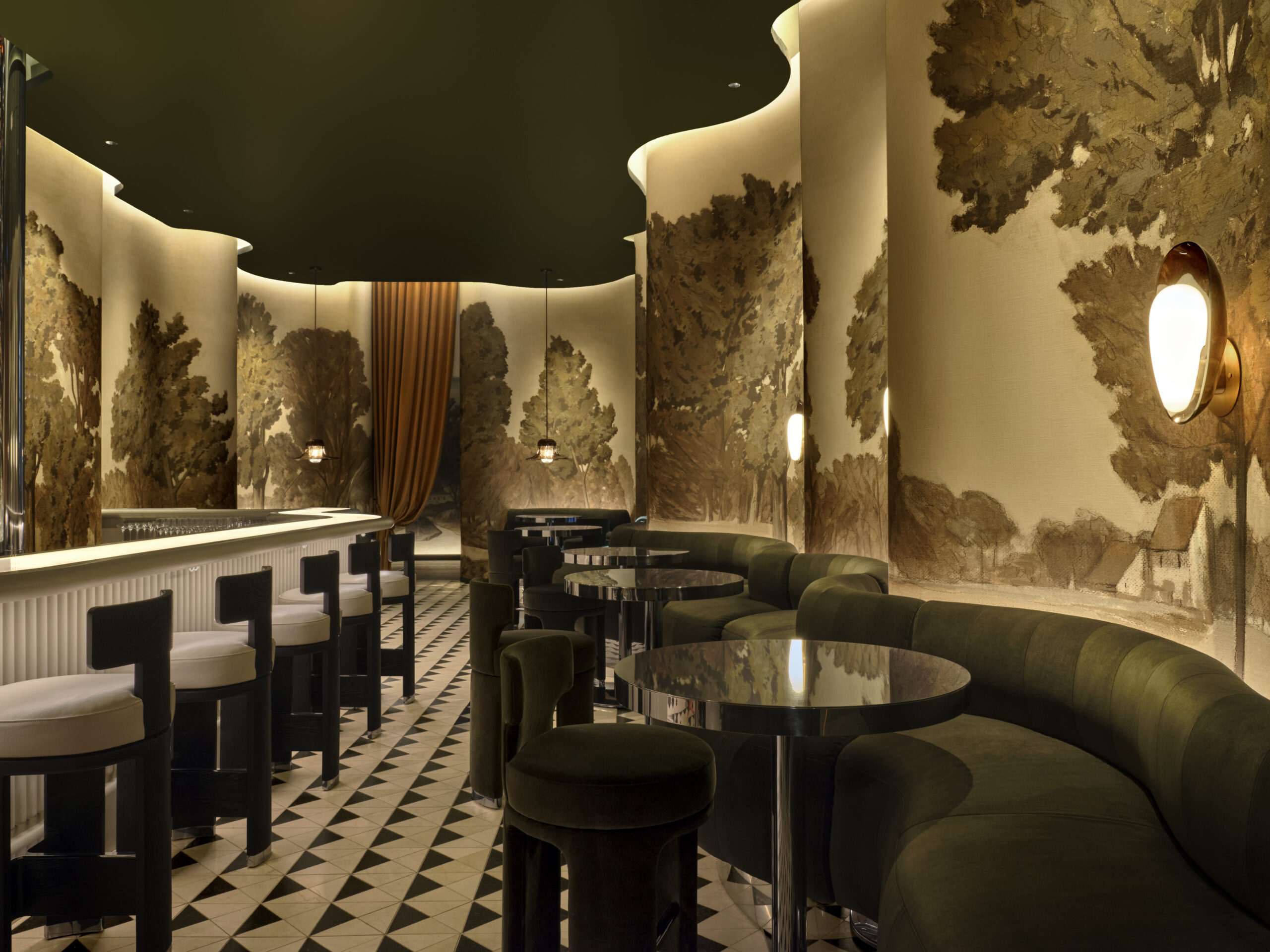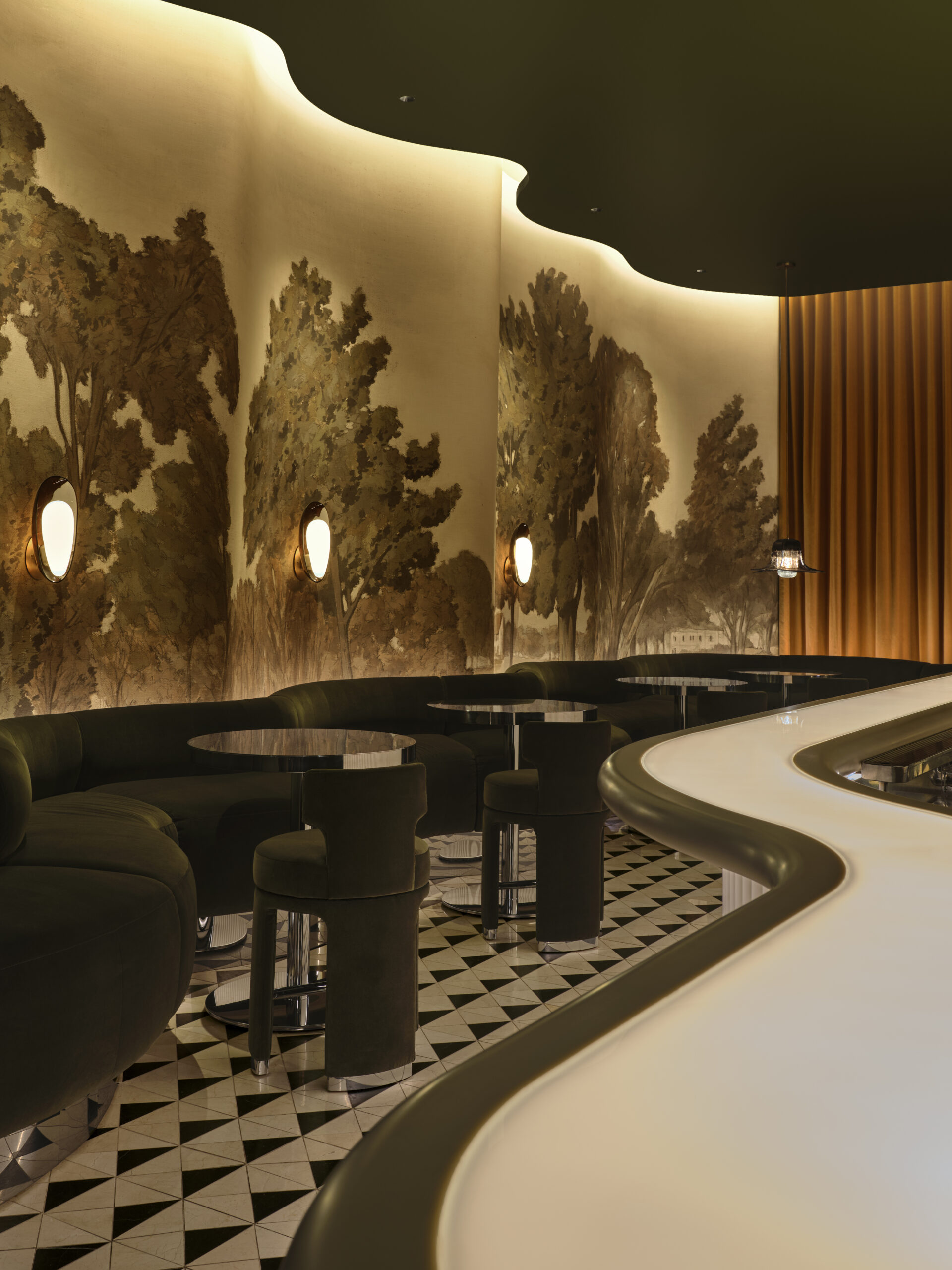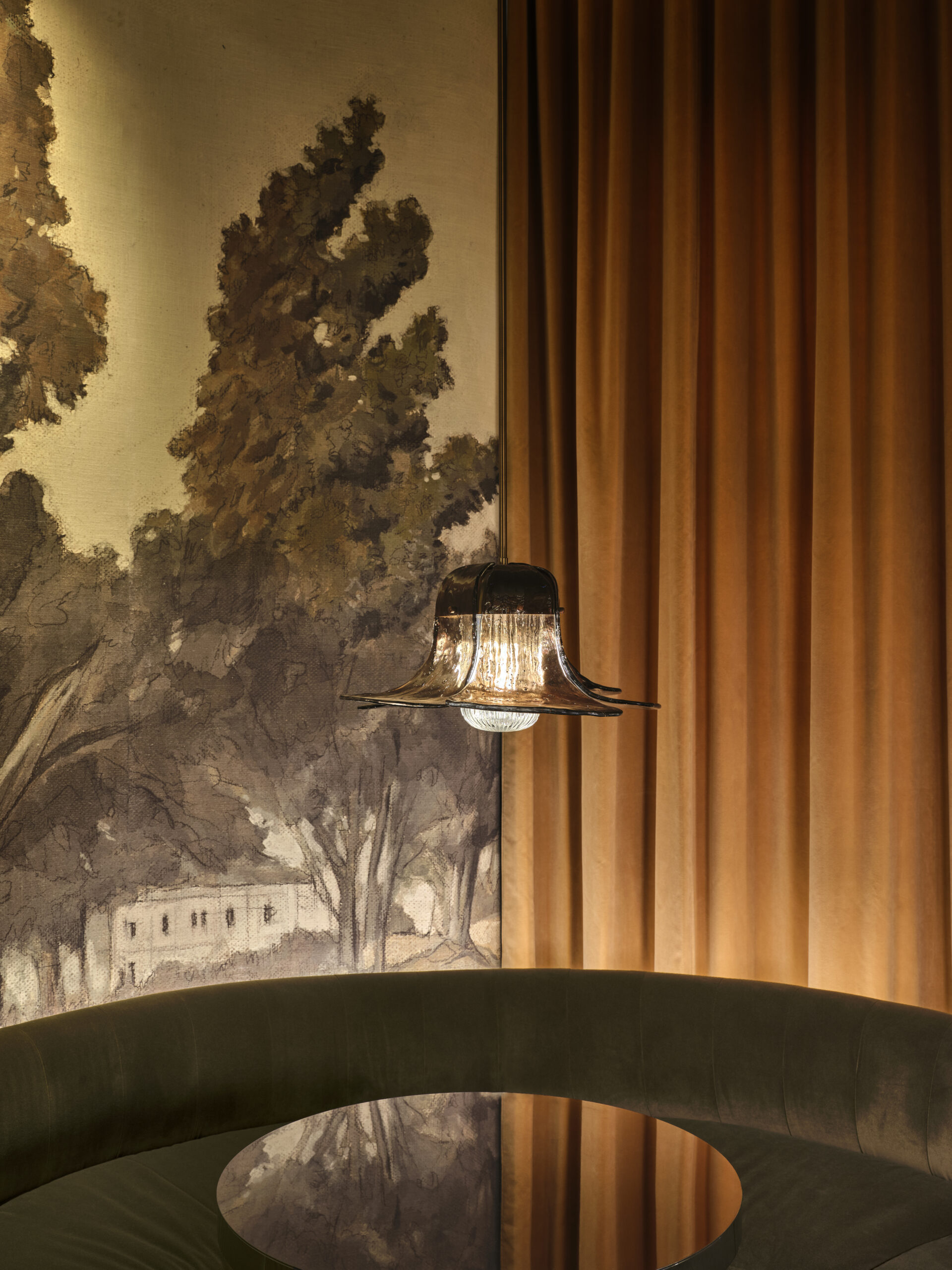 Black-and-white-striped sofas in the cellar-like vaulted great room provide a sophisticated transition between the geometry of the graphic floor and the organicism of almost every other architectural detail. An atmospheric bar top calls to mind Stanley Kubrick's fictional Overlook hotel and the scene in which actor Jack Nicholson's face is famously illuminated. This central podium's fluted side is an ode to the style of Beaux-Arts architect Henry Bacon. A steel back wall provides an extra layer of grandeur. Daphne oscillates between intimacy and grandeur, maximalism and minimalism, historicism and experimentation.
In an adjacent garden terrace, an expansive outdoor space created from the removal of a dilapidated outbuilding emerges as a lush oasis. Richly upholstered seating in ochre yellow and stripes carries through the botanical theme expressed in the hand-painted mural inside. A swan-like host stand honours the style of French sculptor Claude Lalanne, while an equally sumptuous green-marble bar ties everything together.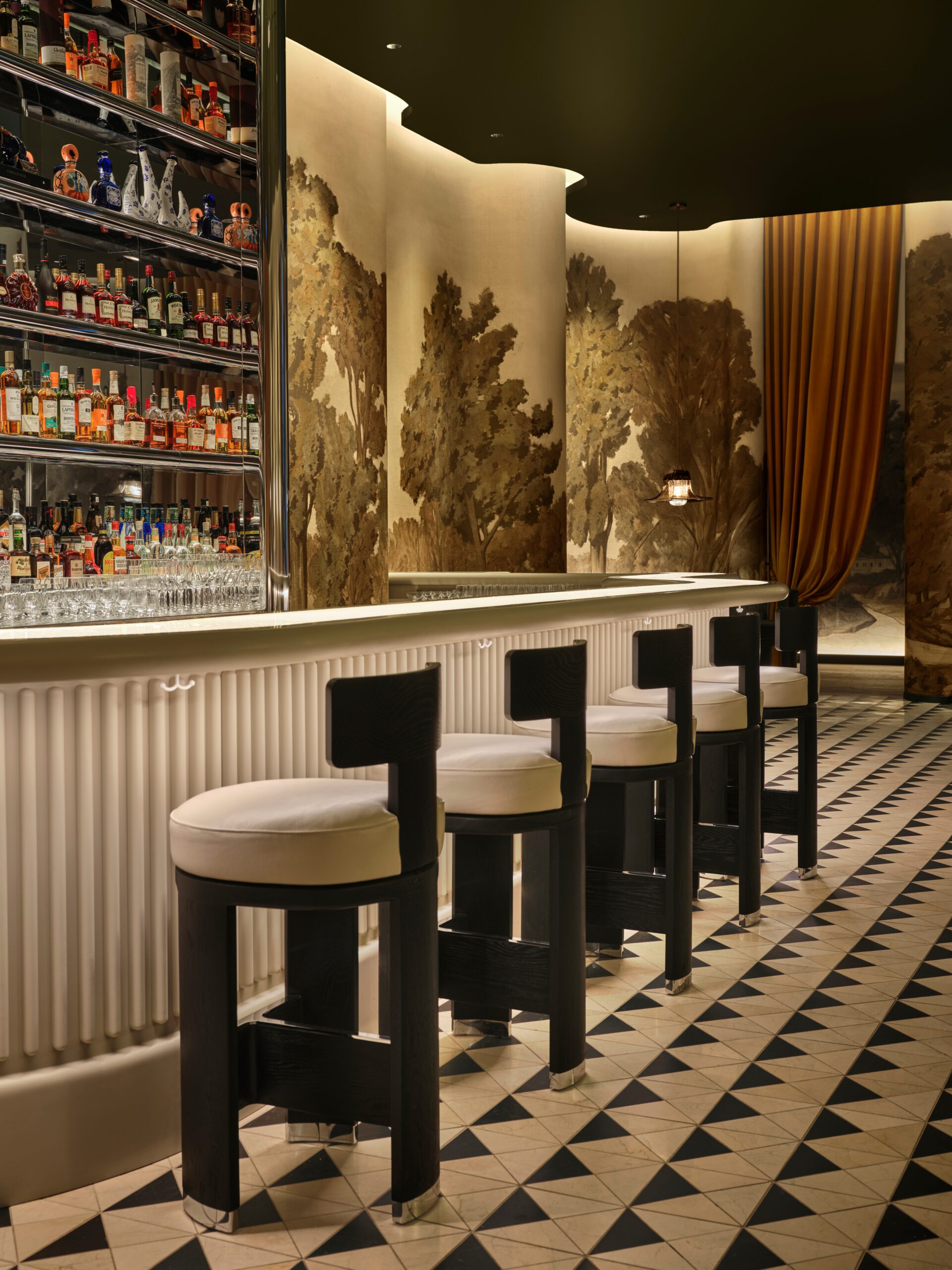 "With Daphne, we didn't simply create a beautiful space," Ferrari says. "During the design process, it was important that it should carry depth and demonstrate a quality of experimentation. Daphne is truly an active experience of discovery where guests can uncover thoughtful and innovative details throughout."
Photography by Joel Esposito.