Belfast's Traditional Music Trail
An immersive experience of music and culture.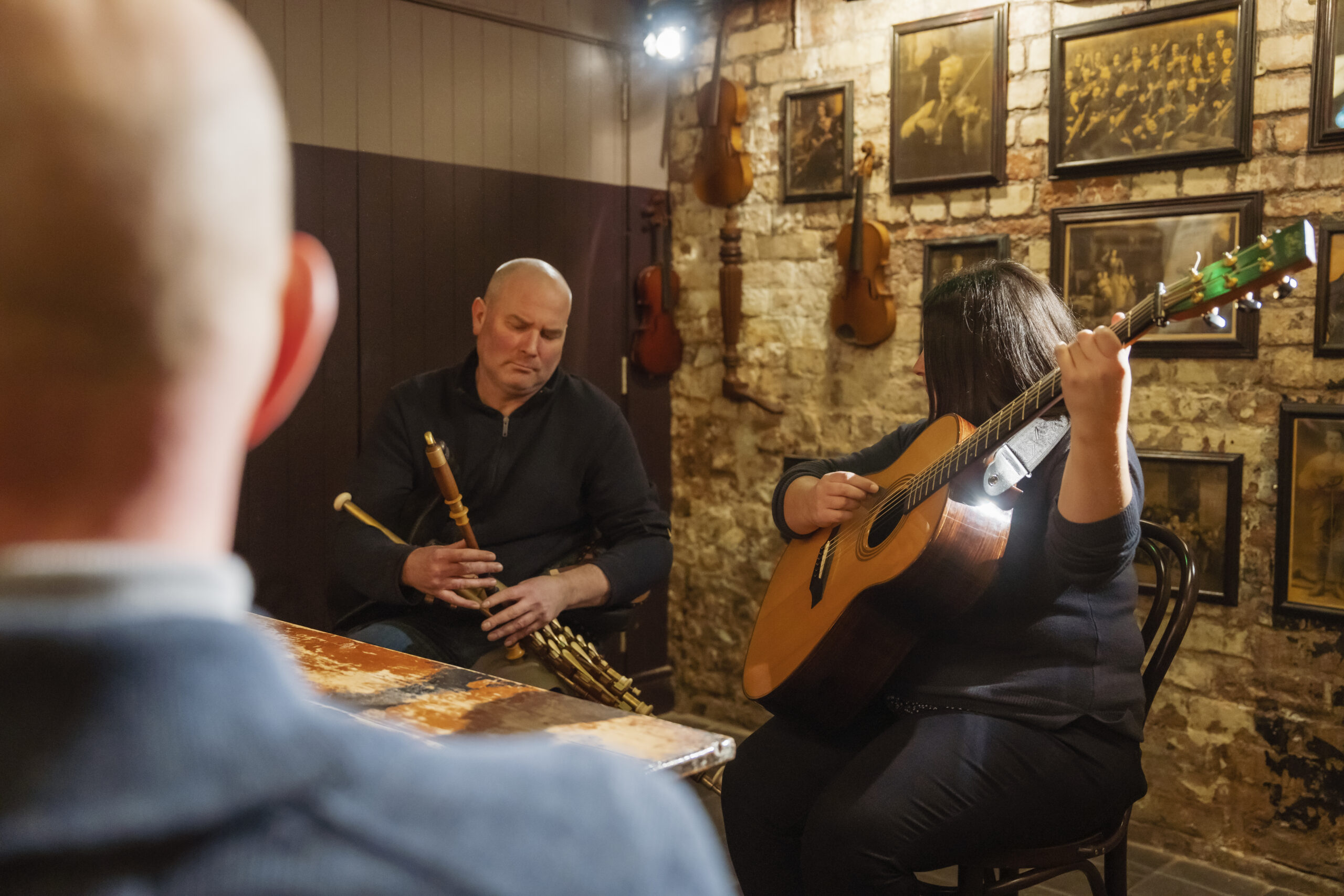 Craving an immersive experience that blends culture and history, passion and soul, all wrapped in a rhythmic, symphonic journey?
Who doesn't?
When in Belfast's charming Cathedral Quarter, a must is the Traditional Music Trail, an experience that amplifies the city's already vibrant heartbeat, its musical melodies heard, felt, and echoed along its narrow, cobblestoned walkways, famous landmarks, pulsating pubs, and oldest buildings for centuries.
Interactive, informative, and above all, fun, the Traditional Music Trail is a lyrical pub crawl led by professional musicians who serve as guides. While bespoke and private trails are available for a more personalized afternoon, weekly public two-and-a-half-hour tours run every Saturday. Meandering along the city's oldest alleyways, it stops in some of Belfast's most legendary pubs, including Maddens Bar, reputedly the best-known traditional music venue in the city; The Garrick, a cozy Victorian-style pub dating back to 1870; 17th-century White's Tavern; and McHugh's Bar, in one of Belfast's oldest buildings. At each stop, guides perform personal "sessions" showcasing Northern Ireland's fabled traditions and insatiable soul through engaging stories, celebrated songs, and delightful dances.
Savour an Irish coffee, cider, or a pint of Guinness and expect to be immediately entranced by Maria Rafferty, a tin whistle player, flutist, and singer who's been ensconced in Belfast's traditional Irish music scene for over 30 years. Watch and even learn a few steps from professional Irish dancers Jason Donnelly and Ciara Cullen. In addition to performing Irish step and céilí dancing, Cullen also plays the piano accordion. Gracefully playing the harp is Ciara Taaffe, while multi-instrumentalist and singer/songwriter Joe Campbell-McArdle sings in English and Irish. Conor Lamb and Deirdre Galway, founding members of the traditional Irish bands Réalta and Music in the Glen, have graced stages worldwide with their guitar, vocal, and uilleann pipe performances.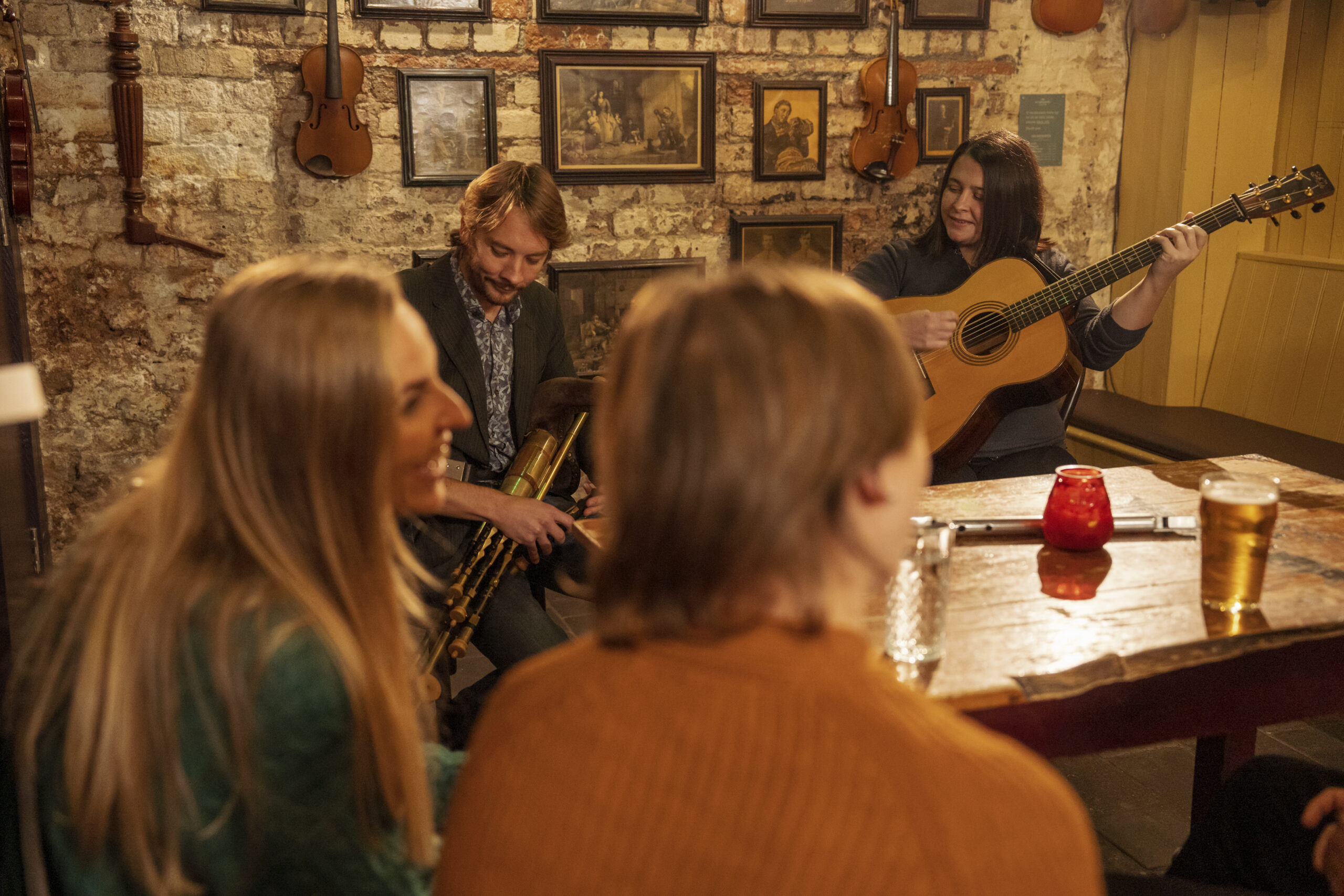 Finally, Jason O'Rourke, who plays traditional Irish music on his concertina, and Cormac Buzz Ó Briain on uilleann pipes and whistles, are both legends in their own right. A composer, O'Rourke has recorded eight albums and toured around the world, including collaborating with traditional musicians in India, Cambodia, and Brazil. Ó Briain, a founding member of Two Pipers, two story tellers, and of Cleamairí Feirste (Belfast Wren Boys), performs a centuries-old Irish Yuletide ritual that pays homage to traditional mumming.
Unique, unforgettable, and heart-warming, Belfast's Traditional Music Trail is Irish cultural immersion at its rhythmic best. If a "savage craic" refers to a great experience you'd likely do again, this wee one must certainly be on that list.