The Natural Spa Built on Top of an Ancient and Mysterious Alpine Spring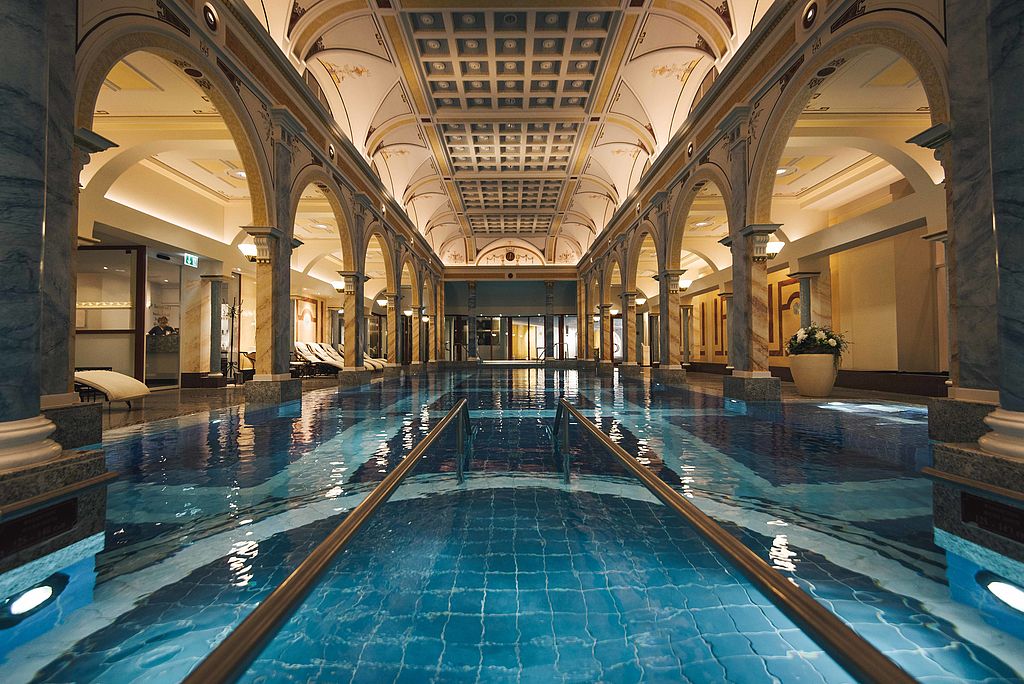 Forget everything you know about thermal baths: Swiss spa culture is the most innovative, hands down (eyes closed, relaxed).
A visit to Helvetian hot springs is far more than just a way to unwind after a hectic week. Today, local and international guests alike are not only drawn to the country's holistic approach to treating ailments such as gout and diabetes, but also the cutting-edge wellness treatments that Switzerland is now known for.
Enter Grand Resort Bad Ragaz (bad means bath in German), a swanky resort nestled in the heart of the St. Gallen Rhine Valley, with the Alps as a backdrop both majestic and historical.
Guests should expect no less than the royal treatment during their stay. The world's elite—royalty, oil barons, celebrities, athletes —have been flocking to this wellness sanctuary to improve their health or simply to reset and recharge.
The main draw of this comprehensive, charming spa is the historic Helena pool, a marvel of architecture, which along with several other indoor and outdoor thermal baths comprises 7,300 square metres of pool. The Blue Gold Ragaz elixir is omnipresent, from being paired with food by a water sommelier to integrated into fitness routines and beauty treatments.
Guests can sneak in an anti-aging procedure, thanks to a team of 70 doctors at the Medical Health Center, or they can revel in one of the opulent La Prairie facials. La Prairie has chosen the grande dame of medi-spas for its first boutique, which showcases the entire product range. During their wellness quest, visitors can choose to be pampered in a sumptuous La Prairie treatment room, opt for the signature Caviar Gold La Prairie facial at the resort's 36.5°C Wellbeing & Thermal Spa, partake in a bespoke therapeutic bathing program, lounge in an herbal steam room lined with Swarovski crystals, or immerse themselves in one of the highly specialized, fully customized body treatments.
For an immediate mind-body-soul reboot, the Dynamic Back Massage is second to none. A unique combination of cupping glasses improves the dynamics of the spine, while singing bowls placed along the spine melt away any tensions. The experience is at once physiologically and spiritually beneficial.
The resort is enriched by its proximity to the ancient and scenic Tamina Gorge and is recognized by Swiss Olympic. Elaborate luxe is incorporated into every single aspect; from the dramatic chandelier and the lobby's winding staircase to gastronomic fare from Michelin-starred chef Sven Wassmer. The ingenious layout, baroque yet cozy, allows guests to pad from their suite to the endless treatment rooms in a fluffy bathrobe and slippers.
From first-class accommodation to holistic rejuvenating methods steeped in Eastern and Western wisdom, the Grand Resort Bad Ragaz offers the wellness-minded traveller the ultimate experience.
_________
Never miss a story. Sign up for NUVO's weekly newsletter, here.