Apple's New Vancouver Flagship Is a Love Letter to the Pacific Northwest
Just in time for holiday shopping, Apple has opened a new downtown Vancouver flagship at CF Pacific Centre, doubling the previous location's square footage. Situated at the high-traffic intersection of West Georgia and Howe streets, the store features a 32-foot floor-to-ceiling glass façade overlooking the Vancouver Art Gallery and šxʷƛ̓ənəq Xwtl'e7énḵ Square. The store's wood-plank ceiling extends outside to form an overhang that creates a welcoming, and decidedly Pacific Northwest, indoor/outdoor entrance for visitors. Instead of angular corners, the edges of the glass façade curve to mimic the lines of an iPhone.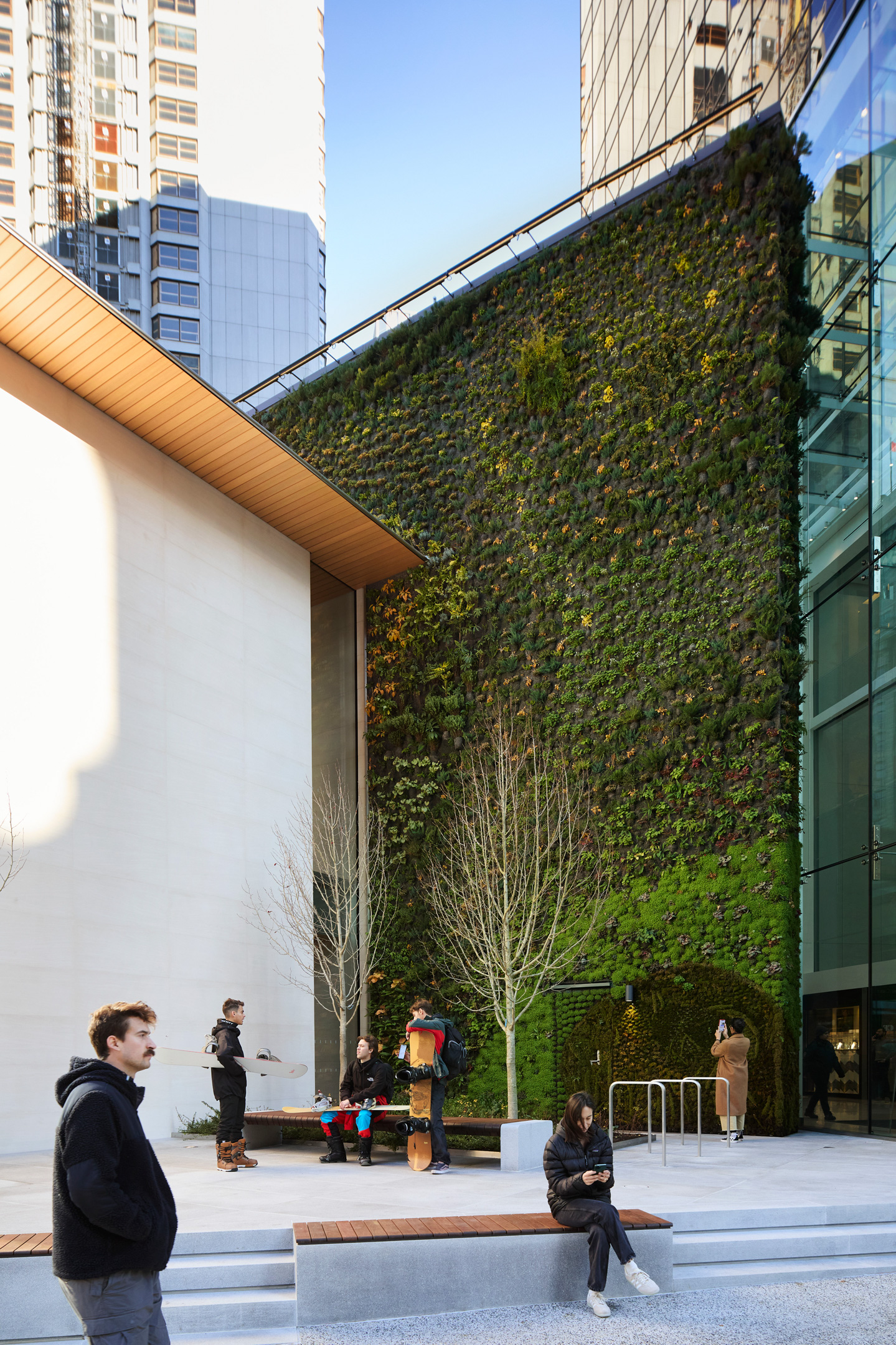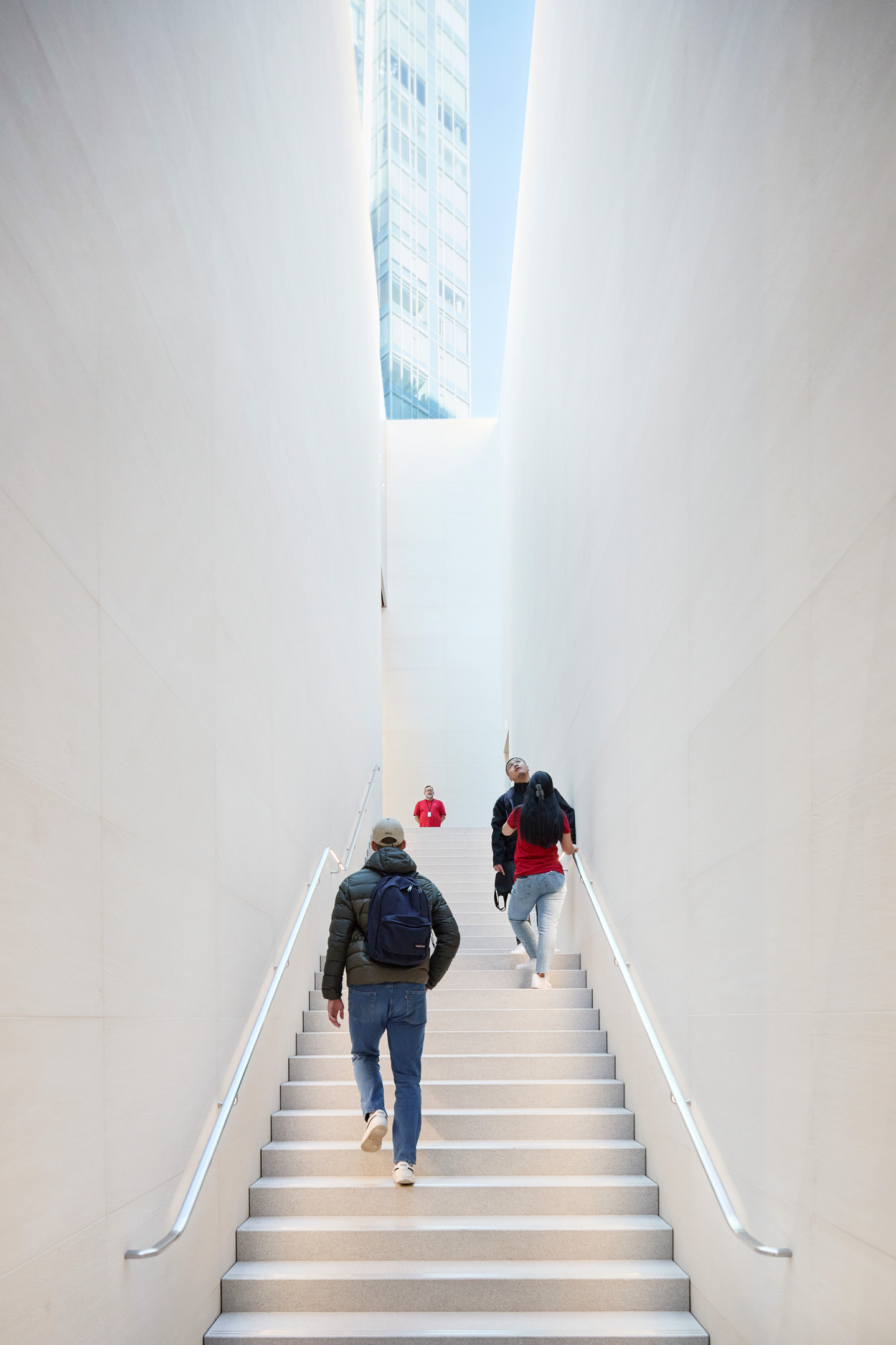 The expansive light-filled main floor gives customers the streamlined interactive experience they have come to expect from Apple, with rows of wood tables topped with products to try. On the sales floor, the store's 240-person team offers help in 36 languages.
Along the back wall, a 45-foot grand staircase, one of Apple's tallest, is illuminated by a long skylight, through which the tops of nearby skyscrapers are visible. Upstairs, away from the din of shoppers, a large gathering space with street views, contains tables, a cluster of stools, and a towering screen wall, called the "forum and video wall," which is used for presentations and demonstrations. The area is intended for community use in a series of free Today at Apple courses, which range from creative topics like iPhone photography and drawing from observation to lessons on how to use Apple devices.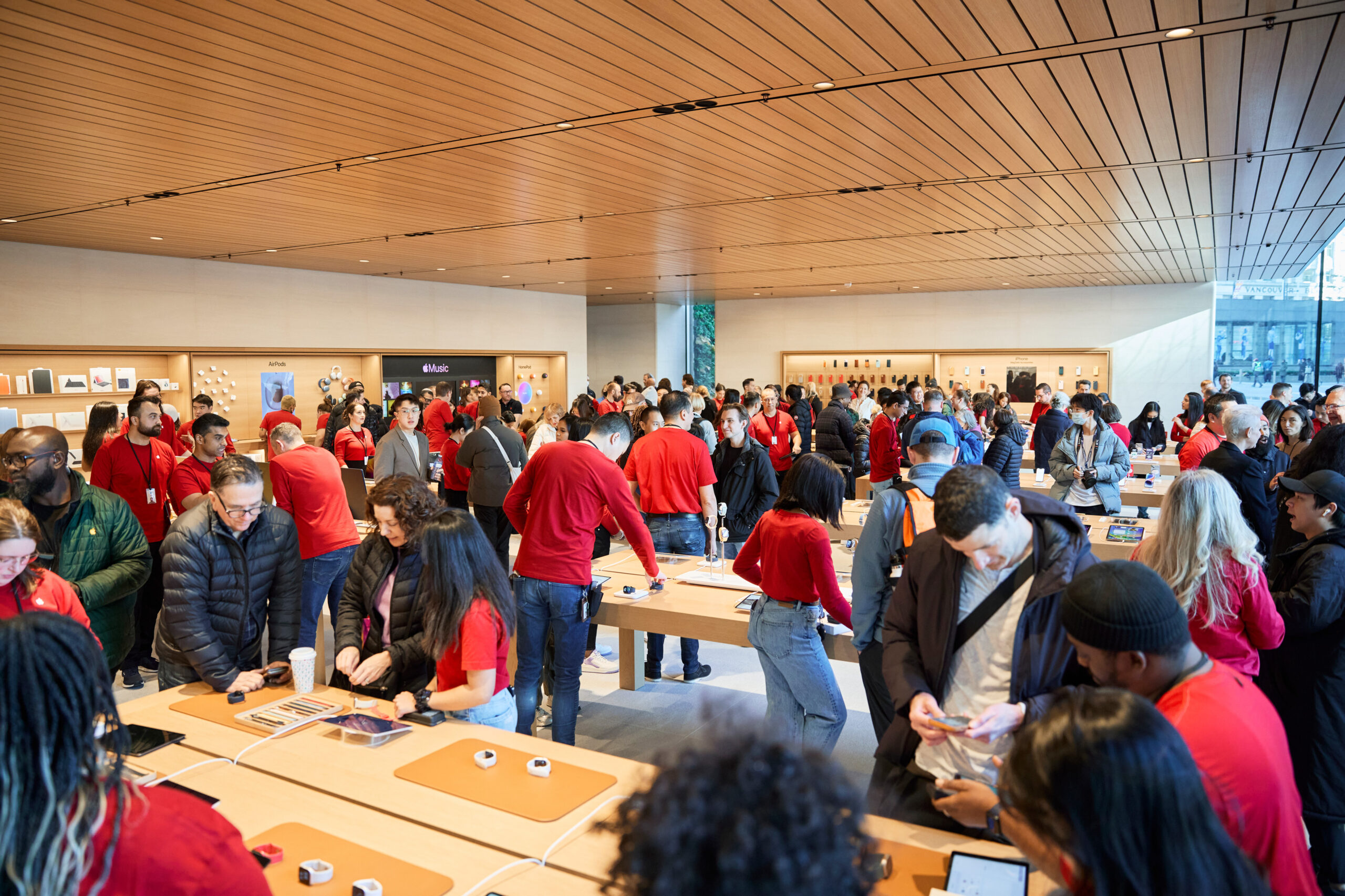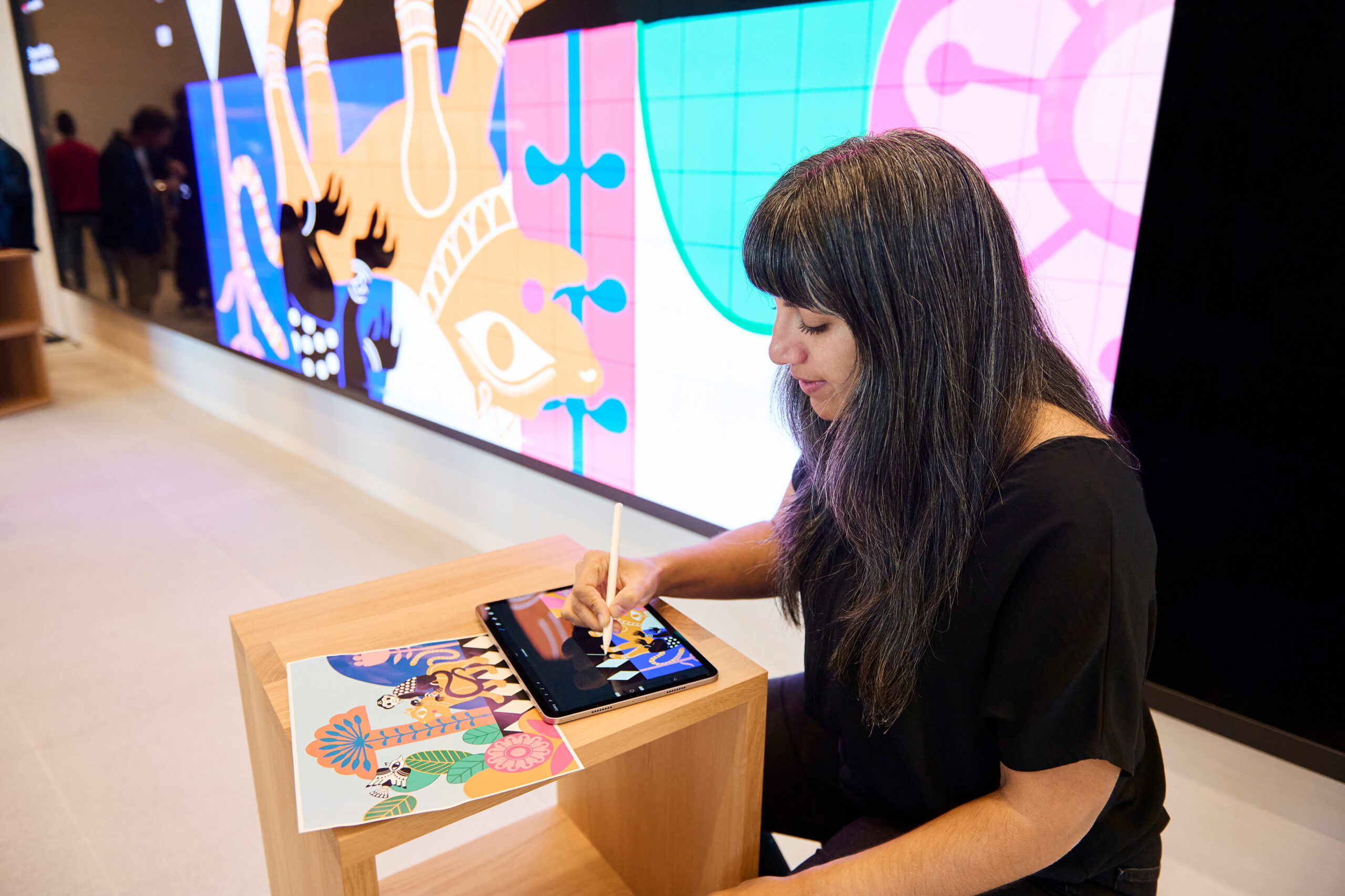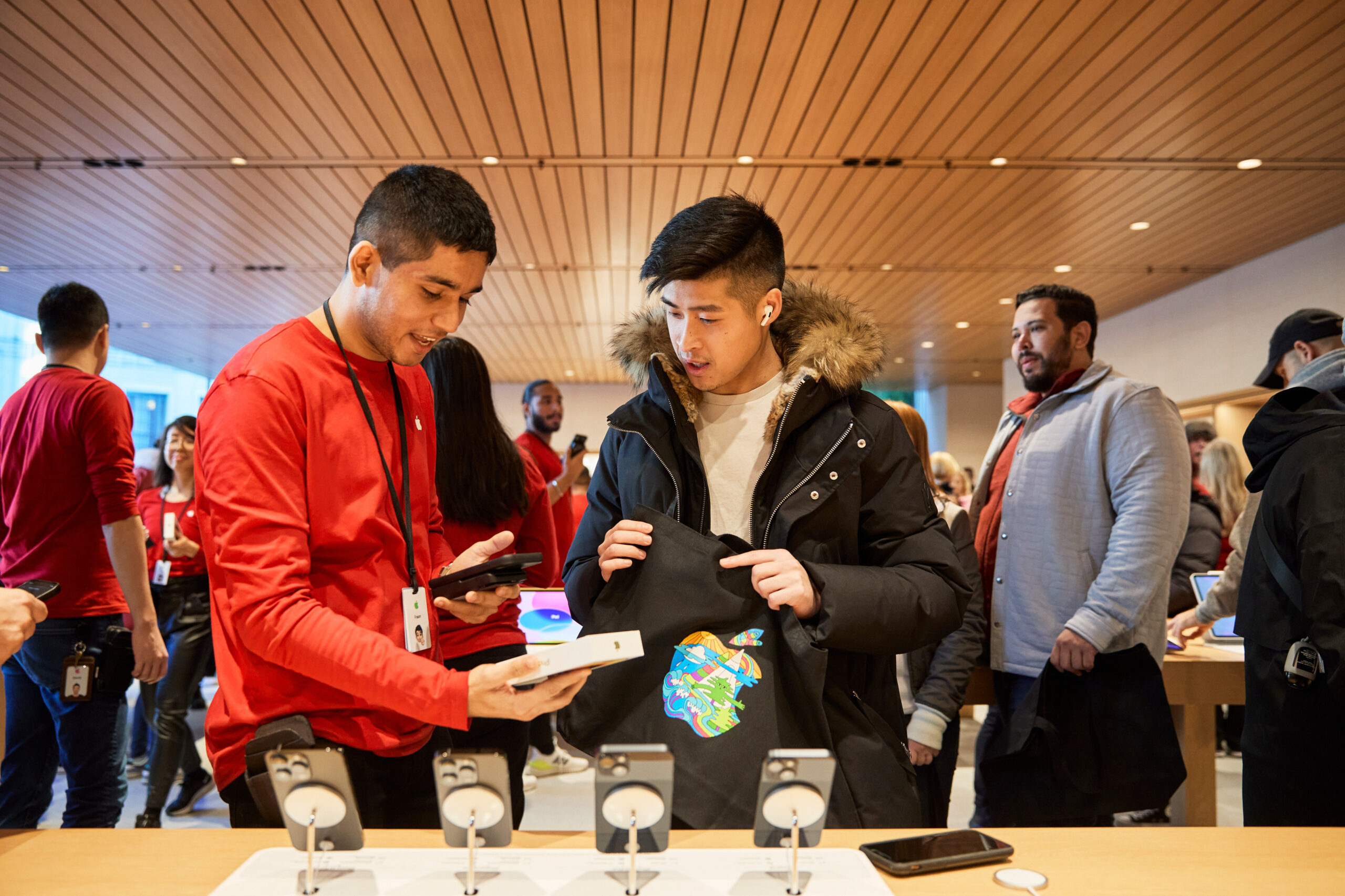 A plaza out front, dotted with 10 magnolias, offers a place to pause amidst the bustle of downtown. The building backs against a living wall more than 40 feet high and covered with 144 species of plants. Designed to absorb heat and traffic noise and establish an insect habitat, the wall, like the store itself, is Apple's love letter to the Pacific Northwest.