Anchored by Angkor Wat, Siem Reap Is Undergoing a Renewal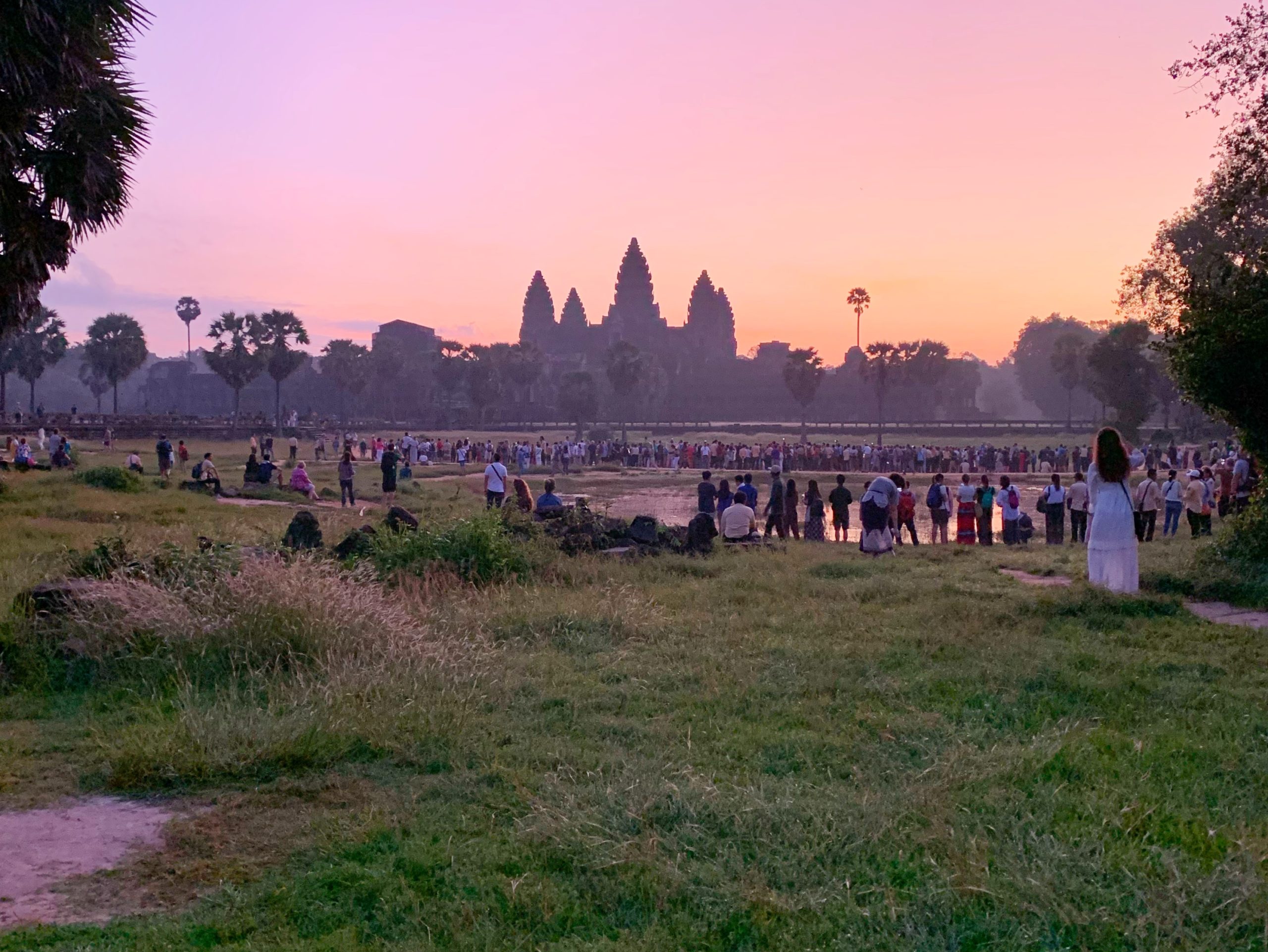 My alarm rings at 4:30 a.m. Outside, the sky is still black. Bleary-eyed, I spring out of bed, brush my teeth, wash my face, put on my clothes, run a brush through my hair, and apply my eyeliner before dashing out the door. I'm not a morning person, but every now and then I make an exception for something truly incredible: an early morning tour of the Taj Mahal, a hot air balloon ride over Kenya's Maasai Mara, or—in this case—a once-in-a-lifetime chance to see the sunrise over Angkor Wat.
The legendary temple complex—built in the twelfth century as the royal seat of Khmer kings—has appeared in films like Lara Croft: Tomb Raider and Indiana Jones and the Temple of Doom. It's the archetype of the ancient temple lost in the jungle, overgrown with vines, though that characterization could not be further from the truth. Angkor Wat is full of life and swarming with people—in fact, it can be hard to avoid the crowds.
Our chipper guide, Alessandro, an Italian photographer based in Siem Reap, greets me and my travel companions in the open-air reception area at FCC Angkor—the former Foreign Correspondents' Club and French governor's mansion reborn as a chic new hotel by Avani—and escorts us into the van for a short ride over to the Angkor Archeological Park. The sun is just starting to rise as we walk across the floating bridge over the moat that surrounds the complex. The sky is rose and violet around the temple. Alessandro leads us to a side entrance, where there are fewer tourists snapping photos, so we can get up close to the detailed carvings.
Angkor Wat was built as a Hindu temple complex, but became Buddhist under the reign of King Jayavarman II before being abandoned in the early fifteenth century. As we make our way through the site, we see Buddhist monks in saffron robes sitting cross-legged, giving water blessings. I watch, transfixed, before giving a small donation and kneeling down in front of one of the monks to be blessed. He ties a bracelet made of red and orange string on my left wrist and chants a mantra while splashing me with water from a beautiful bowl. I'm not religious, but I'll take all the spiritual blessings I can get. They can't hurt.
We opt not to climb one of the steep towers at Angkor Wat and instead head over to Ta Prohm to beat the crowds. Alessandro tells us it's usually the last temple on the Angkor circuit, but by going there early, we have it all to ourselves. There, massive trees are growing right on top of the temple ruins, their roots like octopus tentacles gripping the stone.
We stop at a few other archeological sites, including the Victory Gate at Angkor Thom, where we watch as tuk-tuks and motorbikes disappear through the stone gate under the watchful eyes of the face carved into the rock—a juxtaposition of ancient and modern that somehow feels completely natural, akin to Italians on Vespas zipping around the Colosseum in my adopted home. I'm always fascinated by places where ancient relics aren't encased in glass but are integrated into the cityscape, and Siem Reap is one of those places. It creates a vibrancy and a sense of continuity with the past, as if the culture and knowledge constantly informs, in a living way, the present.
Outside of Angkor Wat, I find more signs of renewal. I have lunch at Haven, which was founded with the mission of providing jobs and restaurant training to young adults who age out of Cambodia's orphanages; and I explore Kandal Village, an area where contemporary boutiques selling clothes, jewellery, and other items by local artisans mingle with art galleries like Tribe. There, owner Nat Di Maggio tells me about the artists, many of whom suffered devastating losses as a result of the Cambodian genocide, when the Khmer Rouge targeted and killed many artists and intellectuals. He brings us around the corner to see Coconut Alley, a narrow alleyway adorned by street art murals painted by artists represented by Tribe.
Projects like Tribe and Phare Cambodian Circus—which we attend later at night—offer hope and opportunities to a new generation of Cambodian artists. Like Haven and Tribe, Phare was founded to lift disadvantaged Cambodians out of poverty by employing them and encouraging them to develop their skills. The performances tell Cambodian tales—both folk and modern—and performers amaze spectators with acrobatic feats, beautiful dances, and music. The show is so incredible and the performers so talented, it nearly brings me to tears.
Though Cambodia still bears the scars of war and genocide, Angkor Wat is proof that the country and its people were thriving long before the Khmer Rouge's bloody reign and they're not going anywhere. On the contrary, Sieam Reap is more vibrant than ever before.
_________
Never miss a story. Sign up for NUVO's weekly newsletter here.