A New East Village Restaurant Channels the Deep Sea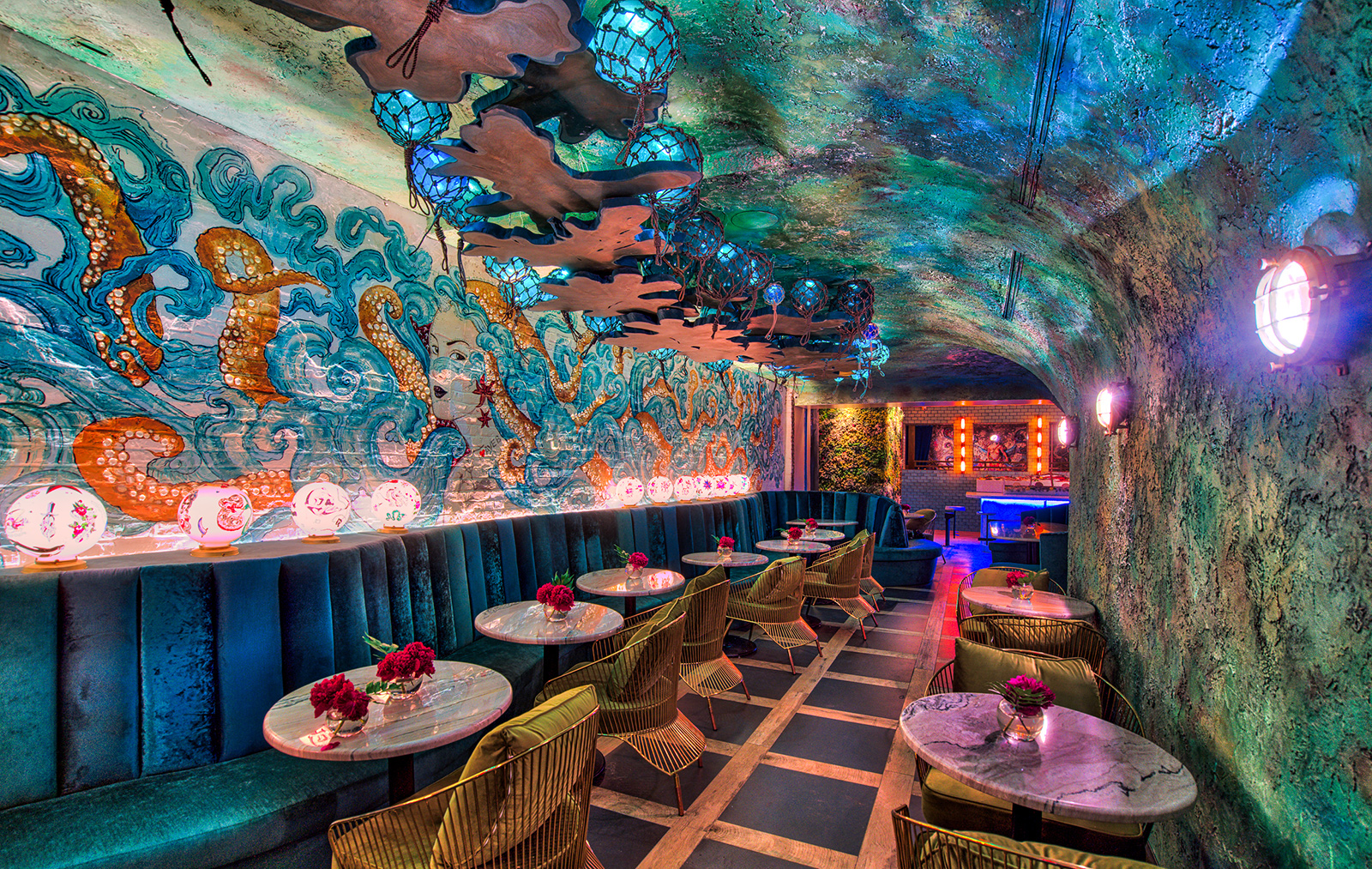 When you enter Lamia's Fish Market, something is in motion. What stirs throughout the newly minted restaurant isn't just the bartender's shaker as it whips back and forth, or the servers' footsteps up and down the three levels—the restaurant itself swells beneath your feet. In Manhattan's East Village neighbourhood, the Mediterranean newcomer conjures the ebb and flow of the sea, gilded with curved lines that draw you forth as if caught in the restaurant's current; scalloped banquettes inch across surfaces like tentacles, walls curl up and over the room like the crest of a wave.
It's a trick by designer Dara Young, founder of Aviva Collective and co-founder of 4Front Hospitality Development, who wants guests to feel transported—seduced, even—by this nautical fantasy.
"This space was built for holistic cohesion in every detail meeting the eye," says Young. To that end, every inch was sculpted and embellished by a small team of artisans, creating architecture and design that immerses diners at every turn throughout the restaurant's 7,000 square feet.
Young took a cue from the restaurant's owner, Lamia Funti, who not only shares her name with an ancient sea port city in Greece but also a mythological force: Lamia, Poseidon's shape-shifting daughter, cursed by Hera after a tryst with Zeus to roam the seas as a child-eating monster.
Here, Lamia need not be feared. The chef does not share her appetite, fortunately, and the legend contributes a fantastical, moody inspiration for the whimsical atmosphere (according to the owner, it's a departure from the raft of tragically hip dives and restaurants that dominate the area).
The kitsch and folk lore makes Lamia's Fish Market something of a treasure—with an atmosphere designed to go above, beyond, and below.
Patrons enter through a submarine bar where illuminated globes (each hand-painted with Sailor Jerry tattoos by artists Bryan Farrell and Elle Gregg) hang along a ceiling of cross-vaulted fishnets. In the adjacent Sea Room, a wall curls up and across the ceiling, forming a wave-like installation above diners seated in brassy chairs designed as abstract fishtails. As if bursting from the sea, the space opens onto a raw bar awash in light and marble, where a massive skylight shines over 12 seats. The patrons of the raw bar dine beneath the gaze of a carved wooden naiad, a capricious water spirit that presided over springs, wells, and rivers in Greek mythology.
"The design takes the feminine allure and sophistication of seafood and pairs it with a gritty downtown edge," says Young, noting the voluptuous sculptures and curved ceilings that contrast with bold details. "Industrial elements—like the netted groin vault ceiling and gilded grotto—give it back its edge."
Go deeper, beyond the raw bar, and you'll find yourself in a mezzanine designed to resemble a yacht—all brass, white leather, and teak—overlooking the final plunge: the bottom floor that opens up like the ocean bed, where exposed basement stone walls, live edge tables, and plush mustard banquettes bask in front of the open kitchen.
Perhaps the most seducing feature, an installation by sculptor Will Kurtz, looms by the stairs. Lamia's mythical form is rendered in papier mâché; her hair, a tangle of tentacles, surrounds her head, which has been replaced with a salvaged searchlight that beckons from above. At Lamia's, even deep sea creatures get their time in the New York spotlight.
Photography by Peter Ruprecht.
_________
Never miss a story. Sign up for NUVO's weekly newsletter, here.