The Golden Age of Norwegian Art
The Rasmus Meyer collection.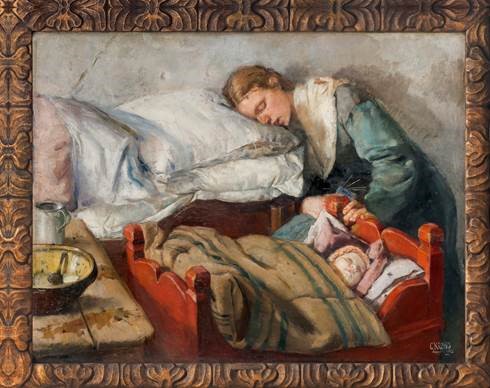 Few outside Rasmus Meyer's native Norway know much about the man himself. But his eponymous art collection, which is housed in the KODE 3 building of the Bergen Art Museum, enjoys global recognition. Set to turn 100 in 2016, it harbours more than a hundred works by Norway's most celebrated artist, Edvard Munch, among other icons from the Golden Age of Norwegian art.
When Meyer began collecting art in 1905, the year Norway became independent from the union with Sweden, he wrote: "It is my intention to try to create in the course of time a Gallery, which … will show the development of Norwegian art in the nineteenth and twentieth centuries." A strong sense of nationalism pervaded the country at the time, and as a prosperous flour mill owner, Meyer had the means to exhibit his patriotism.
In the early years, Meyer was particularly interested in acquiring the works of Bergen native Johan Christian Dahl, who is known as the father of Norwegian painting. Dahl had been in the vanguard of Norway's National Romanticism, a movement influenced by the ideas of German philosopher Johann Gottfried Herder, who questioned the reverence for Greek and Roman antique culture and stressed the importance of a nation's own language and way of life in defining itself.
Other National Romantic artists Meyer collected were Adolph Tidemand and Hans Gude. While Tidemand is known for his vivid and meticulous rendering of bunader, or folk costumes, Hans Gude's forte was landscapes.
During the 1870s, naturalism became a more prevalent style. According to Torunn Myrva, an art historian and education coordinator at KODE, Christian Krohg, one of the leading artists of this period, ushered in an era of social through art. "The beholder has to take a stand. Is this fair?" she explains, referring to his masterpiece Sleeping Mother with Child.
Harriet Backer, one of Norway's foremost female painters from the same period, is known for her paintings of home and church interiors, which offer insight into the status of women at the time.
The plein air school followed naturalism. It emphasized the transfer of spontaneous sense impressions directly from nature to the canvas. Fritz Thaulow was the best Norwegian exponent of this school. In fact, it was an artist from the plein air school, Erik Werenskiold, who encouraged Meyer to start collecting Munch's paintings. "Werenskiold acted as a sort of consultant, intermediary…" says Myrva. Werenskiold was very well connected with Norway's prominent artists, writers and musicians. He had painted Henrik Ibsen, sketched Edvard Grieg, and illustrated a collection of Norwegian folktales.
Acting on Werenskiold's advice, Meyer became keen on acquiring Munch's works. He would later write to the artist, " … I think I have reached the target I set myself of giving a full picture of your development, so that those who wish to study your art through my collection will be able to follow your work in all its stages."
Meyer had planned a new building to house all the art he had collected. Unfortunately, Meyer died before the project materialized and the collection, consisting of 970 items, was handed over to the city of Bergen in 1916.