Toronto Rapper Haviah Mighty on Black Identity and Music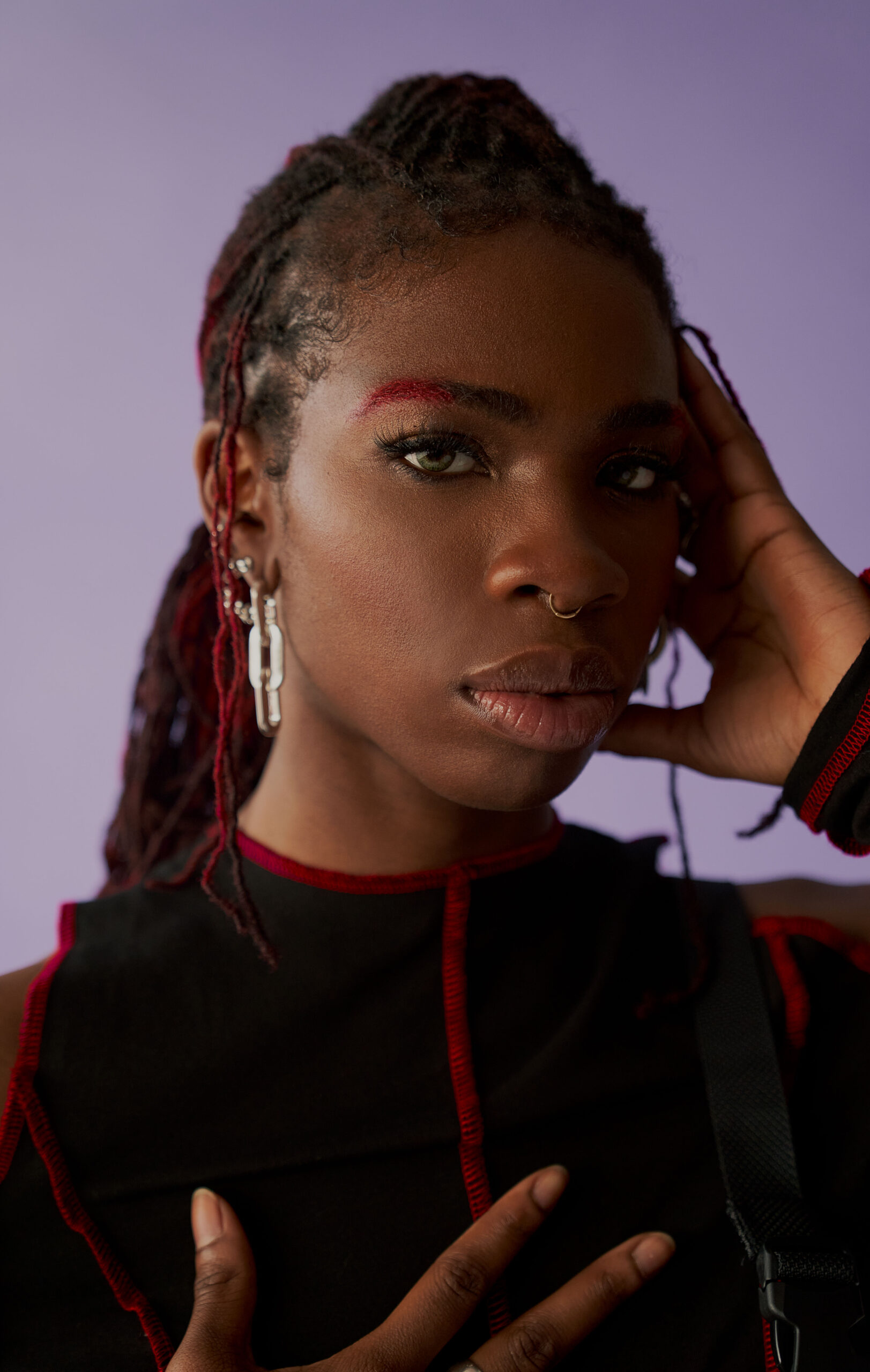 This story is part of our Black Canadian Artist Spotlight, a series promoting and highlighting exceptional Black musical talent across Canada. It is also a platform for Black Canadian artists to share their stories, opinions, and perspectives on racial equality and the steps we can take to enact lasting change in a country that is not exempt from a legacy of racism.
Haviah Mighty is a force, from her ambition to her unbridled talent to the command of her delivery. The Toronto rapper has not slowed down since becoming the first Black woman and the first rapper to win the esteemed Polaris Prize in 2019 for her album 13th Floor. The past year has seen her release single after single, like the quarantine-inspired track "Antisocial," which features Denver rapper Old Man Saxon as well as strong, bouncy beats evocative of the built-up energy of being stuck at home.
Simply put, Mighty is the human embodiment of the fire emoji: her music radiates with a sense of overwhelming fortitude, ready to burst through her songs at the seams, from the power of her delivery to her lyrical depth.
With each new release, Mighty seems to grow and expand into her potential, her sound deepening its roots—from trap flows to Afrobeat inflections. Her newest single "Obeah," released today alongside a music video, is a testament to Mighty's Caribbean heritage, both in sound and in subject. Titled after a spiritual system of practices among West Africans in the West Indies, the song honours Mighty's personal connection to her family and the energies we surround ourselves with.
"My music comes from my heart and soul, and largely reflects who I am as an individual," Mighty says. Her identity and experiences as a Black woman inform her music and the representations of Blackness she expresses to the world. "I am a young, Black woman who raps, doesn't conform to certain ideas of gender identity, and has dreads. My existence is a political statement."
With songs like "Thirteen," which references the 13th Amendment in the United States Constitution, or "Atlantic," which analyzes the inequalities of labour in the modern world, Mighty questions and places the social injustices of our times under an unapologetic microscope. Like other artists who have been speaking on these issues long before last summer's protests, Mighty has been processing these shifts in global attention.
"It's interesting that things I've been saying for years, things I've lived and experienced, are only now being recognized," she says. "Beyond that, it's a bit hurtful that the Rodney King beating or the killing of Eric Garner or maybe Trayvon Martin did not warrant this global response. Philando Castile. Sandra Bland. So many Black men and women have died unjustly, with a narrative that has portrayed them as uncooperative, loud, obnoxious, and basically 'too Black.' The fact that things are just coming to light speaks to the mental trauma and transgenerational trauma Black people have continued to endure while suffering in silence."
Though these perspectives are coming to collective light far too late, there have been changes in mainstream spaces where there have never been before—at least on the surface. "The attention has at least created a shift in the perceived care from corporations, media, and individuals," she says. "Where Black people may not have otherwise been considered, now there is some mainstream recognition of the unfair treatment of members of the Black community, and some grants and opportunities being offered to offset this disgusting reality."
For Canadians specifically, Mighty hopes clarity can be found through self-awareness. "Stop pretending that the land we live on in this country wasn't stolen from the Indigenous people that were here before us," she says. "Stop focusing on being 'better than' anywhere else. We have so much work to do in this country with regard to intersectionality, and we need to start this work immediately."
Video directed by Chrris Lowe, DOP Charles Graham, First Assistant Camera Omari Burke, Production by GLDN Productions, Stylist Jess Mori, Makeup by Mayillah.
Read our profile of Haviah Mighty here.