Quebec Retreats Where Nature and Comfort Coexist
Innovative summer vacay options are popping up everywhere in la belle province, thanks to innovative local builders inspired by the current desire to be immersed in Mother Nature. With an endless checklist of creature comforts and the stamp of local styles, these five home-away-from options are in harmony with their environment and welcome guests to quickly get into a holiday state of mind year-round.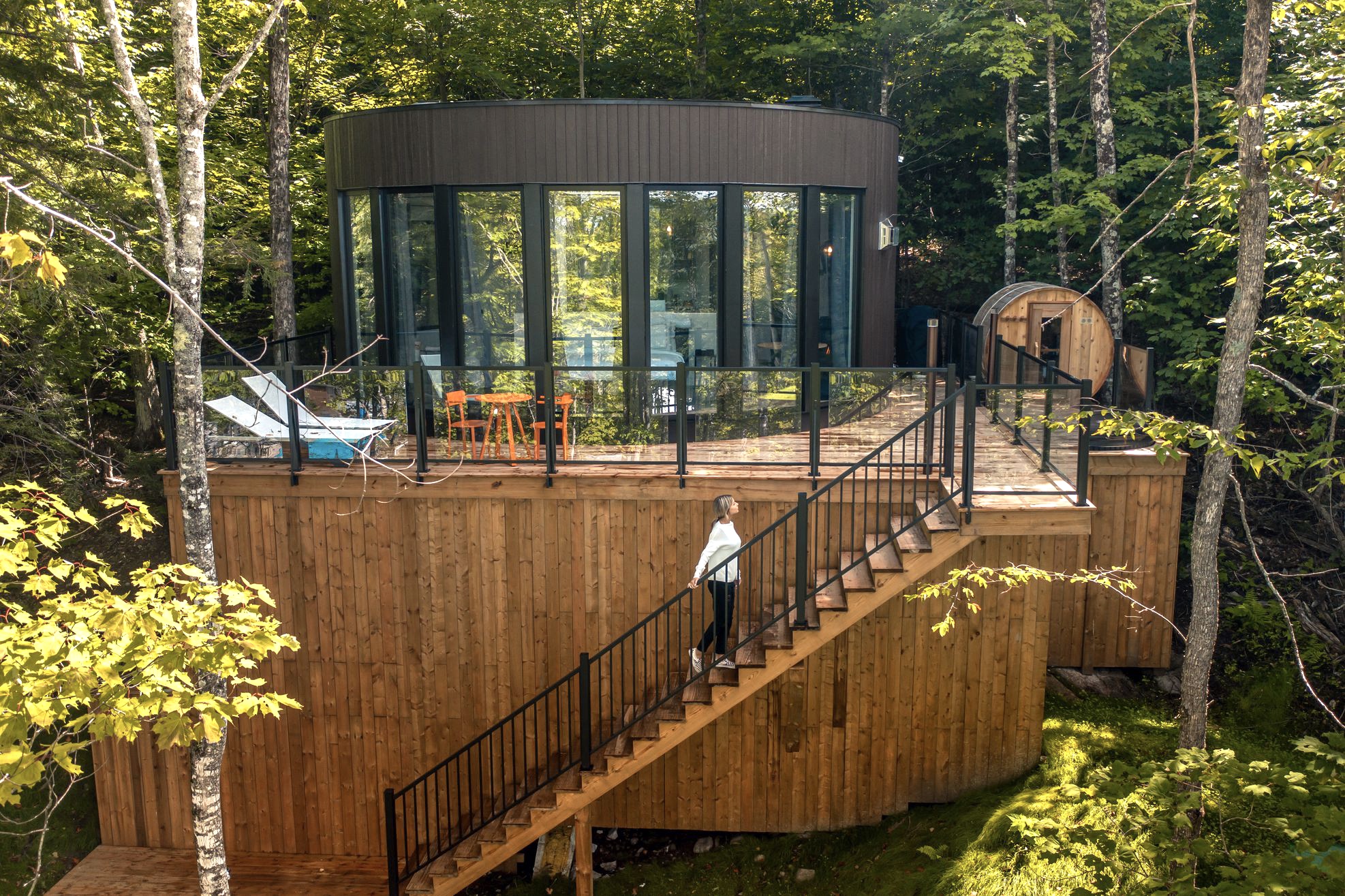 Built by Lofty Pods for the Bel Air Tremblant Resort, this tiny prefab home, which sleeps two and offers a panoramic view of the Laurentian forest near Mont Tremblant, was built and designed by Michel Paquin of Maisons Izomax and Eric Harari, founder of Bel Air Tremblant. Daylight spills through the picture windows into the interior, sparely styled over two levels. Guests can relax on the contemporary furniture in the living area with gas fireplace, second-storey sitting area, a small outdoor deck, or side deck with Finnish barrel sauna and hot tub. Guests are five minutes from Tremblant's Old Village and have access to the resort clubhouse, which includes a bistro, spa, and fitness centre.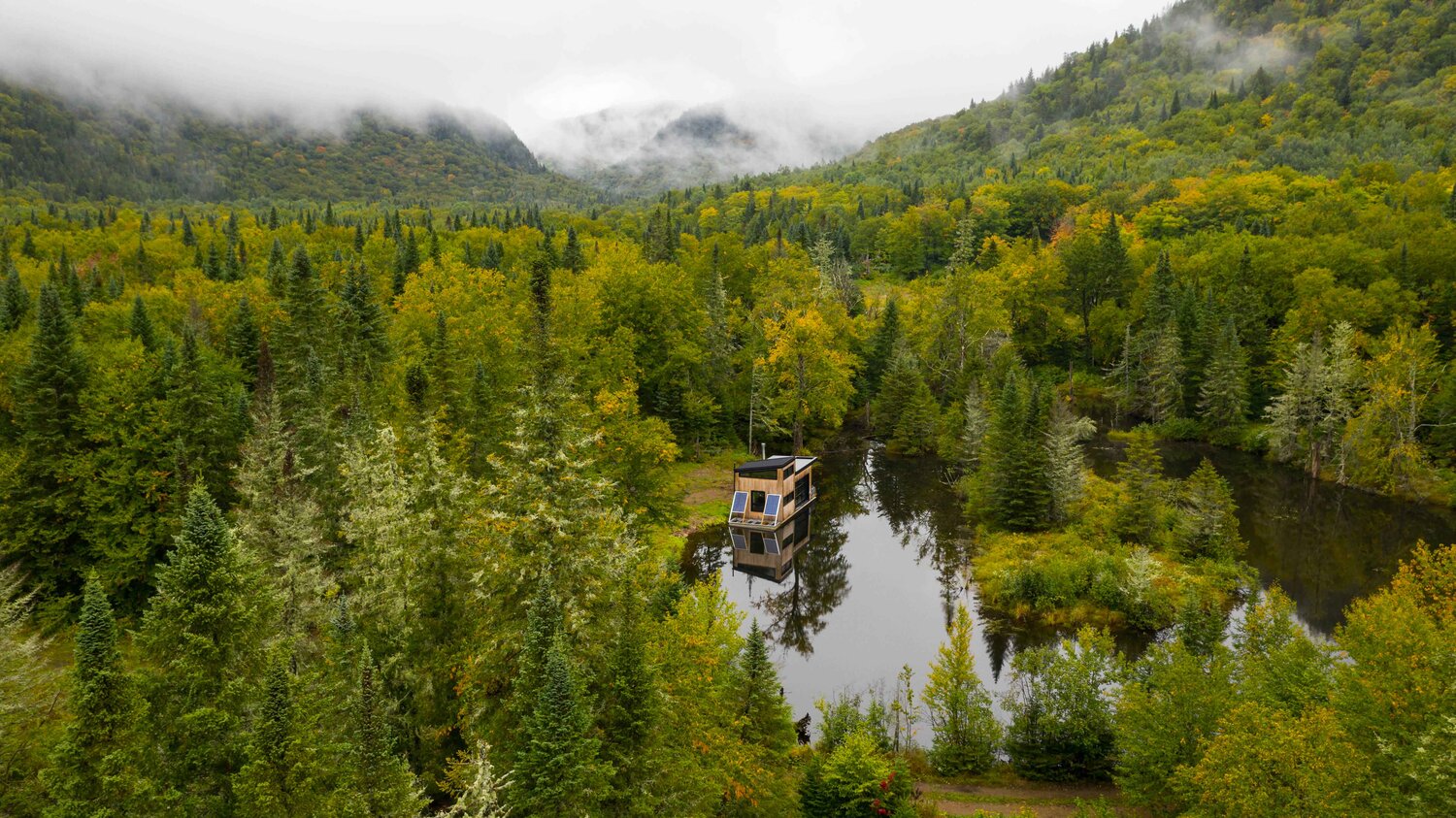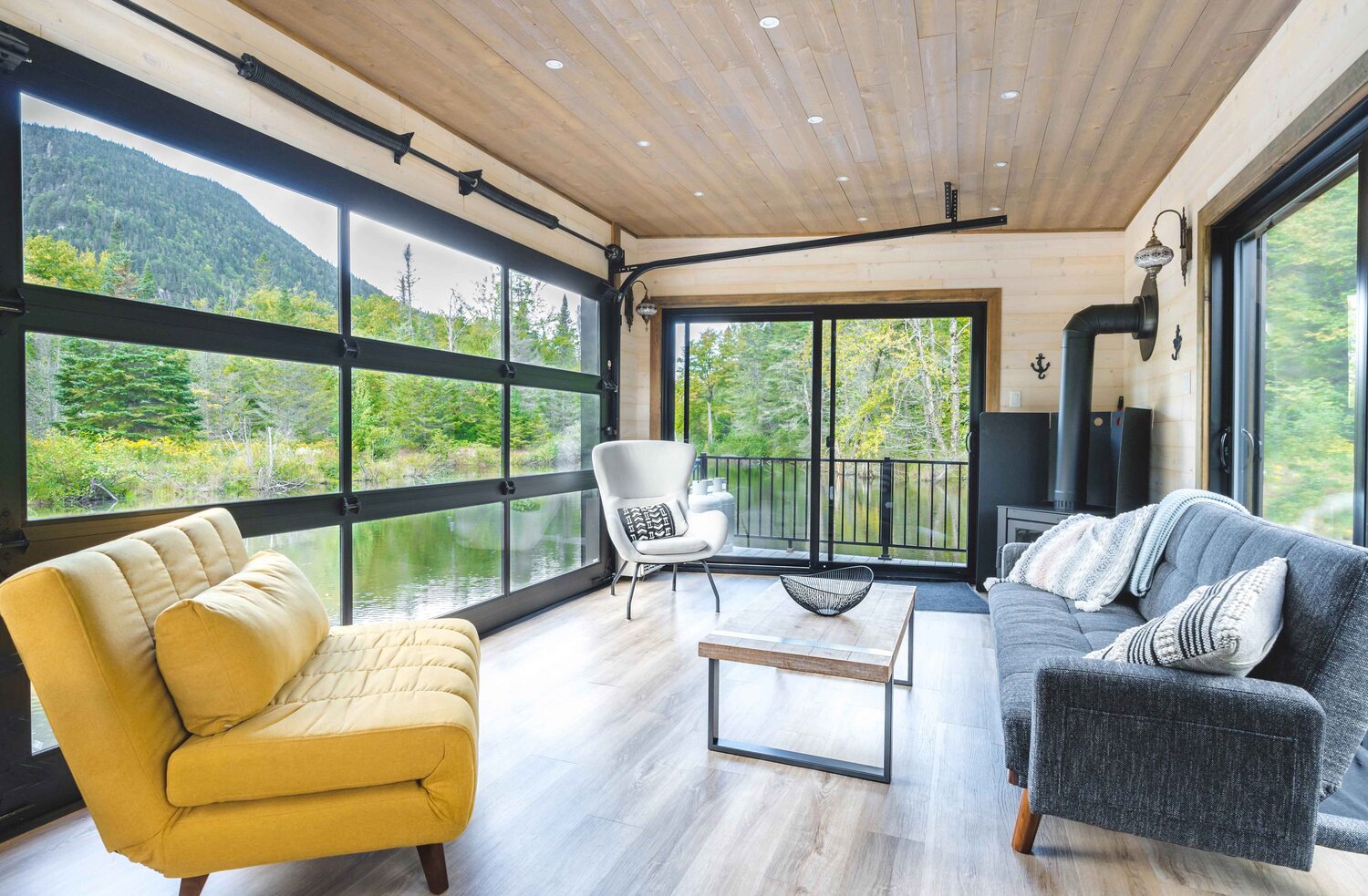 Less than half an hour from Quebec City in Sainte-Brigitte-de-Laval, these two floating chalets designed by co-owner Nicolas Robitaille offer a secluded location in contemporary style. A modern geometric shape with windows on all sides, the vacation rentals sleep four, feature a 12-foot glass garage door opening onto the lake, banquette seating for dining, and a soothing interior decor palette accentuated with light pine millwork. The solar-powered cabins also feature a small deck and include a barbecue, wood stove, kayaks, paddleboards, and private beach.
Overlooking the Clos Sainte-Thècle vineyard, the three domes are built on low platforms to minimize their effect on the farm, which grows four grape varietals. Each dome is for two, with privacy curtains, and features a king bed, kitchenette with Nespresso machine, wood stove, and bathroom with shower, and the property includes a Finnish sauna and hot tub. Minimal outdoor lighting allows preferable night time views of the heavens, while during the day guests have access to complimentary electric fat bikes or paddle boards to discover nearby Lac Croche. In winter, guests can be outfitted with snowshoes or skis and a pass to le Geai Bleu cross-country ski club trails.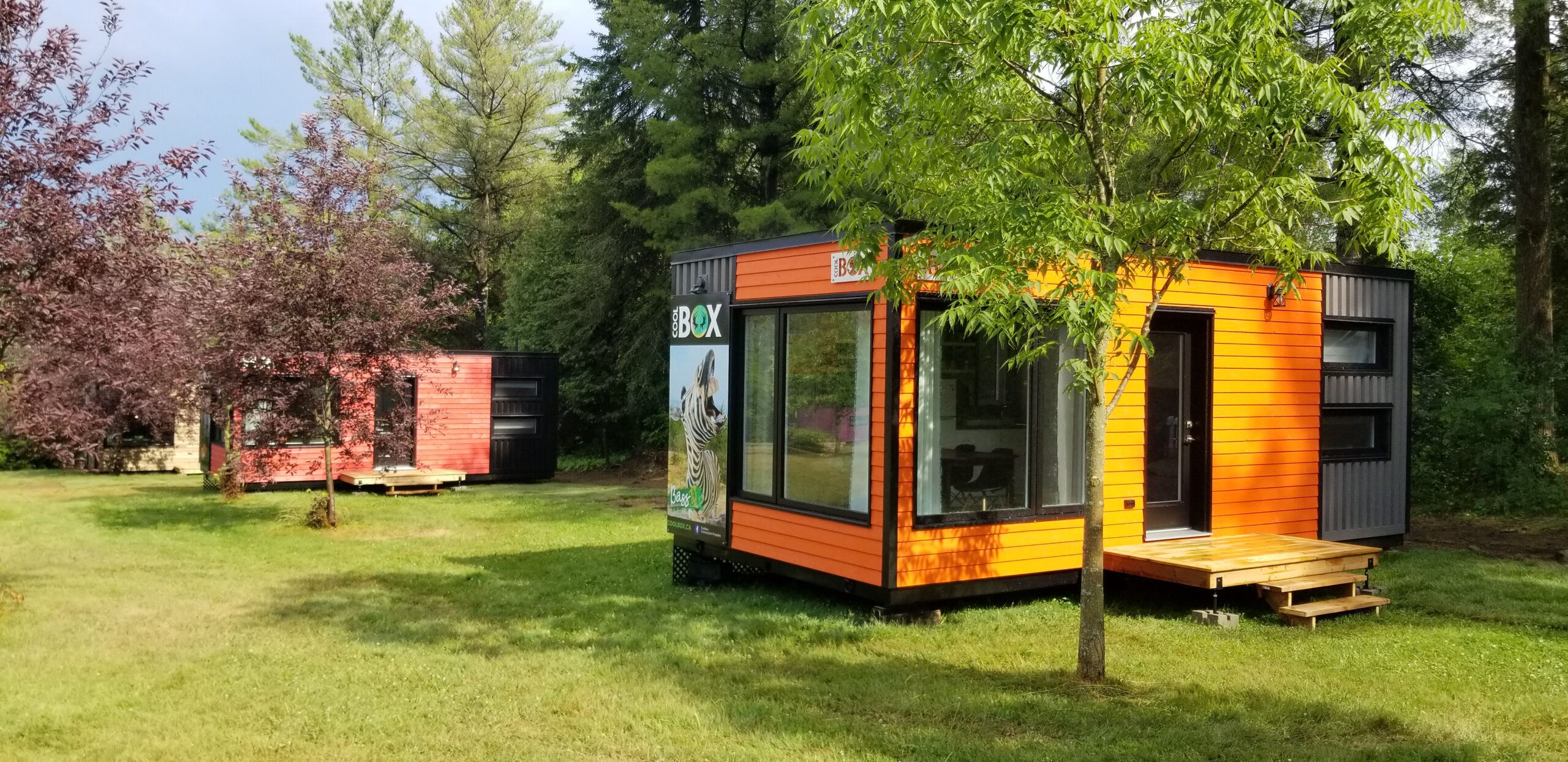 On the Saguenay River north of Quebec City, Parc Aventures Cap Jaseux is 200 hectares of outdoor activities including via ferrata, kayaking, fishing, and hiking. The park's newest accommodation option is the Coolbox, created by Quebec-based Construction Prospère. Five rectangular minihouses have been added this month along the lakeshore area of the park. The minimalist vacation homes sleep up to six and have an open plan layout of kitchen, living. and sleeping quarters with handcrafted wood bunk beds, furniture, and appliances.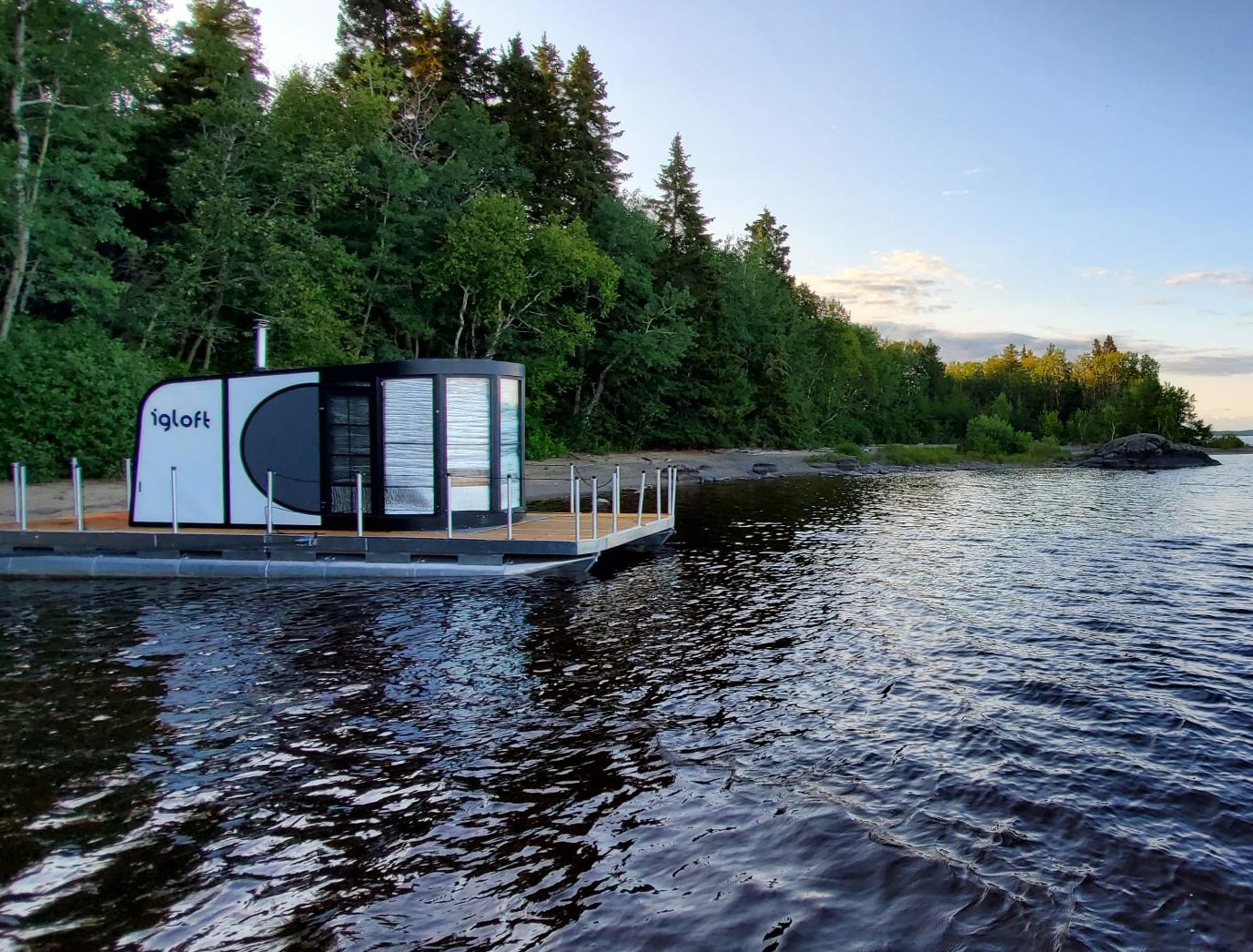 Floating on Lac Saint-Jean in Parc de la Pointe-Taillon, this four-season cabin offers a memorable experience from Equinox Aventure. An overnight reservation includes a day of kayaking around the lake's islands before spending the night in this locally built floating wood cabin with dinner and breakfast included. There's a floating deck to soak in the sun or gaze at the night sky, and the cabin is split between simple pine construction and a solarium, where guests can also watch the path of the sun and the rise of the moon from the interior sitting, dining, or sleeping area. Side benefit: a digital detox as there's no Wi-Fi or electricity.