Nicaragua's Emerald Coast
Luxury in the land of lakes and volcanoes.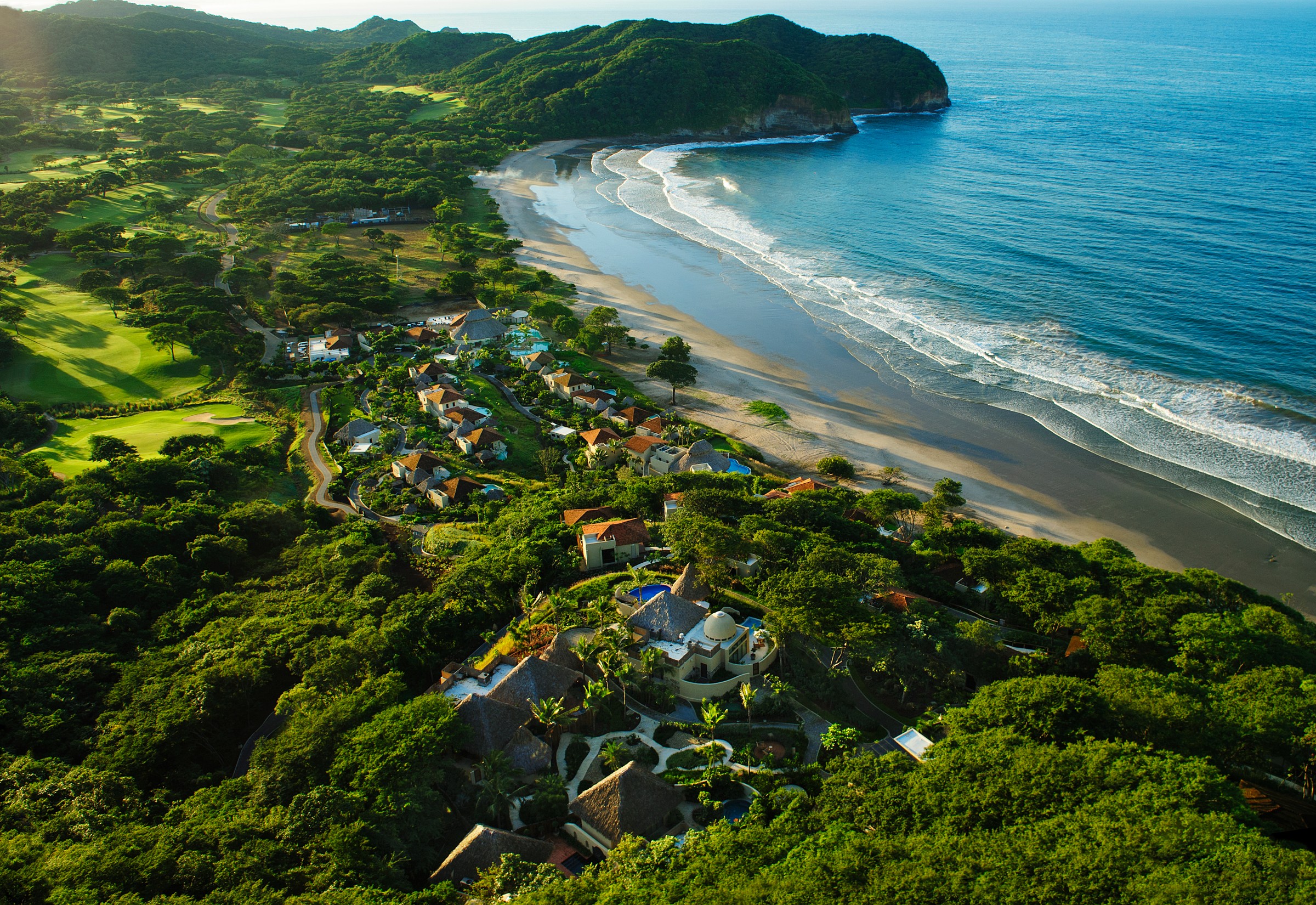 The winding roads down Nicaragua's Emerald Coast become a pitch-black maze at night. If you squint out your window, you might be able to make out a farm animal or two, but you certainly won't find any signs for Mukul, the country's premier luxury resort. As it turns out, Don Carlos Pellas, Nicaragua's first billionaire, wasn't kidding when he set out to build the most private beach colony in the country. He even named it after the Mayan word for "secret."
The fifth-generation heir to the Flor de Caña rum dynasty, Pellas spotted the 48-kilometre stretch of land years ago, while sailing by in a yacht. At that time, sloths and howler monkeys dominated the treetops, and extreme luxury was still unheard of in Nicaragua. Fast-forward a decade and you'll find the pristine coastline reigned by a 1670-acre labyrinth of extravagance known as Guacalito de la Isla—Central America's very own emerald city. Within its walls, there is enough rum, art, cigars, and ceviche to fill the property's 48 pools. Naturally, Pellas is the wizard at the helm. Over the years, he set out to transform the land into a 38-room destination resort where artisanal craftsmanship, luxury, and sustainability intertwine to form a utopian compound. Since opening in 2013, his $250-million passion project has employed over 1,500 workers from the surrounding communities, including local artists who crafted 90 per cent of the resort's furnishings.
The Emerald Coast now has its own airport, allowing for easy transportation via a short flight from Liberia, Costa Rica, or the capital of Managua, but ground transportation is still an option. En route to Mukul, we stop at the Masaya Volcano, where visitors can peer into an active crater filled with bubbling molten lava. A cross on a pinnacle marks the spot where Spanish friars attempted to exorcise the devil out of "the mouth of hell" in the early 1500s.
In a post-revolutionary Nicaragua, the Emerald Coast has become a beacon of hope and luxury in the land of lakes and volcanoes.
We arrive at Mukul to a round of cocktails, the perfect chaser to a sulphurous adventure. The Macuá, Nicaragua's national drink made of guava, orange, and lemon juices, and Flor de Caña rum, goes down smoothly as we admire the giant palapa above us.
"It was made with tree trunks from the Atlantic coast. A hurricane came and a lot of trees fell, so we had them transported here. It's great to see them living on," says marketing manager Joanna Evans. "We use many recycled materials. Part of the point of building Mukul was to positively affect the community, from the farmers to local craftsman."
At the bar, Don Carlos Pellas himself is mingling with guests and comes over to introduce himself, leaving us with a few good stories before saying goodnight. He built Mukul out of a love for Nicaragua—to give something back to his country, the economy and the people. Now, the paradise has become a vacation spot for savvy travellers around the globe.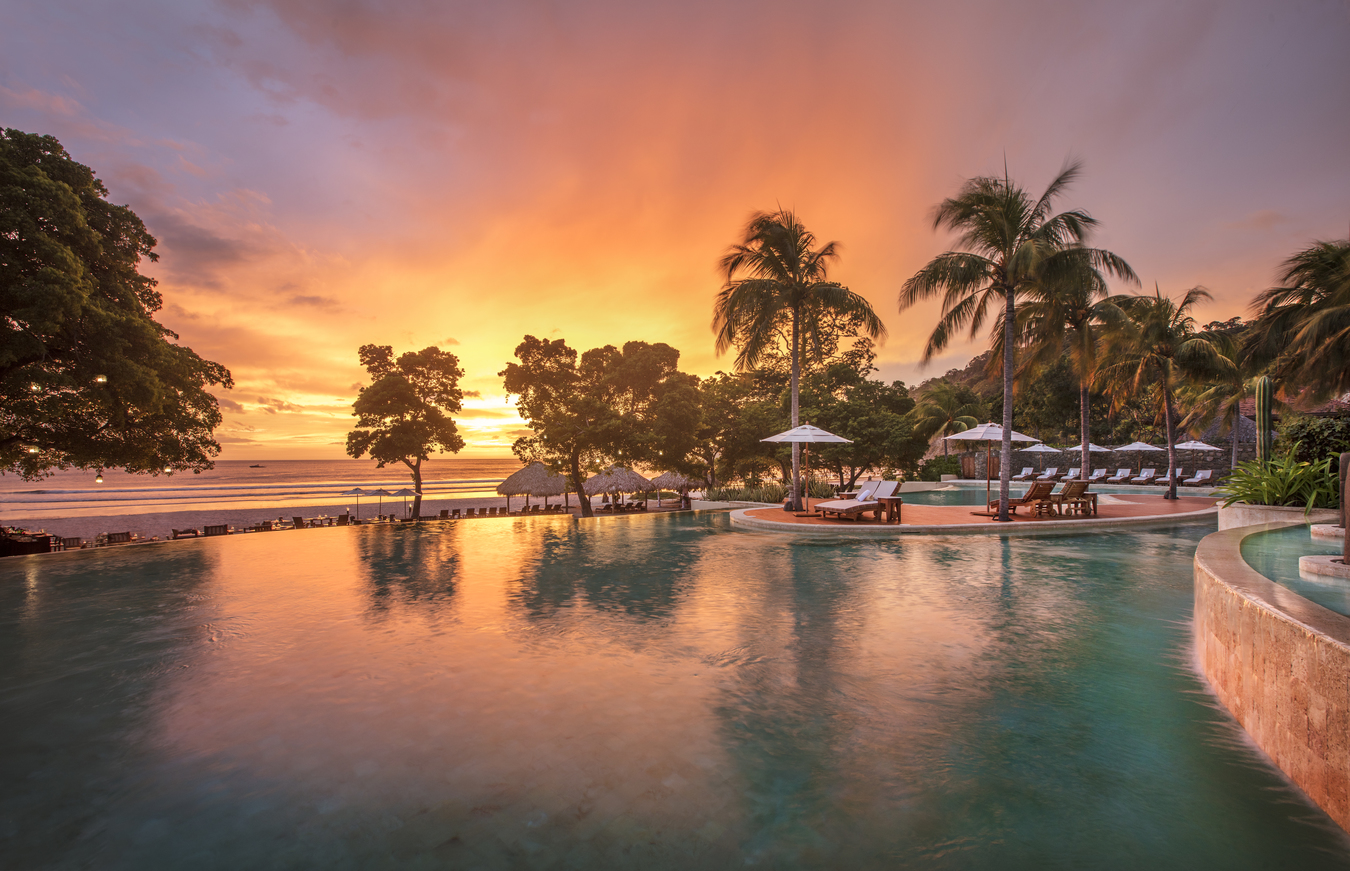 The resort has transcended its covert reputation without eroding its exclusive charm. The feeling of tapping into a secluded dreamland still pervades. Days can easily be whiled away surfing, sipping cocktails in an infinity pool, or hiking among iguanas. There's even a spa boasting six separate temples (each one featuring its own unique décor and treatments inspired by ancient healing rituals) and an 18-hole golf course designed by David McLay Kidd. Thanks to an ambitious reforestation project aiming to plant 200,000 trees within 10 years, wildlife surrounds the villas. Whether you're staying in an ocean-view bohío or the $5,820-a-night Casona Don Carlos, it's not uncommon to hear the bellow of a howler monkey outside your window.
While releasing newly hatched sea turtles at dusk on our first day, I almost expect to hear Morgan Freeman narrating the scene. After all, he was one of the first celebrities to visit the resort, so it's not completely implausible. Influencers like Freeman, as well as a new generation of intrepid travellers on the hunt for authenticity, have supported Nicaragua's recent tourism boom. With the surfer's mecca of San Juan del Sur exploding in popularity, more clandestine spots in the north have been on the rise. Though Nica (as the locals call it) is often compared to Costa Rica in the 1980s, it offers its own distinct charms, including colonial architecture, streets bursting with culture, and volcanoes ripe for ash-boarding.
The next morning breaks with the sounds of waves crashing against the shore, and that familiar simian howl outside the window. In a post-revolutionary Nicaragua, time appears to be standing still, though change is undeniably on the horizon. Until then, savvy travellers can embark down a dark and bumpy road before passing through the gates of paradise—an experience that makes that first sip of that Macuá all the more refreshing. It won't be long before the secret is out about Central America's land of lakes and volcanoes, and pockets of luxury. For now, surfers, business barons, and monkeys have a special place, a slice of peace in emerald paradise.
Mukul Beach, Golf & Spa, Km 10 Carratera, Tola-Las Salinas, Tola, Nicaragua, +1 650-274-4902.
_________
Never miss a story. Sign up for NUVO's weekly newsletter.