Downtown Seattle's art haven hotel.
Immediately upon check-in to Motif Seattle, guests are immersed in local culture. Seasonal drinks like Rainier cherry–infused Old Fashioneds or Pike Place Brewing Co. tasters are available in the downtown lobby, while songs by Seattle-based musicians from Jimi Hendrix to Pickwick play over the sound system. Against the soft wood walls, an abstract canvas of ochre and olive tones grabs the eye. The focus here is clearly the arts.
Motif's decor may be fresh from last year's $10-million (U.S.) renovation, but the hotel has had its Visiting Artist Program since its beginnings in 2014. Through the program, every two years a signature design created by a local artist is incorporated into hotel business cards and stationary. Glass artist Julie Conway's Light Ray is currently featured, the spiked hues stemming from an aquatic distortion of shadow and light.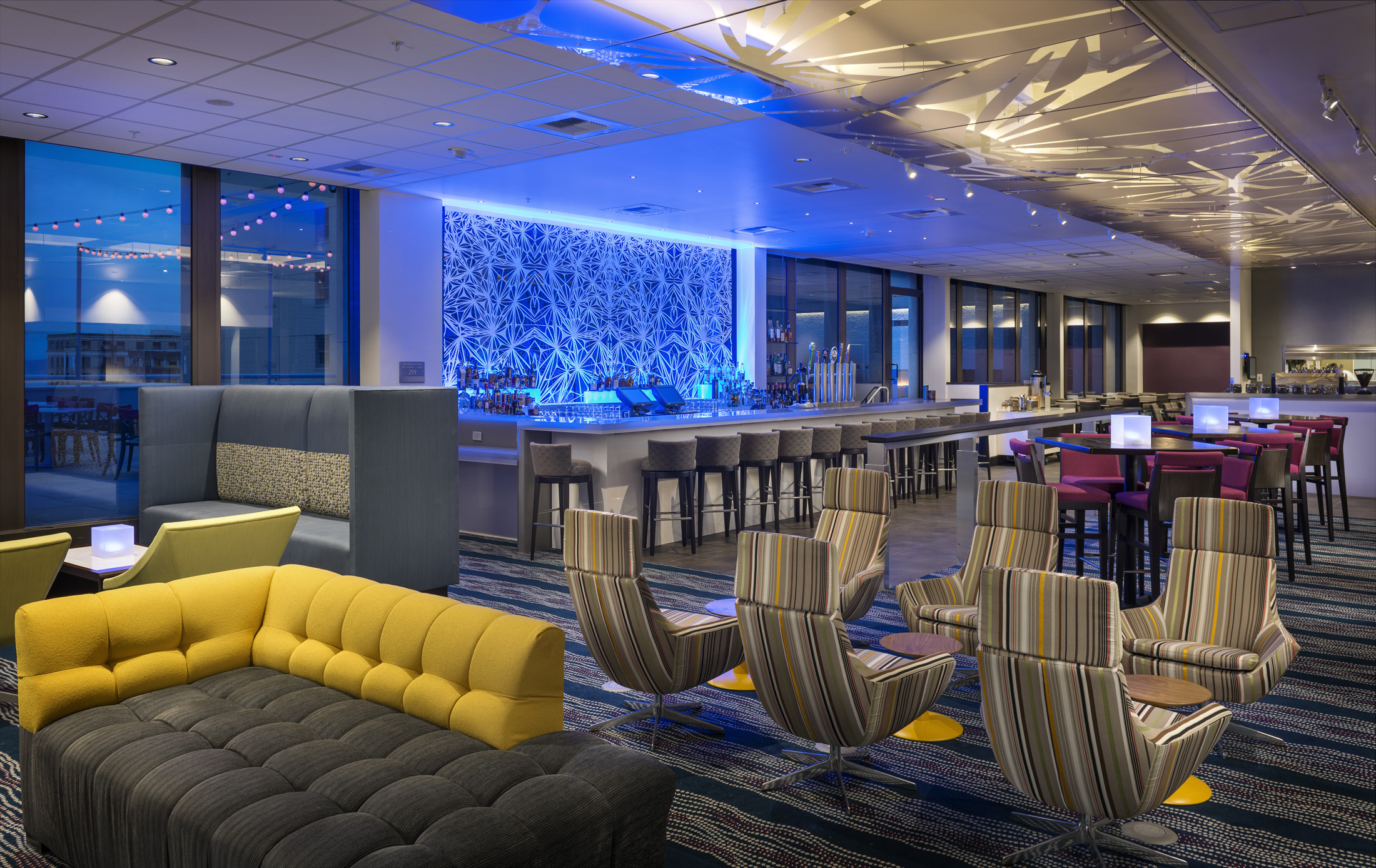 Seattle immersion continues up to the guest rooms. Become acquainted with your floor by the Seattle landmark photograph seen upon debarking the elevator, unique to each floor, before entering the guest rooms—notably some of the most spacious in the city. Decor features include soft grey couches popping with green accents, while pillows printed with song titles from various Seattle-based artists are sure to get "Barracuda" and "Smells Like Teen Spirit" stuck in your head.
Decor features include pillows printed with song titles from various Seattle-based artists are sure to get "Barracuda" and "Smells Like Teen Spirit" stuck in your head.
"When designing the rooms, we wanted them to feel residential," says Rhocelli Pascual, Motif's director of marketing. A testament to this can be found in what she affectionately calls "rainy day corners": a row of hooks for hanging dripping coats with umbrellas tucked away, at the ready for guests to venture out and soak up the city, rain (as is probable) or shine.
When the sun is out, "people flock to the patio," Pascual says. Motif's fifth floor is home to Frolik Kitchen + Cocktails, a hub for guests and locals alike with its light-strung outdoor space overlooking Elliot Bay. LED ping pong tables and cozy fireplaces beckon after a sumptuous dinner of local seafood, and come morning, a seasonal menu of hearty West Coast fare awaits—think Dungeness crab cake Benedict with champagne and black truffle hollandaise, or the Frolik Loco Moco, a decadent layering of kobe beef patty drizzled with smoked gouda grits and gravy.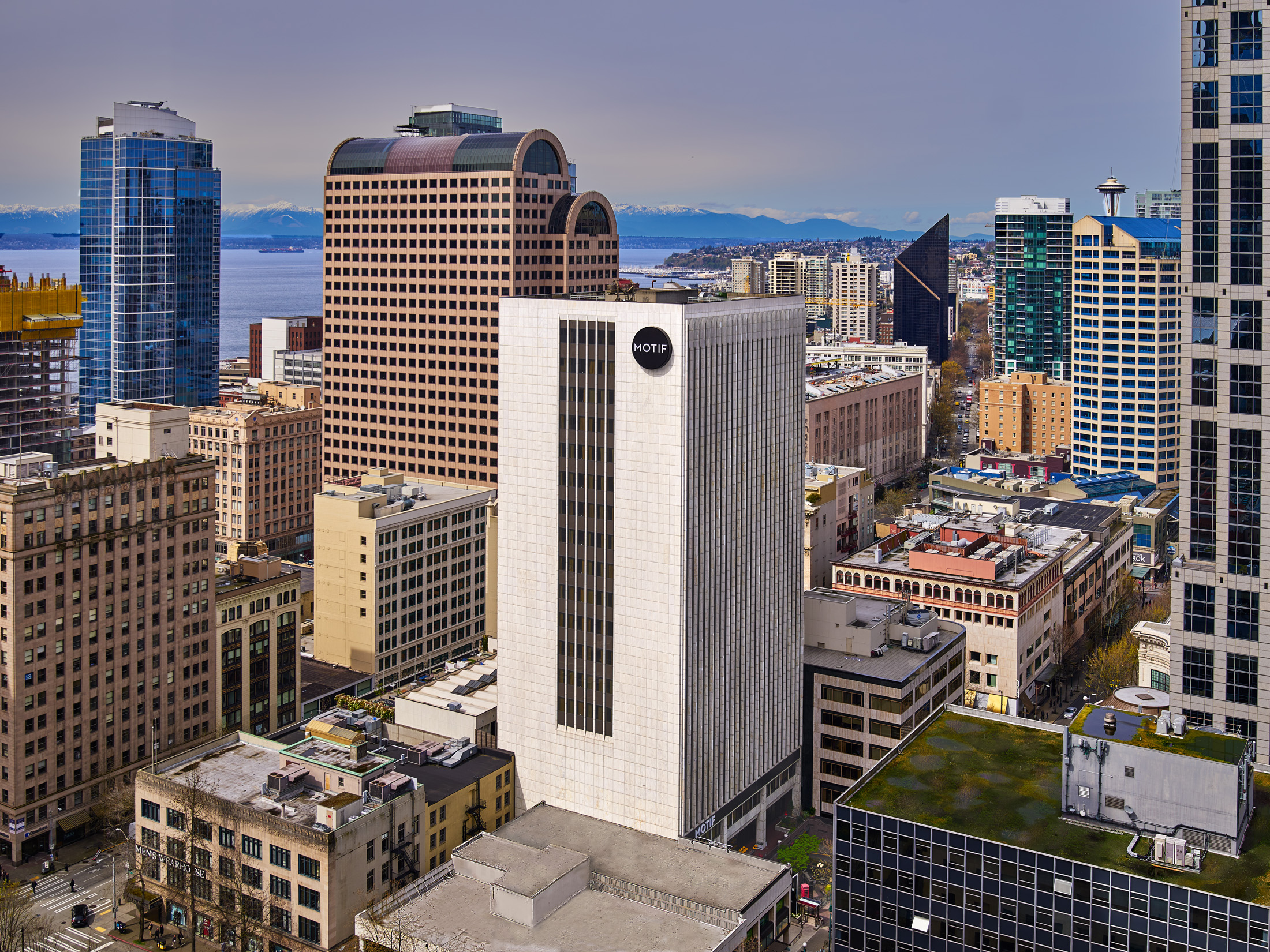 Guests will find their Motif experience a preparation for venturing beyond the hotel. Indeed, the city's art scene is hard to escape, whether moseying down to the Seattle Art Museum but a few steps away, following locals along the waterfront to the outdoor Olympic Sculpture Park, or congregating with fellow out-of-towners at the Space Needle–anchored Seattle Center complex. Here, the Chihuly Garden and Glass is a must-visit with the elegant blown-glass creations of Tacoma-born artist Dale Chihuly, a cherry on top of the Pacific Northwest art scene.
_________
Never miss a story. Sign up for NUVO's weekly newsletter, here.