Adler Thermae Spa & Relax Resort, Tuscany
In Tuscany, the pursuit of mens sana in corpore sano (a healthy mind in a healthy body) has been popular since the Etruscans first discovered the pleasures of communal bathing in the many natural thermal spas of this famously photogenic region of Italy. Thousands of years later, their descendants are still soaking up the corporeal and mental benefits offered by luxe wellness retreats dotting the Tuscan countryside. Among the finest is Adler Thermae Spa & Relax Resort overlooking the ancient hot springs village of Bagno Vignoni in the Val d'Orcia south of Siena. Here, the same curative aqua mineralis that once soothed battle-weary Roman centurions and scheming senators continues to flow.
Adler Thermae's some-10,000-square-feet of thermal pools, grottos, saunas, and steam rooms surround a hotel designed to resemble a classic Tuscan villa. Inside, the sleek modern decor and spacious, light wood-paneled guest rooms reflect the northern Italian alpine tastes of Adler's South Tyrolean founding family, the Sanoners, who started running spa hotels back in 1810. Today, their collection of luxury wellness lodges includes Adler Thermae and three stunning resorts in the Italian Dolomites—Adler Balance, Adler Dolomite, and their latest property, Adler Mountain Lodge, which overlooks the meadows and granite peaks of the Alpe di Siusi, Europe's largest highest-altitude alpine plateau.
Here, the same curative aqua mineralis that once soothed battle-weary Roman centurions and scheming senators continues to flow.
The first thing I notice at Adler Thermae is a large number of male guests lounging around in white bathrobes. Unlike in North America, where most high-end spas and wellness retreats still have a predominantly female clientele, Italian spas have attracted equal numbers of males since Roman senators were settling affairs of empire in toga-optional grottos and thermal mineral pools. Today, more men than ever are "taking the waters" according to Adler Thermae's PR manager, Elisabeth Wittmann. "Over the past few years there has a been a big change as European men pay more attention to their looks and health," she explains, adding that in addition to offering a wide range of anti-stress, anti-aging, and detox programs specifically tailored to men, Adler also has a dedicated male cosmetics line.
Another cultural difference is the casual attitude toward nudity among both sexes in the resort's shared steam rooms and saunas, where everyone seems entirely relaxed about displaying their bodies. In North America, we still tend to associate public nudity with feelings of shame and embarrassment. In Italy, and in much of Europe for that matter, hardly anyone gives a second thought to disrobing and entering a steam room or sauna occupied with other naked spa lovers. In fact, removing your bathing suit and donning a towel is mandatory in some areas of Adler's spa complex for hygienic reasons.
A typical day at Adler Thermae involves rising early to join a yoga class in the well-equipped fitness centre, followed by a healthy buffet breakfast in the glass-ceiling dining room. Wellness treatments are bookable throughout the day, as are group activities ranging from guided hikes and bike tours to cooking classes, wine tastings, and Ayurvedic wellness seminars. Guests are also encouraged to visit nearby medieval hill towns, wineries, and estates. E-bikes are free to use, as are electric cars, for a fee. And a fully staffed kids' club caters to families with small children.
This being a luxe wellness retreat, the menu of signature treatments is extensive. It includes dozens of types of mainly Eastern-inspired massages, mineral and mud therapies, as well as advanced procedures like non-surgical facelifts and lipolytic mesotherapy (a non-invasive slimming treatment). Cutting-edge medical diagnostics and treatments are also available, administered by a team of on-site physicians and therapists. Adler's holistic medical program is designed to help heal chronic health conditions such as thyroid malfunction, , obesity, poor nutrition, depression, and chronic fatigue.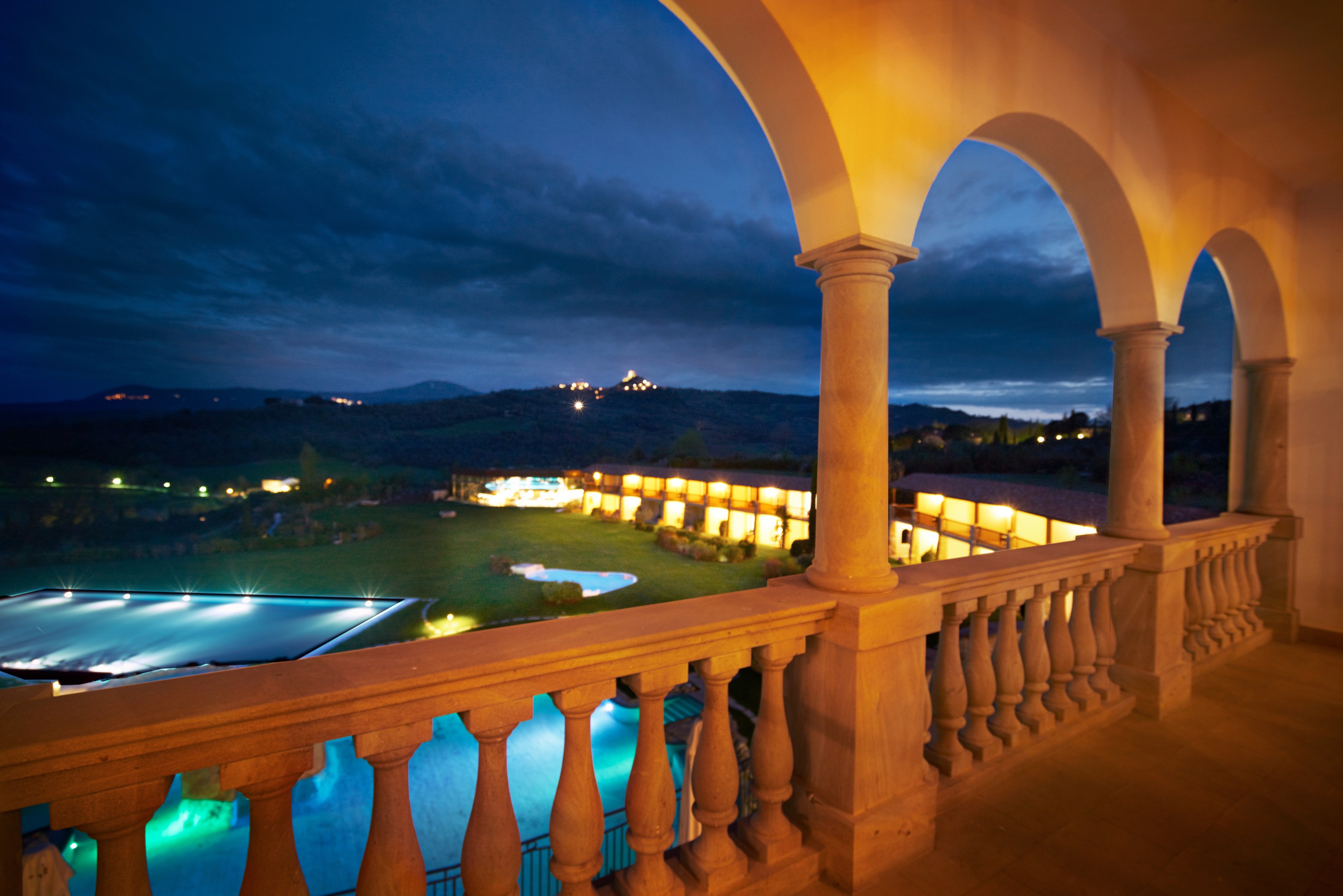 But it's the Bacchanalian allure of one popular Adler Thermae spa treatment that is particularly intriguing. Described as "an experience of deep relaxation that will inebriate your senses," the Brunello Ritual is a form of vinotherapy—a medieval self-care regime of bathing in red wine residue. It is believed to help you feel younger and rejuvenated while reducing wrinkles, smoothing cellulite, and boosting circulation. My session begins with a grapeseed oil massage followed by a soak in a tub full of Brunello wine and ends with a wine and cheese tasting on a waterbed. By the end of this 75-minute total body oenophilic immersion, I have a new appreciation for the ancient Roman saying, In vino veritas: in wine lies the truth.
_______
Never miss a story. Sign up for NUVO's weekly newsletter, here.