8 Alberta Chalets and Cabins to Cozy Up in This Winter
Step into a quintessential Canadian snow globe.
Winter in Alberta is much anticipated. With uninterrupted views of the Rockies coated in snow or freshly frosted coniferous trees glistening in the foothills, we can understand why Canadians are embracing winter and escaping the city for the mountains and a little R and R in cozy Alberta cabins.
Imagine waking up to a crackling fire, sipping fresh coffee mixed with Baileys, and curling up with a fascinating read in a rustic chalet or charming wooden cabin with all the amenities, winter activities, and emergency wifi one could ever need. There's no better way to commence a romantic weekend: simply disconnect and relax in complete hibernation away from the hustle.
Each of these Alberta chalets and cabins has a unique character that will make you want to stay forever.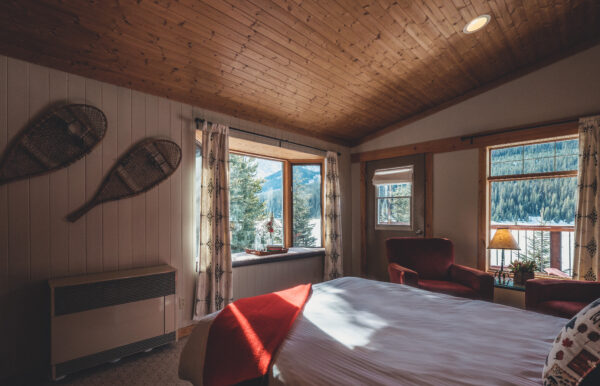 Built in 1987, Mount Engadine Lodge is in the heart of Kananaskis Country. Aside from its well-known glamping tents and lodge stays, there are three cozy chalets named Birdwood, Burstall, and Whiskeyjack.
Each space boasts a minimalist rustic aesthetic and a private deck with a picturesque view of the meadow. Enjoy quaint amenities during your stay from local partners such as Rocky Mountain Soap Co., Banff's Park Distillery, Banff Tea Co., and Blindman Brewing. Savour the convenience of a pre-packaged lunch from the award-winning kitchen before you head out on an alpine adventure. If relaxing in the lodge is more your style, the lodge offers afternoon tea complete with freshly baked treats and charcuterie. Enjoy the ease and luxuries of a relaxing Albertan winter adventure as the lodge takes care of every detail.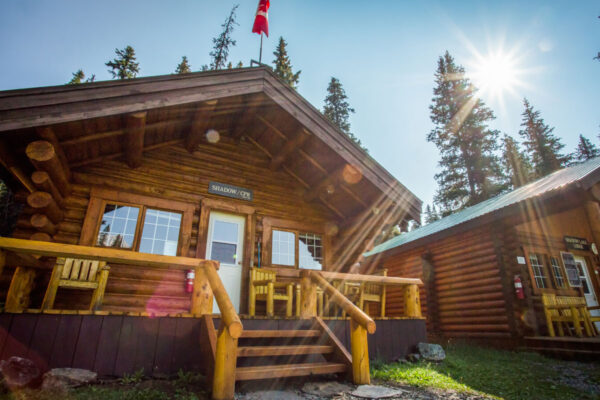 Prepare for an easy 14-kilometre ski or snowshoe to your own private log cabin that boasts unparalleled 360-degree views of the Rockies and magnificent Mount Ball. Each cabin is simple but comfortable, containing the essentials: a warm down duvet, propane heater, and sweeping valley views from a private porch. With the ring of the dinner bell, guests are swept into the original lodge for a gourmet meal and are encouraged to enjoy relaxing around the restored 1929 wood-burning fireplace with a hot tea or stiff libation after dinner. This little slice of Canadian backcountry luxury is the perfect end to the day.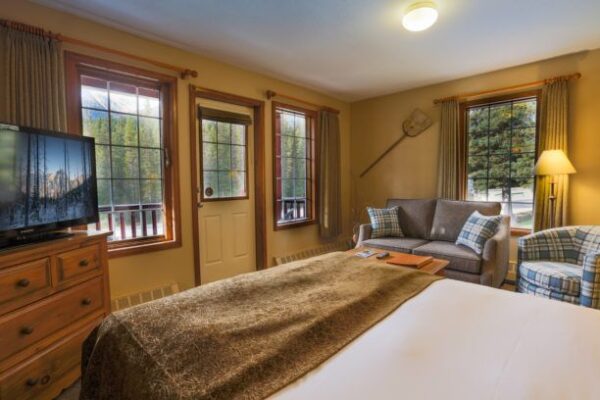 Owned and operated by the Pedersen family for over 50 years, this Albertan lodge was named after a segment of hiking trails called Paradise Valley. Its charming bungalows, each named after an influential historic person from the area, were built in the 1930s and have been maintained as luxury cabins complete with hot showers, cast iron fireplaces, mini-kitchens, and more. Some even feature an antique claw-foot tub perfect for soaking your muscles at the end of a long day of adventuring. This resort is truly a Canadian winter paradise for any avid hiker or outdoor enthusiast.
Located on the Anchor D Ranch, off the beaten path in Dark Sky Country, these cabins offer guests incredible stargazing and even a glimpse of the northern lights—if they're lucky. Each of the cozy log cabins comes equipped with in-floor heating, hot showers, laundry facilities, a full kitchen, an airtight wood stove, and a porch swing. Guests have the opportunity to add a horseback riding adventure to their cabin stay or a sleigh ride if the snow allows it. Sometimes the boss will even offer a behind-the-scenes tour of the feeding rounds so you can get to know the horse herd up close.
An award-winning Canadian mountain resort on the outskirts of Jasper National Park, Overlander Mountain Lodge offers guests beautiful log chalets and private cabins. Great for larger groups or small families, these authentic log cabins offer a luxurious getaway with natural beauty, minus the distractions of TV and wifi, so you can truly disconnect in nature. Each residence comes with a full kitchen, private yard, and whirlpool tub in which to relax and unwind in a picturesque mountain setting. If you want to spend a bit of time exploring, Overlander Mountain Lodge is conveniently located a short drive away from the town of Jasper with easy access to trailheads for hiking, skiing, snowshoeing, and more.
Known as an overnight stop for the scenic Banff–Lake Louise coach since 1949, Baker Creek Resort has become a lavish bungalow-style mountain resort with 16 comfy chalets spread throughout the property. Ideal for families or couples, each cabin offers a kitchenette, a river-rock wood-burning fireplace, a private deck to enjoy the pristine scenery, and a wealth of board games to rent and enjoy beside the fire. New this season is the addition of tent beds so your family can recreate the fun of a slumber party in the middle of their cabin.
With six luxury cottages designed with rest and relaxation in mind, the Prairie Creek Inn has been proclaimed one of Canada's most romantic bed and breakfasts in the Rockies. Each cottage is designed individually to showcase the rich landscapes and charming character through design elements of wood, stone, slate, and lush fabrics. Bask in the surroundings as you lounge on your private deck in Adirondack chairs, savour a freshly barbecued meal, and sip a glass of wine with a book next to your personal firepit. Relish the joy of natural simplicity when time finally has the opportunity to slow down.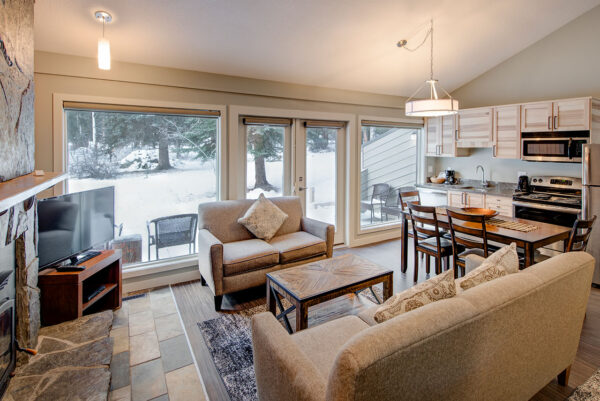 With floor-to-ceiling windows, the woodland cabins at the Juniper are known for local wildlife sightings. In terms of design, these two-level cottages are at the intersection of boutique hotels and rustic charm. With loft bedrooms, full kitchens, wood-burning fireplaces, and wifi, this modern retreat is the perfect getaway for guests who want to escape the city while switching up their wearisome work-from-home routine. Plus you're just steps away from a winter-wonderland-inspired journey if you're in need of inspiration.
_______
Never miss a story. Sign up for NUVO's weekly newsletter here.