Spencer Badu's Revolutionary Vision Redefines Streetwear
Until the latter half of the past decade, fashion traditionally served different purposes for men and women. Designers adhered to a strict binary mindset, making sure to carefully distinguish between men's and women's collections, with everything from fabrics, tones, cuts, and functionality divided by an uncompromising and gendered distinction. Forced to play by an outdated set of rules, few labels were willing to stray from the herd, but now, young visionaries such as Toronto's Spencer Badu are helping to erase those distinctions.
Badu founded his eponymic label in 2015 during his freshman year of college with the singular resolve to pioneer a postgender revolution. Subverting the gender norms sewn deeply into traditional clothing design, Badu is leading streetwear into a future defined by fluidity, where form and colour aren't confined by arbitrary social constructs.
"In terms of my journey, I feel like I was always a creative kid," Badu says. "I was going through downtown Toronto when I was still young—around 14 years old—and just window shopping. Everything was out of my budget, but I was just in awe of the creativity."
Badu's introduction to design was forged in his childhood notebook, with a litany of anime sketches scrawled across its pages. Soon, his afternoons spent window shopping formed a connection between a love of art and fashion. But to Badu, dreams of reinventing the clothes behind the windows still felt like a distant fantasy. It wasn't until he met Curtis James (his friend's father) that those dreams finally felt accessible.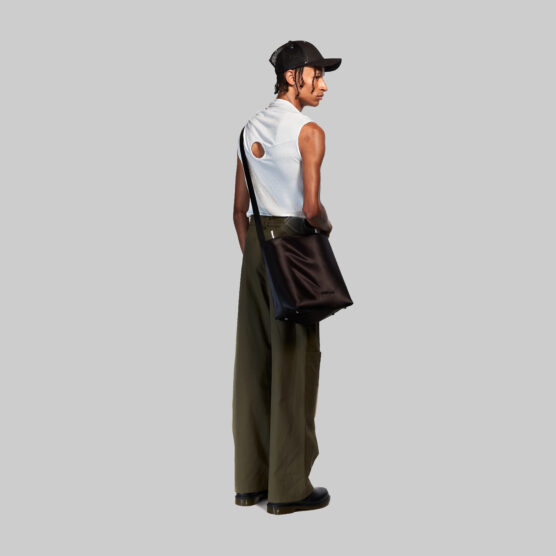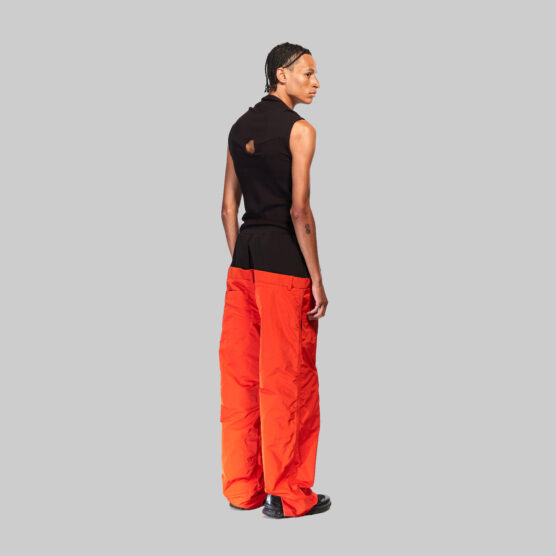 "[James] had a brand, and I think once I saw him carve out a space for himself, it made the dream achievable and attainable," he recalls. "Fast forward to 2013, I bought a sewing machine from Walmart,… eventually went to school to learn the fundamentals, and realized I'd be able to break the mould."
A disciple of the Bauhaus movement, Badu takes a minimalist approach that has led to collections defined by contemporary designs with subtle yet salient intricacies, including convertible coats and elevated trousers with daring cuts and zippered accents. Enamoured with the art of patternmaking years before he learned the technical aspects of design, Badu continues to produce work that reflects the substance and ingenuity he first fell in love with while browsing downtown Toronto.
"Even when I was growing up, I always had a minimalistic take on fashion," Badu explains. "I think it mirrors my personality. I'm very understated. But I never wore anything crazy—and I still don't—despite what the industry was pushing.… In a way, I feel like my minimalism and the gender-neutral aspects of my clothes go together. I've never really cared what everyone else was doing."
Gender-fluid collections have slowly been gaining momentum for years, with iconic provocateurs such as Rick Owens and Comme des Garçons challenging gender constructs, but Badu's commitment to the movement since his label's inception could be the tipping point in streetwear.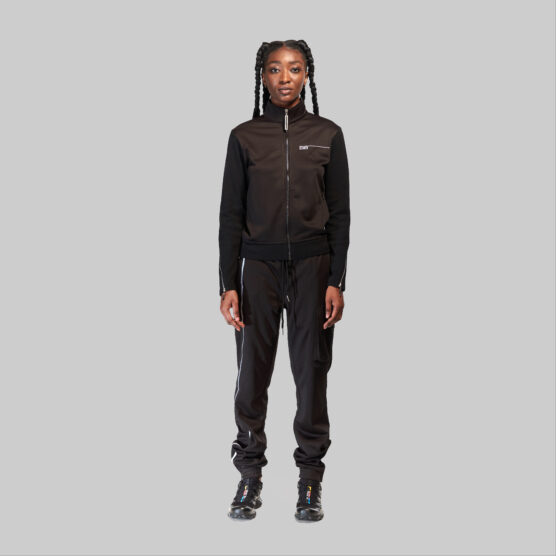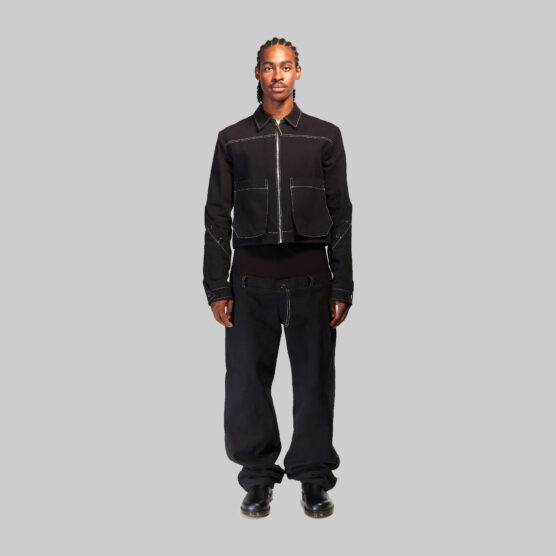 Fusing notes of conventionally masculine and feminine designs, Badu's inventively tailored track jackets, collarless sports coats, and bomber jackets with backpack straps fastened to the back are emblematic of a nonconformist future.
It's a drastic shift that's penetrated even the most traditionally masculine realms. Rap icons A$AP Rocky (hip-hop's chief fashion influence) and Young Thug (who famously wore a dress on the cover of his 2016 album JEFFREY) both wore Badu's work years ago, prepared to join him on his mission for a postgender revolution. Yet Badu isn't one to outwardly seek validation and publicity from stars but instead remains focused on the clothes themselves.
"I think when you're doing something for a long time, especially something that's not embraced from the jump, you start to build this tolerance level where you don't seek validation for your own creative expression," Badu says. "I'm not really validated by the acceptance of my ideas but more the execution of them."
Badu will be the first to admit he didn't invent the notion of genderless clothing; the transition began years ago. At Gucci's 2015 fall exhibition, creative director Alessandro Michele rolled out a stirring array of chiffon blouses, billowing down the men's runway, leaving onlookers gaping in disbelief. Last year, several labels made more permanent pivots, with Umit Benan launching unisex line B+, Norma Kamali transforming her brand to a unisex label, and Equipment releasing its own gender-fluid line, but few have broached the subject of genderless clothing with the same dedication or authenticity as Badu.
While other labels lazily hop aboard the bandwagon, creating capsules that simply masculinize gender-fluid clothing by designing a baggier collection of uninspired and ill-fitting garments, Badu's work is nonconformist by nature—like its designer—boasting inventive dimensions and daring cuts that reflect the genderless world he hopes to one day live in.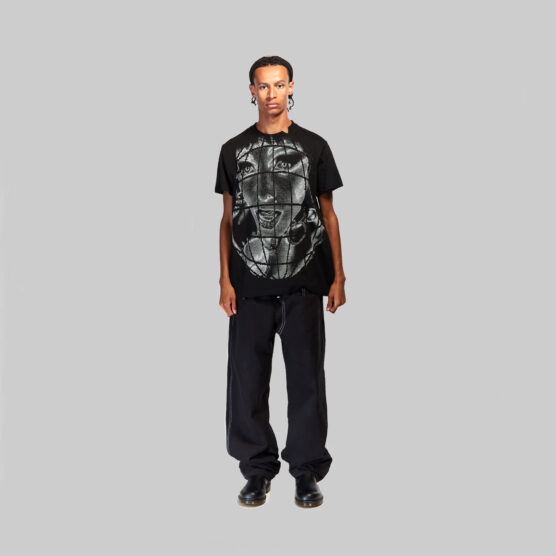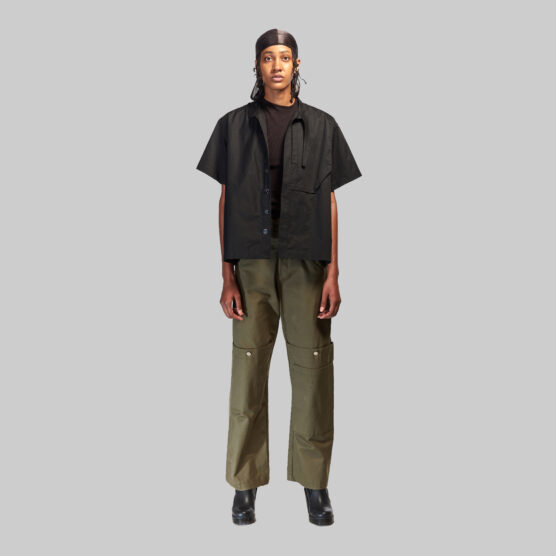 As for the many labels hoping to capitalize off the movement without investing in its message, Badu doesn't give them much thought, his sights set on far grander goals.
"I try not to pay attention to what other labels are doing, but with any popular trend, there's always going to be those hoping to swoop in and take advantage without actually buying in," Badu says. "People should question brands—even question me—and ask, 'How is this gender-neutral? What are the approaches and techniques that were used to accommodate both a man and a woman? Are these designs actually meant to be truly gender-neutral, or is it just a loose-fitting garment that fits everyone?'"
A true nonconformist, Badu urges even his own supporters not to take him at face value. In an industry often powered by trends and fleeting social movements, Badu understands that a brand's authenticity has to be reaffirmed through each design, not rented one season at a time.
"The industry has been dealing with brands taking advantage of the moment and not really investing in the message for a few years now," he says. "But at the end of the day, if you're not really about it, then people are going to see through you and your growth is going to be unsustainable. With anything creative, the best work rises to the top."
To Badu, visions of consumers expressing themselves free of social constructs are the principal motivation behind his designs. Inspired by the art of needlework, patternmaking, and the creative autonomy they represent, Badu has a nonconformist attitude that remains his label's guiding force. Redefining both the aesthetic of streetwear and the very concept of gender, Badu's mission is critical but also remarkably simple: to create an entirely fluid future, where creative expression has no barrier to entry and mavericks such as A$AP Rocky and Badu himself cannot be neatly categorized.